Be your own director and tell your story as never before. Reach for the sky and capture professional quality footage from a new perspective. With a crystal clear camera, real-time UHD video display, and intuitive flight controls, what will you create?
Warm notice: the phone and tablet are not included.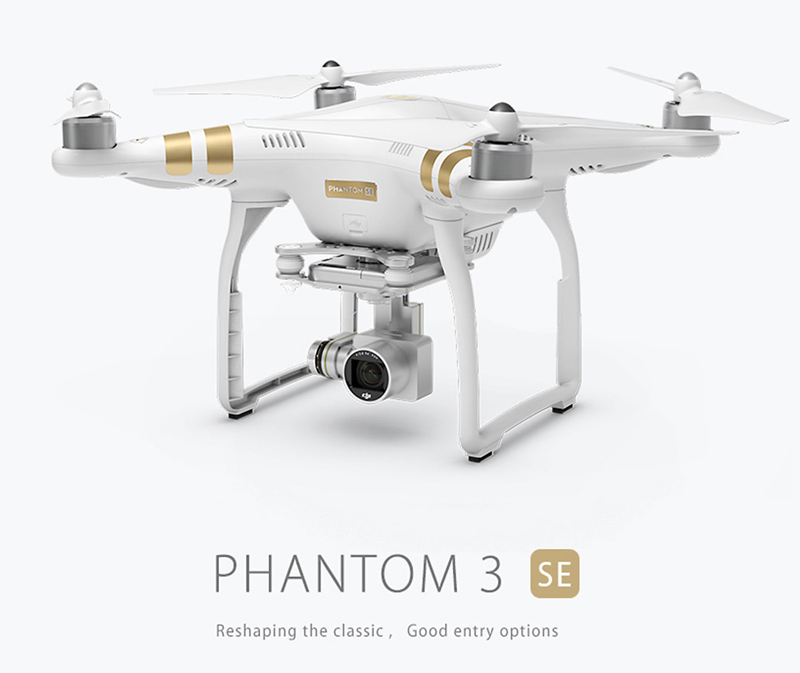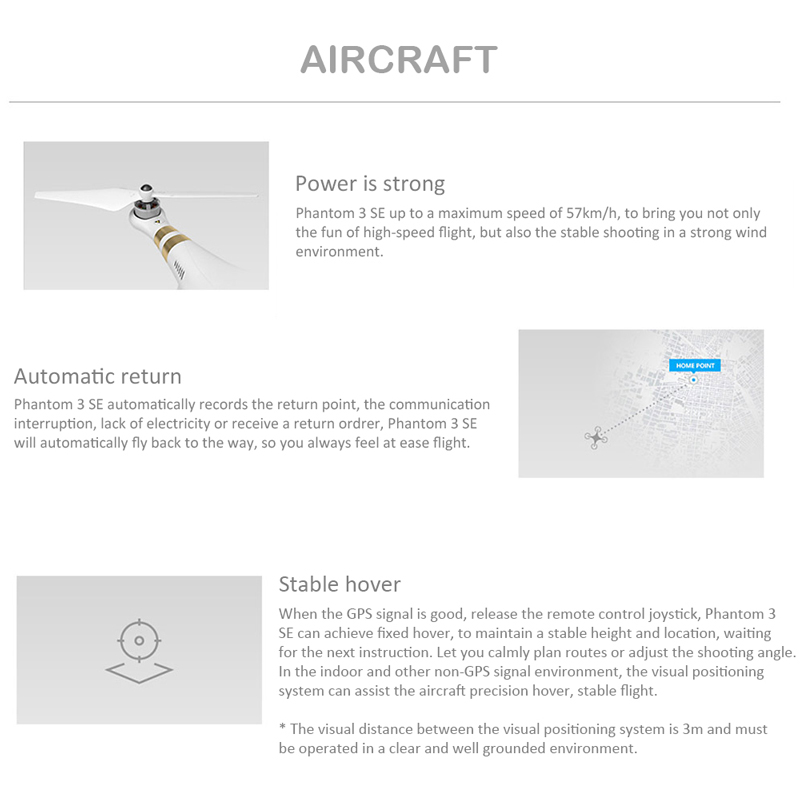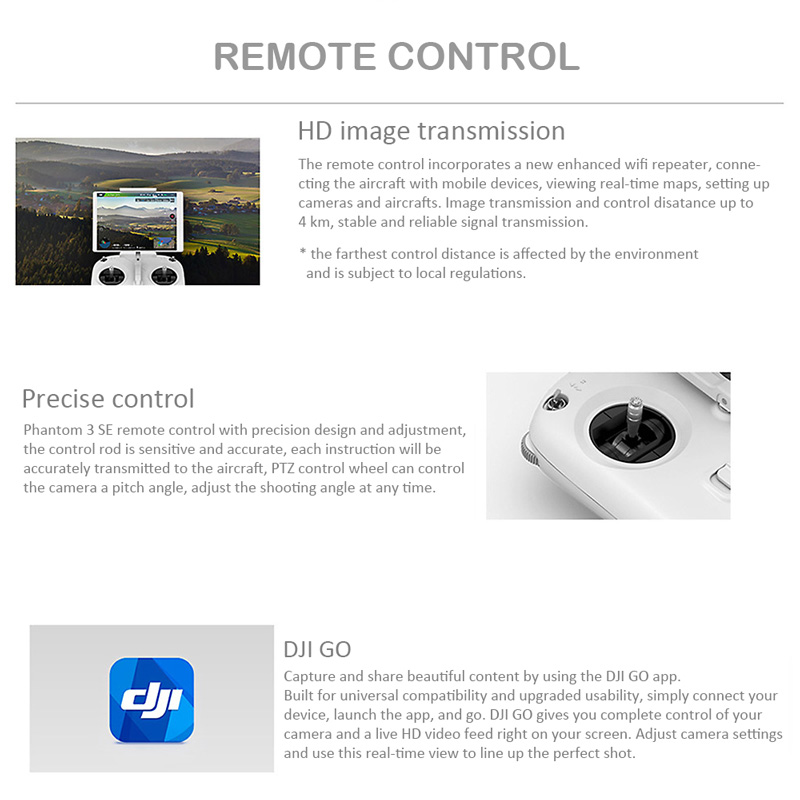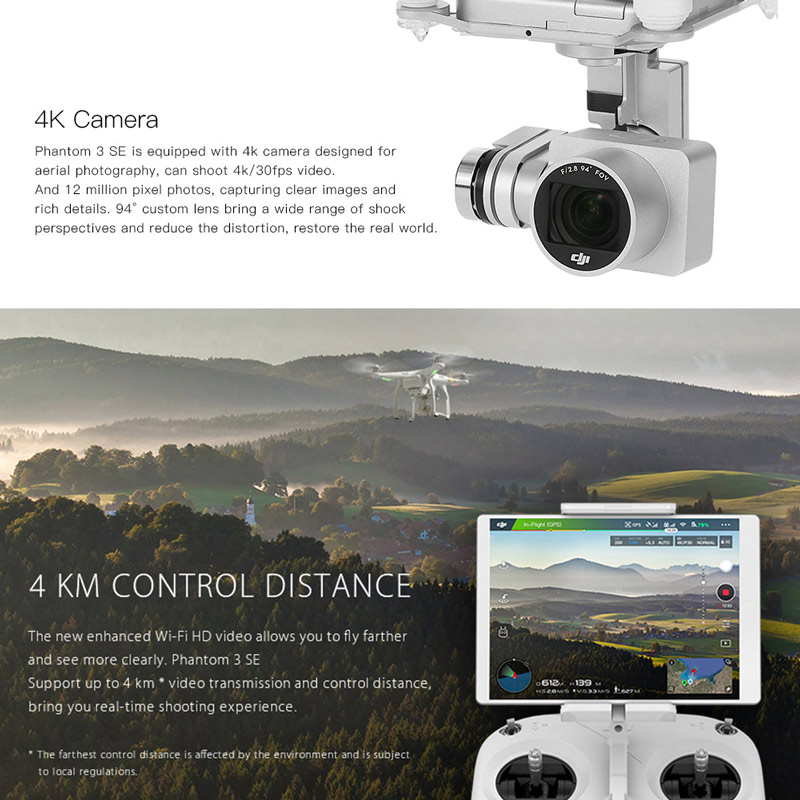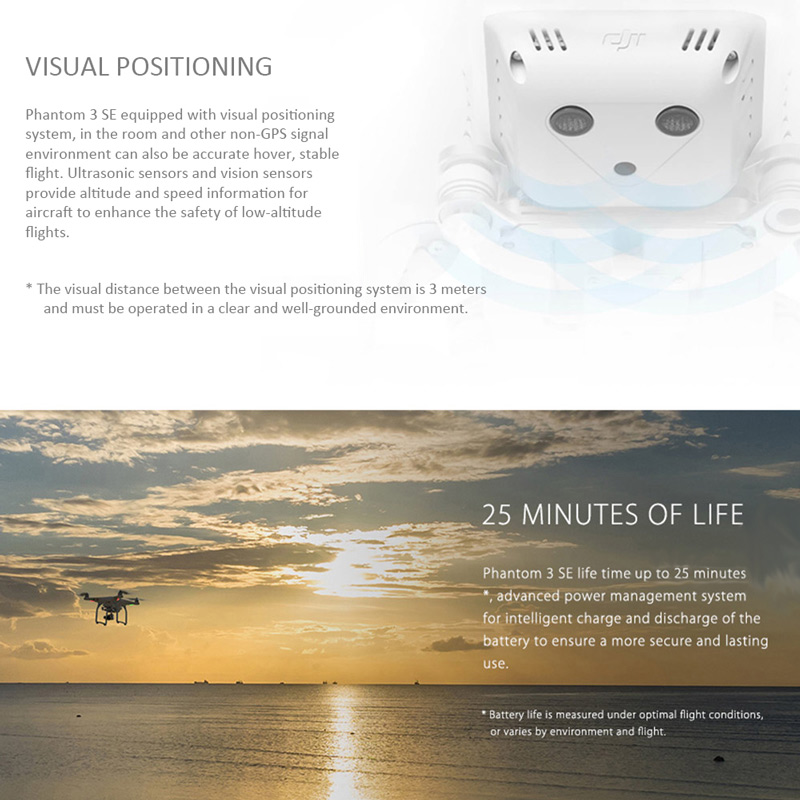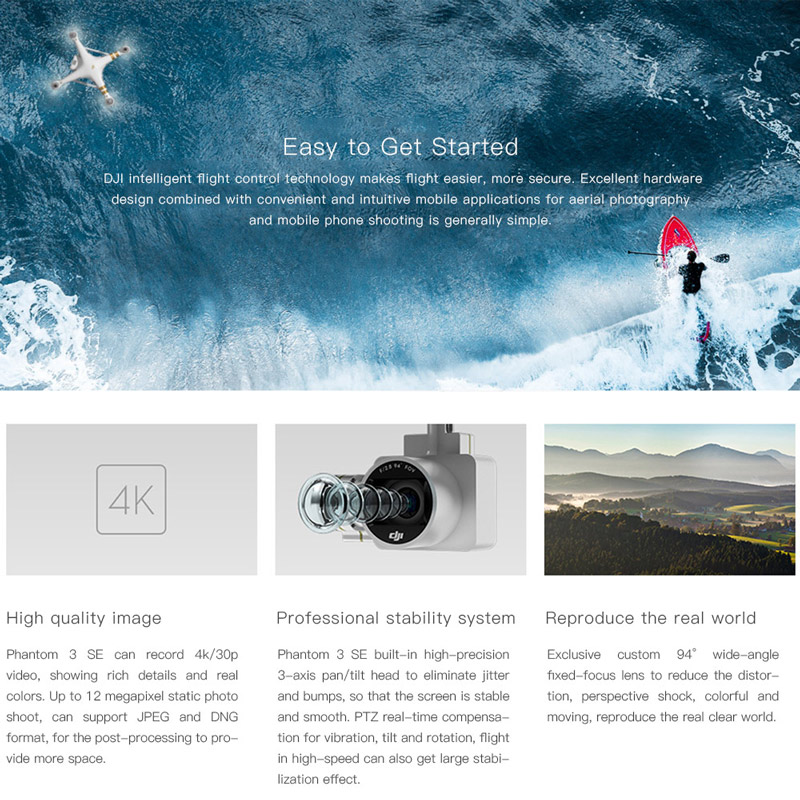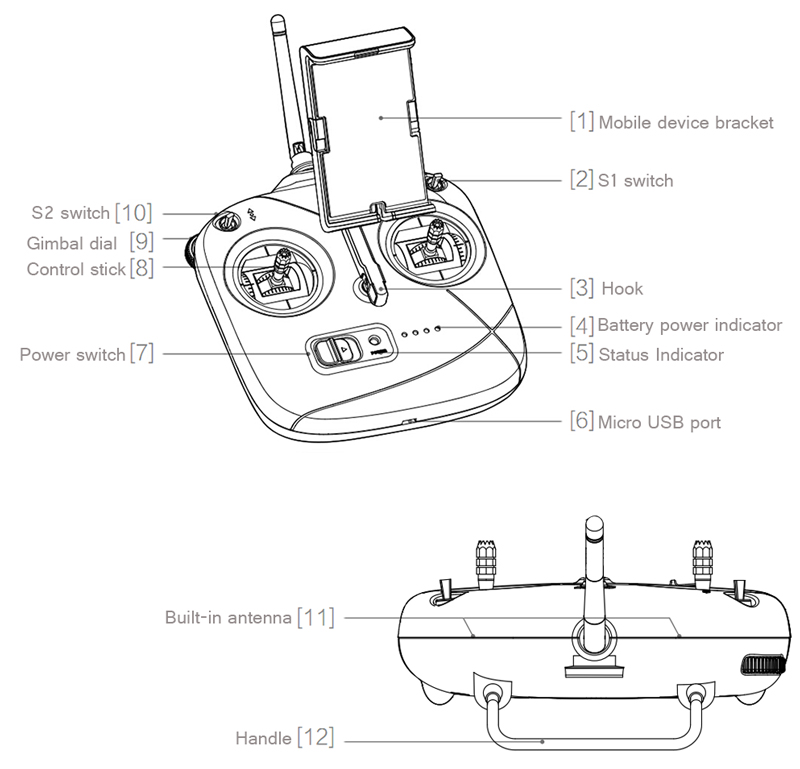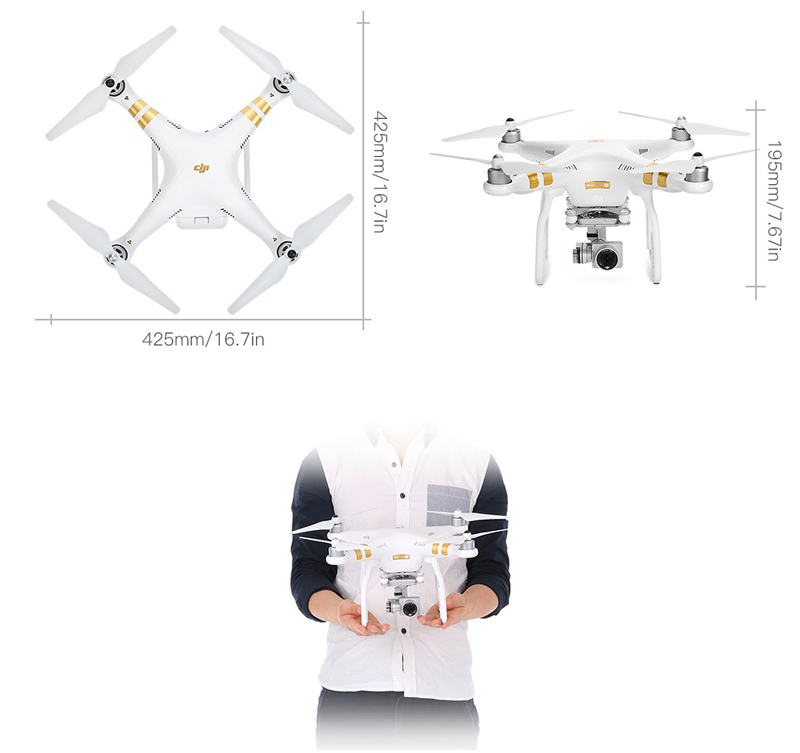 Main Features:
Latest entry-level quadcopter and the most cost-effective choice in Phantom 3 Series, comparable to Phantom 3 Professional.
Capable of offering you the thrilling but stable flight at a speed of 57km/h even in strong wind.
4km super long-distance control range and amplified WiFi signal for 4km long image transmission.
Equipped with 12MP 94-degree FOV camera to take 4K UHD videos and extremely sharp photos.
Vision Positioning system designed for hover accuracy indoors to complement the GPS system.
Intelligent flight functions such as Point of Interest, Course Lock, Automatic Hover, Automatic Return.
Specification:
Aircraft
Model: DJI Phantom 3 SE
Main color: White
Size: About 425 * 425 * 195mm / 16.7 * 16.7 * 7.67in (propellers included)
Weight: About 1236g (battery and propellers included)
Diagonal size: 350mm ( propellers excluded )
Motor Type: Brushless motor
Max. ascent speed: 5m/s
Max. descent speed: 3m/s
Max. horizontal speed: 16m/s
Max. service ceiling above sea level: 6000m
Max. flight time: approx. 25 minutes
Operating temperature range: 0-40℃
Satellite positioning system: GPS+GLONASS
Hover accuracy range: vertical: + / - 0.1m ( with Vision Positioning ); + / - 0.5m ( with GPS Positioning ); horizontal: + / - 1.5m
Gimbal
Stabilization: 3-axis ( pitch, roll, yaw )
Controllable range: pitch: -90 to 30 degree
Transmitter
Operating frequency: 2.400-2.483GHz; 5.725-5.850GHz
Max. Transmission distance: FCC: 4000m; SRRC: 3000m ( unobstructed, free of interference )
Operating temperature range: 0-40℃
Battery: 18650 2600mAh lithium-ion
Mobile device holder: for tablets and smart phones
Camera
Sensor: 1/2.3 inch CMOS, effective pixels: 12.0MP
Lens: 94-degree FOV, 20mm ( 35mm format equivalent ) f/2.8 focus at infinity
ISO range: 100 - 3200 ( video ), 100 - 1600 ( photo )
Electronic shutter speed: 8 - 1/8000s
Image size: 4000 x 3000
Still photography modes: Single Shot, Burst Shooting: 3 / 5 / 7 frames; Auto Exposure Bracketing ( AEB ): 3 / 5 bracketed frames at 0.7 EV Bias; Time-lapse
Video recording modes: C4K: 4096 x 2160P 24 / 25fps;
4K: 3840x2160p 24/25/30fps;
2.7K: 2704 x 1520P 24 / 25 / 30fps;
FHD: 1920 x 1080P 24 / 25 / 30 / 48 / 50 / 60fps;
HD: 1280 x 720P 24 / 25 / 30 / 48 / 50 / 60fps
Max. video bitrate: 60Mbps
Supported file systems: FAT32 (≤32 GB); exFAT (>32 GB)
Photo: JPEG, DNG
Video: MP4, MOV ( MPEG-4 AVC / H2.64 )
Supported SD card: micro SD up to 64GB, Class 10 or UHS-1 rating required
Operating temperature range: 0-40℃
Vision System
Vision system: Downward Vision System
Velocity range: 8m/s or less ( 2m above ground )
Altitude range: 30 - 300cm
Operating range: 50 - 300cm
Operating environment: surface with clear pattern and adequate lighting ( more than 15 lux )
App / Live View
Mobile app: DJI GO
Live View working frequency: 2.4GHz ISM
Live View quality: 720P 30fps
Latency: 220ms ( depending on conditions and mobile device )
Required operating system: iOS 9.0 or later, Android 4.4.0 or later
Intelligent Flight Battery
Capacity: 4480mAh
Voltage: 15.2V
Battery type: LiPo 4S
Energy: 68Wh
Net weight: 360g
Charging temperature: 5-40℃
Max. charging power: 100W
Charger
Voltage: 17.4 V
Rated power: 57W
Package information:
Package size: 39.8 * 39.2 * 23cm / 15.6 * 15.4 * 9.05in
Package weight: 4493g / 9.9lb
General box package
Package List:
1 * Aircraft Body
1 * Remote Controller
4 * Pair of CW/CCW Propeller
1 * Intelligent Flight Battery
1 * Gimbal Clamp
1 * Charger
1 * Power Cable
1 * USB Cable
2 * Anti-drop Kit
4 * Vibration Absorber
4 * Landing Pad
1 * Propeller Removal Clamp
5 * Sticker
1 * Manual Set