B6 charger is designed for LiHv, LiPo, Lilon, LiFe, NiMH, NiCd, Pb battery charge or discharge. It has the battery storage function. B6 has dual microcontrollers, 2.4-inch color LCD and fan cooling. It has battery and task parameter memory, and you can save three sets of input power and protection voltage. Real firmware upgrade function. Support the LogView software.

The hardware and cooling system are great. Powerful sampling and calculation greatly enhance the performance. It has very high charging efficiency and good electrical characteristics. Support battery temperature sensor.

B6 has professional charging and efficient battery balance algorithm. It can measure the Li-battery resistance. It has a simple user interface, and support shortcut key. You can choose two parameters to quickly start charge or discharge task, and get all information on a page. Easy to use.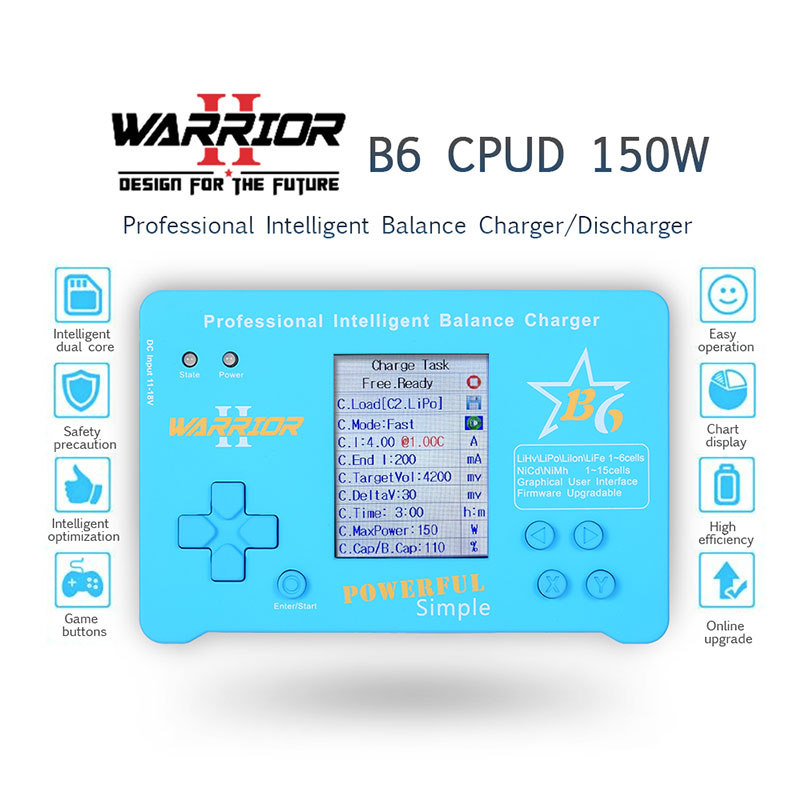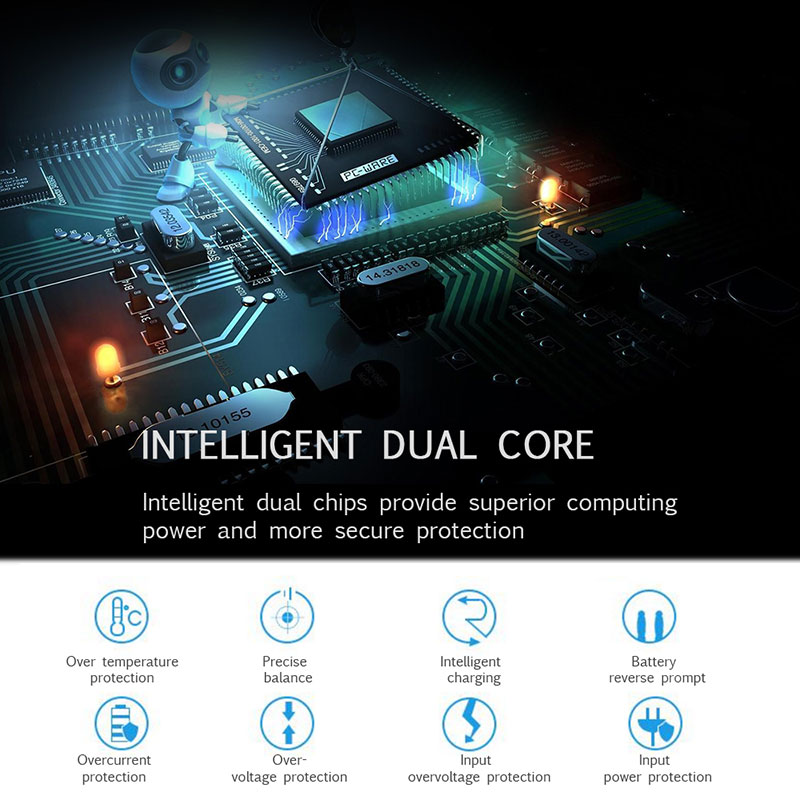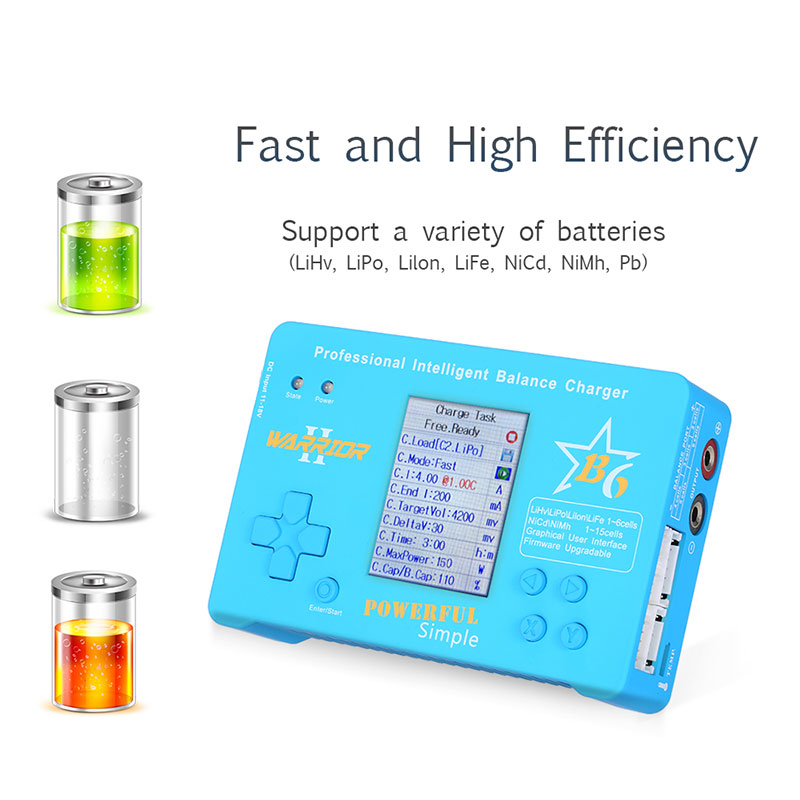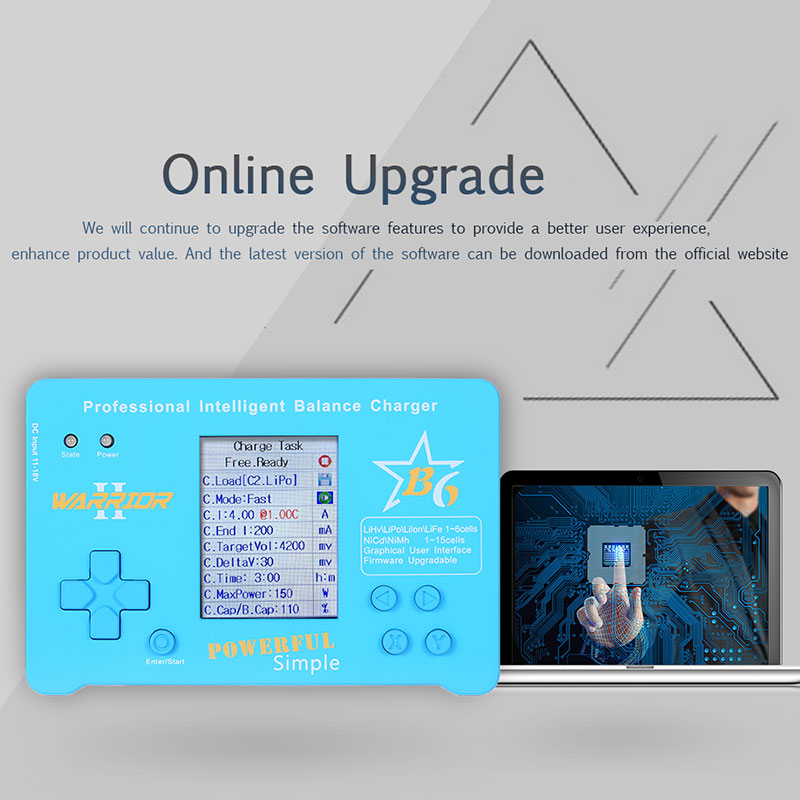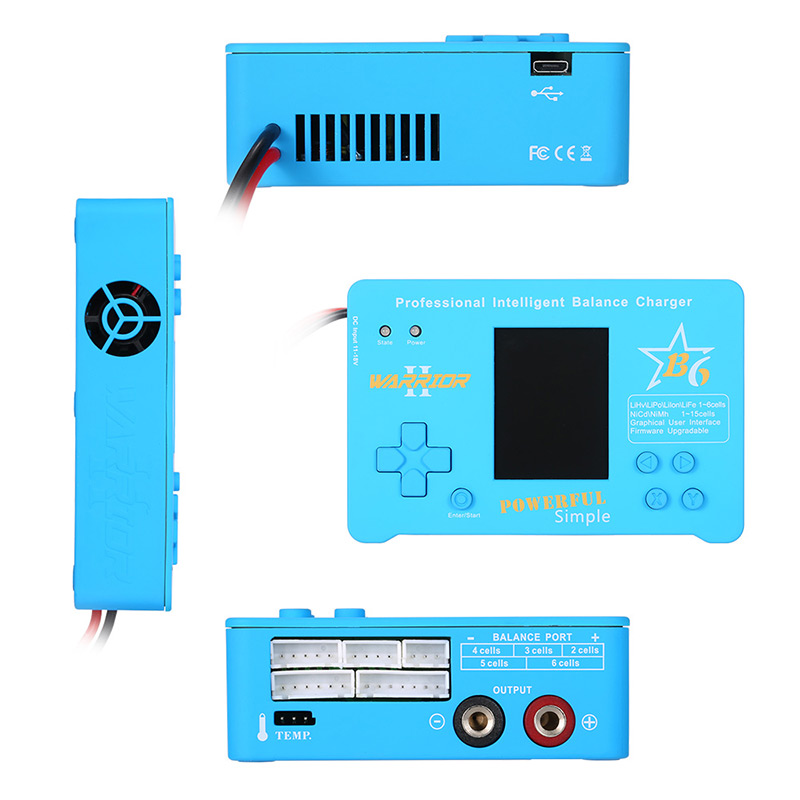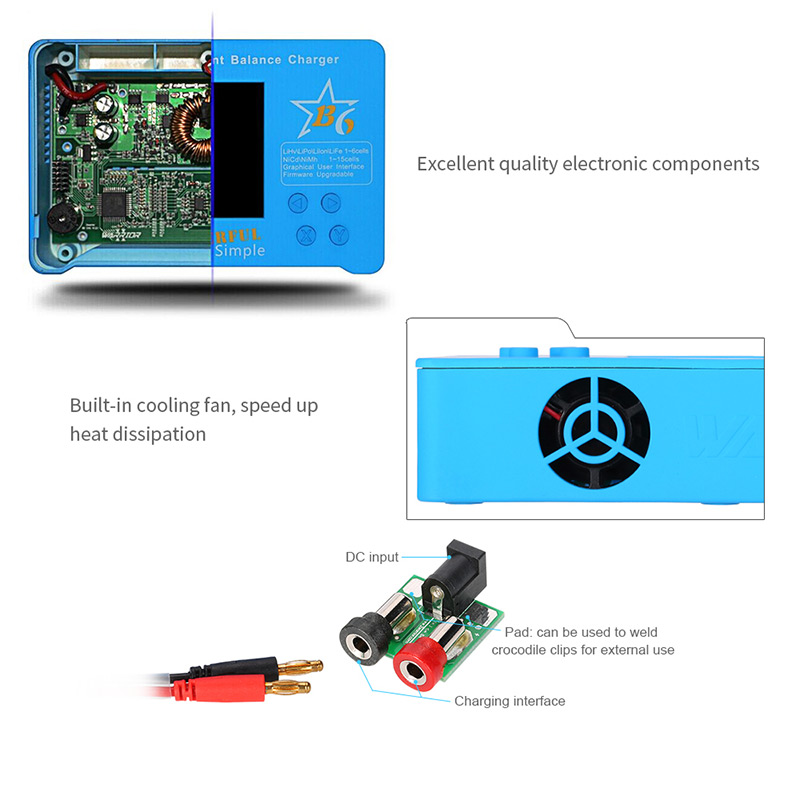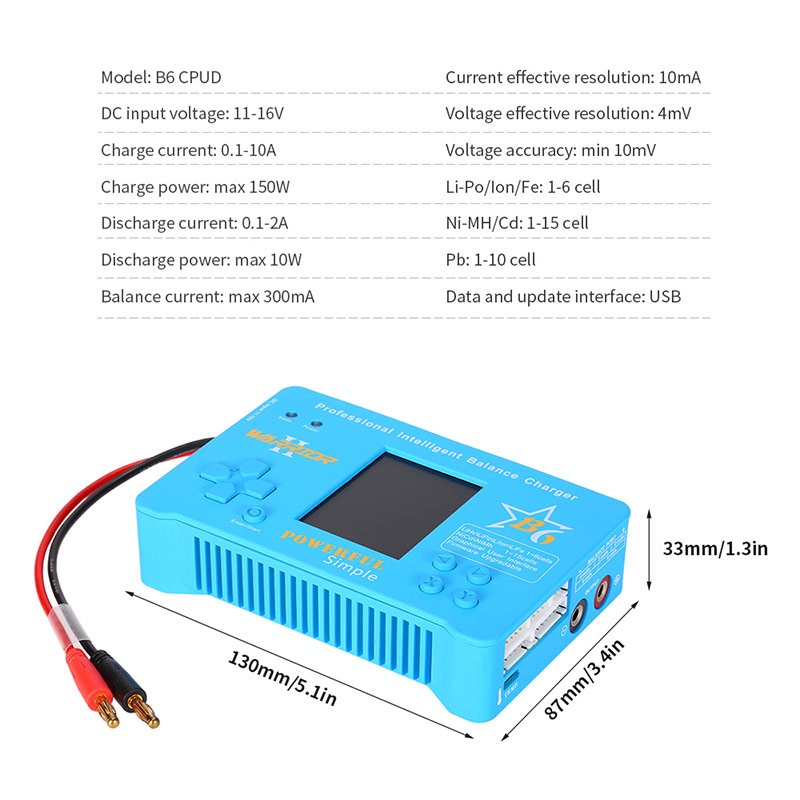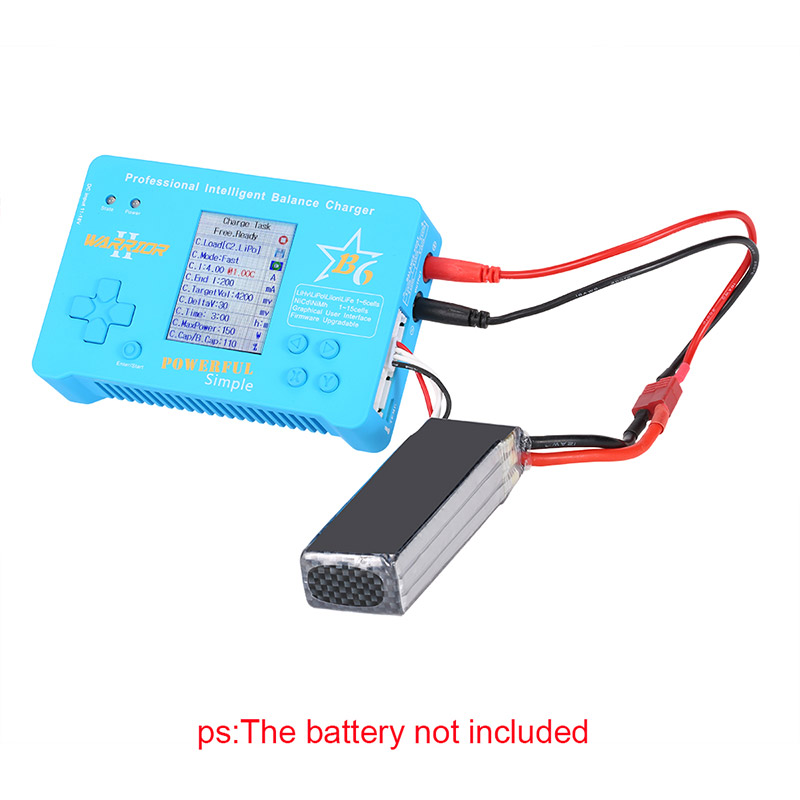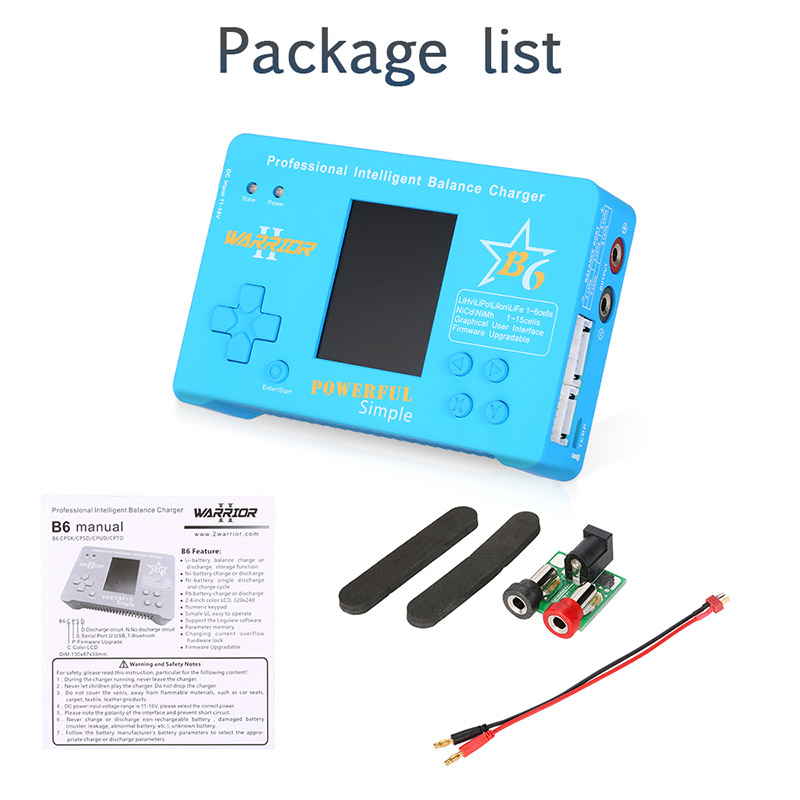 Features:
Li-battery balance charge or discharge, storage function
Ni-battery charge or discharge
Ni-battery single discharge and charge cycle
Pb battery charge or discharge
2.4 inch color LCD, 320 x 240
Numeric keypad
Simple UI, easy to operate
Support the Logview software
Parameter memory
Charging current overflow hardware lock
Firmware upgradable
Specifications:
Brand: WARRIOR
Model: B6 CPUD
DC input voltage: 11-16V
Charge current: 0.1-10A
Charge power: max 150W
Discharge current: 0.1-2A
Discharge power: max 10W
Balance current: max 300mA
Current effective resolution: 10mA
Voltage effective resolution: 4mV
Voltage accuracy: min 10mV
Li-Po/Ion/Fe: 1-6 cell
Ni-MH/Cd: 1-15 cell
Pb: 1-10 cell
Data and update interface: USB
Dimension: 130 * 87 * 33mm
Weight: 218.6g
Warning:
This charger does NOT come with an AC adapter. You should purchase adapter with a corresponding plug.
During the charger running, never leave the charger.
Never let children play the charger. Do not drop the charger.
Do not cover the vents, away from flammable materials, such as car seats, carpet, textile, leather products.
Please note the polarity of the interface and prevent short circuit.
Never charge or discharge non-rechargeable battery, damaged battery (muster, leakage, abnormal battery, etc.), unknown battery.
Follow the battery manufacturer's battery parameters to select the appropriate charge or discharge parameters.
Package Information:
Package size: 16.5 * 10.8 * 5.6cm / 6.5 * 4.3 * 2.2in
Package weight: 312g / 11oz
Brand gift box package
Package List:
1 * B6 CPUD Balance Charger
1 * Connector for Adapter
1 * T Plug Charging Cable
1 * English Manual