Meet Spark, a mini drone that features all of DJI's signature technologies, allowing you to seize the moment whenever you feel inspired. With intelligent flight control options, a mechanical gimbal, and a camera with incredible image quality, Spark empowers you to push your creative boundaries.
(The phone and DJI GOGGLES in the pictures are not included)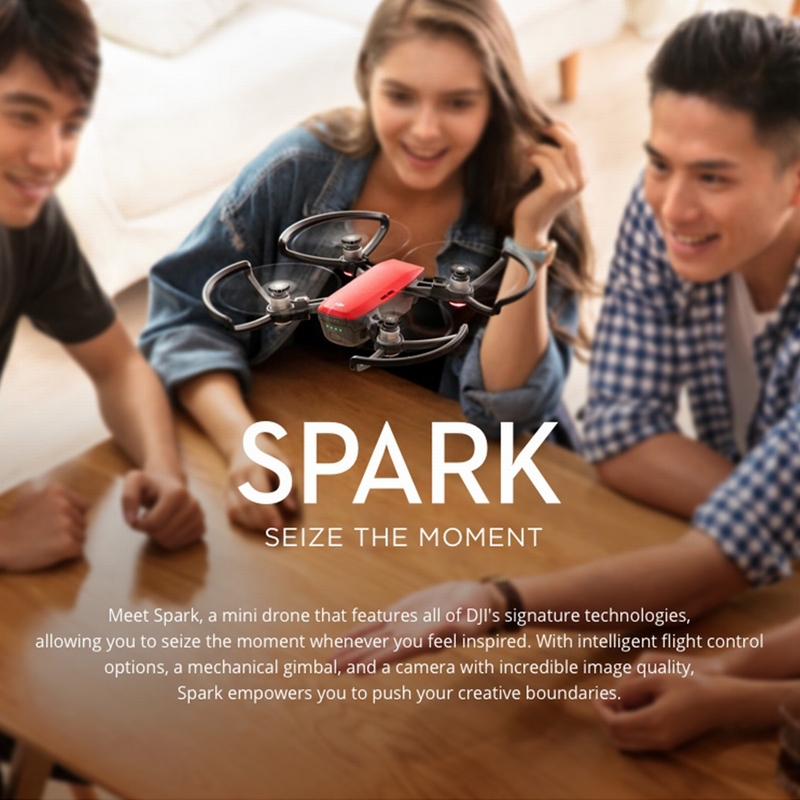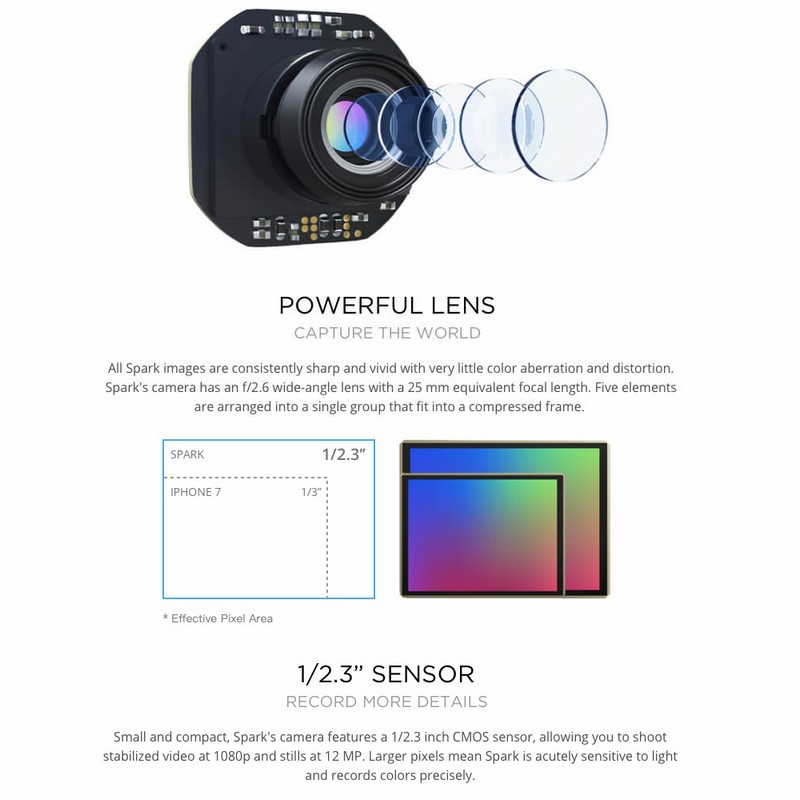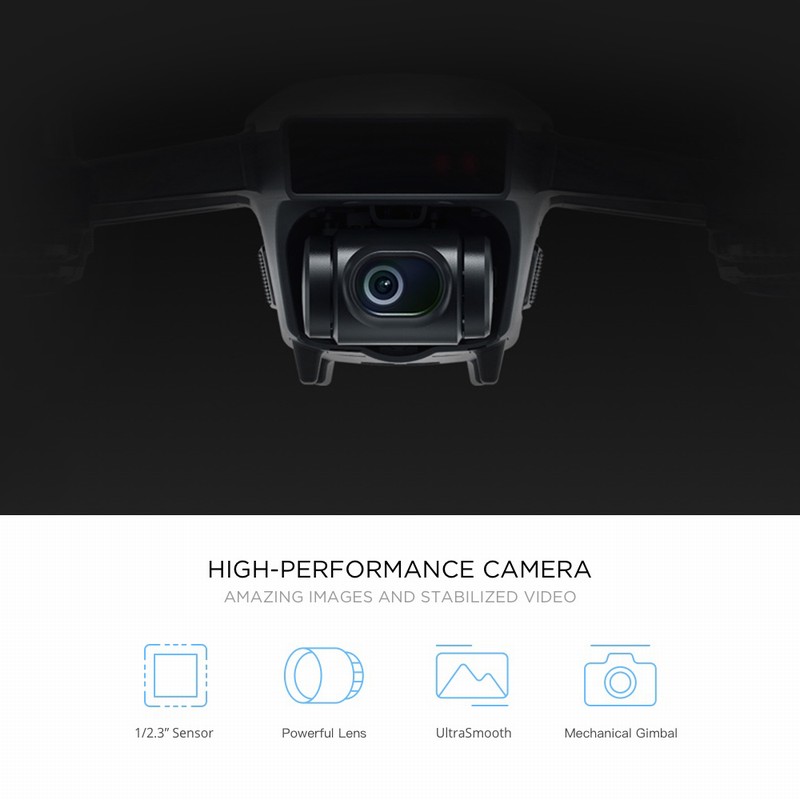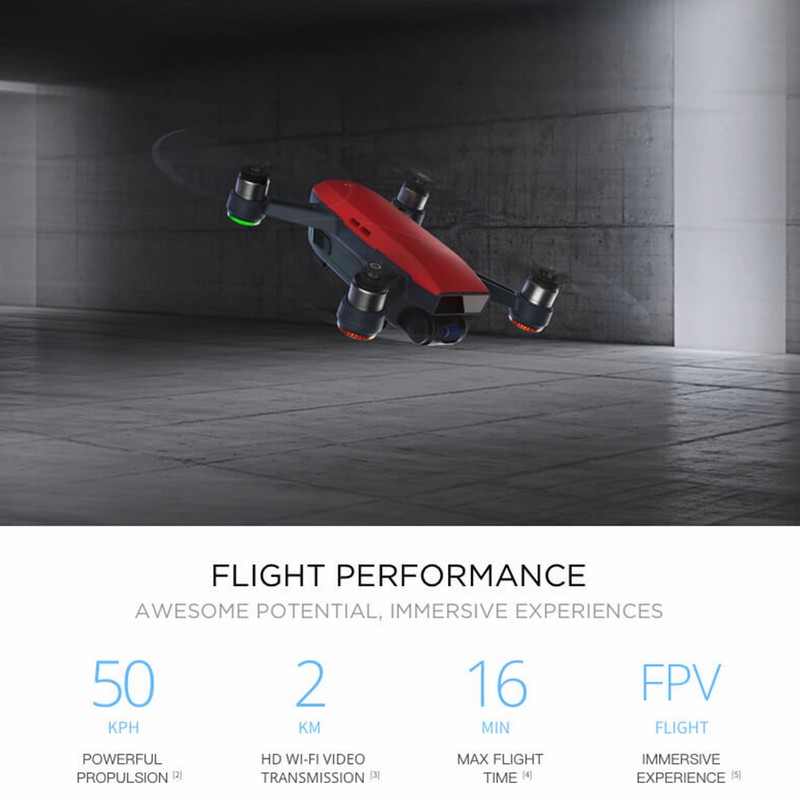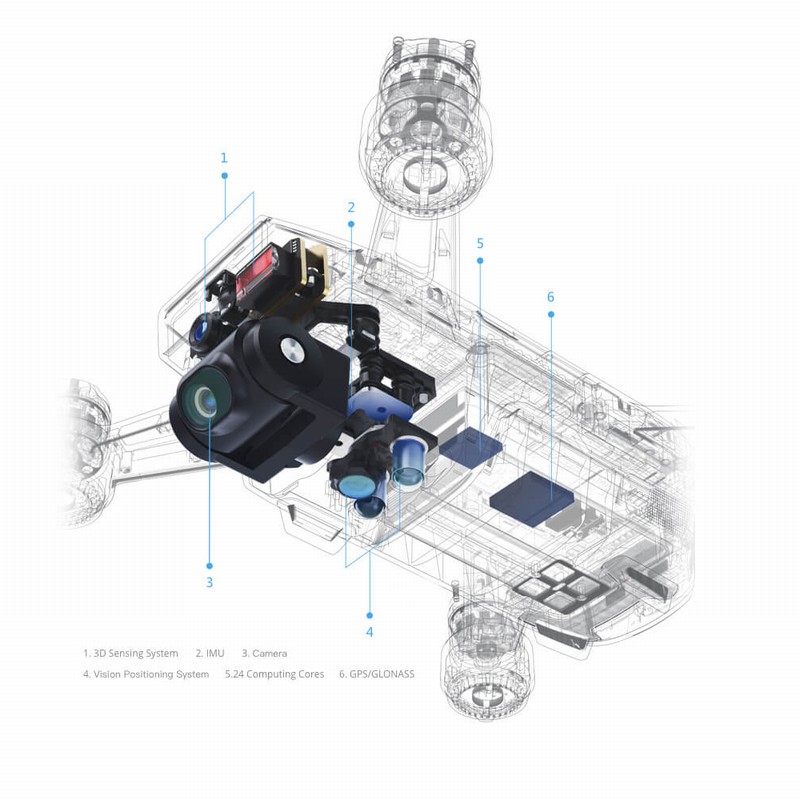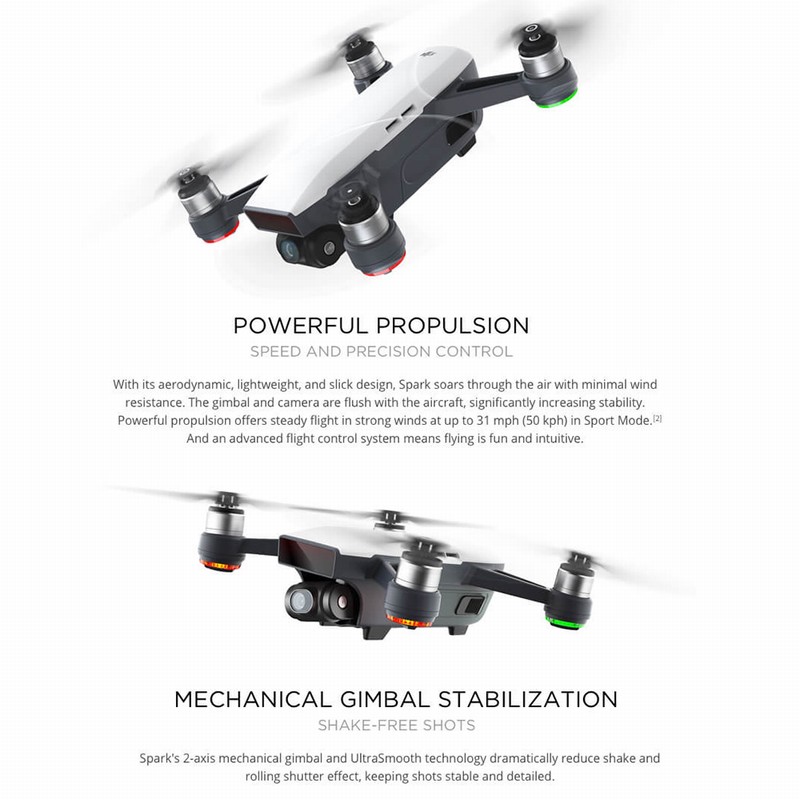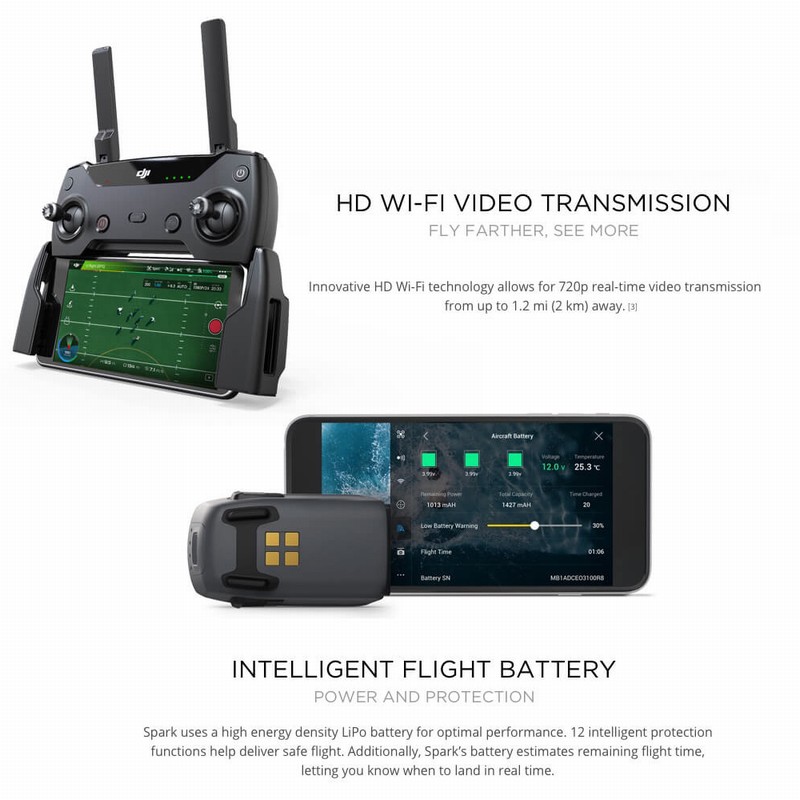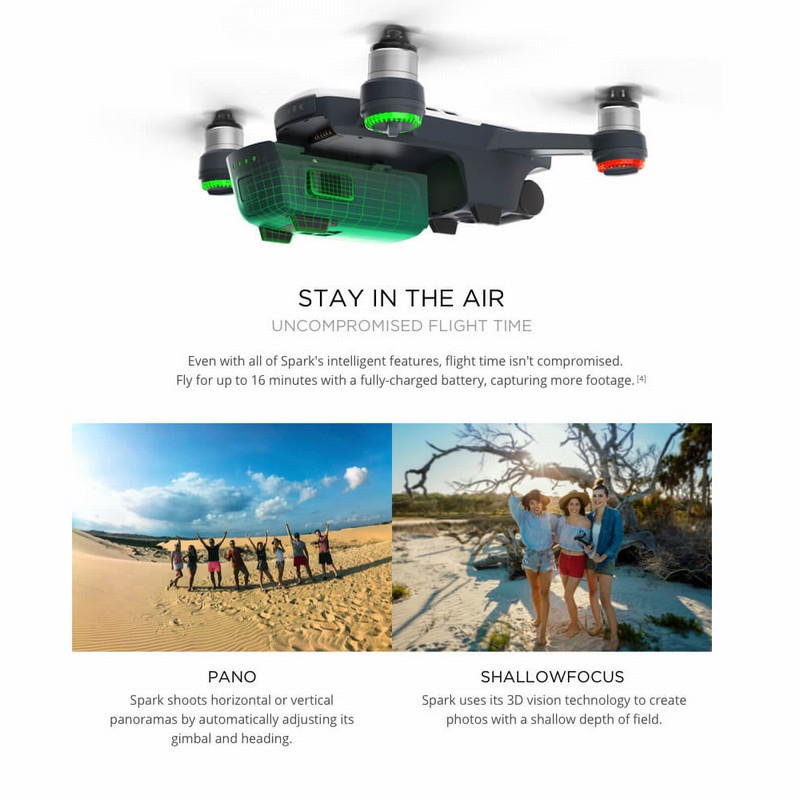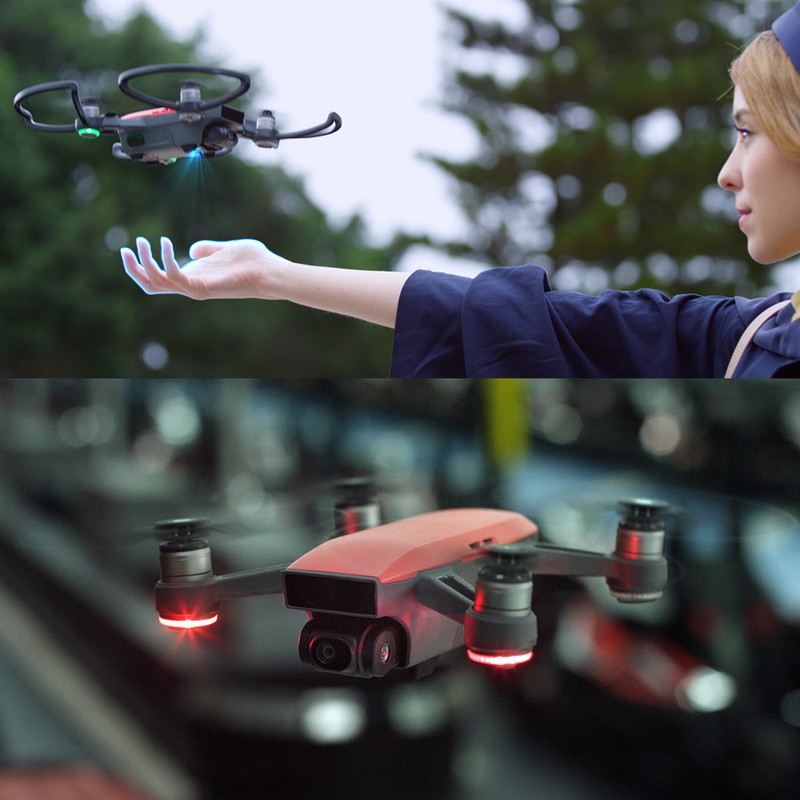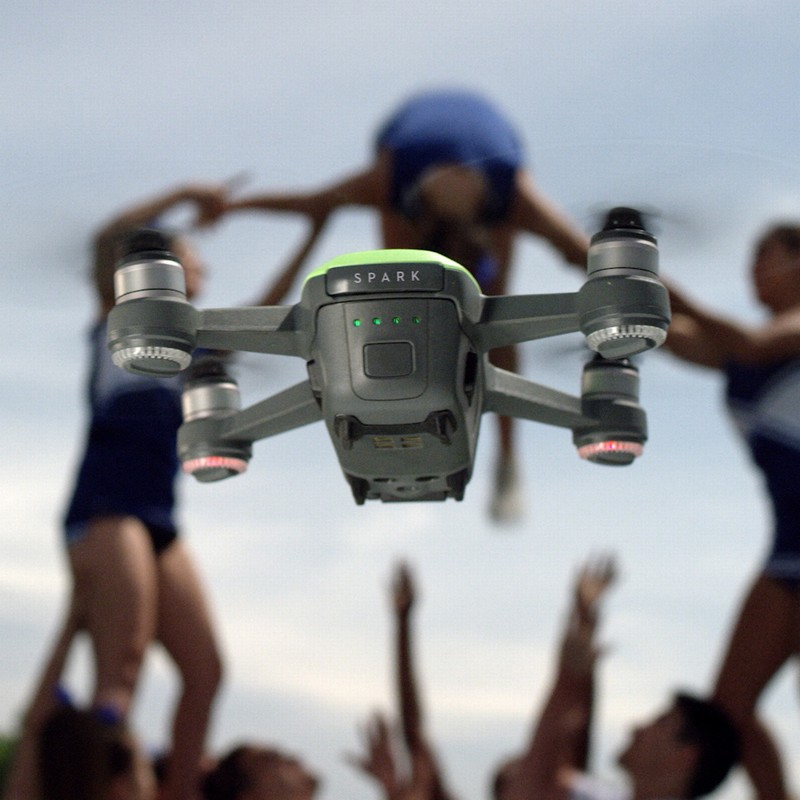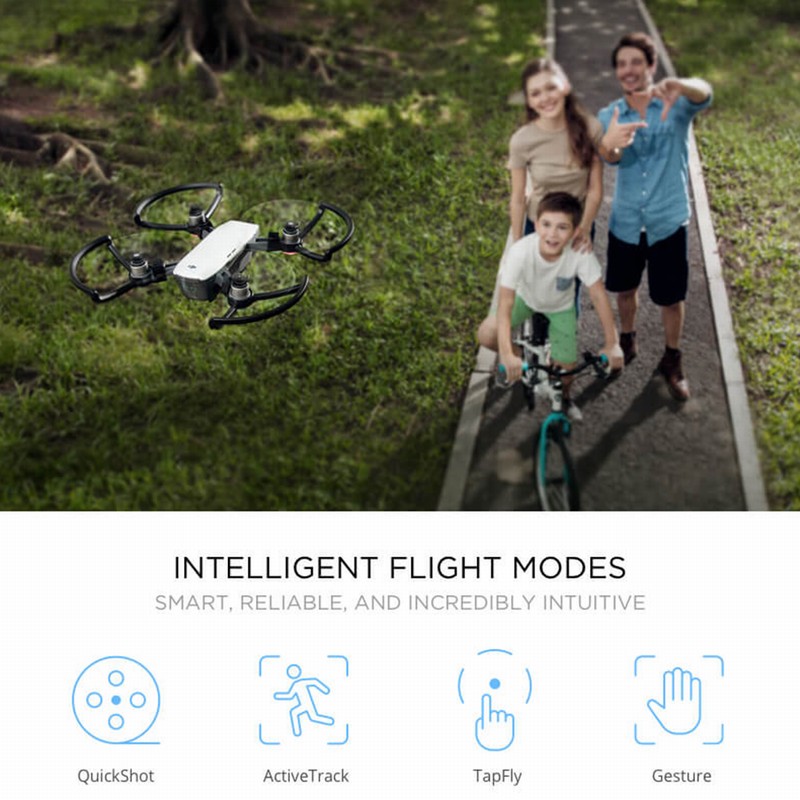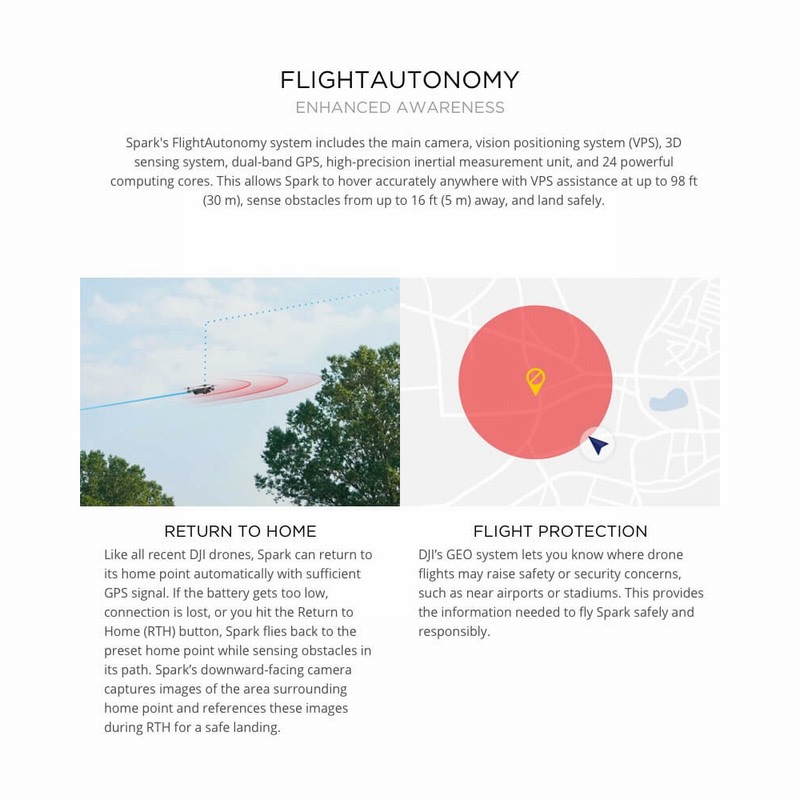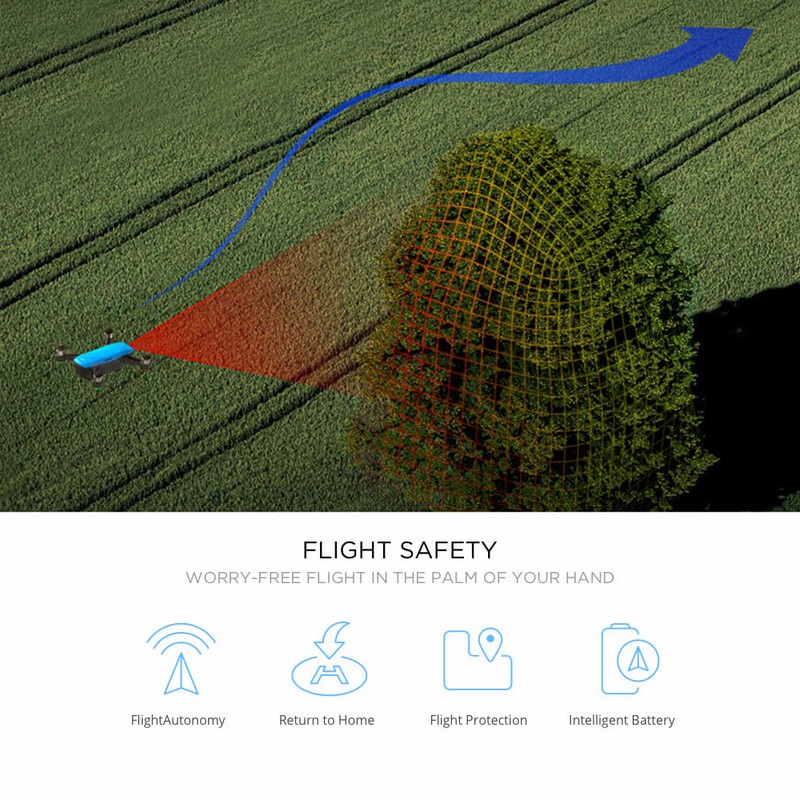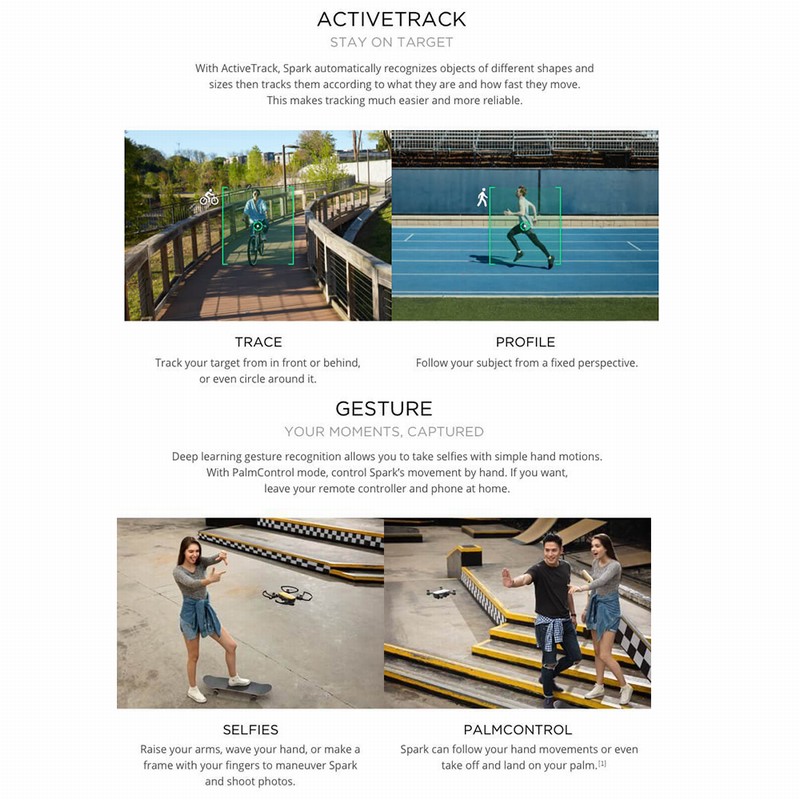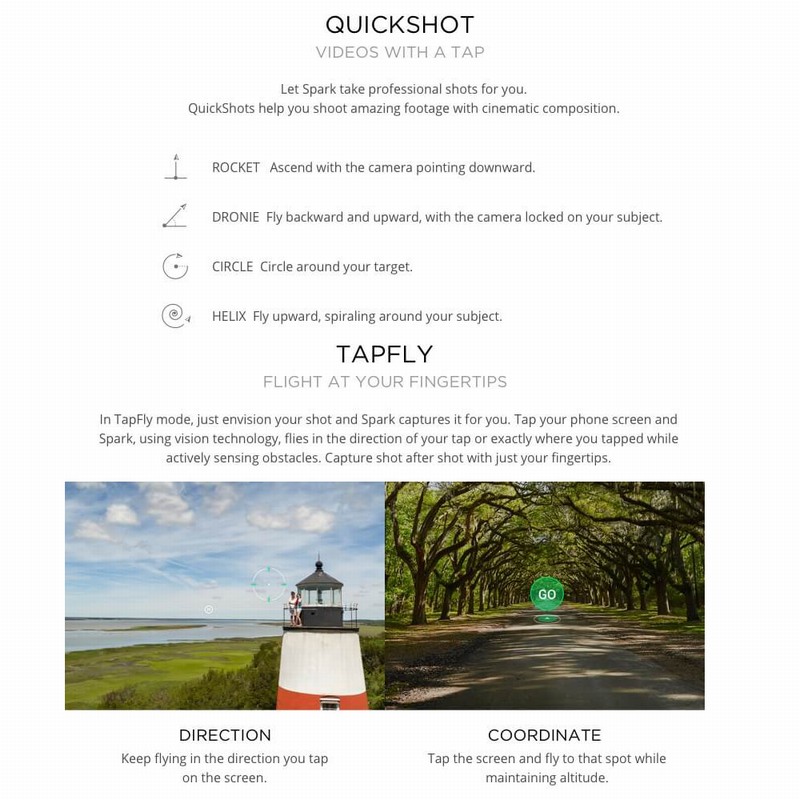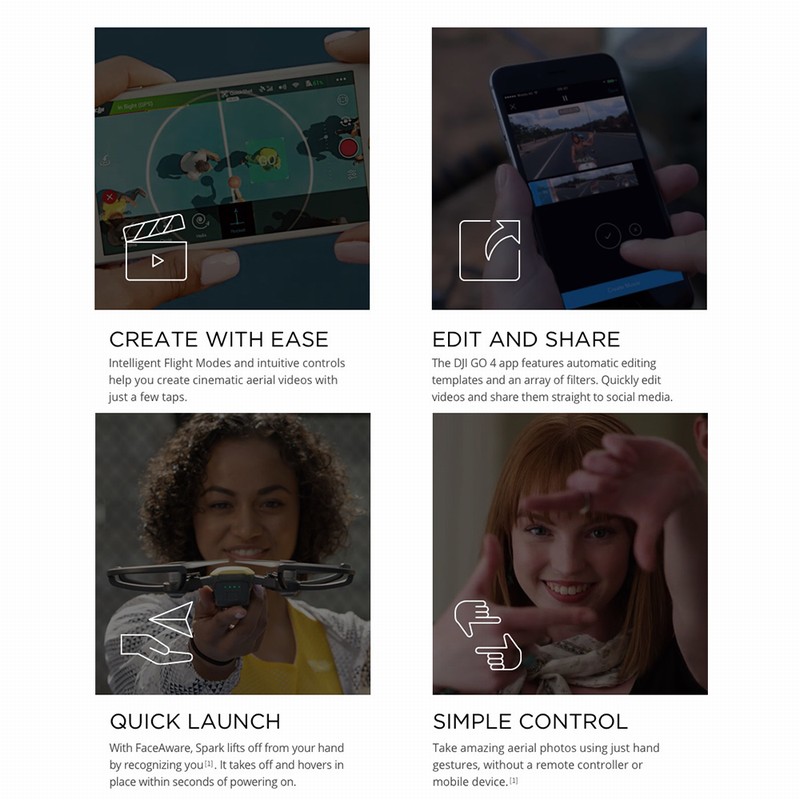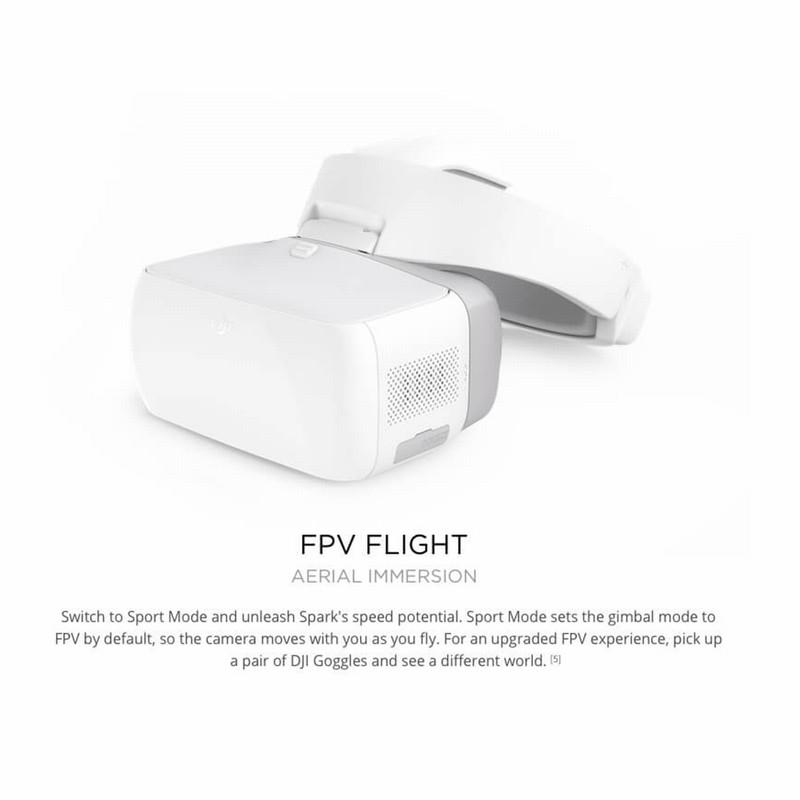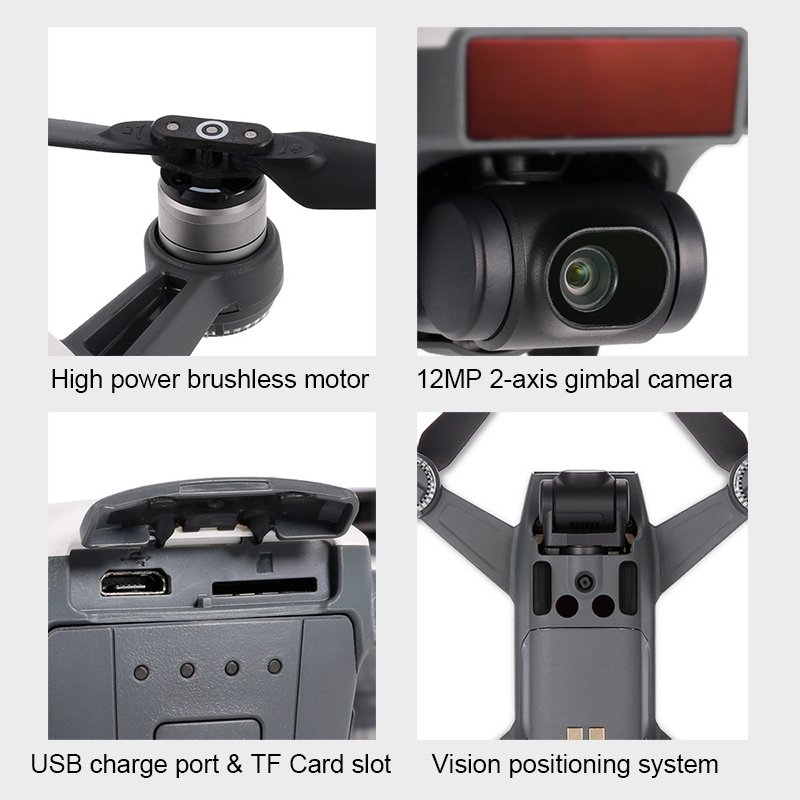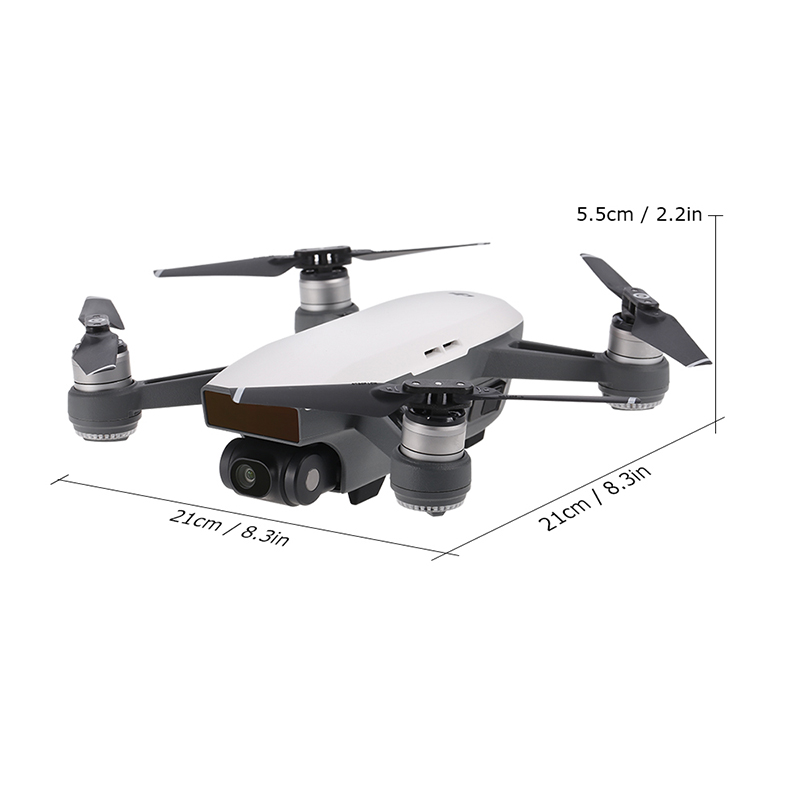 Features:
Maximum flight time of 16mins
Maximum speed of 50km/h
Camera with 1/2.3in sensor 12MP capable of shooting 1080P video
Three TapFly modes, TapFly forward; TapFly backward; TapFly free
Forward and downward of obstacle avoidance
Using the DJI GO app, a large number of intelligent flight modes are available
Automatically recognizes subjects, follows and captures them as they move, making it easier to get complex shots
The remote controller included.
Specifications:
Aircraft
Max Ascent Speed: 9.8ft/s (3m/s) in Sport Mode without wind
Max Descent Speed: 9.8ft/s (3m/s) in Auto Landing Mode
Max Speed: 31mph (50kph) in Sport Mode without wind
Max Service Ceiling Above Sea Level: 13,123 feet (4,000m)
Max Flight Time: 16 minutes (no wind at a consistent 12.4mph (20kph))
Max Hovering Time: 15 minutes (no wind)
Operating Temperature Range: 32° to 104° F (0° to 40°C)
Satellite Positioning Systems: GPS/GLONASS
Hover Accuracy Range:
Vertical:
+/- 0.1m (when Vision Positioning is active) or +/-0.5m
Horizontal:
+/- 0.3m (when Vision Positioning is active) or +/-1.5m
Transmitter Power (EIRP):
2.4GHz
FCC: 25dBm; CE: 18dBm; SRRC: 18dBm
5.8GHz
FCC: 27dBm; CE: 14dBm; SRRC: 27dBm
Operating Frequency: 2.400-2.483GHz; 5.725-5.825GHz
Takeoff Weight: 300g
Dimensions: 143 * 143 * 55mm (propellers excluded) / 210 * 210 * 55mm (propellers included)
Diagonal Distance (propellers excluded): 170mm
3D Sensing system
Obstacle Sensing Range: 1-16ft (0.2-5m)
Operating Environment: Surface should be larger than 20 * 20cm and enable diffuse reflection, with reflection rate >20% (eg. wall, tree, people)
Camera
Sensor: 1/2.3" CMOS
Effective pixels: 12MP
Lens: FOV 81.9° 25mm (35 mm format equivalent) f/2.6
(shooting range: 2 m to ∞)
ISO Range: Video: 100-3200
Photo: 100-1600
Electronic Shutter Speed: 2-1/8000s
Image Size: 3968 * 2976
Still Photography Modes: Single Shot
Burst Shooting: 3 frames
Auto Exposure Bracketing (AEB): 3 bracketed frames at 0.7 EV bias
Interval: 2/3/5/7/10/15/20/30/60s
Video Resolution: FHD: 1920 * 1080 30p
Max Video Bitrate: 24Mbps
Supported File Systems: FAT32
Photo Format: JPEG
Video Format: MP4 (MPEG-4 AVC/H.264)
Gimbal
Controllable Range: Pitch: -85° to 0°
Stabilization: 2-axis mechanical (pitch, roll)
Vision System
Velocity Range: ≤22.4mph (36kph) at 6.6ft (2m) above ground
Altitude Range: 0-26ft (0 - 8 m)
Operating Range: 0-98ft (0 - 30 m)
Operating Environment: Surface with clear patterns, enables diffuse reflection with >20% reflection rate
Adequate lighting (lux>15)
Wi-Fi
Operating Frequency: 2.4GHz/5.8GHz
Max Transmission Distance: 100m(Distance), 50m(Height) (Unobstructed, free of interference)
Intelligent Flight Battery
Capacity: 1480mAh
Voltage: 11.4V
Max Charging Voltage: 13.05V
Battery Type: LiPo 3S
Energy: 16.87Wh
Net Weight: Approx. 0.2lbs (95g)
Charging Temperature Range: 41° to 104°F (5° to 40°C)
Remote Controller:
Operating frequencies: 2.412 - 2.462GHz, 5.745 - 5.825GHz
Max. transmission distance ( unobstructed, free of interference ):
2.4GHz: 1.2 mi. ( 2km, FCC ), 0.31 mi. (0.5km, CE), 0.31 mi. ( 0.5km, SRRC )
5.8GHz: 1.2 mi. ( 2km, FCC ), 0.19 mi. ( 0.3km, CE ), 0.75 mi. ( 1.2km, SRRC )
Note: 5.8 GHz transmission is not available in some regions due to local regulations.
Operating temperature range: 32 - 104 Deg.F ( 0 to 40 Deg.C )
Built-in battery capacity: 2970mAh
Transmitter power ( EIRP ):
2.4GHz: 26dBm ( FCC ), 18dBm( CE ), 18dBm ( SRRC )
5.8GHz: 28dBm ( FCC ), 14dBm ( CE ), 26dBm ( SRRC )
Operating current: 950mA at 3.7V
Supported mobile device thickness: 6.5 - 8.5mm
Supported mobile device maximum length: 160mm
Package information:
Package size: 24.5 * 20 * 14.5cm / 9.6 * 7.9 * 5.8in
Package weight: 1009g / 2.2lb
Gift box package
Package List:
1 * DJI Spark
3 * Pair of Propeller
1 * Flight Battery
1 * Charger
1 * USB Cable
1 * Carrying Case
1 * User Manual
1 * Remote Controller