CC3D Flight Controller 8 Pin Play Set Receiver Port and Connection Cable Plug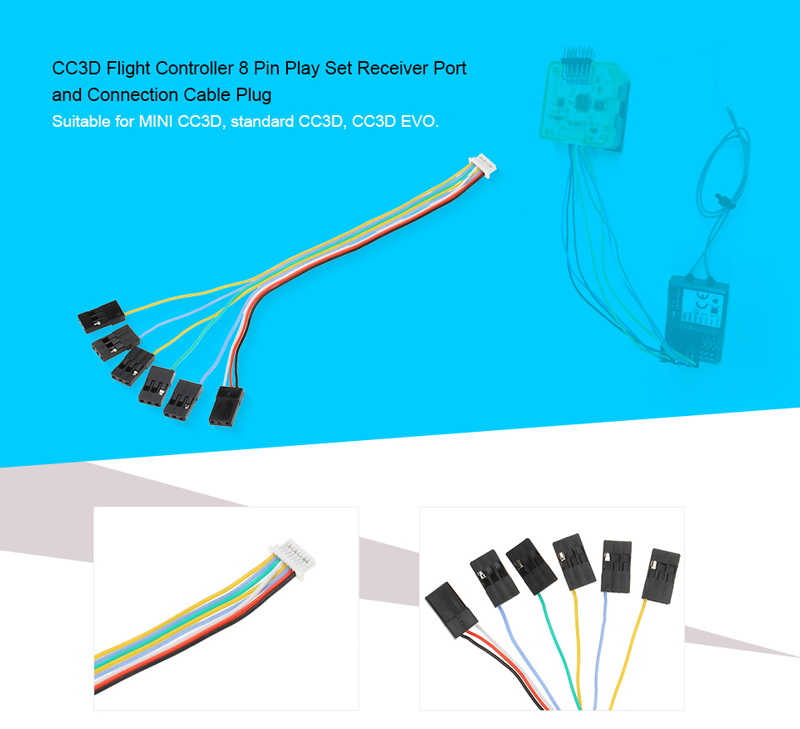 Features:
Brand new and high quality.
8 Pin connection cable
Easy to install and take out.
High quality and portable to carry.
Suitable for MINI CC3D, standard CC3D, CC3D EVO.
Specifications:
Material: Super soft silicone
Color function JST-SH Pin servo connector plug
Black Ground 1 1
Red Power to RC RX-(VCC Unregulated) 4.8V-15V 2 1
White PWM signal 1 or combined PPM 3 1
Blue PWM signal 2 4 2
Yellow PWM signal 3 or PWM output channel 7 5 3
Green PWM signal 4 or PWM output channel 8 6 4
Orange PWM signal 5 or PWM output channel 9 7 5
Purple PWM signal 6 or PWM output channel 10 8 6
Black 1 GND GND GND GND
Red 2 4.8V-15V PWR out (VCC unregulated) PWR out (VCC unregulated) PWR out (unregulated star)
Blue 3 3.3V TX SCL
Orange 4 3.3V(5V Tolerant) RX SDA TX (signal)
Total cable length: About 150mm / 5.9in
Weight: 4g
There may be some deviation due to manual measurement.
Package information:
Package size: 5.5 * 3.5 * 1.5cm / 2.2 * 1.4 * 0.6in
Package weight: 6g / 0.2oz
Ploy bag package
Package list:
1 * CC3D Receiver Connecting Cable