This original Turbowing RX 5.8G Wireless AV Receiver is made of anodized aluminum, good-looking and durable in use, and with its high sensitivity and anti-interference, it's a perfect choice for FPV receiving.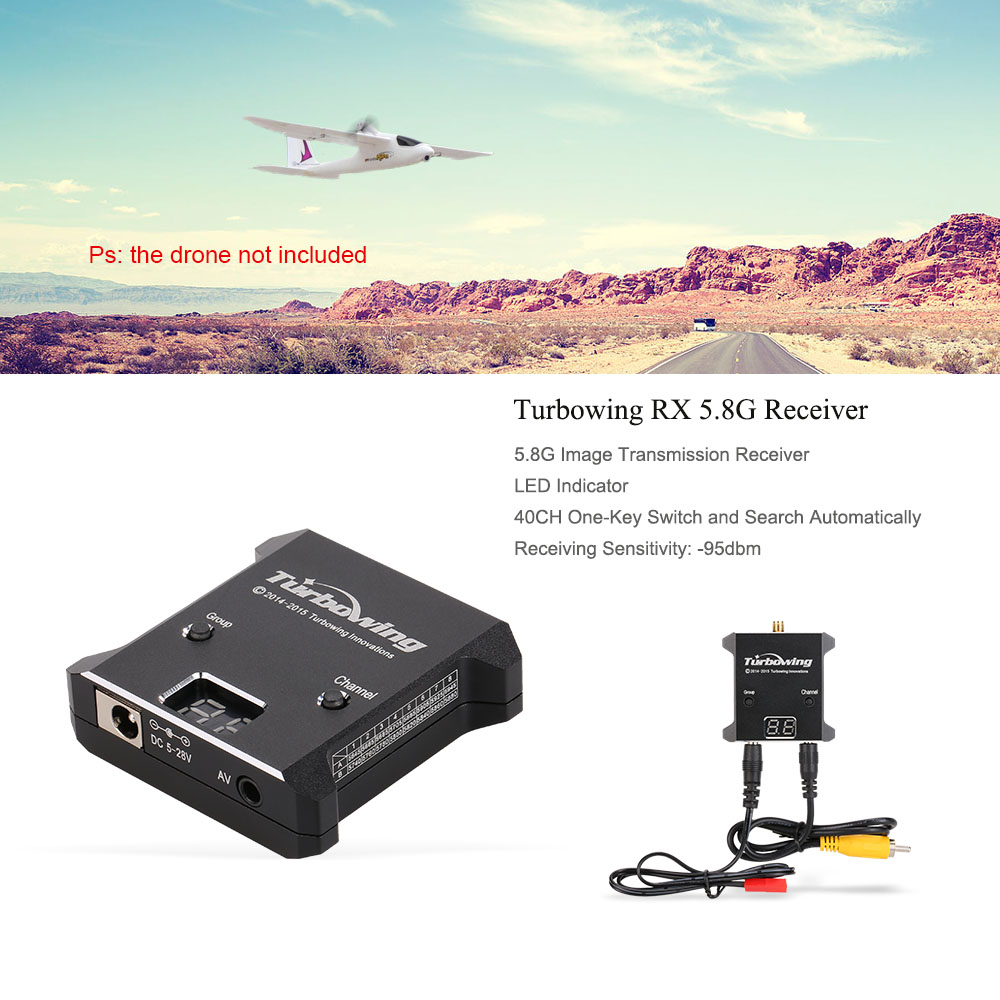 Features:
Lightweight, mini size with all aluminum cover and heat dissipation design.
-95dbm high receiving sensitivity.
Selected high-level material features a good anti-interference.
LED display, single press the button to switch the channels, long press any button to search channels automatically, easy to use.
Specifications:
Frequency range: 5.6-5.9Ghz
Operating voltage: 5V-28V
Supply current: 190mA at 12V
Receiving sensitivity: -95dbm
Antenna connector: RP-SMA K
Dimension: 57 * 55 * 20mm
Weight: 75g
Frequency range:
A1: 5.645Ghz B1: 5.740Ghz C1: 5.725Ghz D1: 5.733Ghz E1: 5.733Ghz
A2: 5.665Ghz B2: 5.760Ghz C2: 5.745Ghz D2: 5.752Ghz E2: 5.752Ghz
A3: 5.685Ghz B3: 5.780Ghz C3: 5.765Ghz D3: 5.771Ghz E3: 5.771Ghz
A4: 5.705Ghz B4: 5.800Ghz C4: 5.785Ghz D4: 5.790Ghz E4: 5.790Ghz
A5: 5.885Ghz B5: 5.820Ghz C5: 5.805Ghz D5: 5.809Ghz E5: 5.809Ghz
A6: 5.905Ghz B6: 5.840Ghz C6: 5.825Ghz D6: 5.828Ghz E6: 5.828Ghz
A7: 5.925Ghz B7: 5.860Ghz C7: 5.845Ghz D7: 5.847Ghz E7: 5.847Ghz
A8: 5.945Ghz B8: 5.880Ghz C8: 5.865Ghz D8: 5.866Ghz E8: 5.866Ghz
Package information:
Package size: 10.7 * 8.6 * 4.7cm / 4.2 * 3.4 * 1.9in
Package weight: 148.6g / 5.2oz
General box package
Package list:
1 * Turbowing RX Receiver
1 * Power Cable
2 * AV Cable