All-New Align T-REX 700X is specially designed for extreme 3D flight addicts who persue high efficiency and performance. The advanced engineered narrow body design efficiently decreases gear abrasion, machine deformation, increases power, and extends flying durability. The unique Split-Type Main Frame design, made of composite material side plates, is engineered using the proprietary embedding technology, which strengthens the entire structure and provides better accessibility for servicing the T-REX 700X. What's more? The Align T-Rex 700X is 400g (0.882lbs) lighter than our previous model, this can effectively increase your flight time and flight performance.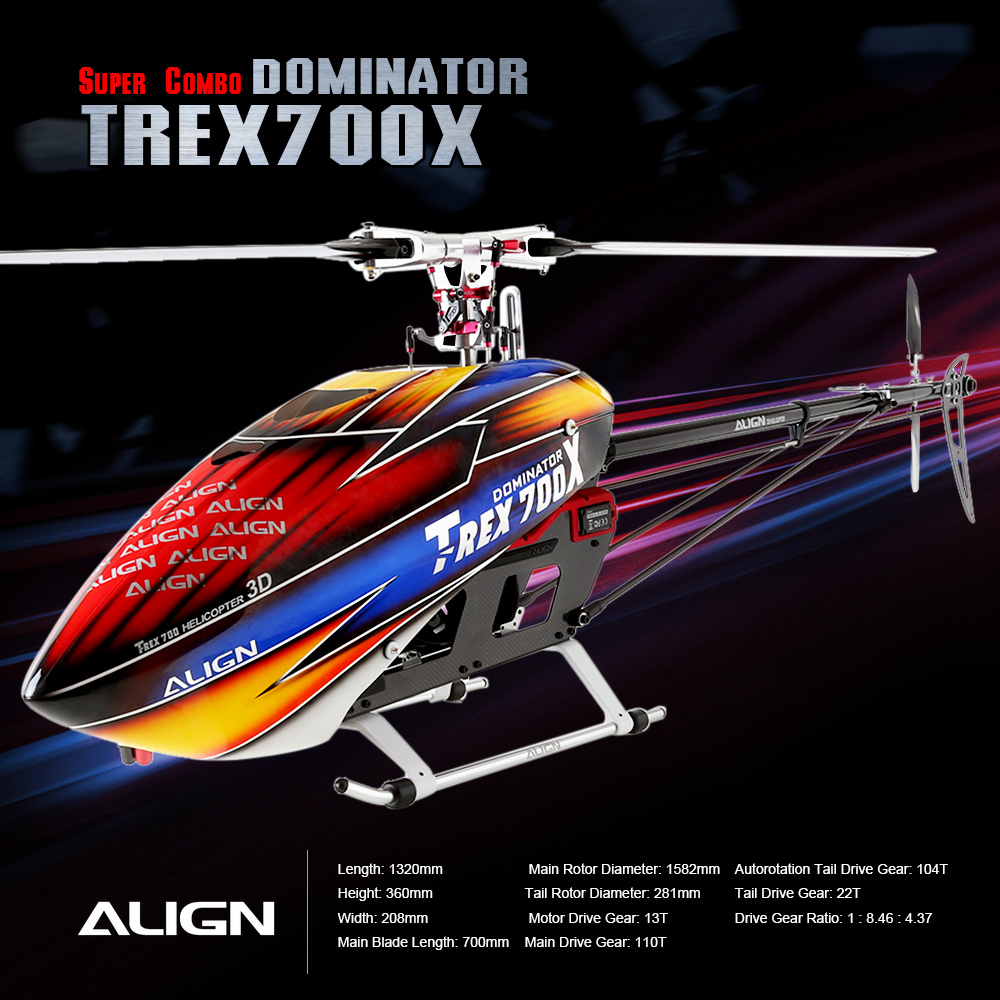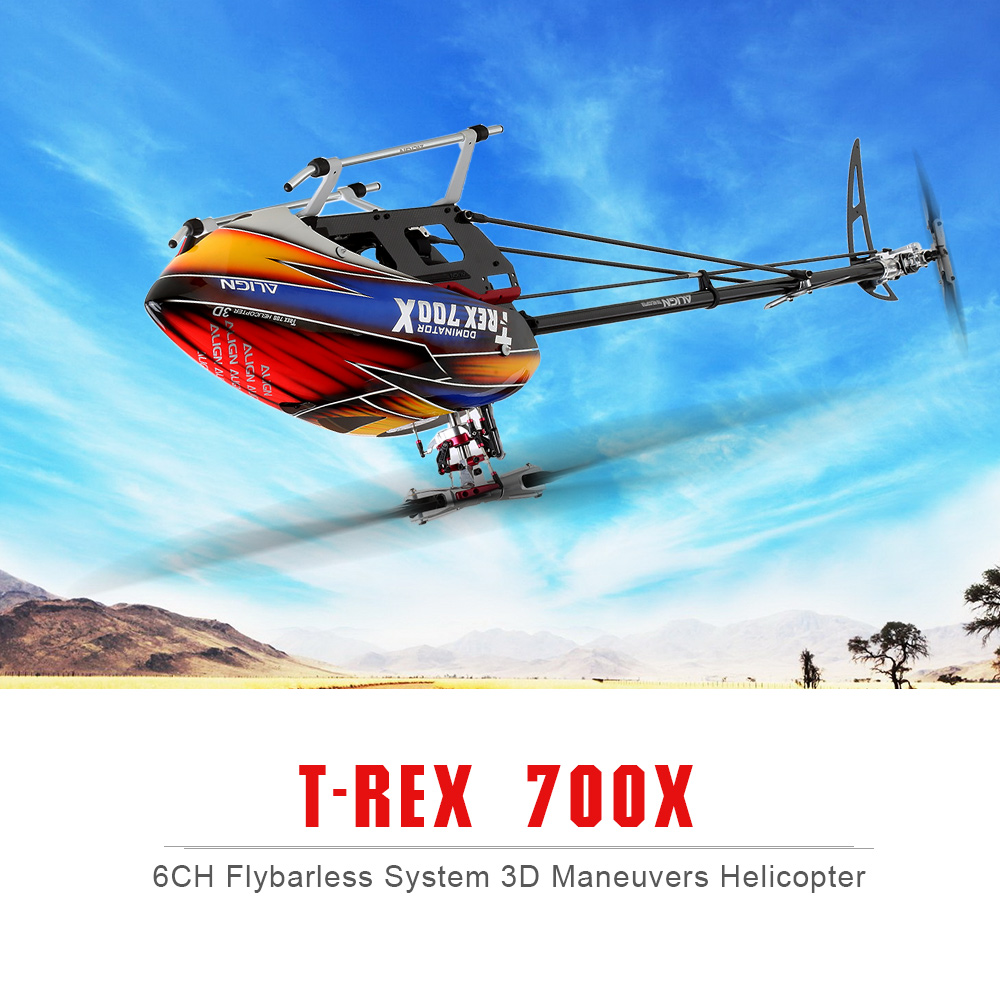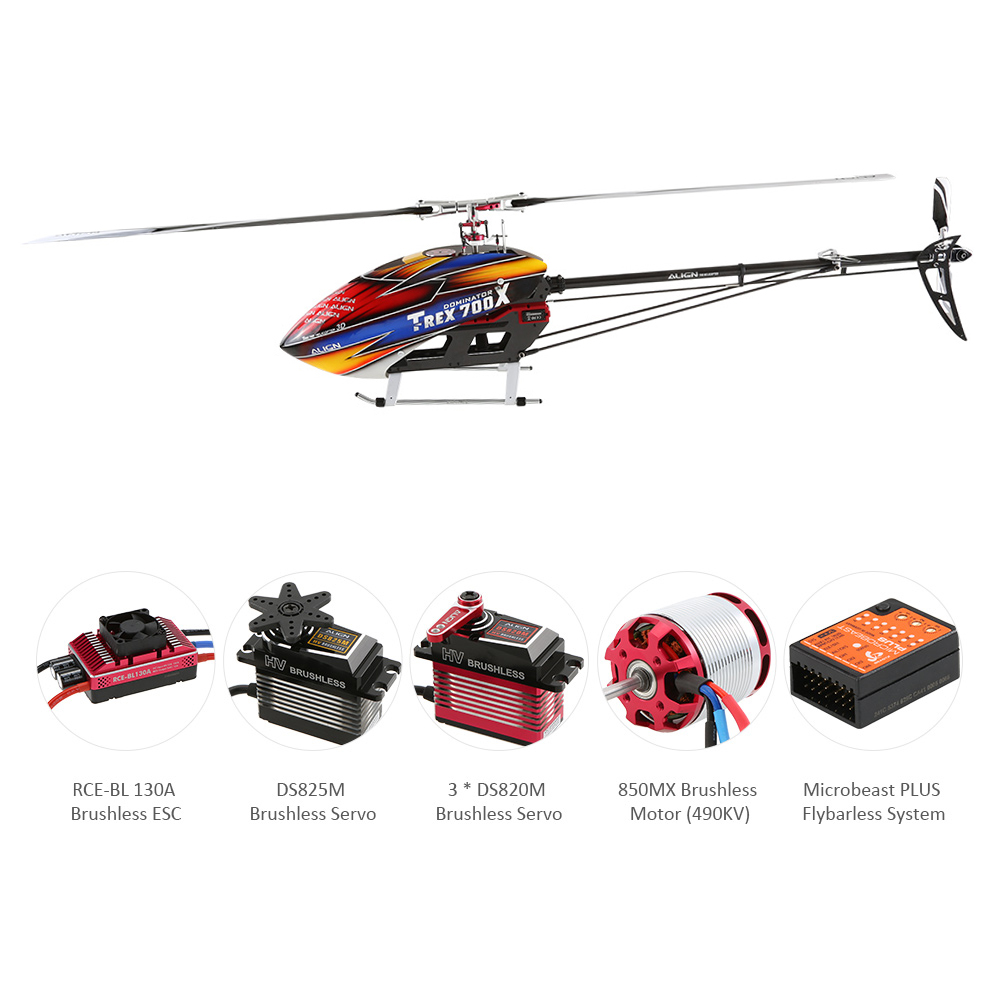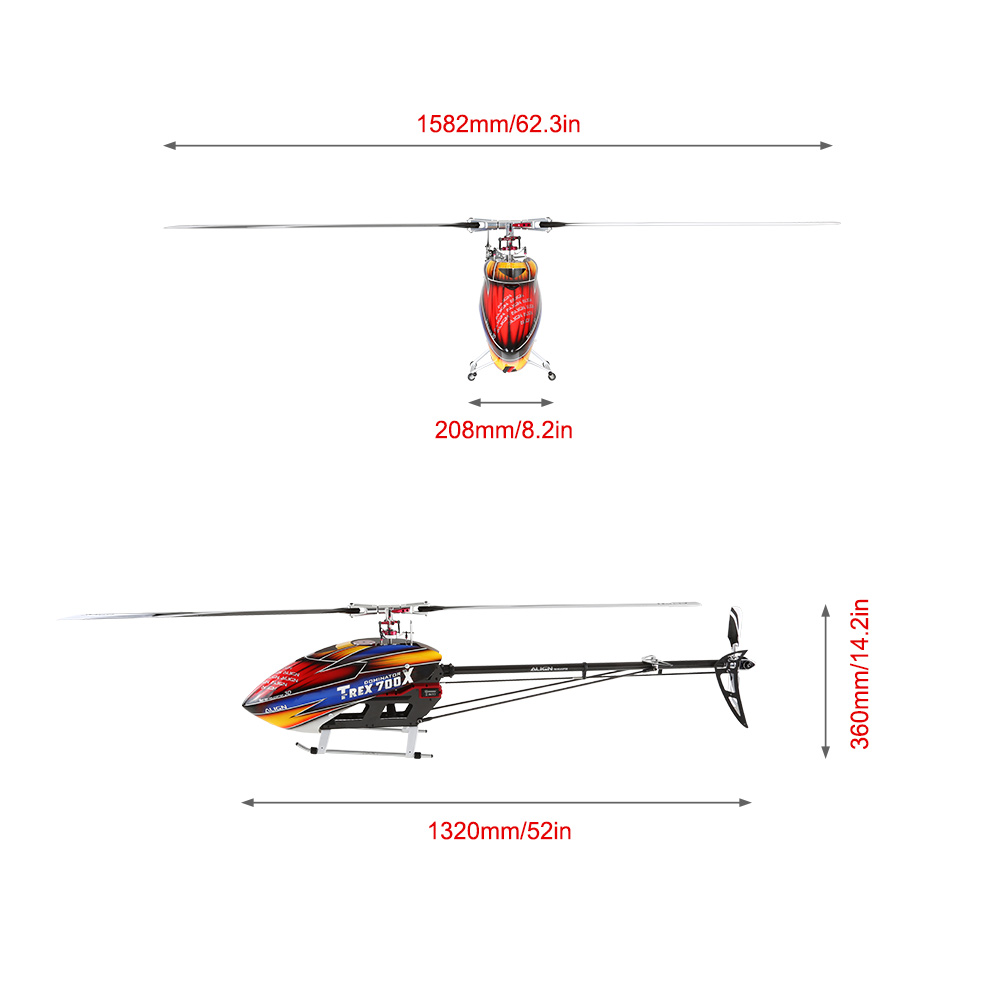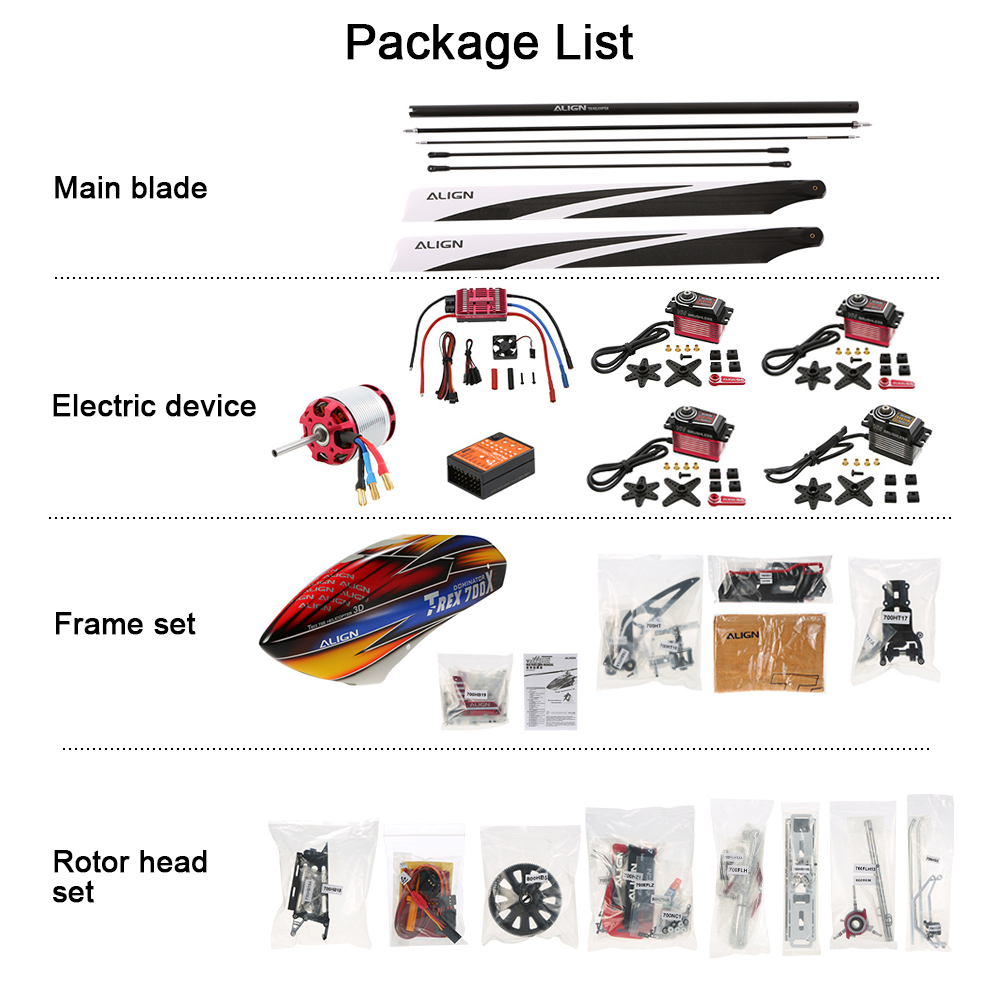 Features:
Lightweight carbon fiber frame with metal strengthen part make it super strong.
Landing skid is tilted 5 degree forward which improves crashworthiness.
Narrow Body Design efficiently decreases gear abrasion and machine deformation.
Flybarless Rotor Head System utilizes extreme low CG design provides more stability and higher 3D performance.
The high-end Microbeast Plus 6-axis gyro with 32-bit high-speed processor.
Newest championship quality 850MX motor provides unmatchable power.
All metal high pressure brushless servos for fast speed, high torque, and fast response.
Brand new matting carbon tailboom using carbon fiber and aluminum imbedded technology, features lightweight and high strength.
Specification:
Brand Name: Align
Item Name: T-REX 700X Dominator
Material: Metal and Carbon Fiber
Length: 1320mm
Height: 360mm
Width: 208mm
Main Blade Length: 700mm
Main Rotor Diameter: 1582mm
Tail Rotor Diameter: 281mm
Motor Drive Gear: 13T
Main Drive Gear: 110T
Autorotation Tail Drive Gear: 104T
Tail Drive Gear: 22T
Drive Gear Ratio: 1 : 8.46 : 4.37
Motor: 850MX Brushless Motor (490KV)
Servo: 3 * DS820M Brushless Servo, 1 * DS825M Brushless Servo
Gyro: Microbeast Plus Flybarless System
ESC: 1 * RCE-BL130A Brushless ESC
Item weight: 2910g
There may be some deviation due to manual measurement.

Notice:
The transmitter, receiver, charger and battery are not included, you should buy them by yourself.
This RC model is not a toy and is not suitable for children under 14 years old, keep it away from children.
Carefully read the instruction before any use, if you are a beginner, it's advisable to be assisted by an experienced adult.
Recommend Electronic Components (not included):
Transmitter: 6-channel or more, helicopter system
Receiver: 6-channel or more
Battery: 6S Li-Po 4500 ~ 5200mAh
Digital Pitch Gauge
Balance Charger
Package information:
Package size: 94 * 26 * 16cm / 37 * 10.2 * 6.3in
Package weight: 6372g / 14lb
General box package
Package list:
1 * T-REX 700X Kits Set
1 * 850MX Brushless Motor (490KV)
1 * RCE-BL130A Brushless ESC
1 * Microbeast Plus Flybarless System Set
1 * 700 Carbon Fiber Blades Set
1 * Carbon Fiber Tail Blades Set
3 * DS820M Brushless Servo
1 * DS825M Brushless Servo
1 * Carbon Fiber Tail Boom
1 * User Manual