The DJI Focus uses DJI's expertise in brushless motors for previously unheard of levels of precision and accuracy. The brushless motor puts just ±0.02° of accuracy in your hands so that turning the remote is just like turning the lens itself. It also features high torque and a fast reaction speed so you can keep your subject in focus no matter how it moves.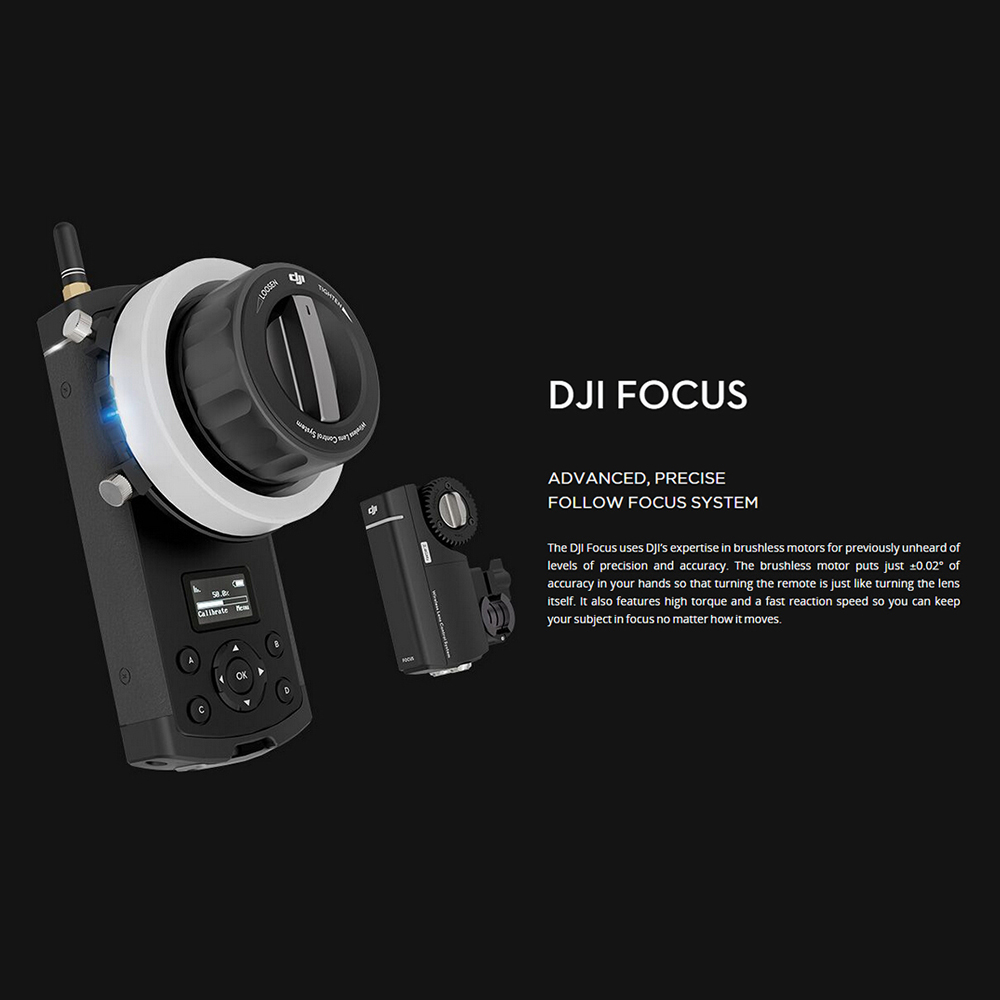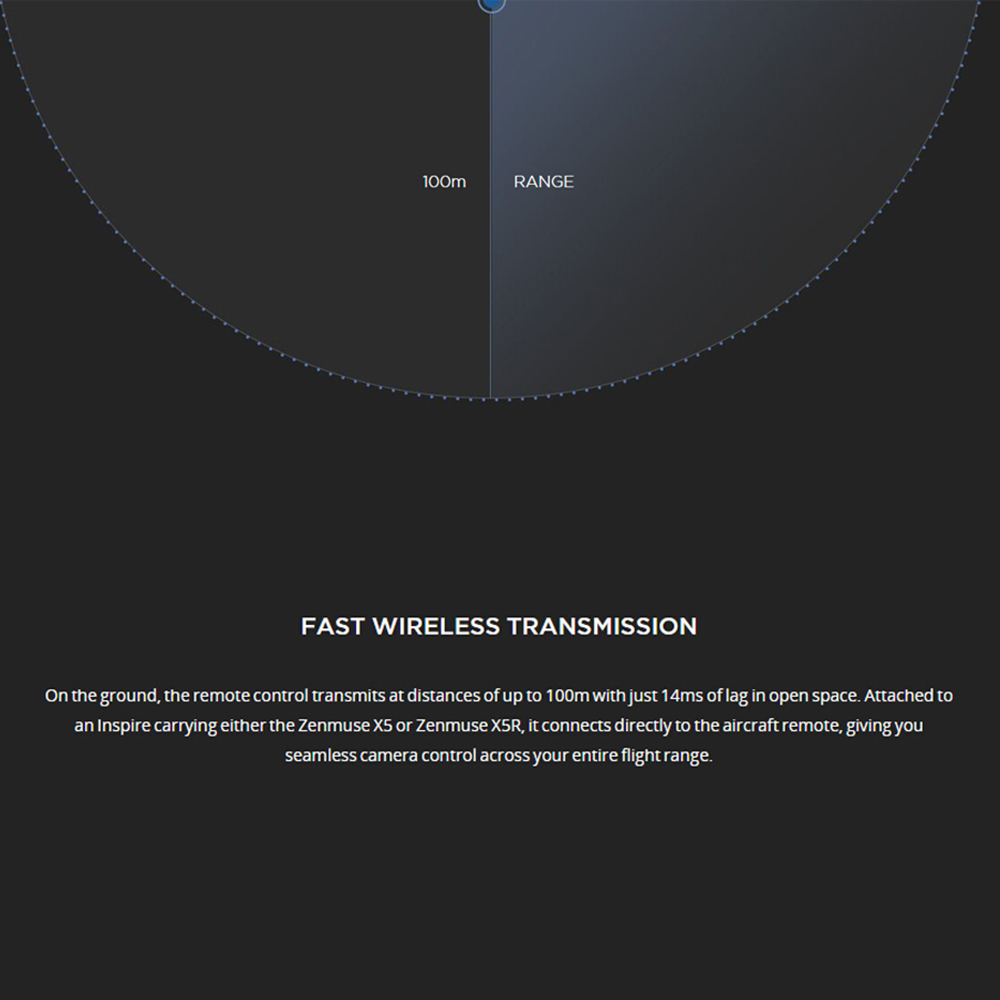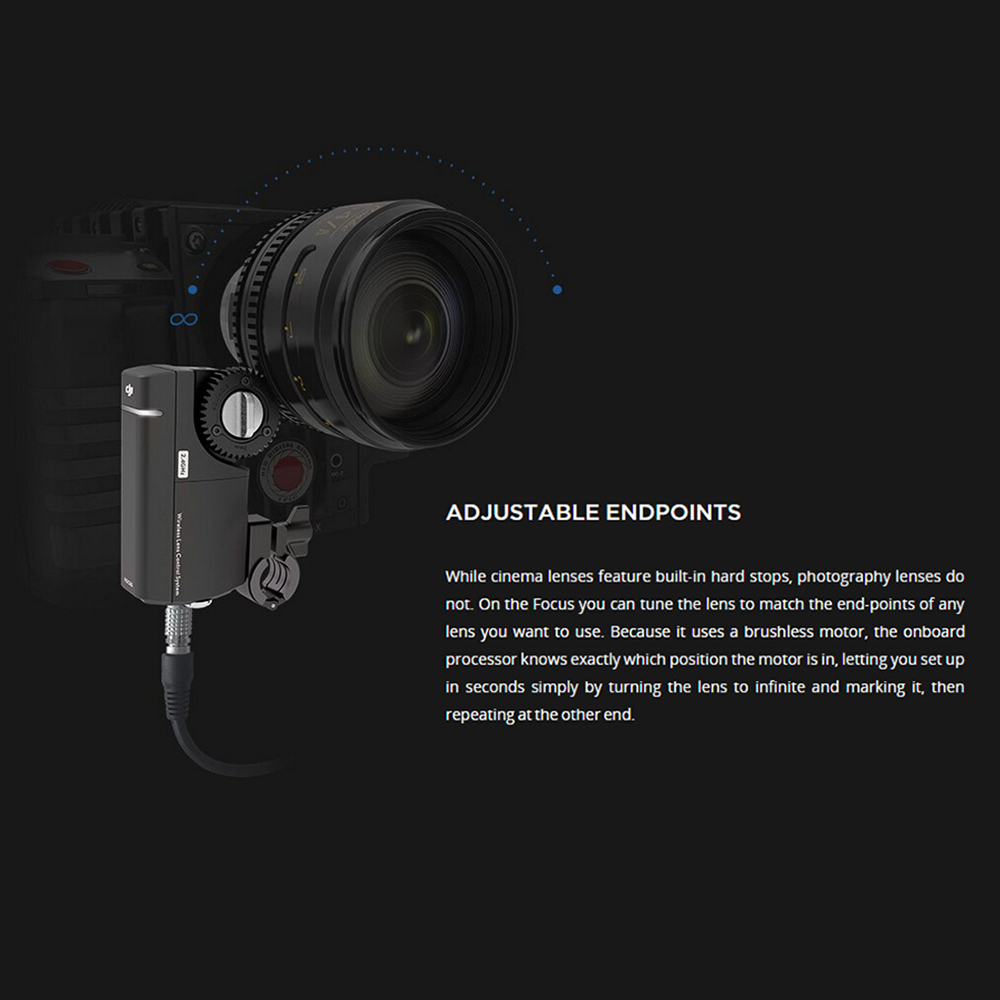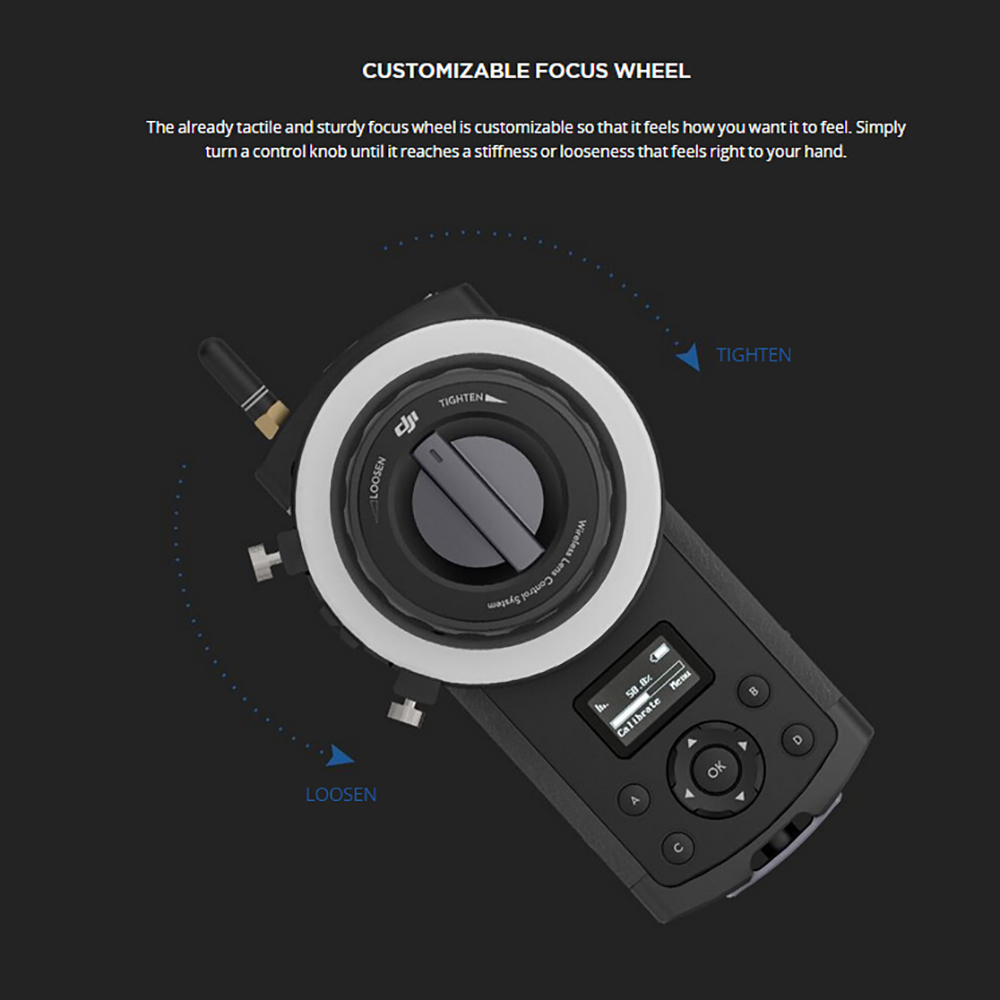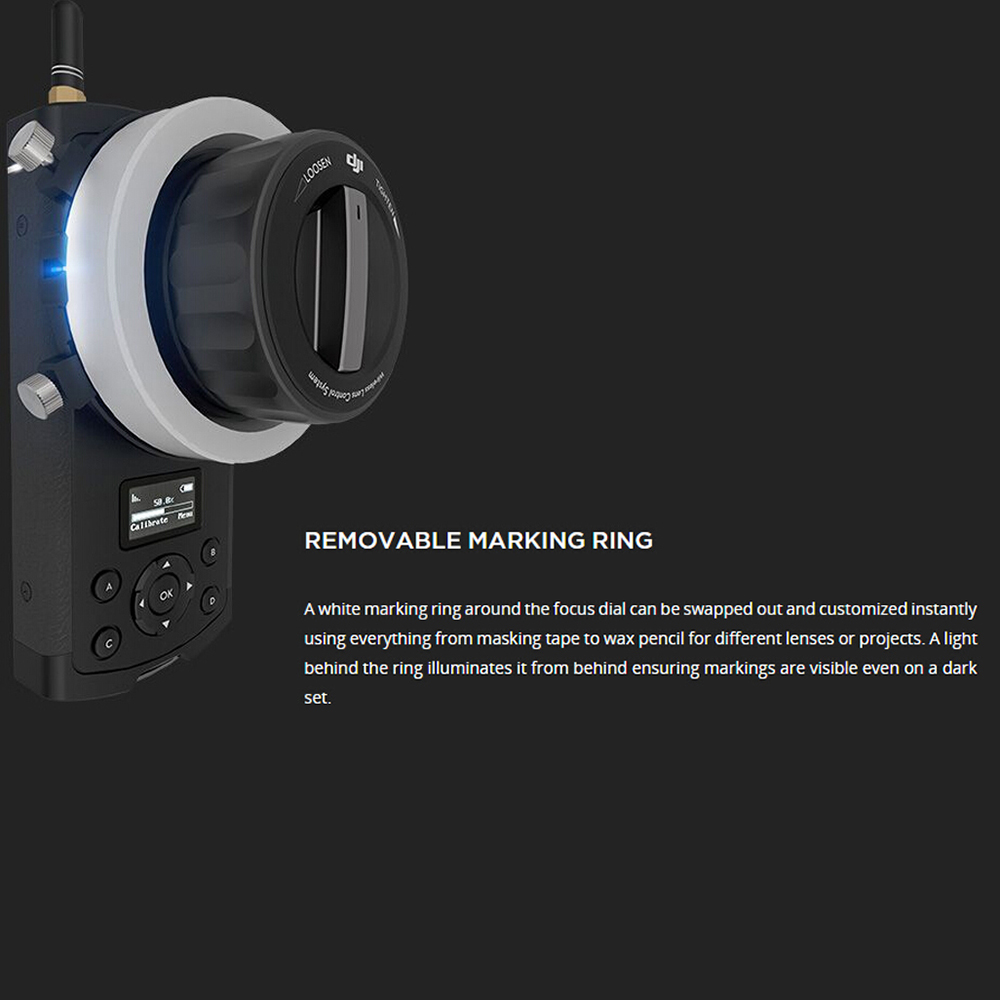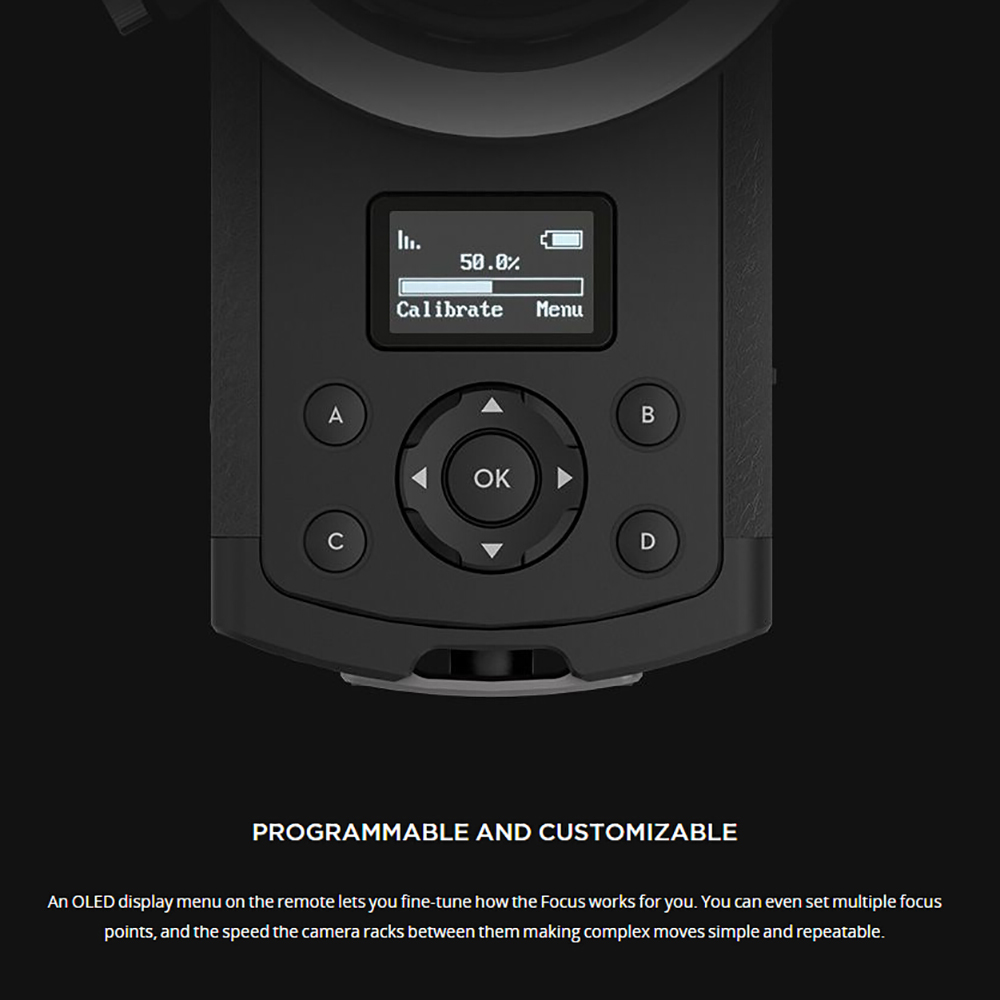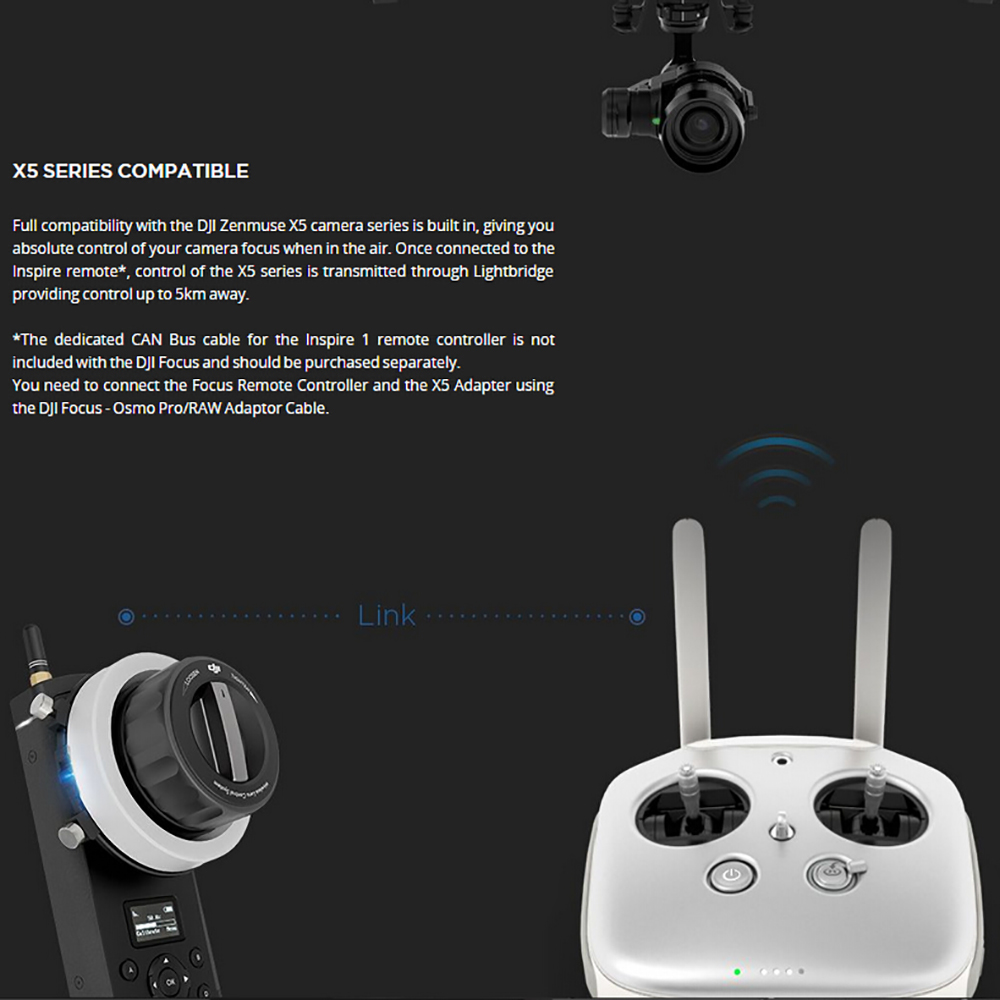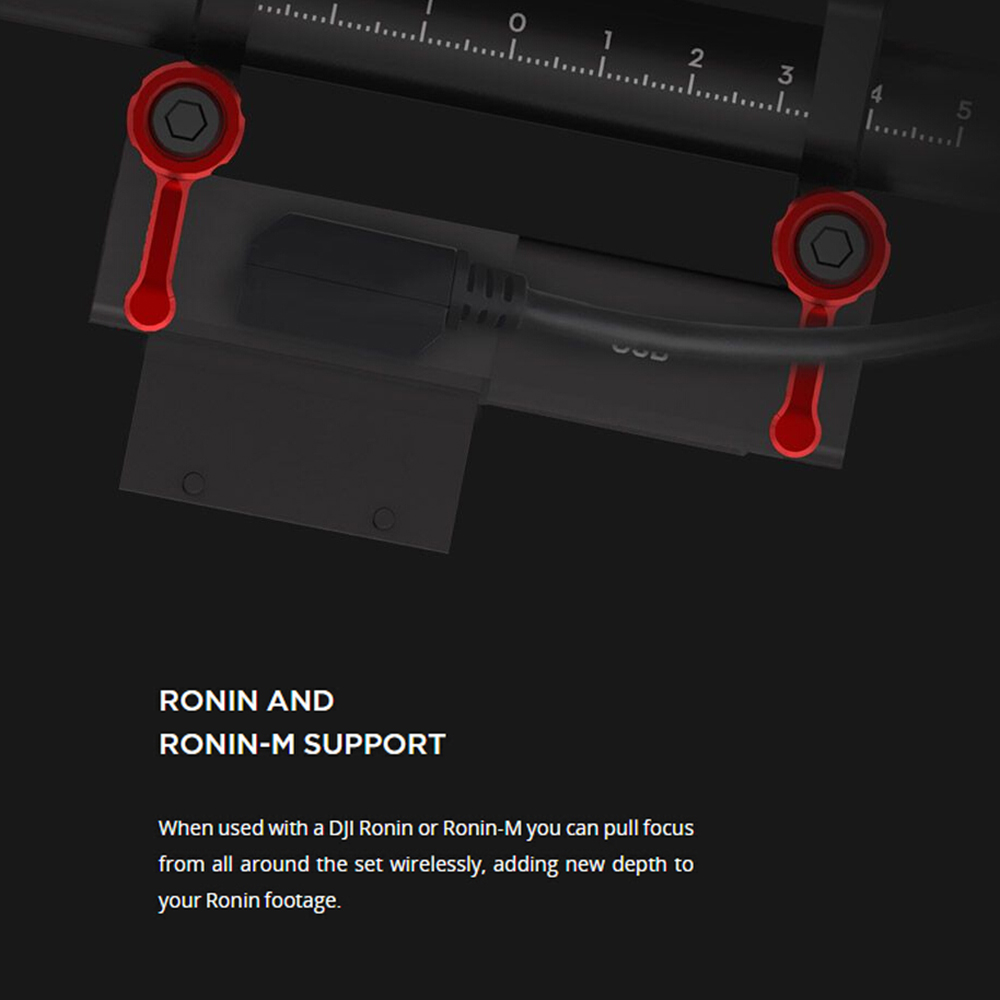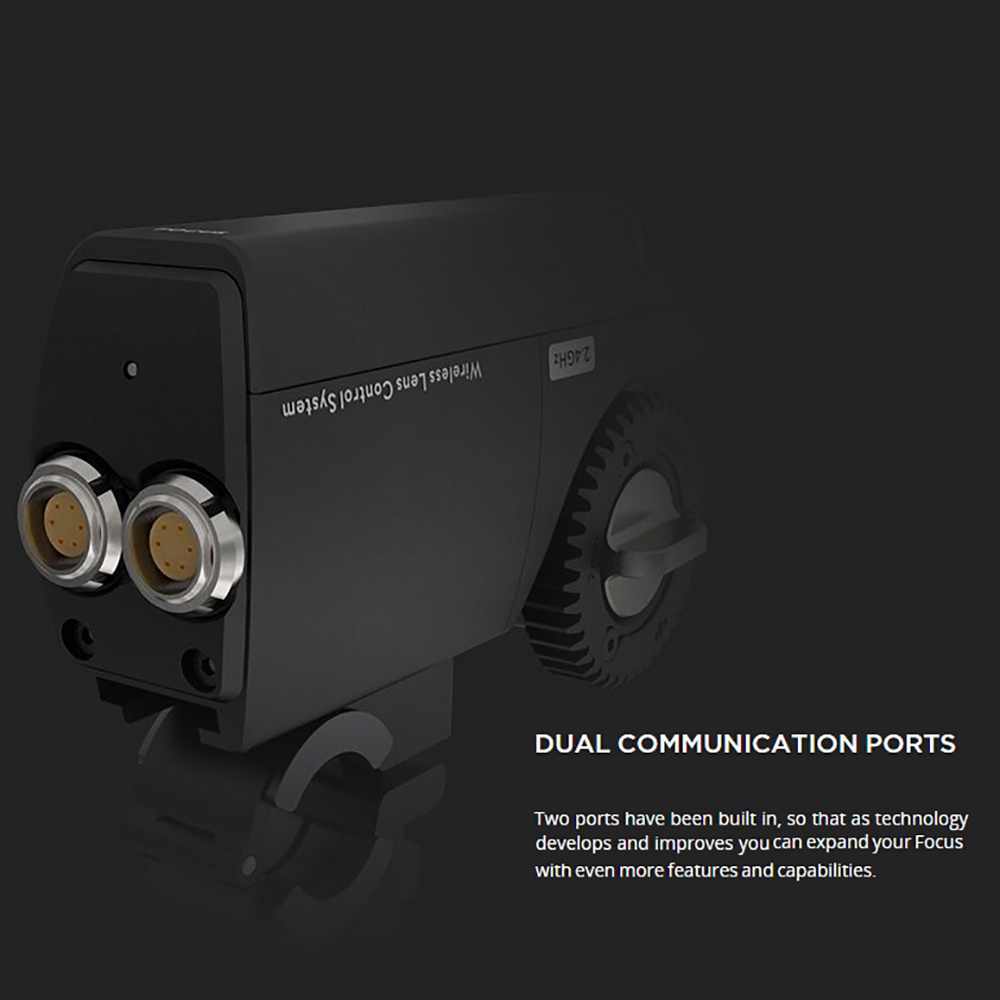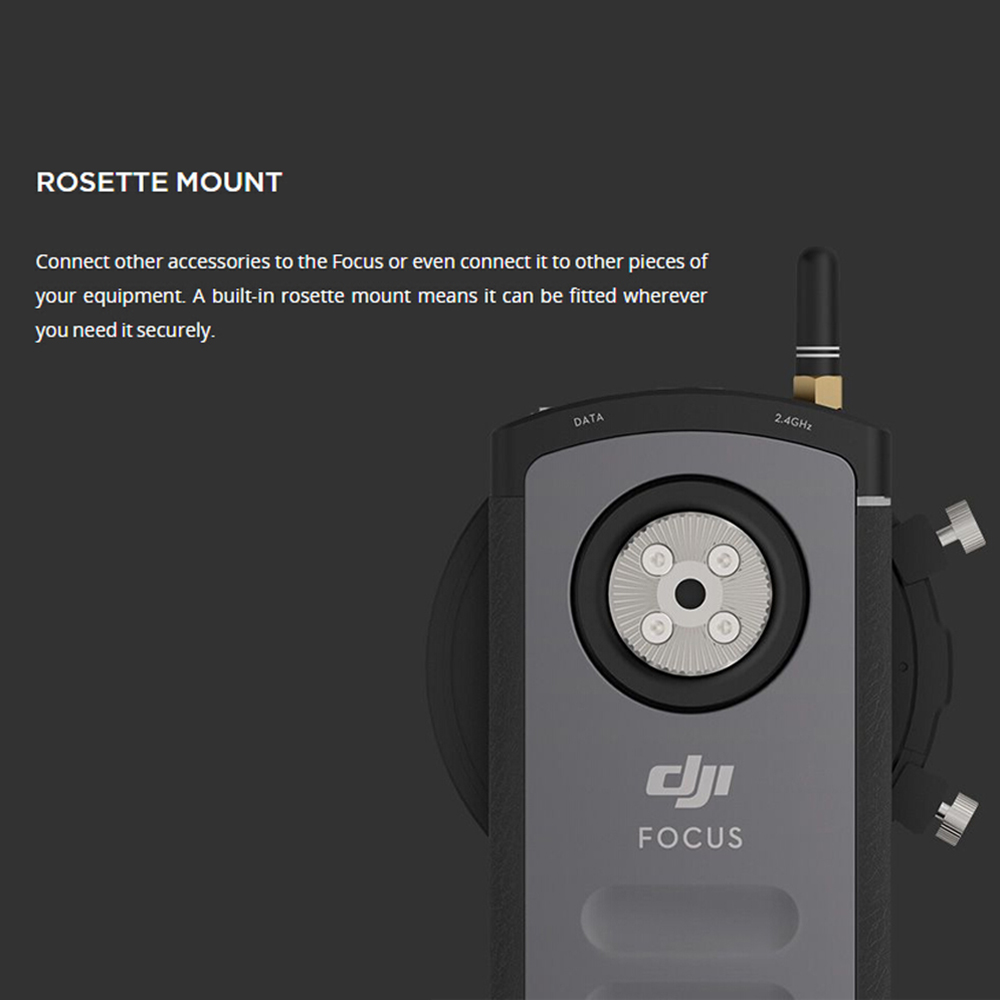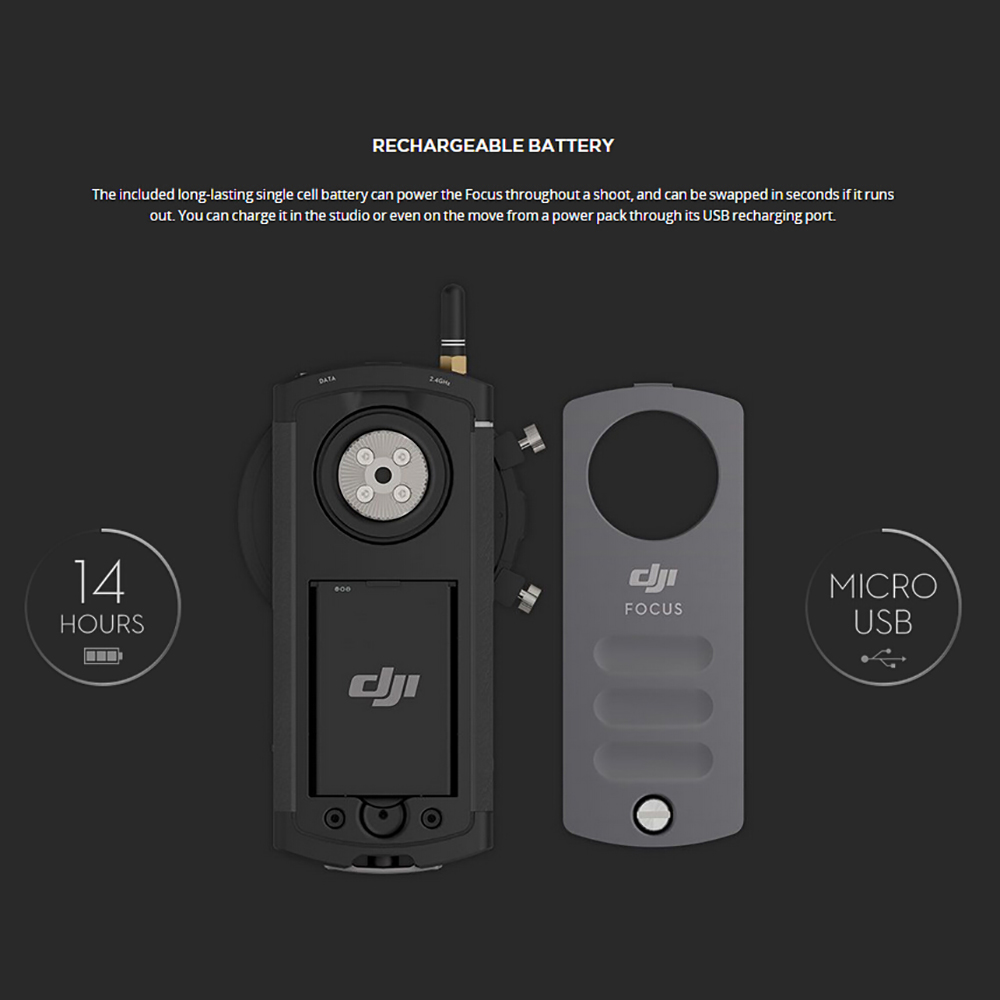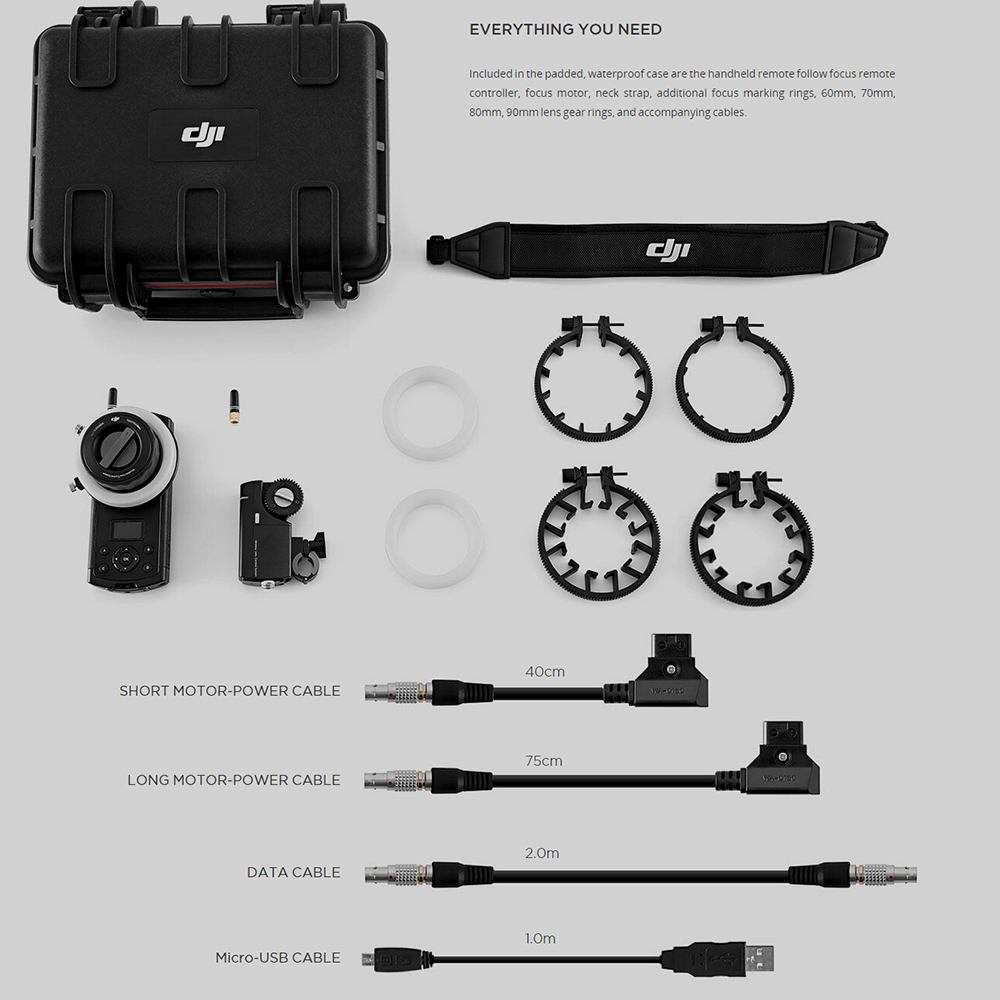 Features:
Control accuracy of ±0.002
Self-contained drive unit combines brushless motor and receiver in a single module - simplifying installation and requiring only a single power source
Use with Inspire 1 quadcopter carrying Zenmuse X5 or X5R camera
Adjustable endpoints, ideal for lenses, such as photo lenses, that lack "hard" stops
Programmable focus points and other parameters adjustable through controller menu
OLED display on controller for menu access and status display
Compatible with DJI's Ronin and Ronin-M gimbals
Works with third-party gimbals or rigs that have 15mm or 19mm rod support
Dual communication ports for future upgrades
Built-in rosette for greater mounting flexibility
Specifications:
General
Brand: DJI
Part: Wireless focus system
Operating frequency: 2.415-2.473GHz
Max. transmission distance: 100m
(out and unobstructed)
Transmitter power: 14dBm
Operating temperature range: -20℃ to 55℃
Motor
Weight: 170g
Dimensions: 90 * 50 * 26mm
Max. torque: 0.35Nm
Max. speed: 192rpm
Working current: Static current 80 mA
(@12 V)
, stall current: 2 A
(@12 V)
Working voltage: 9-16V
Noise: <25dB
(@96rpm)
Rob clamp inner diameter: 19mm or 15mm
Remote Controller
Weight: 745g
Dimensions: 153 * 86 * 90mm
Battery: FB01-554461 3.7V 1700mAh 6.29Wh LiPo battery
Lens Gear Ring
Teeth: 105
Module: 0.8
Diameter: 60mm, 70mm, 80mm, 90mm
NOTE:
The dedicated CAN Bus cable for the Inspire 1 remote controller is not included with the DJI Focus and should be purchased separately.
Package Information:
Package size: 32 * 27.5 * 14.5cm / 12.6 * 10.8 * 5.7in
Package weight: 4013g / 8.85lb
Yellow box package
Package List:
1 * DJI Focus Motor
1 * DJI Focus Remote Controller
1 * Carring Case
2 * Antenna
2 * Motor Power Cable
1 * Data Cable
1 * Micro USB Cable
2 * Marking Ring
4 * Lens Gear Ring
1 * Neck Strap