This Kit designed for DJI Phantom 3 RC Quadcopter features high quality and durable performance, which is the best choice for you to enjoy more flying joys.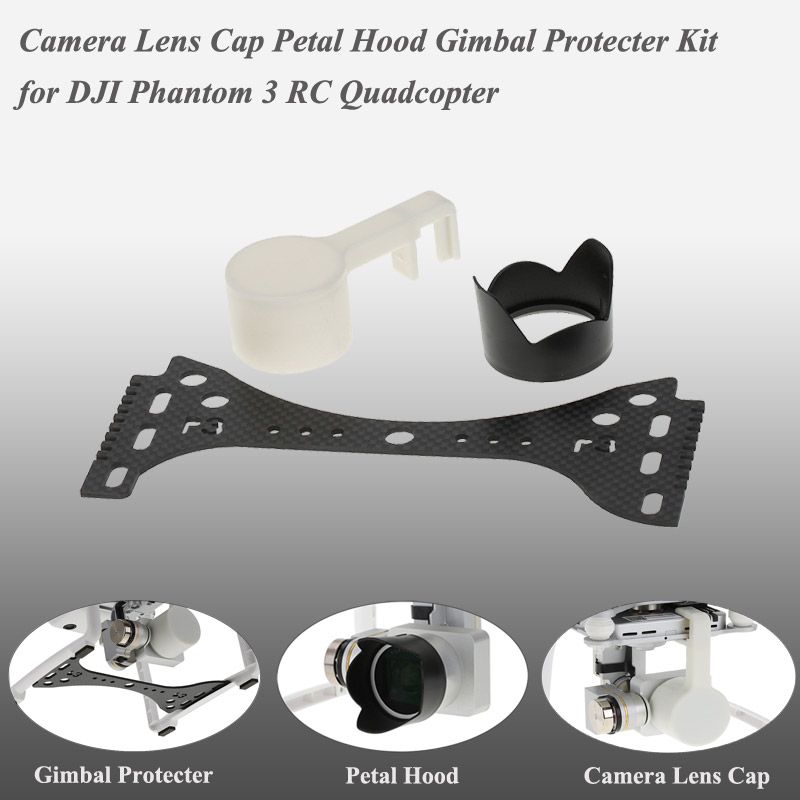 Features:
Lightweight, portable, easy to carry.
High quality and durability in use.
Fine workmanship and perfect style.
Antiglare petal hood prevents glare from coming into the lens at side angles, improving contrast and image quality.
Camera lens protective cap protects lens from scratches and impacts.
Gimbal landing protective guard can protects your gimbal and camera.
The lens cover and sun hood made of ABS.
The gimbal guard made of carbon fiber.
Suitable for DJI Phantom 3 RC Quadcopter.
Specifications:
Item Name: Camera Lens Protective Cap Antiglare Petal Hood Gimbal Landing Protective Guard Kit
Material: ABS(sun hood and lens cap) & Carbon fiber(gimbal guard)
Color: Black(lens cap) & White(gimbal guard and sun hood)
Suit for: DJI Phantom 3 RC Quadcopter
Item dimension: 165 * 90 * 30mm
Item weight: 25.5g
Package information:
Package size: 17 * 9 * 3cm / 6.8 * 3.6 * 1.2in
Package weight: 28g / 1.0oz
Poly bag package
Package list:
1 * Antiglare Petal Hood
1 * Camera Lens Protective Cap
1 * Gimbal Landing Protective Guard