The new Skyzone SKY02S V+ 5.8G 48CH 3D FPV Goggles are an upgrade of previous Skyzone 3D Goggles. It remains all the features of previous versions, including 3D/2D mode, built-in DVR with playback, head tracking, built-in front camera etc, also some new features highlight in HDMI-IN, channel auto searching, new eyeshade with headband for cozier wearing. 5.8GHz receiving modules, two antenna ports and two independently-working display modules, bringing you 3D FPV flight experience. The two lens of the 3D camera work in the parallel manner so that 3D effect can be enhanced for close shot and reduced for long shot, bringing people an overall vivid visual experience.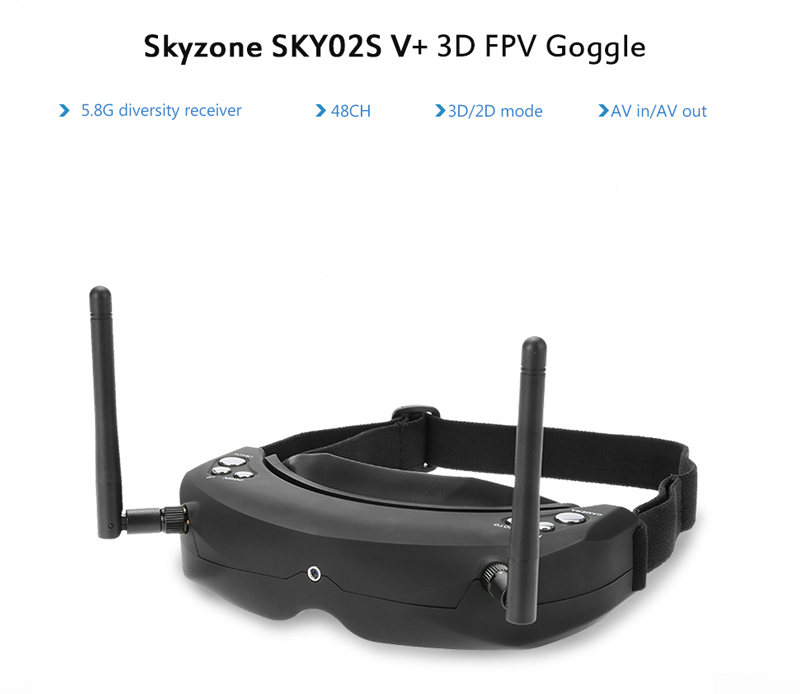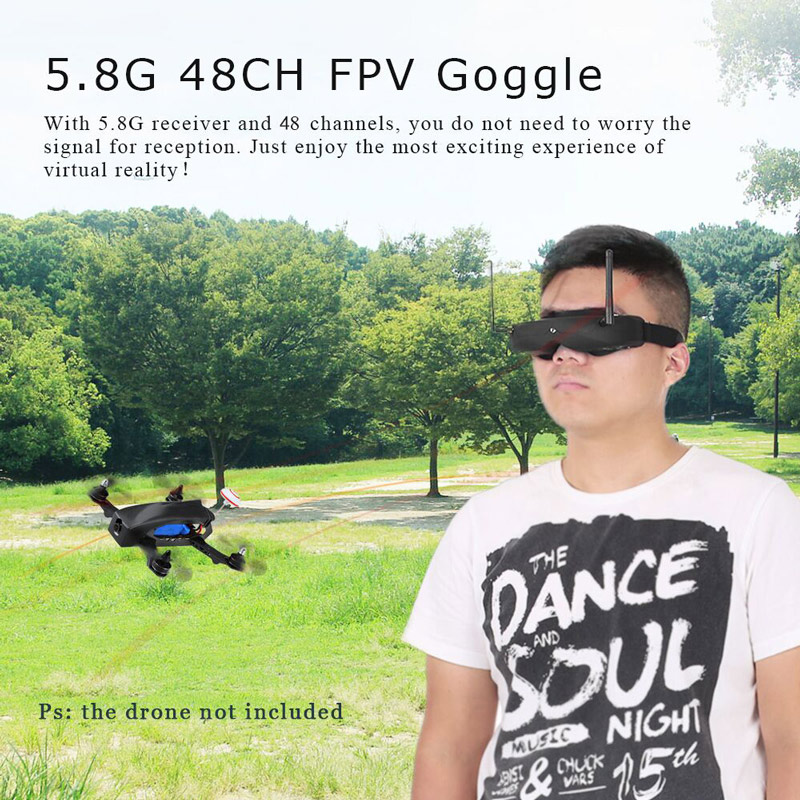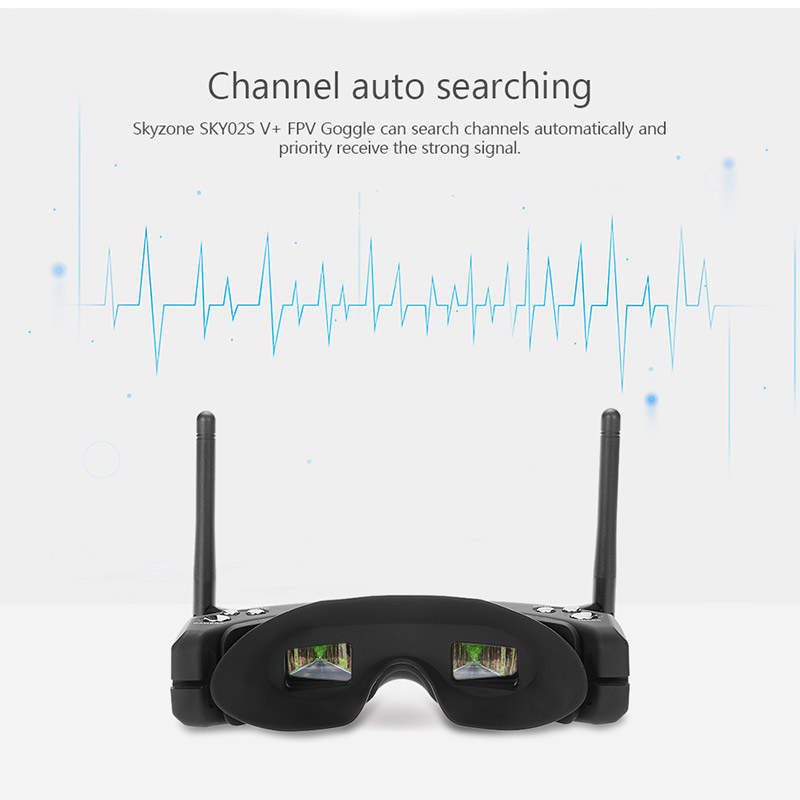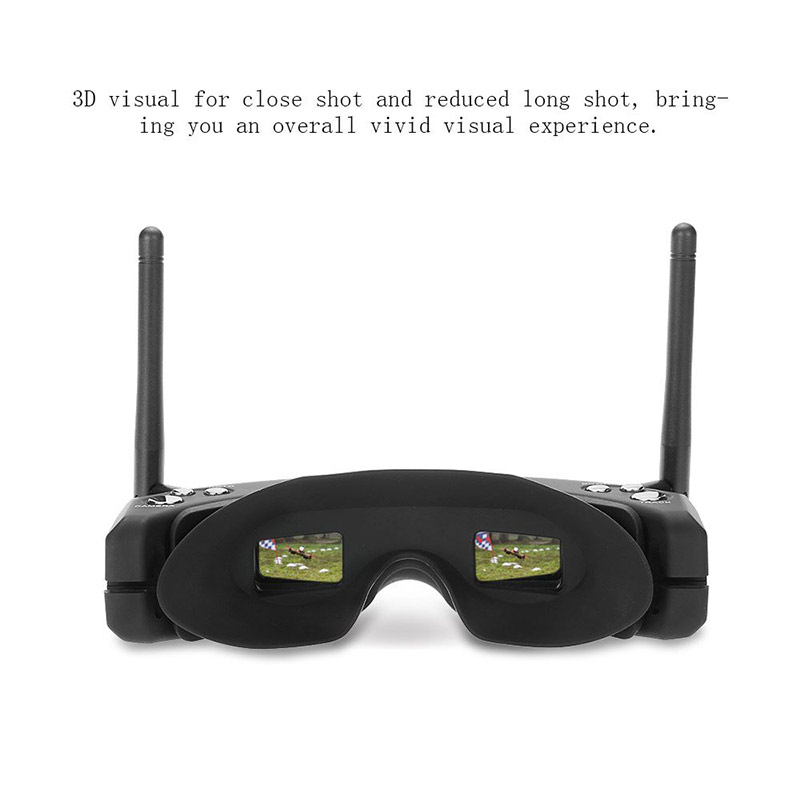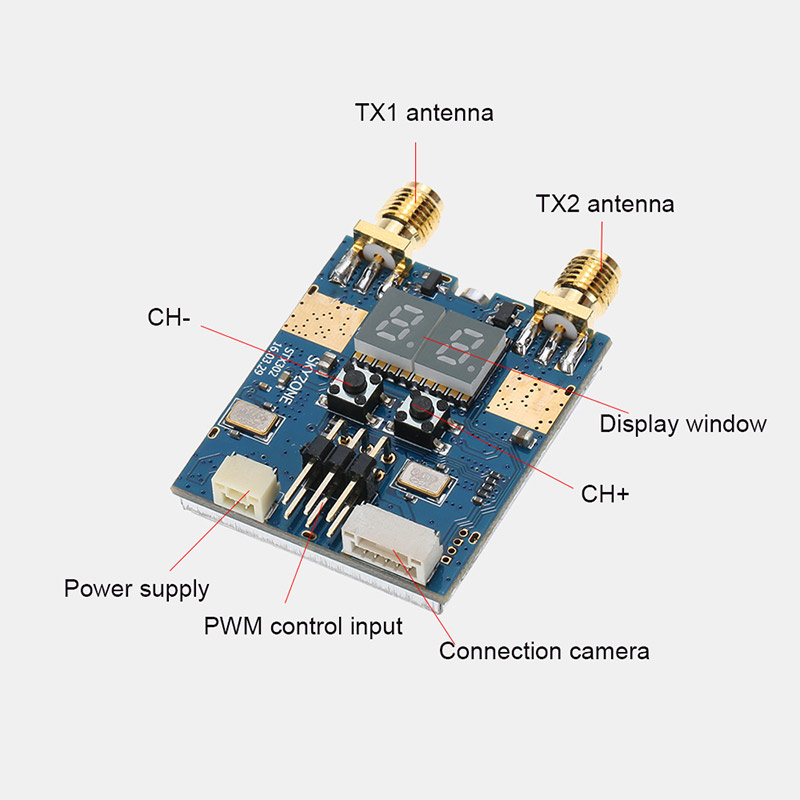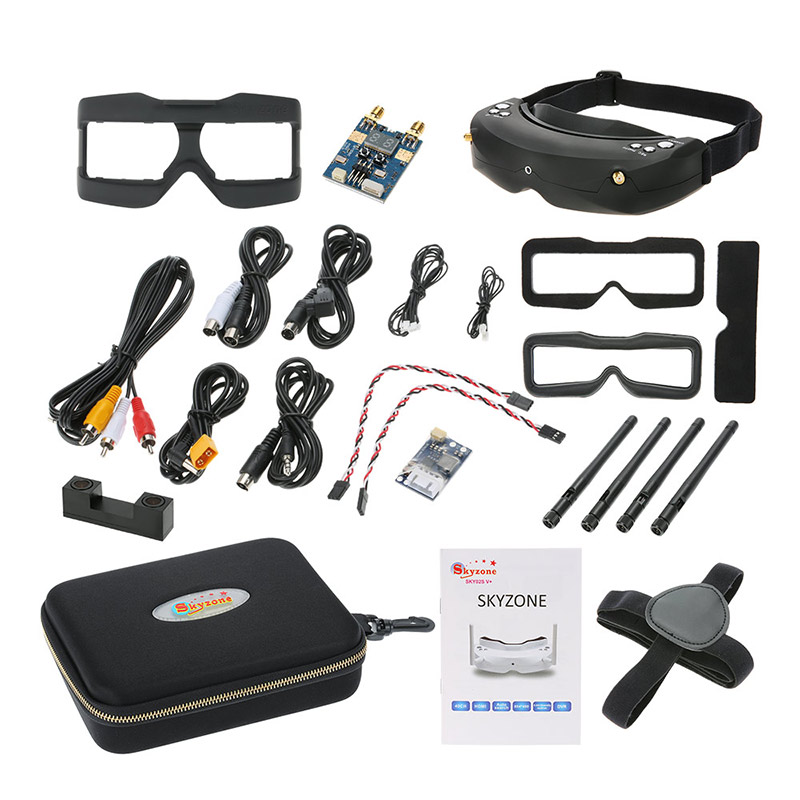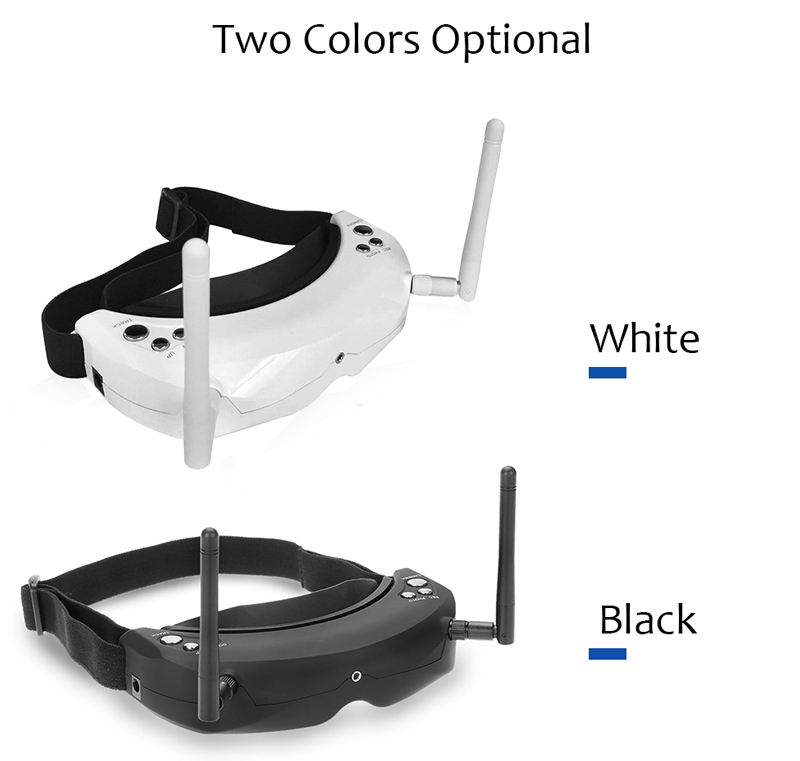 Features:
With 2D/3D mode(SCAM302 3D camera and STX202 two-way transmitters required) and HDMI in.
Channel auto searching.
Dedicated eyeshade with headband for more comfortable wearing.
Built-in DVR with playback.
Built-in 48CH 5.8G diversity receiver with raceband, compatible with most FPV 5.8G transmitters on the market(Fatshark, DJI, Walkera, Boscam etc).
Built-in self-calibrating head tracking(gyro, inertial and compass).
Built in dual 854*480(WVGA) monitors, 1,229,760 color sub-pixels.
Built-in external camera for surrounding view(640X480,VGA).
AV in/AV out/earphone socket(with volume control).
Adjustable interpupillary and diopter for your eyes.
Adjustable brightness and contrast.
Complete plug and play kit.
Specifications(SCAM302):
FOV: 120 degrees (diagonal)
F/NO: 2.3
Resolution: 720 * 576
Video standard: PAL
Video output level: 1.0Vp-p Typ./75ohm
Power supply: DC 5.0V/0.5A
Power consumption: 1.6W
Operating temperature: 0℃~60℃
Specification(STX202):
Modulate: Wideband FM modulate
Video standard: NTSC/PAL
Video input level: 1.0Vp-p Typ./75ohm
Video band width: 8.0MHz
Audio input level: 2.0Vp-p Typ./10Kohm
Audio carrier frequency: 6.5MHz
Power supply: DC 5V/1.2A
Power consumption: 5V input: 5.5W
Operating temperature: 0℃~70℃
RF output impedance: 50 ohm
RF output power: 22~24dBm
Specification(SKY02S V+):
Binocular display
FOV: 30 degrees(diagonal)
Resolution: 854*480(WVGA) 1,229,760 color sub-pixels
Brightness: 350cd/m²
Interpupillary distance(IPD): 59-69mm adjustable
Wireless Receiver
Sensitivity: -90dBm±1dBm
Antenna port: 2 * SMA, 50ohm
Front Camera
FOV: 60 degrees (diagonal)
Resolution: 640*480(VGA)
Focal length: f=4.0mm
F/NO: 2.8
Head Tracker
Sensor: Magnetic, inertial and gyro
Output: PPM 8 channel, Optional 5-6CH, 5-7CH, 5-8CH, 6-7CH, 6-8CH, 7-8CH
Record
Micro SD: Support to 32GB
Compression: MJPEG, 30fps, AVI
Picture: JPEG
Record rate: 6Mbps
AV Signal
Video standard: NTSC/PAL
Video output level: 1.0Vp-p Typ./75ohm
Audio output level : 1.0Vp-p Typ./10Kohm
AV Port
Div.AV OUT(3.5mm4P): Diversity video, audio output
EAR OUT(3.5mm3P): Stereo 16Ω/150mW
AV IN(3.5mm4P): Video/Audio input
Power Supply
DC IN: DC 7~26V/1A
Power consumption: 12V input: 5.4W
Preset Frequency:
CH1: 5733M, 5771M
CH2: 5752M, 5790M
CH3: 5809M, 5847M
CH4: 5828M, 5866M
Custom Frequency:
A: 5865M, 5845M, 5825M, 5805M, 5785M, 5765M, 5745M, 5725M
B: 5733M, 5752M, 5771M, 5790M, 5809M, 5828M, 5847M, 5866M
E: 5705M, 5685M, 5665M, 5645M, 5885M, 5905M, 5925M, 5945M
F: 5740M, 5760M, 5780M, 5800M, 5820M, 5840M, 5860M, 5880M
R:5658M, 5695M, 5732M, 5769M, 5806M, 5843M, 5880M, 5917M
L: 5362M,
5399M, 5436M, 5473M, 5510M, 5547M, 5584M, 5621M
Package Information:
Package size: 24.3 * 18 * 9.2cm / 9.5 * 7.1 * 3.6in
Package weight: 928g / 2.0lb
Brand gift box package
Package List:
1 * Goggles
1 * Carry Case
1 * STX202 Transmitter
1 * SCAM302 Camera
1 * Power Supply Board
1 * Futaba Data Cable
1 * JR Data Cable
1 * WFLY Data Cable
4 * 5.8G 2dBi Antenna
1 * 5P Camera Cable
2 * 3P TX Remote Control Cable
1 * AV Cable
1 * 2P TX Power Cable
1 * Power Cable
1 * Accessories
1 * User Manual