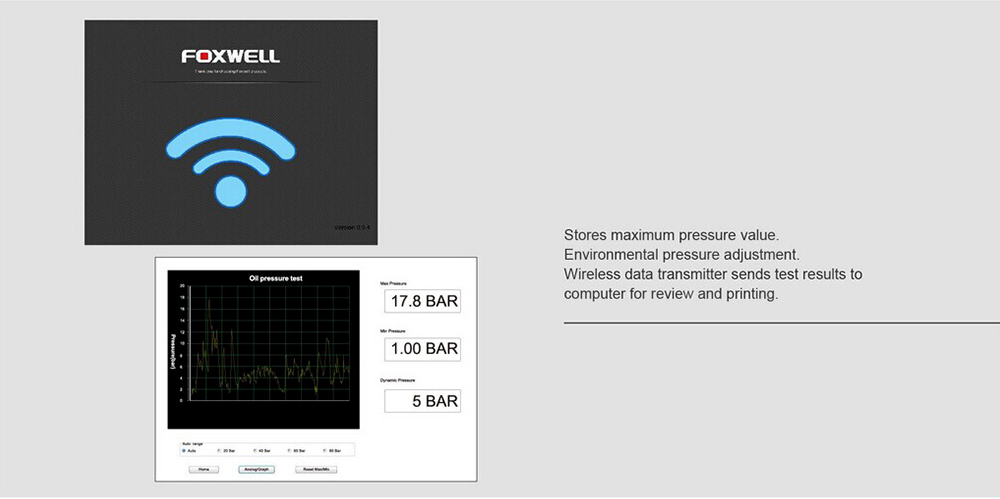 DPT701 is an useful tool to measure fuel pressure and engine compression. It can be used to measure pressure up to 80 bar for any gas and noncorrosive liquid.
Features and Benefits:
1. Complete test functions.
* oil pressure test
* petrol compression test
* diesel compression test
* 80 bar manometer
* petrol injection pressure test
* low pressure common rail test
2. Stores maximum pressure value.
3. Environmental pressure adjustment.
4. Wireless data transmitter sends test results to computer for review and printing.
5. Checks battery status continuously to avoid wrong measures.
6. Multilingual menu options for an international marketplace. It supports English, French, German, Spanish, Russian, Italian, Polish and Portuguese.
7. Clearly arranged keypad and menu-driven navigation together make it extremely easy to use.
8. Strong housing and protective rubber boot for resisting impact and damage. A rubberized sleeve protects your investment.
Specifications:
Brand: FOXWELL
Model: DPT701
Color: black + orange
Display: Backlit, 3", 64 * 128 pixels graphic LCD
OSD Language: English, French, German, Spanish, Russian, Italian, Polish and Portuguese
Sensor type: Strain gauge technology, amplified and digital temperature compression
Sensor output: Ratiometric, 0.5/4.5V DC at 5V DV excitation
Sensor FS.: 80 bar / 1160 psi
Resolution: 1 bar / 1psi
Proof pressure: 150% FS
Battery type: 9V
Data transmission interface: wireless module
Adapters included: 6mm and 8mm
Working Temperature:0 to 60℃
Storage Temperature:-20 to 70℃
Product Dimension: 20 * 10 * 4cm / 7.9 * 4 * 1.6in
Package Size: 33 * 22 * 7.5cm / 13 * 8.7 * 3in
Package Weight: 1560g / 55oz
Package List:
1 * DPT701 Scan Tool
1 * Wireless PC Receiver
1 * Spare Fuse
1 * 80 Bar Sensor
4 * Diagnostic Adapter
1 * Software CD
1 * Sealant
1 * User Manual