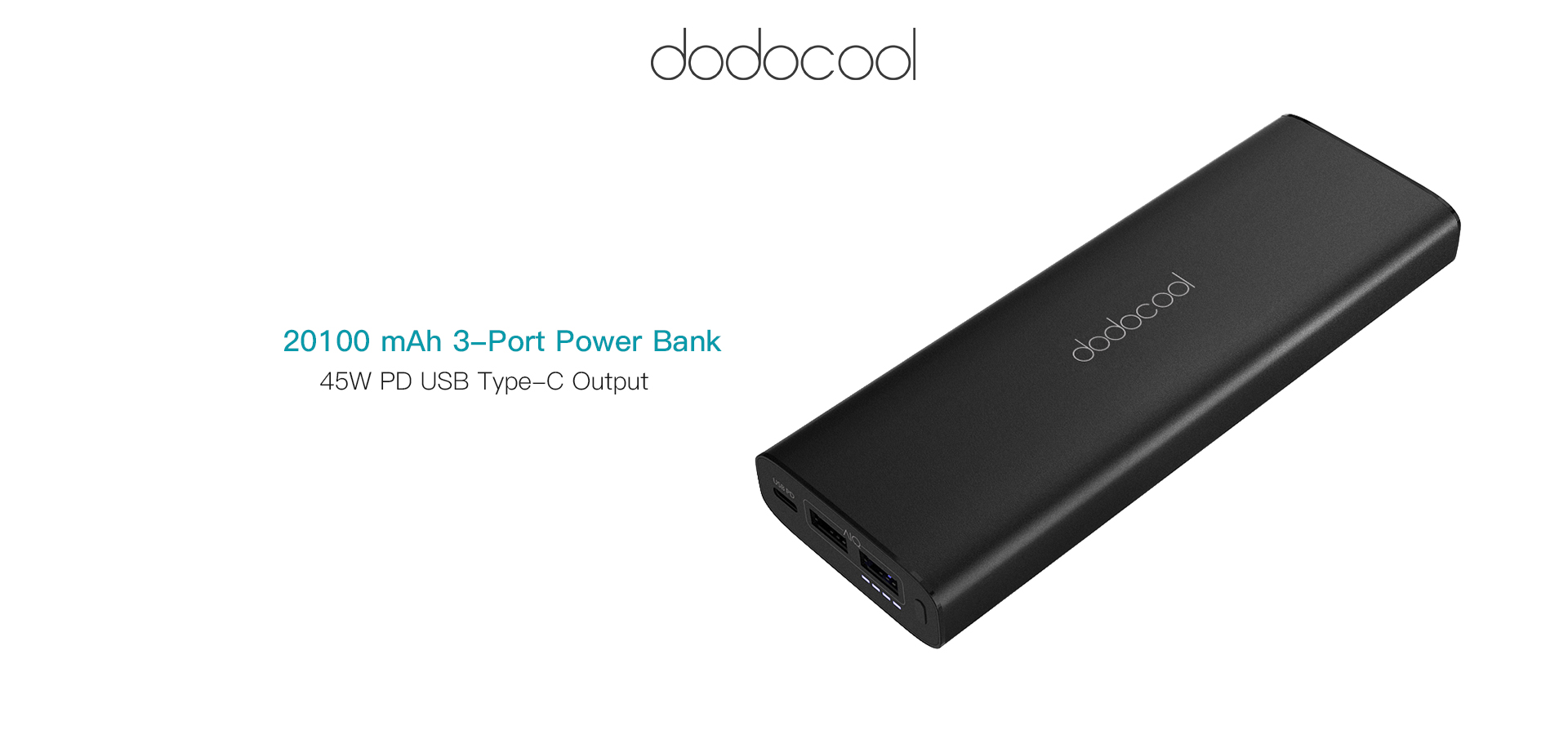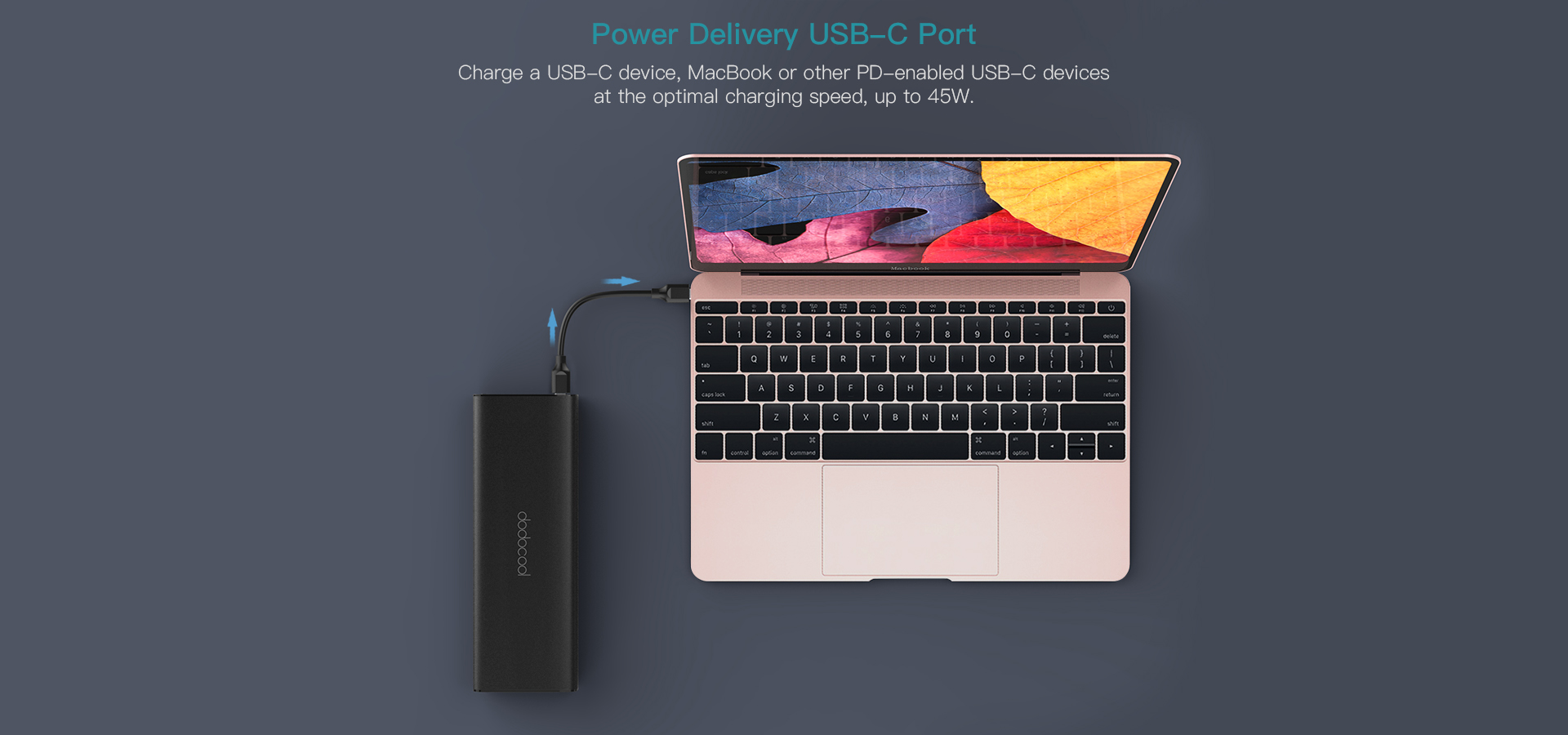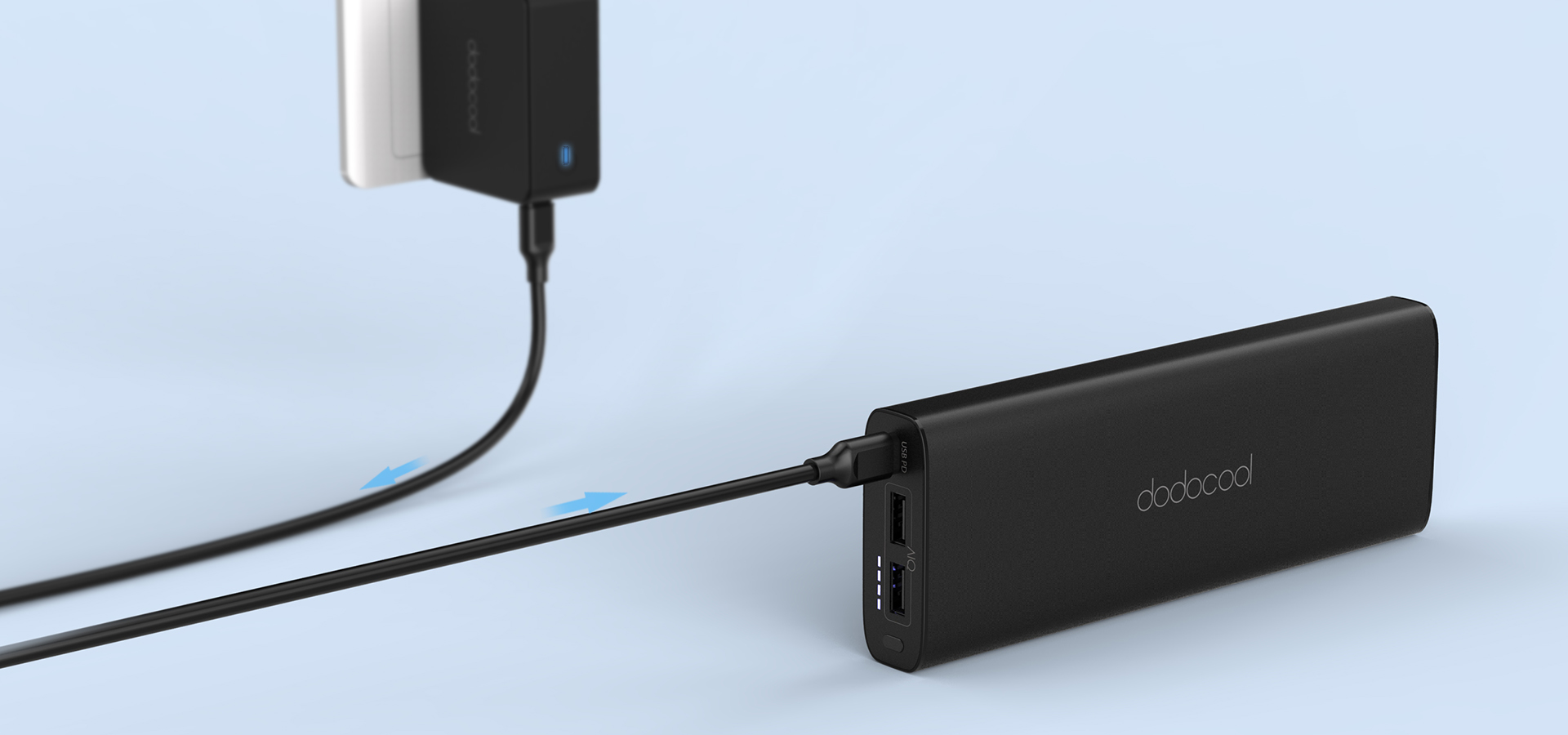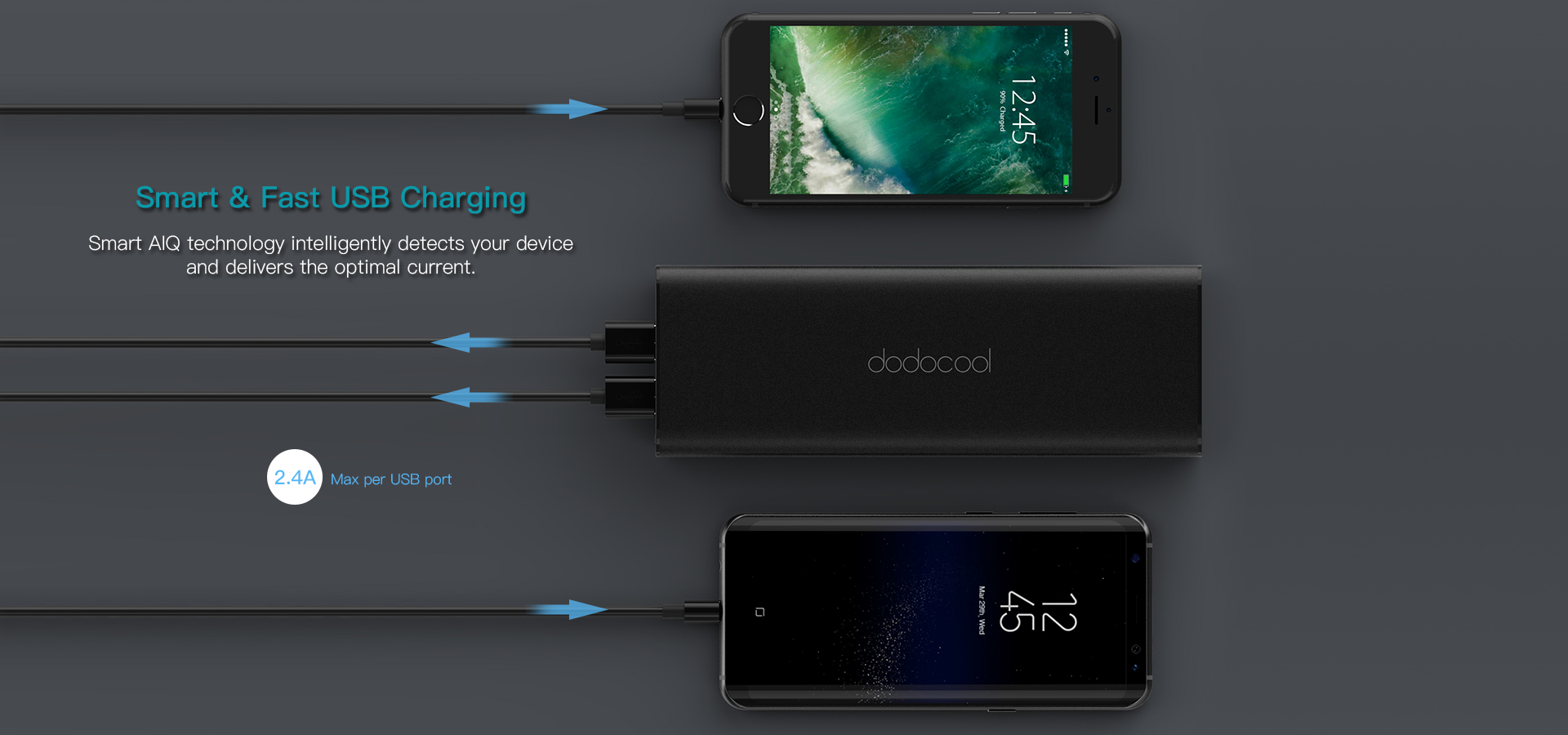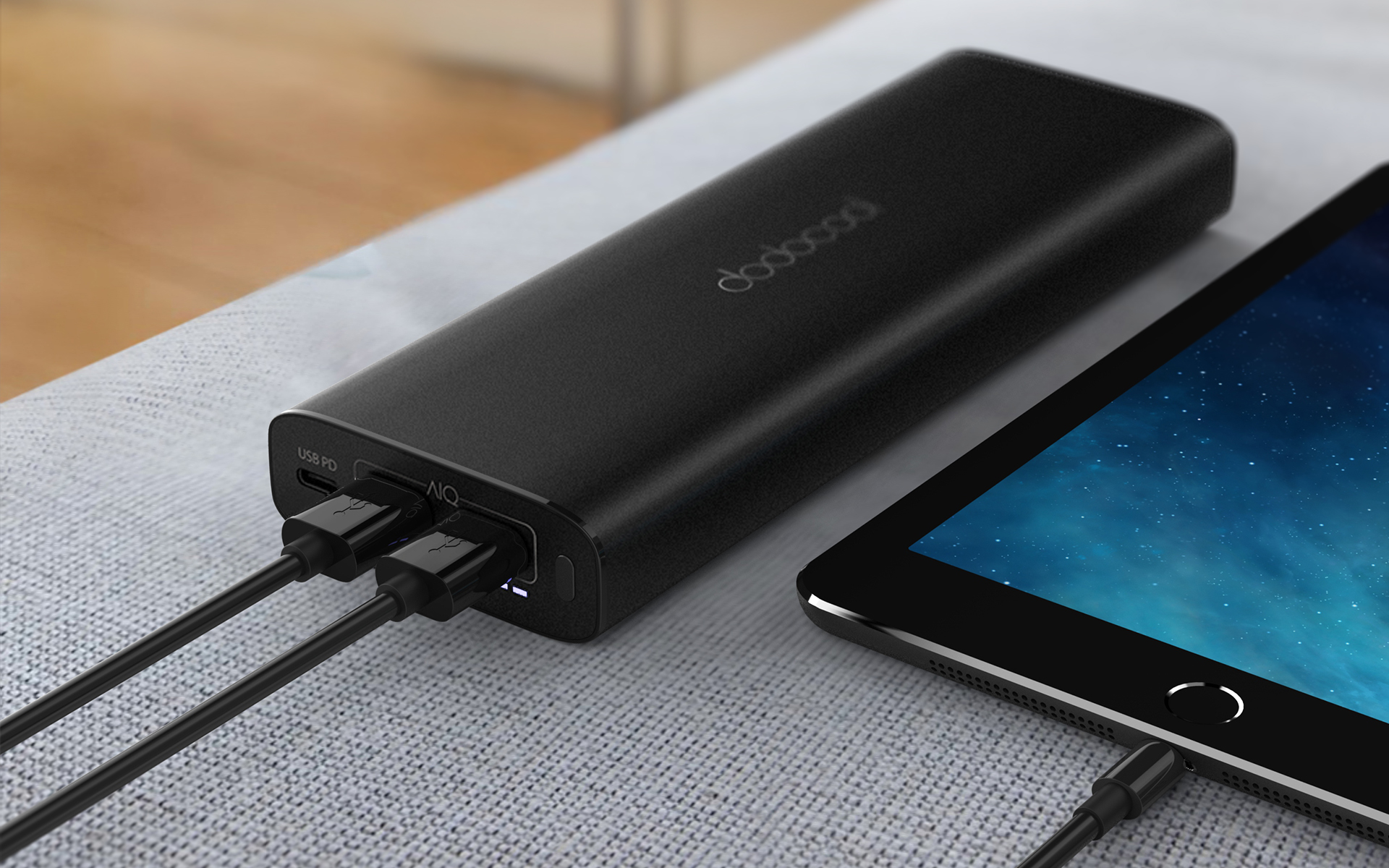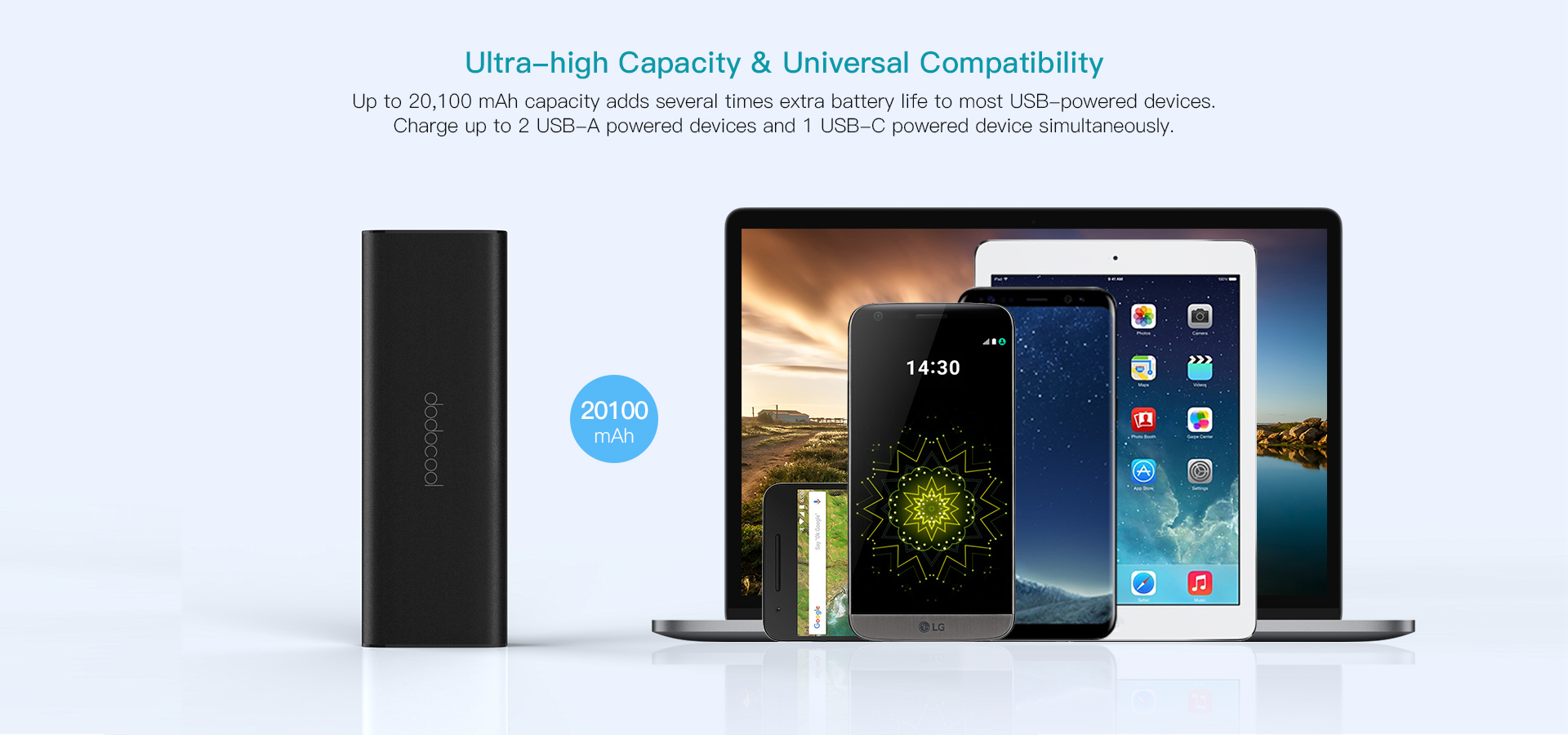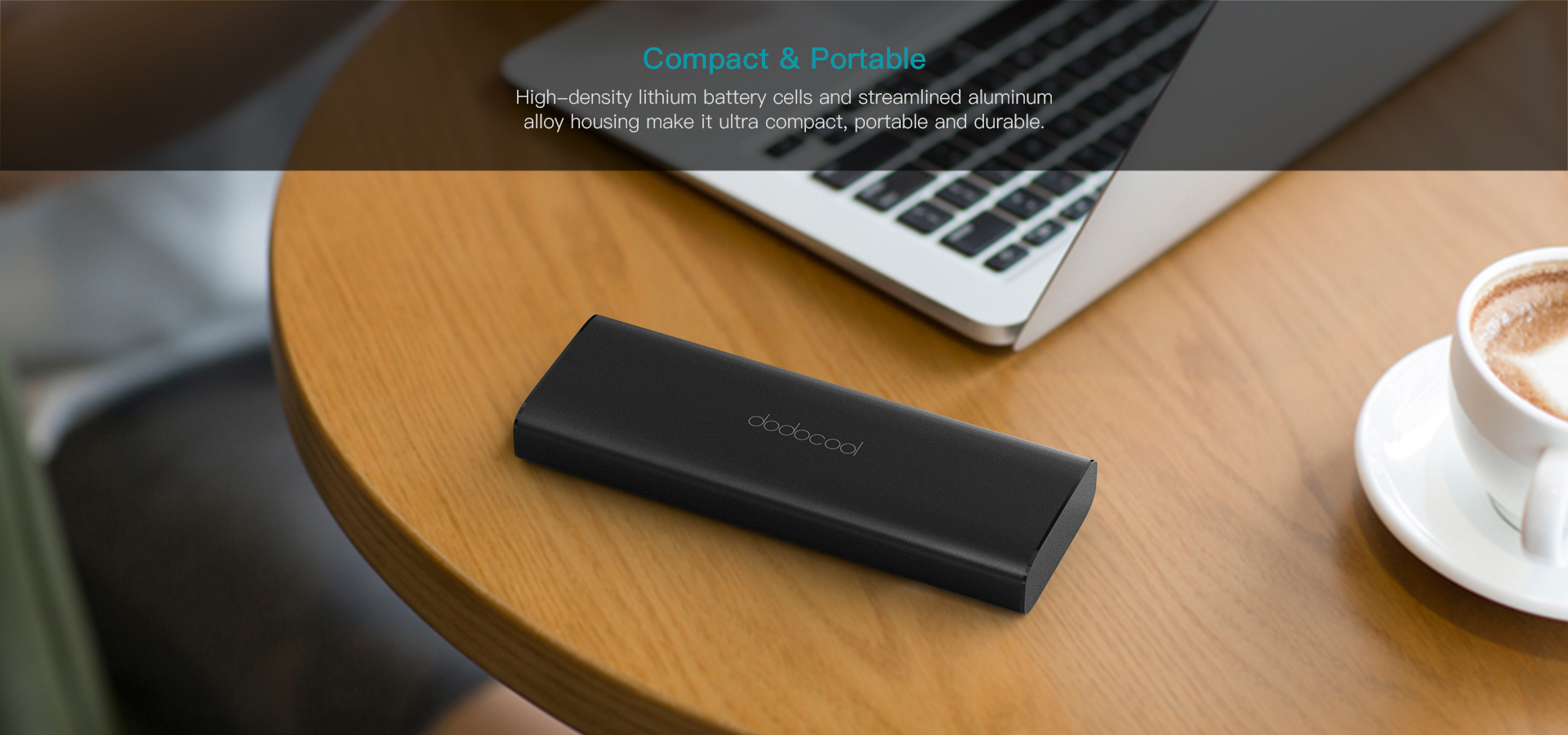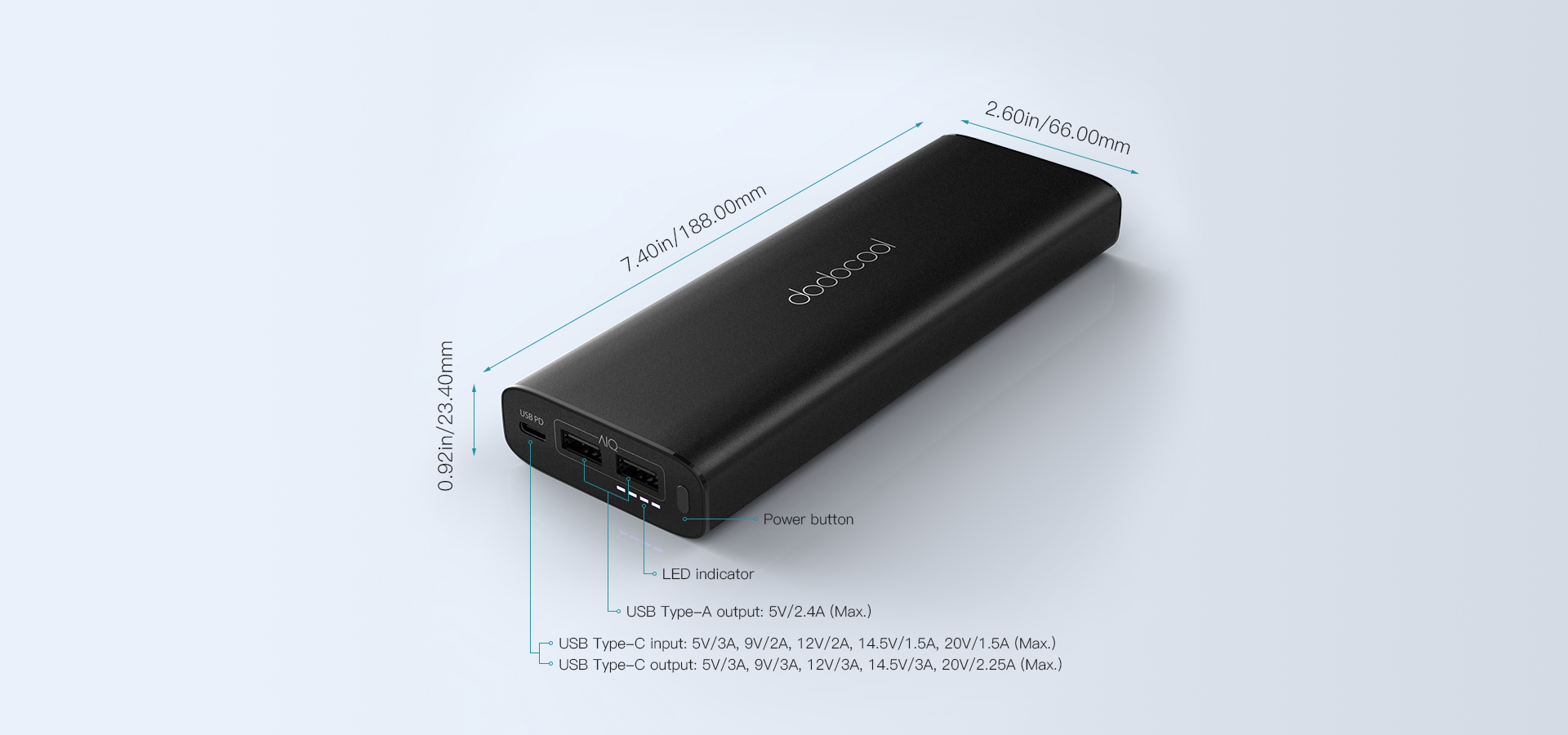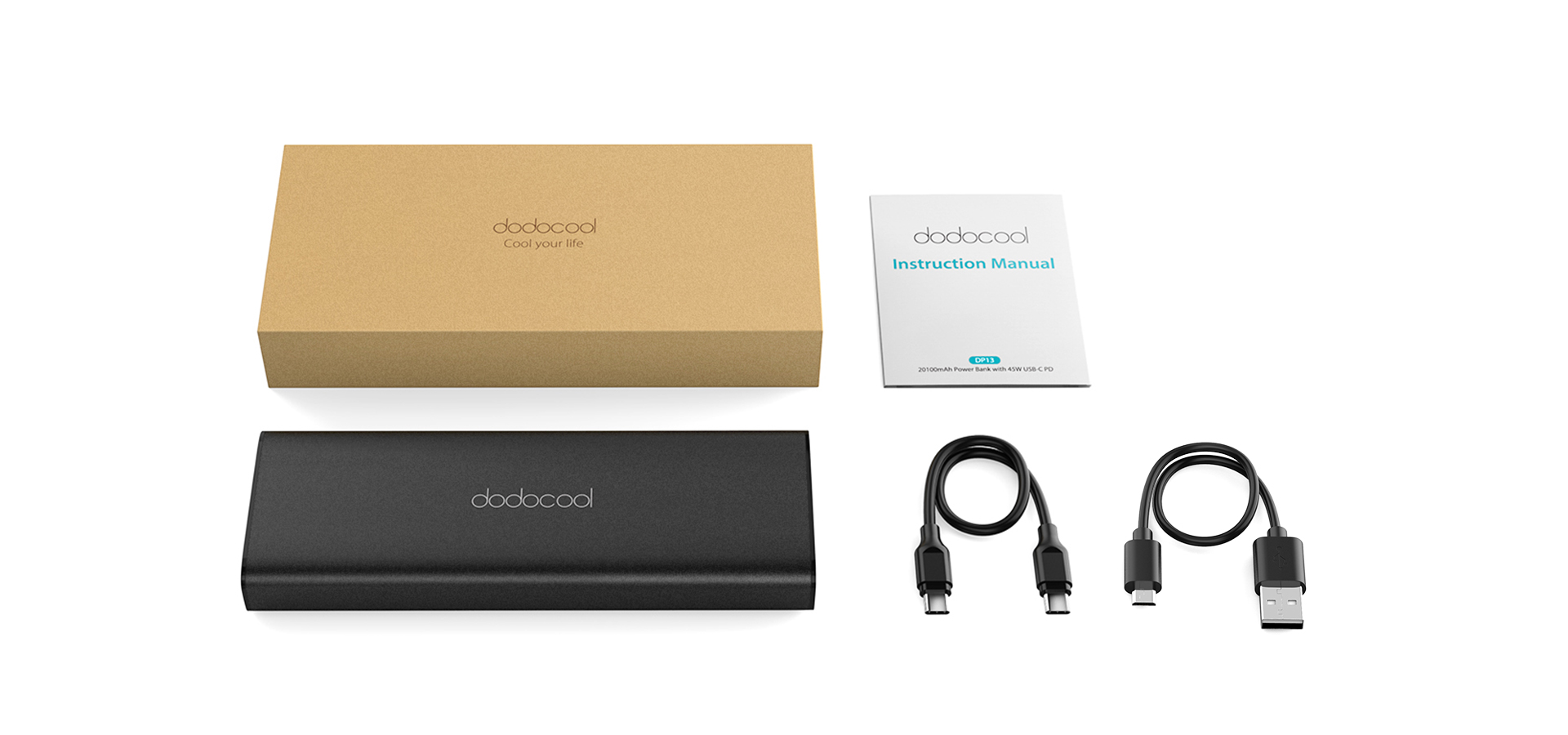 Overview
dodocool 20100 mAh Power Bank with 45W USB-C PD comes with one 45-watt USB-C PD charging port and two standard USB charging ports. Charge up to three devices simultaneously. You can either recharge this power bank or charge one USB-C device via the same USB Type-C port. With the Power Delivery (PD) function, the USB Type-C port can deliver up to 45W power to PD-enabled USB-C laptops. You can also charge up to two USB-powered devices via the USB charging ports. Compact design enables you to take it with you wherever you go.
Features

Ultra-high Capacity & Universal Compatibility
Up to 20,100 mAh capacity adds several times extra battery life to most USB-powered devices. Charge up to 2 USB-A powered devices and 1 USB-C powered device simultaneously.
Power Delivery USB-C Port
Charge a USB-C device, MacBook or other PD-enabled USB-C devices at the optimal charging speed, up to 45W. Using with a PD-enabled USB-C charger, you can fully recharge this product in about 3 hours (Up to 6.5 times faster than with a standard 1A charger). USB-C power adapters are sold separately.
Smart & Fast USB Charging
Smart AIQ technology intelligently detects your device and delivers the optimal current. You can enjoy a maximum USB-A output of 2.4A.
Safe and Reliable
Built with premium circuit chips. Overheating protection, short-circuit protection, over current protection, over charging protection, over discharging protection and reset protection keep you and your devices safe.
User Friendly
Charging automatically starts when a device is connected. 4 LED indicators let you know the exact battery level at a glance. Automatically power off after disconnecting devices for about 15 seconds.
Compact & Portable
High-density lithium battery cells and streamlined aluminum alloy housing make it ultra-compact, portable and durable.
Note:
(1) To save energy, disconnect your devices from this product when not in use.
(2) To use the Power Delivery function to charge a connected USB-C laptop, the host USB-C port from your device must support USB-C Power Delivery.
(3) Not compatible with Google Chromebook Pixel (12.85", 2015) or HP TPN-C127 (HP Spectre Notebook, HP Spectre Notebook 13t, HP Spectre Notebook 13, or HP Spectre Notebook PC).
(4) Do NOT recharge it with a USB-C laptop.
(5) It is recommended to use a PD-enabled USB-C power adapter rated 30W or more, such as Apple 29W/61W/87W USB-C Power Adapter / dodocool 45W Type-C PD Charger (DC58) / Lenovo 65W USB-C Power Adapter / HP 45W USB-C Power Adapter. Power adapters are not included.
(6) No data transfer function.
Specifications
Brand: dodocool
Color: Black
Material: Aluminum alloy
LED indicator light color: White
Battery type: Lithium battery
Nominal capacity: 20100mAh 3.6V (72.4Wh)
Interface: 2 * USB Type-A output port, 1 * USB Type-C input & output port
USB Type-C input: DC 5V / 3A, 9V / 2A, 12V / 2A, 14.5V / 1.5A, 20V / 1.5A (Max.)
USB Type-C output: DC 5V / 3A, 9V / 3A, 12V / 3A, 14.5V / 3A, 20V / 2.25A (Max.)
USB-C PD output: 45W (Max.)
Each USB Type-A output: DC 5V / 2.4A (Max.)
Recharging time: Approx. 3 hours (when using with a PD-enabled USB-C power adapter rated 30W or more)
Note: Actual recharging time varies from different USB-C power adapters.
Compatible device:
For iPhone / iPad / iPod, smartphones, tablets, headphones, GPS devices, MP3/MP4 players and more USB-A powered devices
For Apple MacBook (12") / MacBook Pro (13" & 15") / Google Pixel / Google Pixel XL / Samsung Galaxy S8+ / Galaxy S8 / Nintendo Switch / Lenovo ThinkPad X270 (12.5") / HUAWEI MateBook X (13") / HUAWEI Mate 9 / Honor 8 / Xiaomi Mi Notebook Air (12.5" & 13.3") / Xiaomi Mi 6 and more devices with USB-C port
Certificate: CE & FCC & RoHS
Warranty: 18-month warranty
Micro-USB to USB cable length: 30cm / 1ft
USB-C to USB-C cable length: 30cm / 1ft
Item size: Approx. 7.40 * 2.60 * 0.92 in / 188.00 * 66.00 * 23.40 mm (L * W * H)
Item weight: Approx. 17.13oz / 486g
Package size: Approx. 7.87 * 3.70 * 1.26 in / 200.00 * 94.00 * 32.00 mm (L * W * H)
Package weight: Approx. 21.69oz / 615g
Package includes
1 * dodocool 20100 mAh Power Bank with 45W USB-C PD
1 * Micro-USB to USB Charging Cable
1 * USB-C to USB-C Charging Cable
1 * Instruction Manual (English, French, German, Spanish, Italian, Japanese, Chinese)