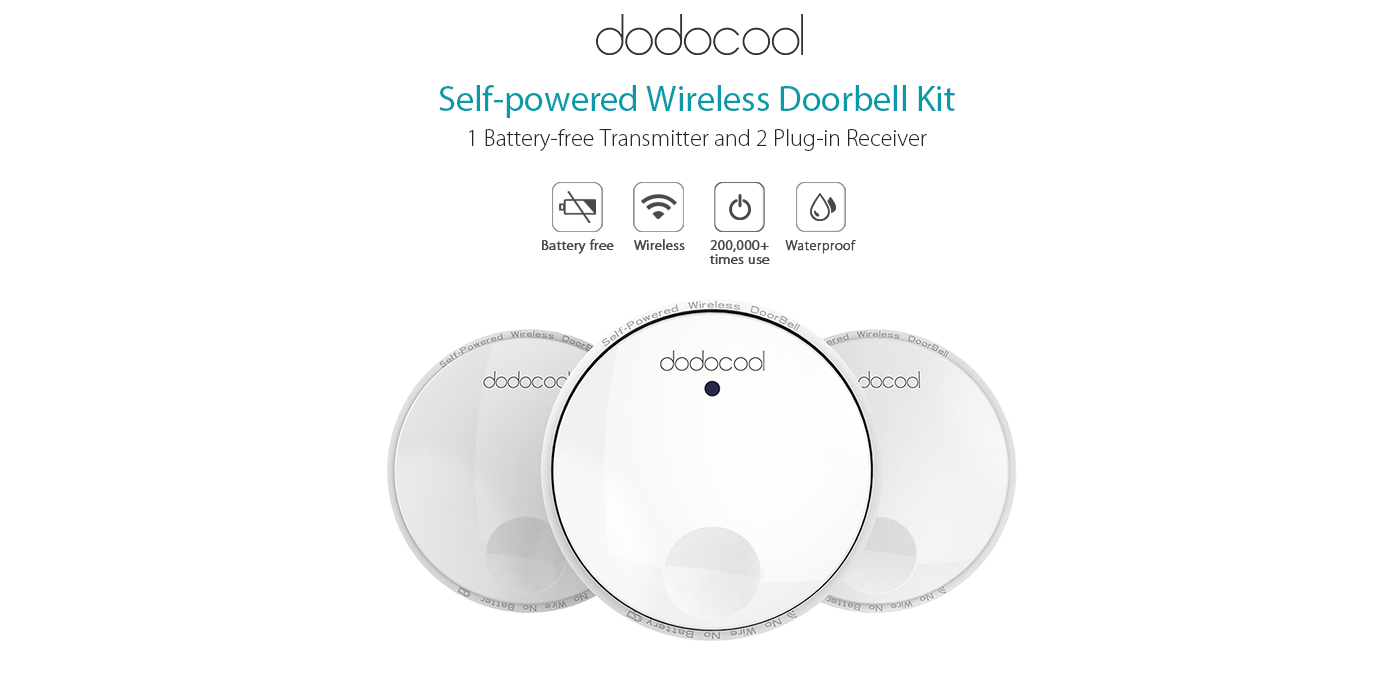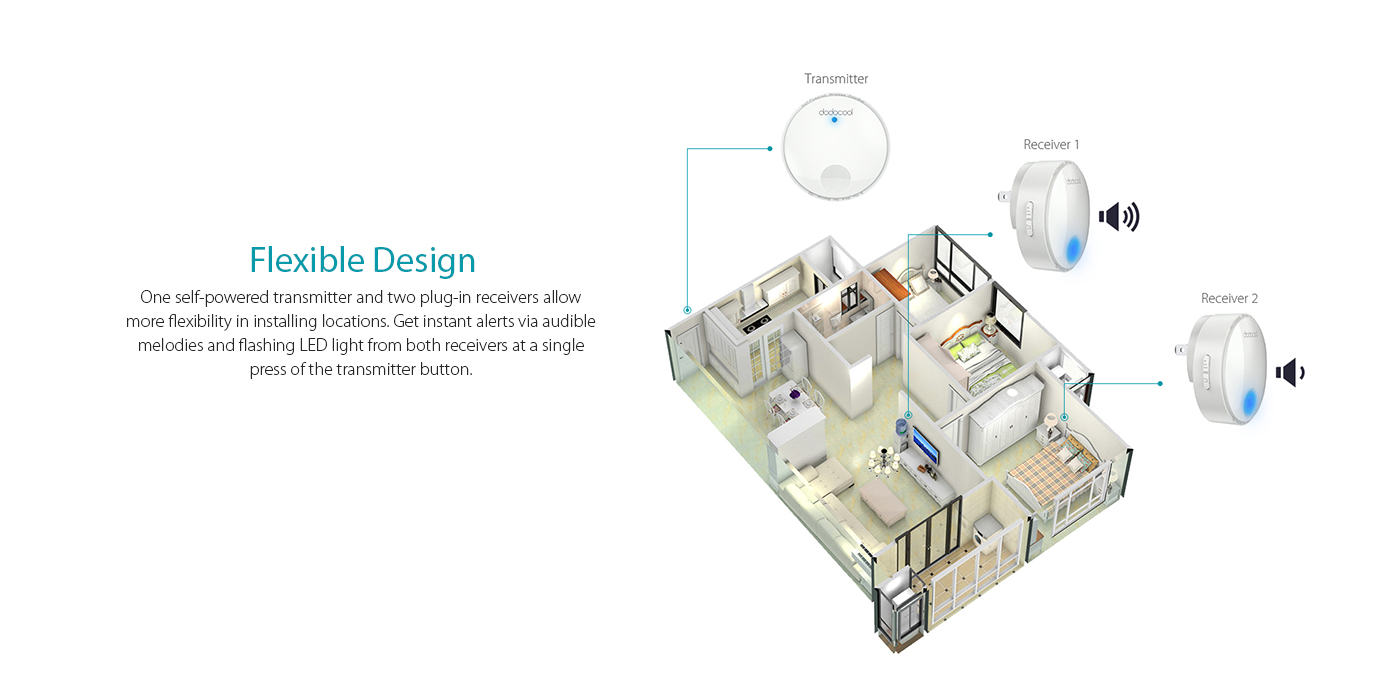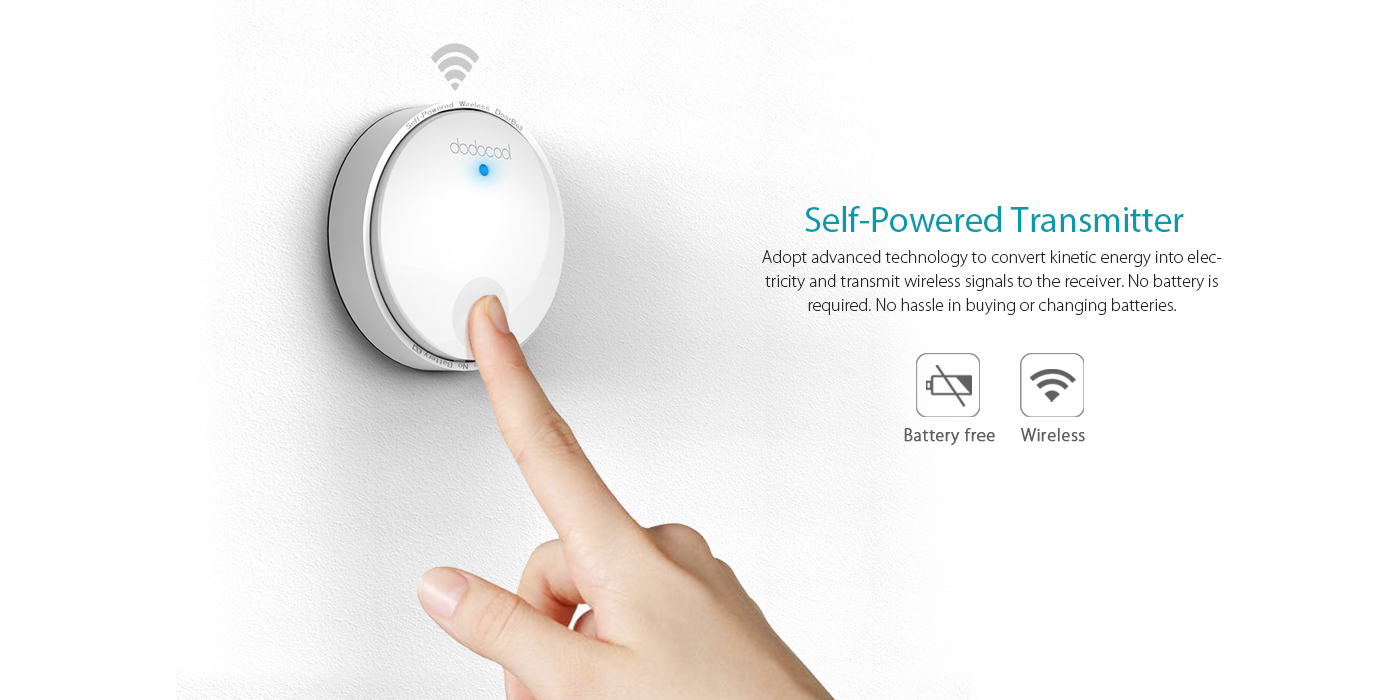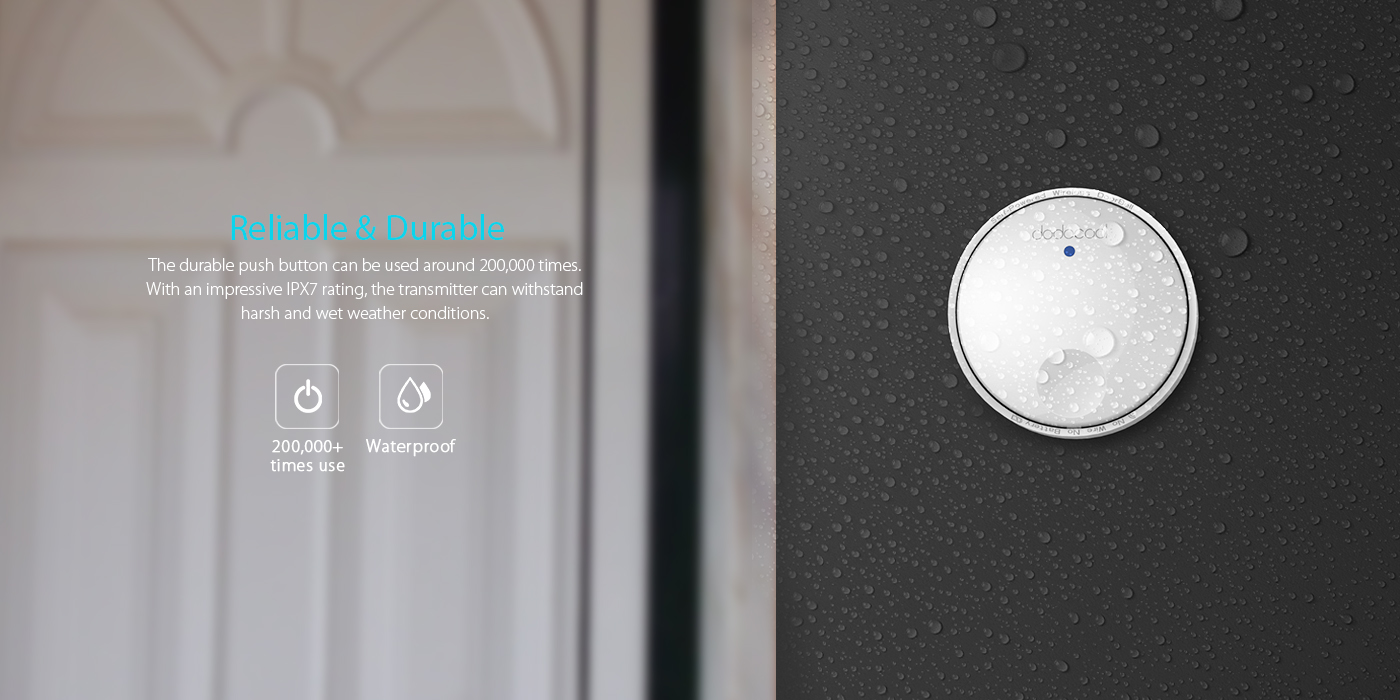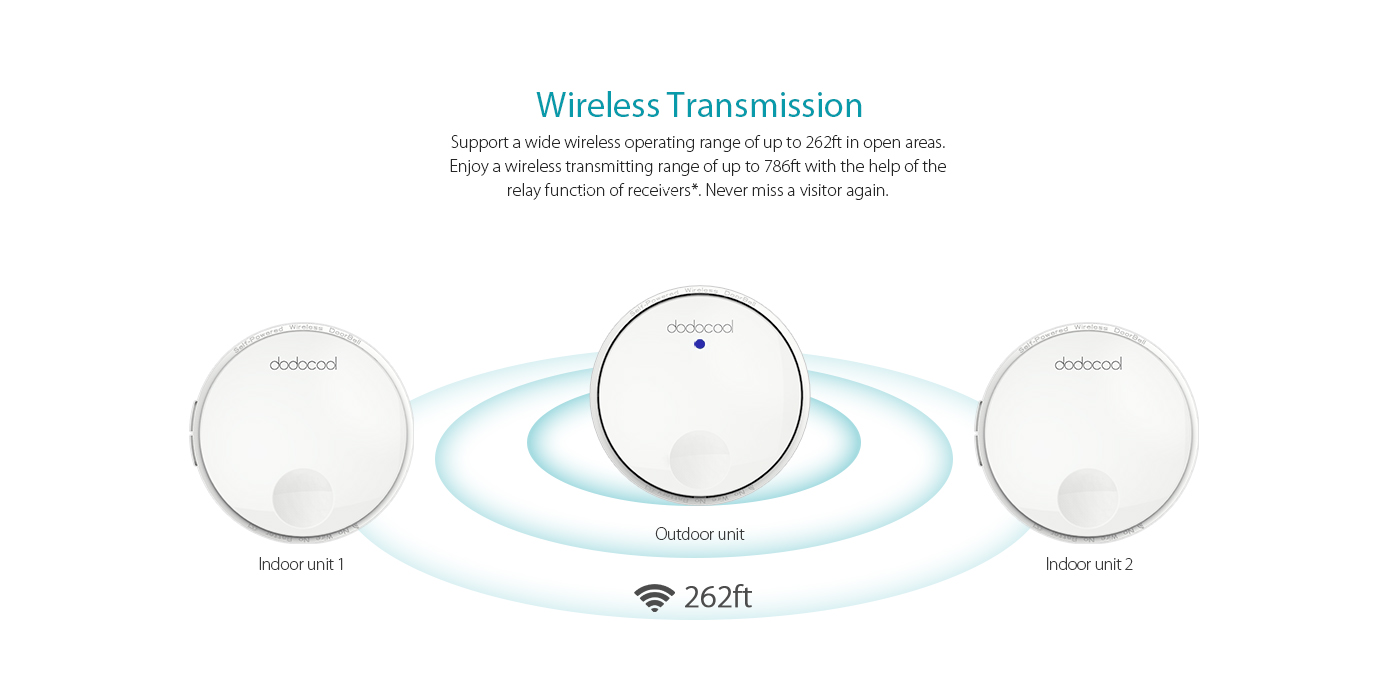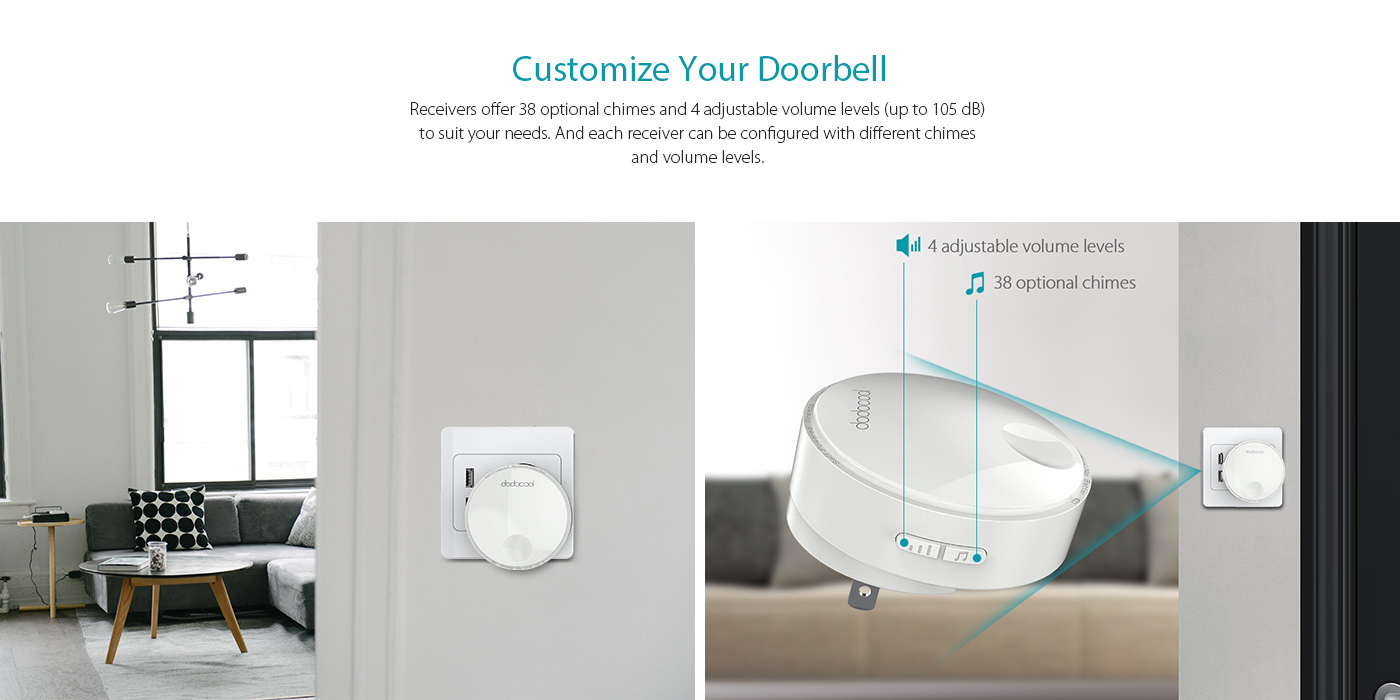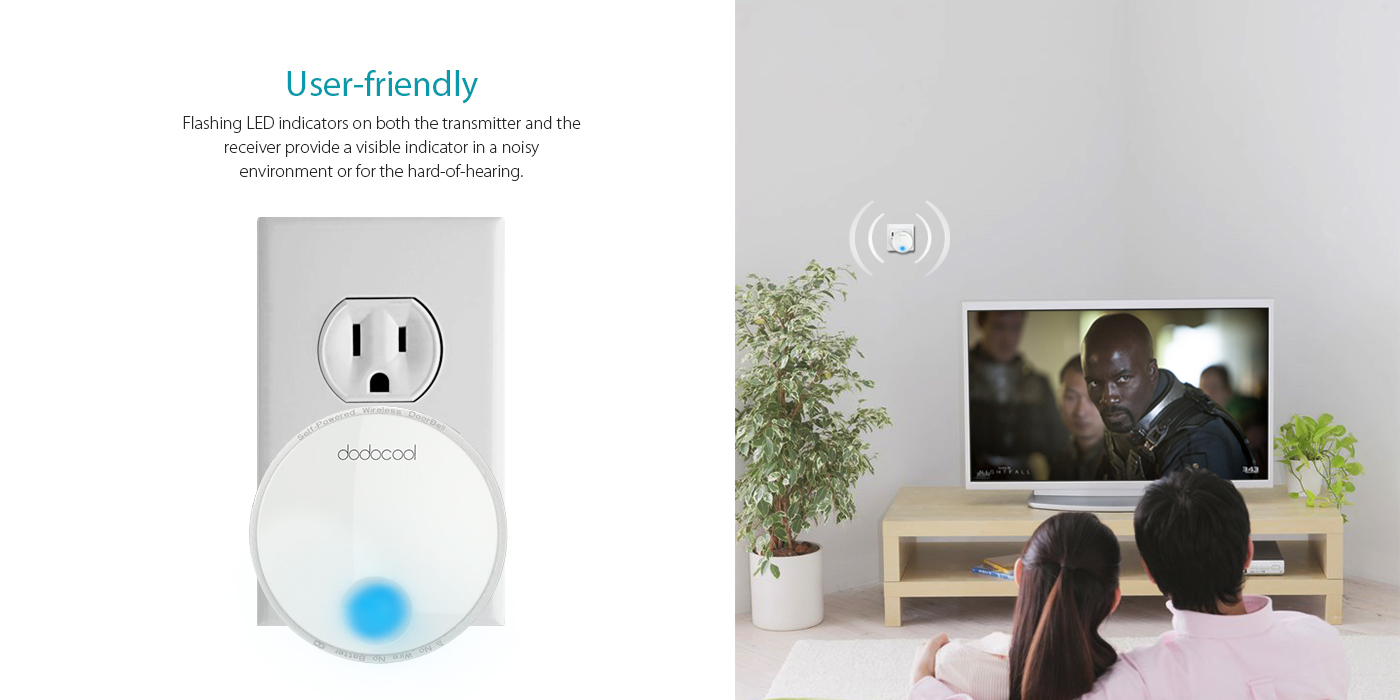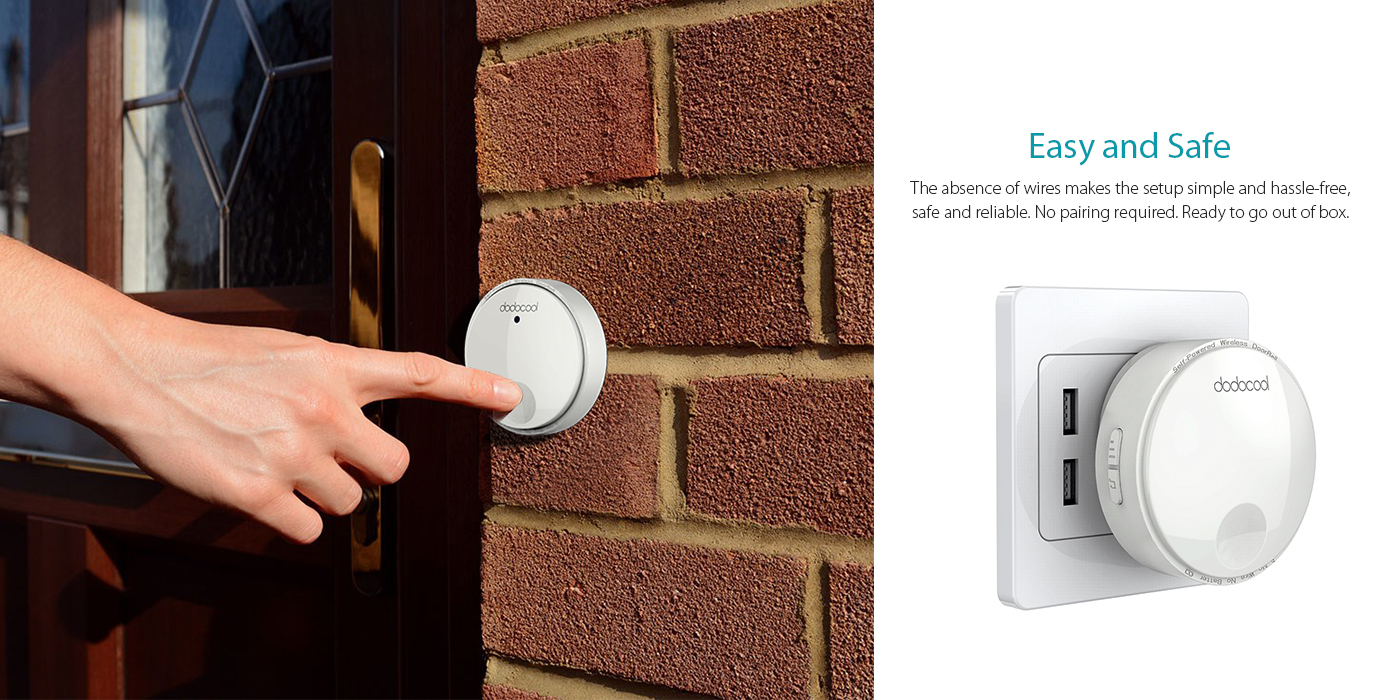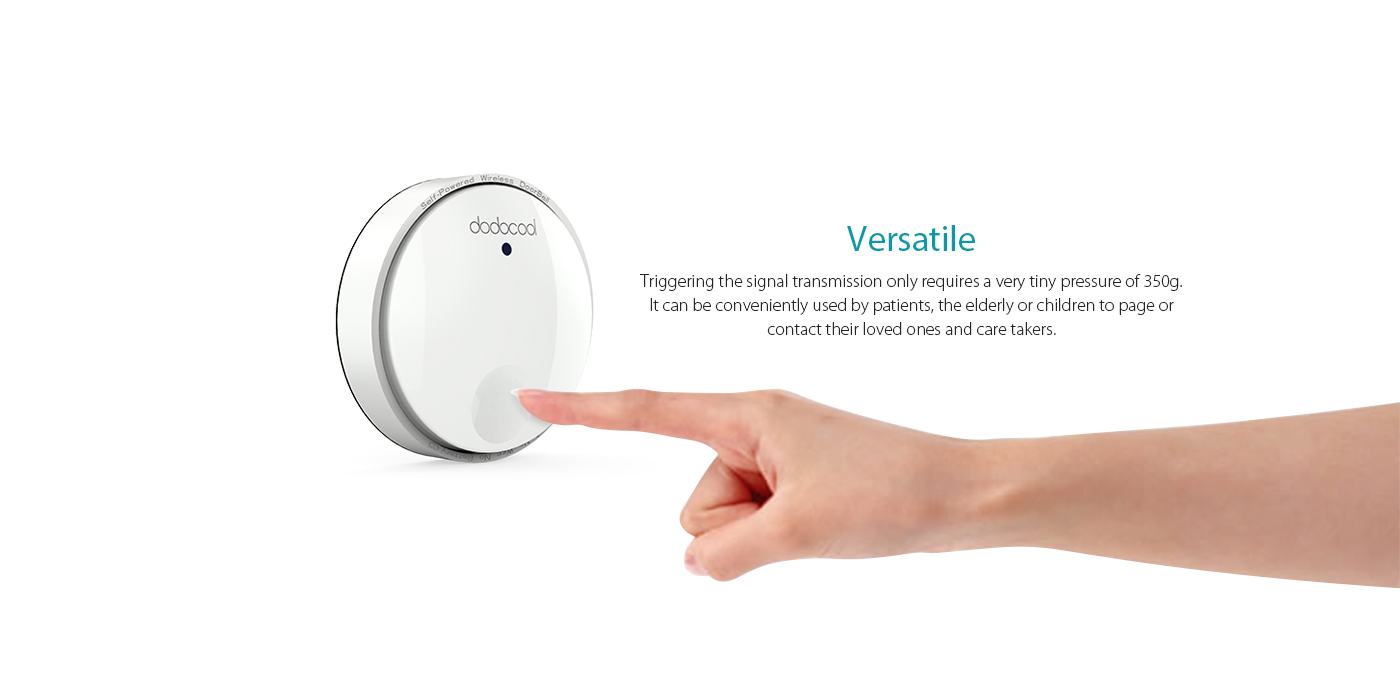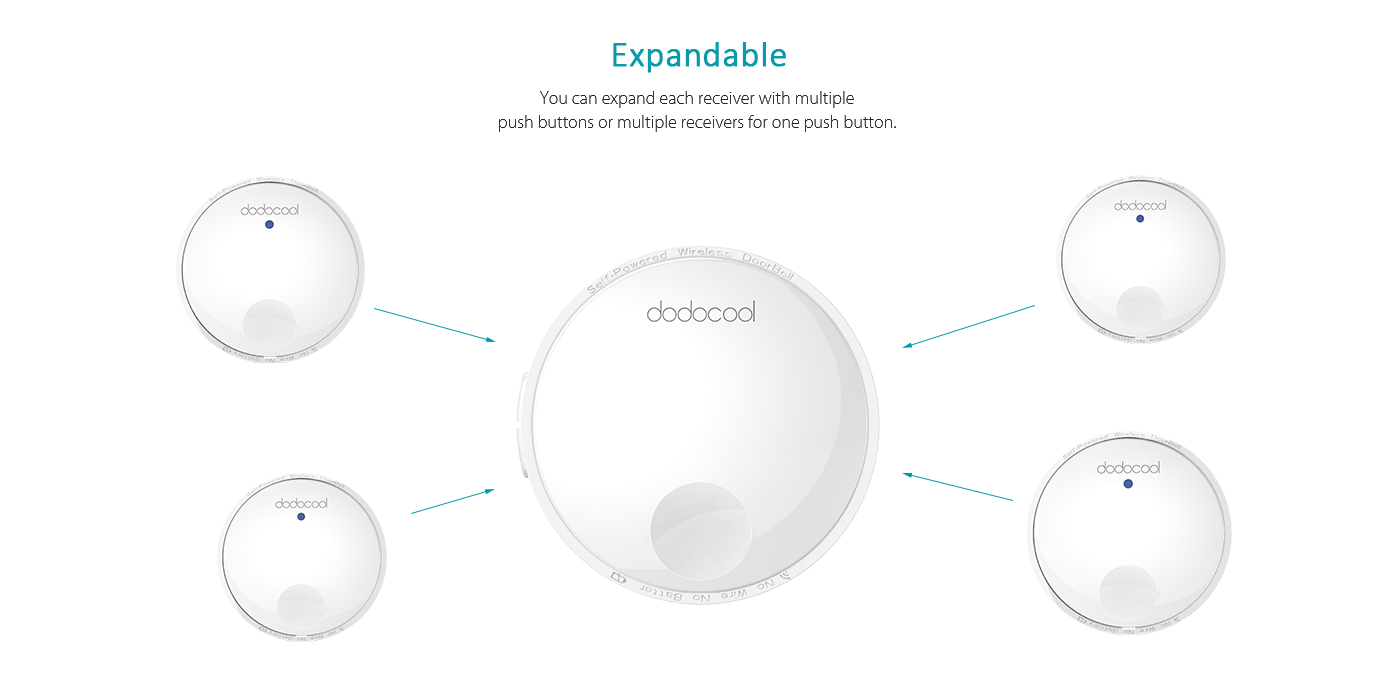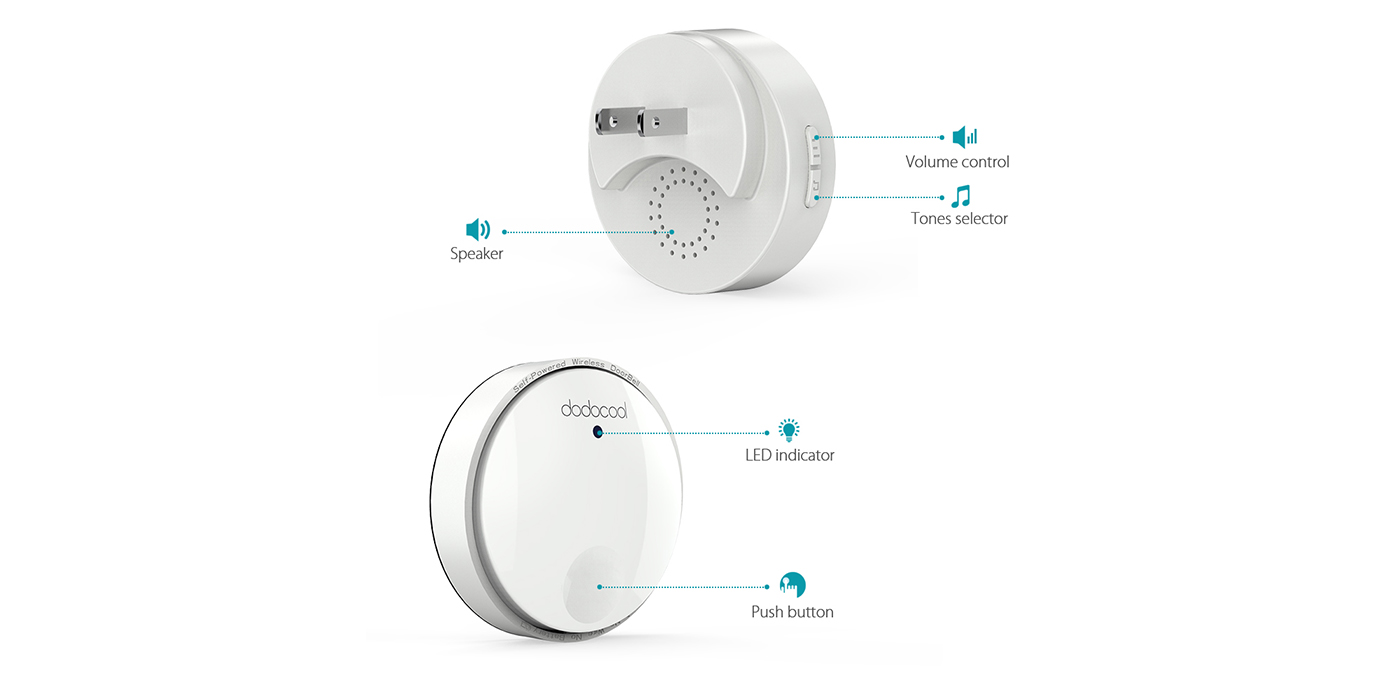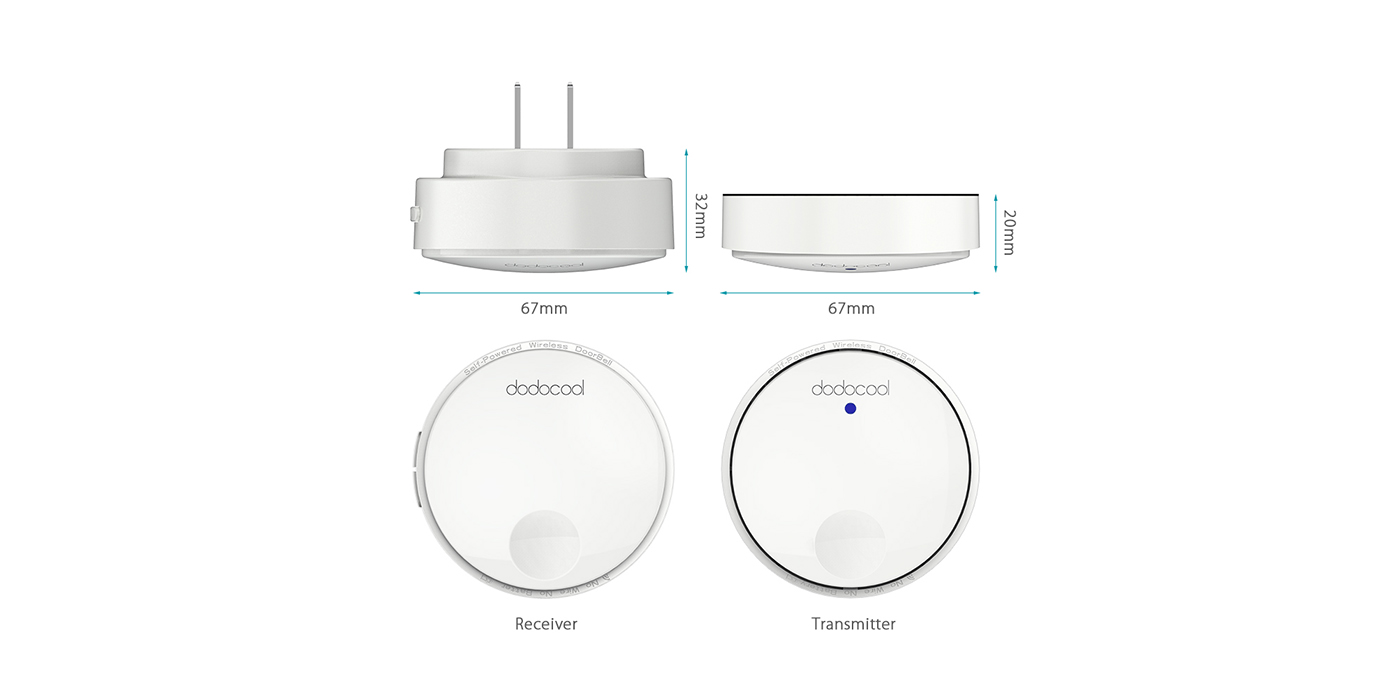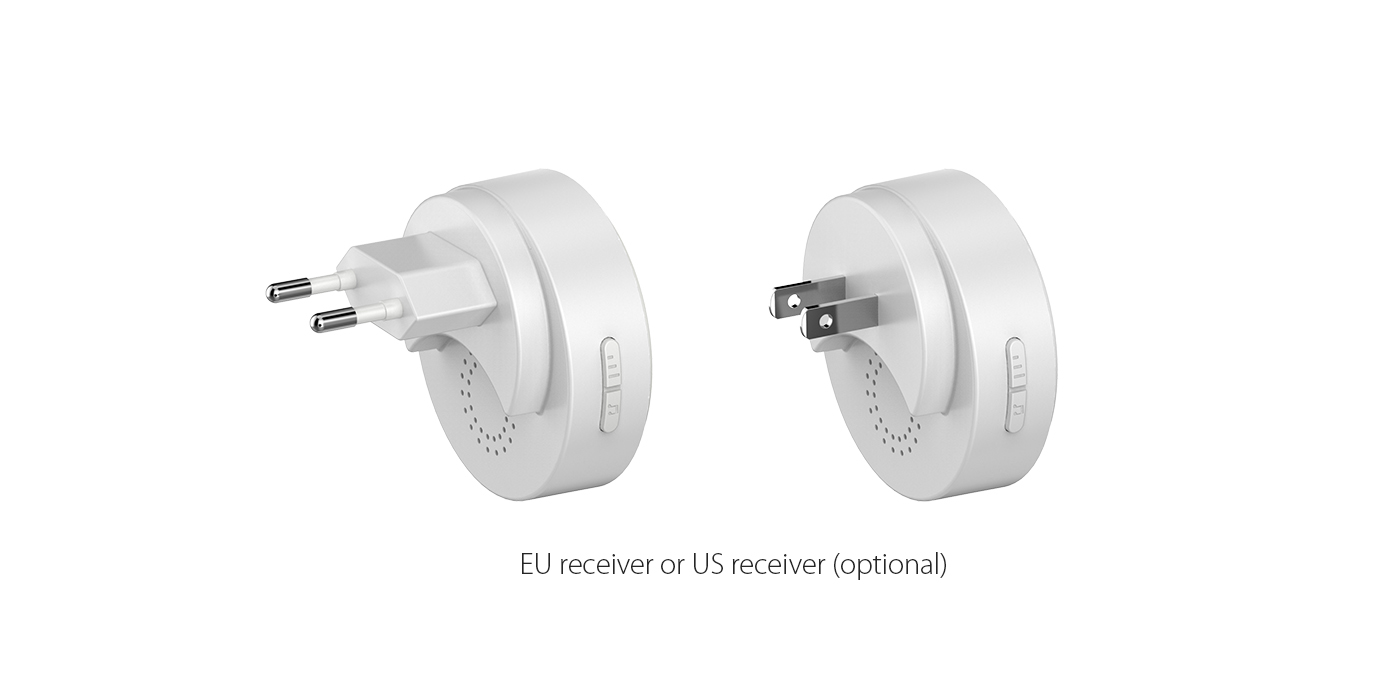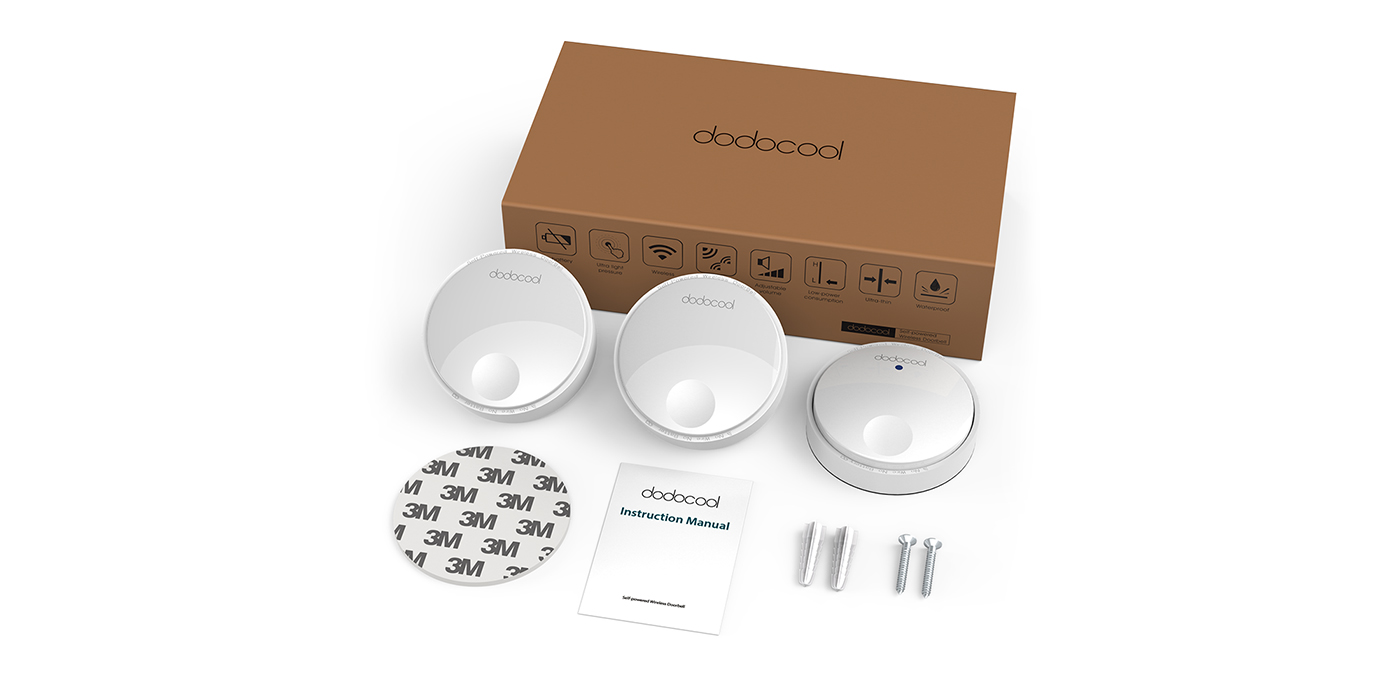 Overview
dodocool Self-powered Wireless Doorbell Kit includes one self-powered transmitter and two plug-in receivers with LED lights. It offers a 262ft wireless operating range and has the flexibility to be mounted or placed anywhere around your home. The self-powered transmitter is rated IPX7 and requires no batteries. Receivers feature 38 optional doorbell chime tunes, 4 adjustable volume levels and CD quality sound. It can be conveniently used in homes, offices, factories and more.
Features

Flexible Design
One self-powered transmitter and two plug-in receivers allow more flexibility in installing locations. Get instant alerts via audible melodies and flashing LED light from both receivers at a single press of the transmitter button.
Self-Powered Transmitter
Adopt advanced technology to convert kinetic energy into electricity and transmit wireless signals to the receiver. No battery is required. No hassle in buying or changing batteries.
Reliable & Durable
The durable push button can be used around 200,000 times. With an impressive IPX7 rating, the transmitter can withstand harsh and wet weather conditions.
Wireless Transmission
Support a wide wireless operating range of up to 262ft in open areas. Enjoy a wireless transmitting range of up to 786ft with the help of the relay function of receivers*. Never miss a visitor again.
Customize Your Doorbell
Receivers offer 38 optional chimes and 4 adjustable volume levels (up to 105 dB) to suit your needs. And each receiver can be configured with different chimes and volume levels.
User-friendly
Flashing LED indicators on both the transmitter and the receiver provide a visible indicator in a noisy environment or for the hard-of-hearing.
Easy and Safe
The absence of wires makes the setup simple and hassle-free, safe and reliable. No pairing required. Ready to go out of box.
Versatile
Triggering the signal transmission only requires a very tiny pressure of 350g. It can be conveniently used by patients, the elderly or children to page or contact their loved ones and care takers.
Expandable
You can expand each receiver with multiple push buttons or multiple receivers for one push button.
Specifications
Brand: dodocool
Material: PC + ABS
Color: White
LED light color: Blue
Doorbell type: Wireless
Receiver plug type: US plug or EU plug (optional)
Receiver input voltage: AC 110-240V
Receiver standby power consumption: 0.25W
Transmitter standby power consumption: 0W
Transmitter: Self-powered, no battery required
Transmitter operating pressure: 350g
Transmitter water resistance rating: IPX7
Operating range: Up to 80m / 262ft (outdoor and in open areas) or 30m / 98ft (indoor)
(* Note: With additional receivers, the operating range can be extended to up to 240m / 786ft )
Chime tunes: 38 melodies
Volume levels: 4 levels (Max. 105dB)
Frequency: 433.92 MHz
Mechanical life: Approx. 200,000 times
Certificate: CE, FCC, RoHS
Warranty: 24 months limited warranty
Transmitter diameter: Approx. 2.64 in / 67.00 mm, thickness: approx. 0.79 in / 20.00 mm
Receiver diameter: Approx. 2.64 in / 67.00 mm, thickness: approx. 1.26 in / 32.00 mm
Transmitter weight: Approx. 1.36oz / 40g
Receiver weight: Approx. 1.96oz / 56g
Package size: Approx. 7.87 * 4.41 * 2.13 in / 200 * 112.00 * 54.00 mm (L * W * H)
Package weight: Approx. 9.28oz / 263g
Package includes
1 * dodocool Wireless Doorbell Self-powered Transmitter
2 * dodocool Wireless Doorbell Plug-in Receiver
1 * 3M Double-sided Adhesive Tape
2 Set * Screws & Expansion Pipes
1 * Instruction Manual (English, French, German, Spanish, Italian, Japanese)