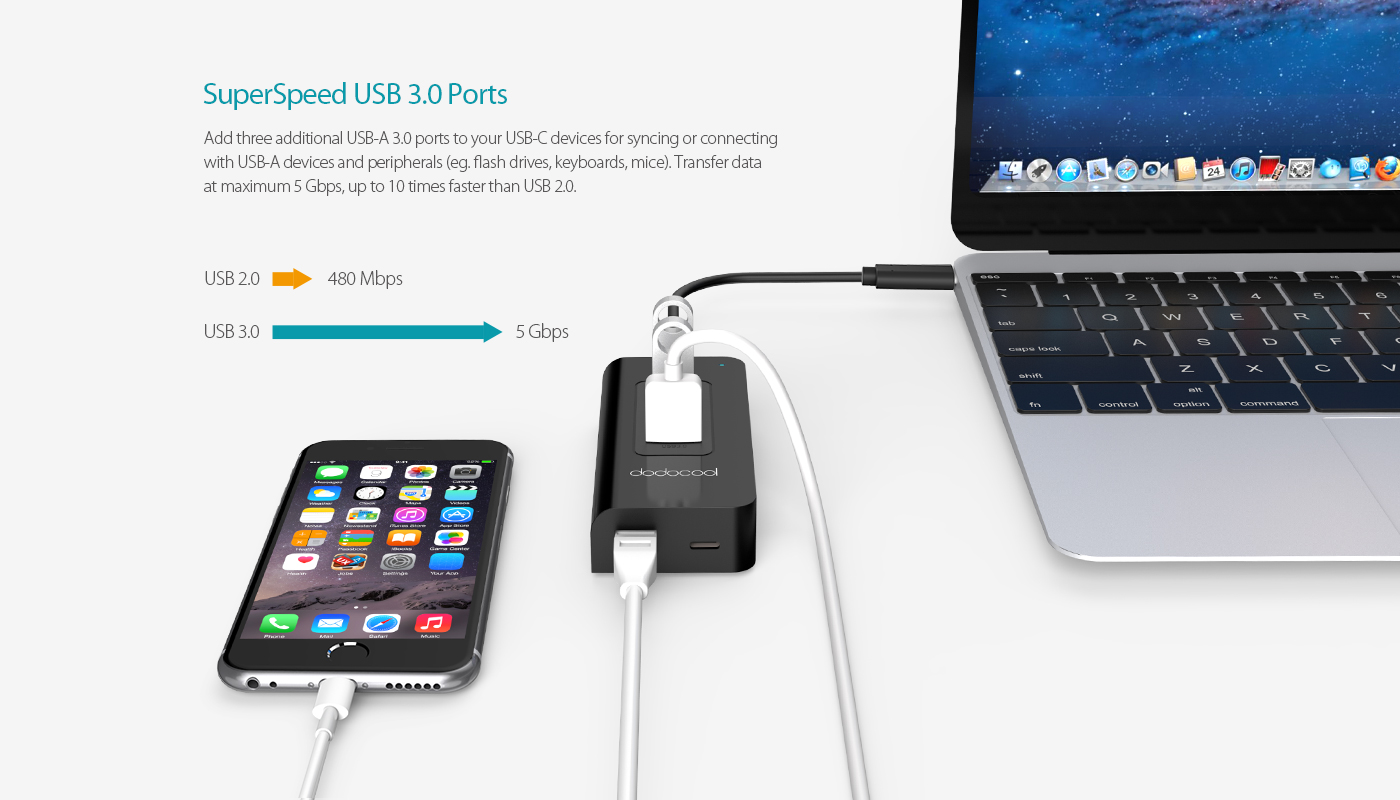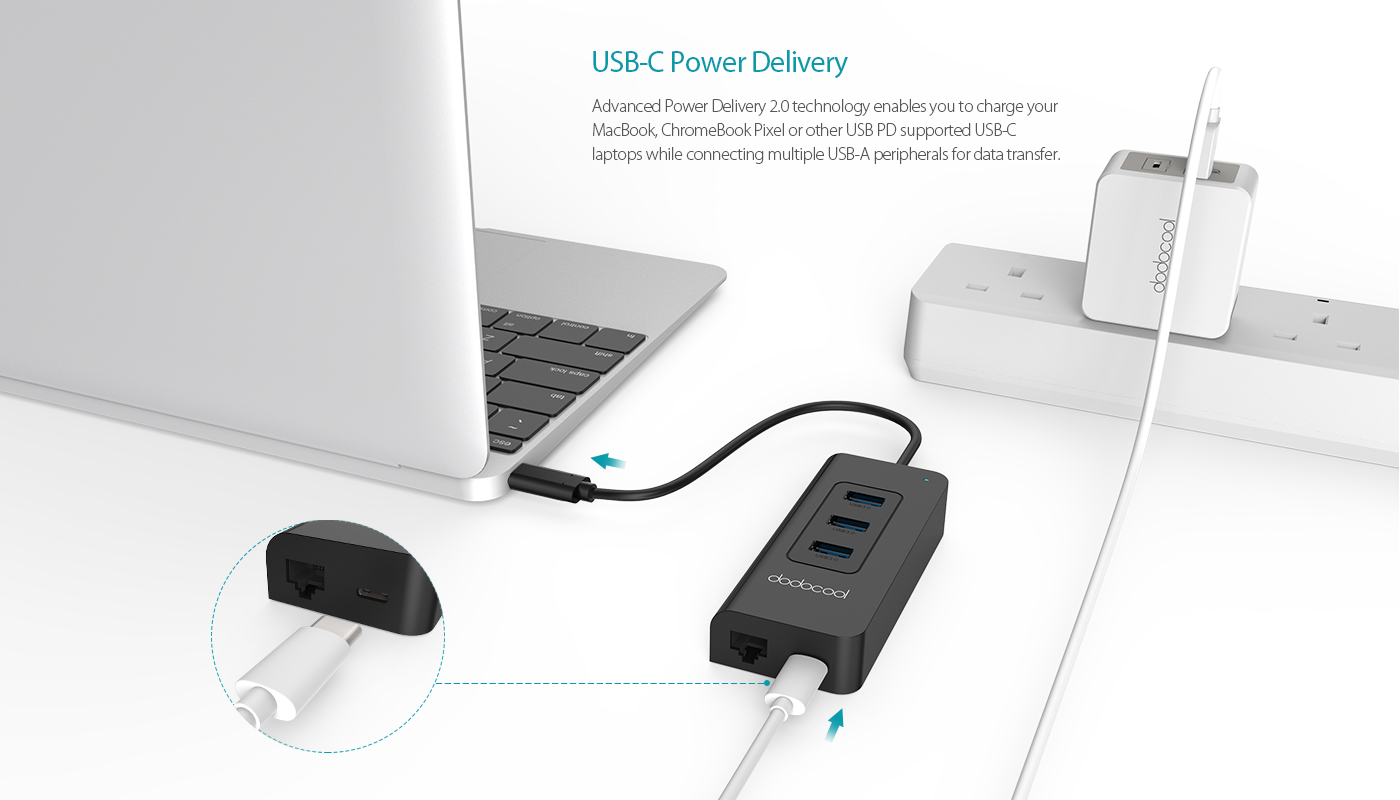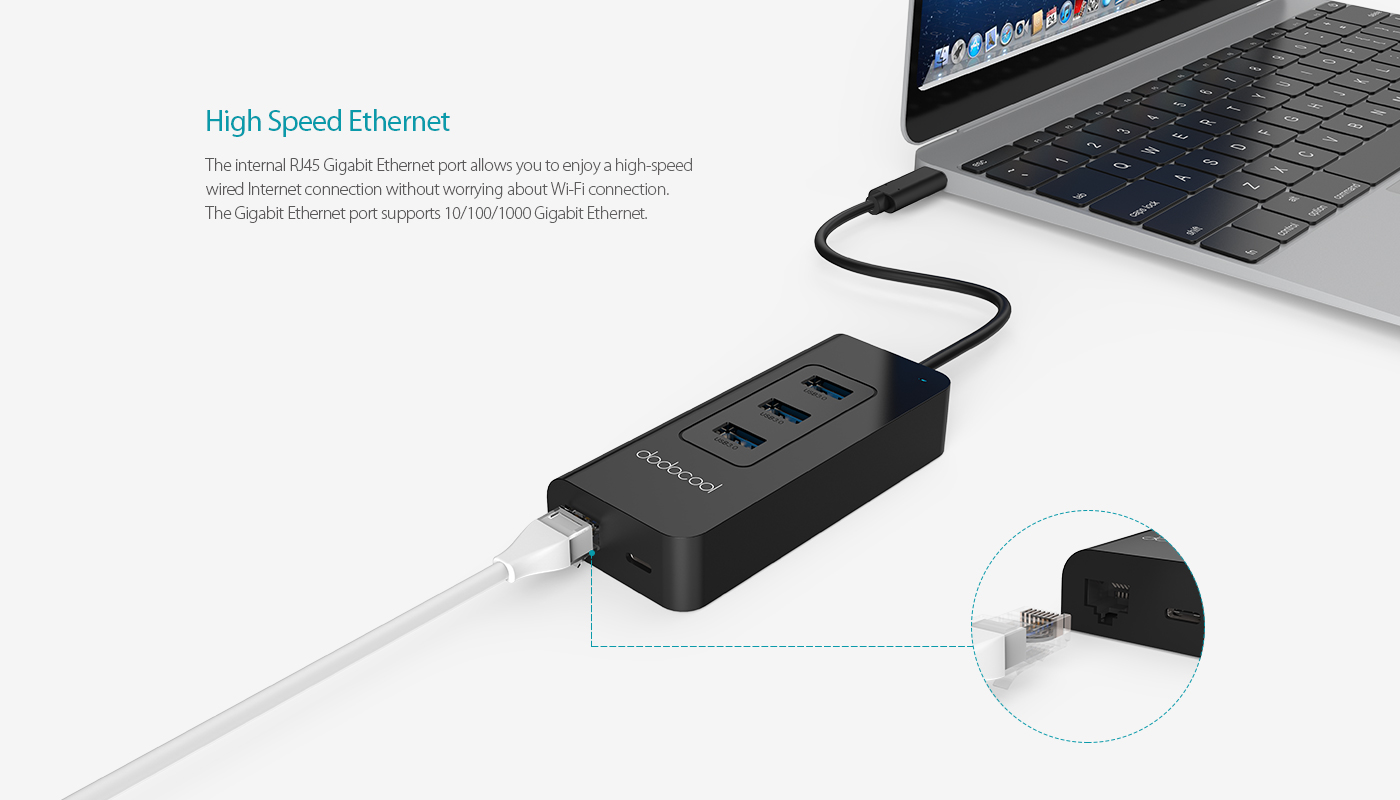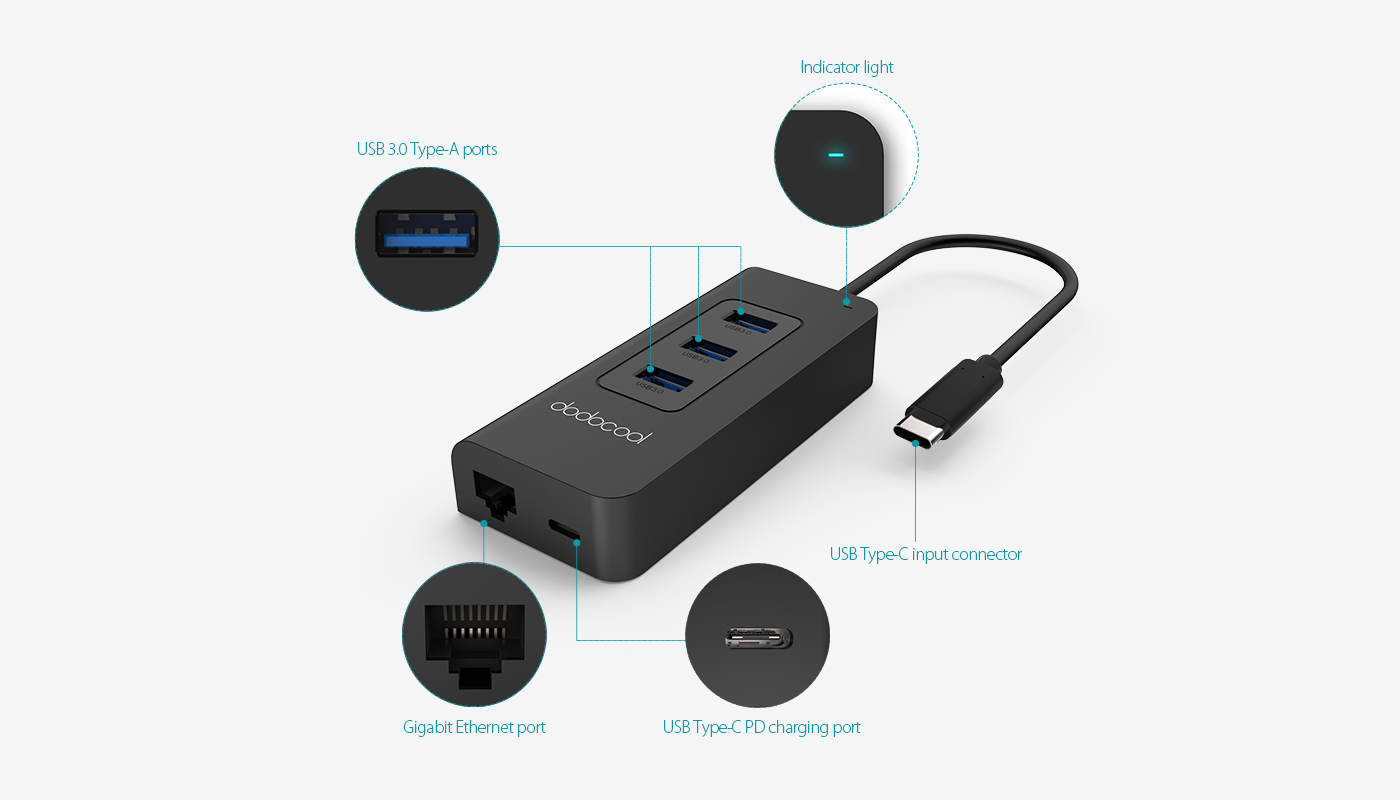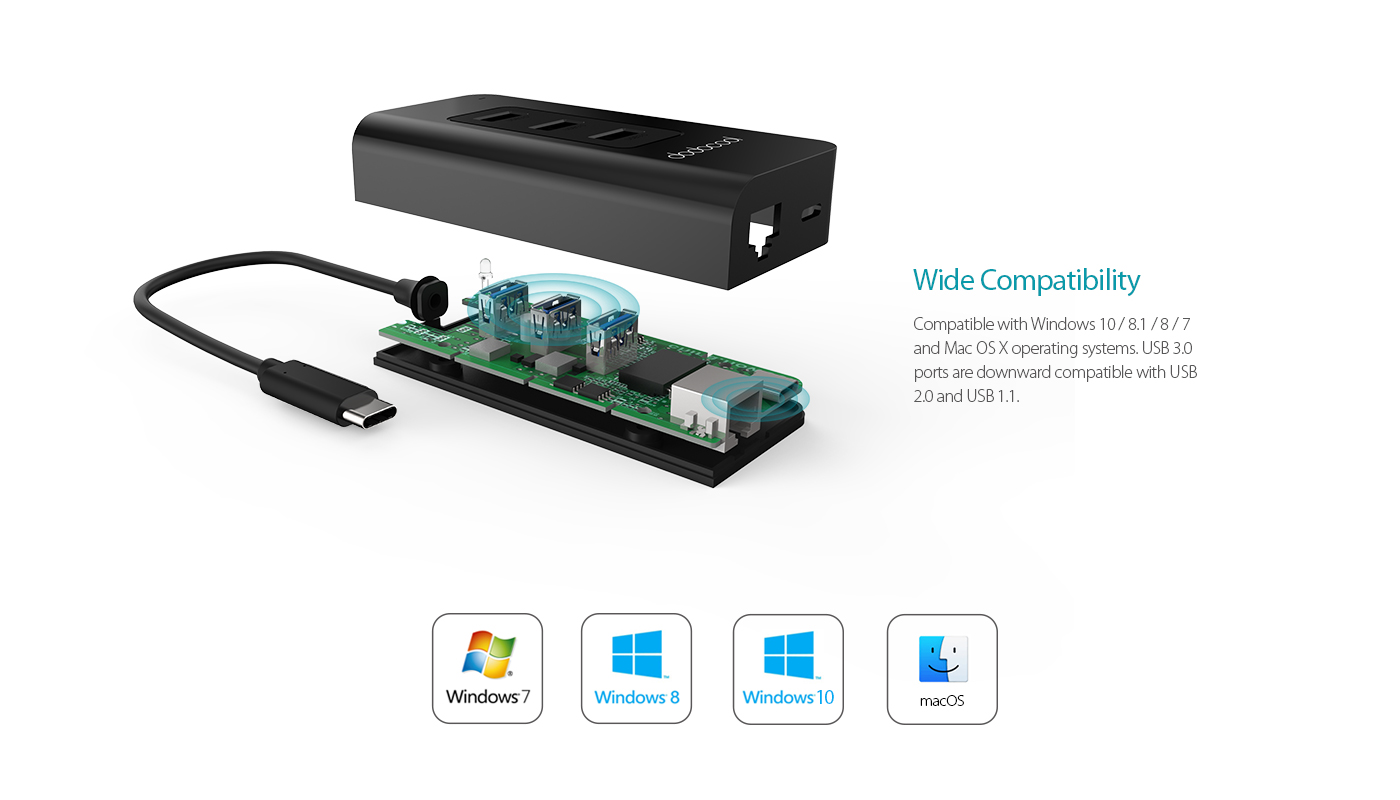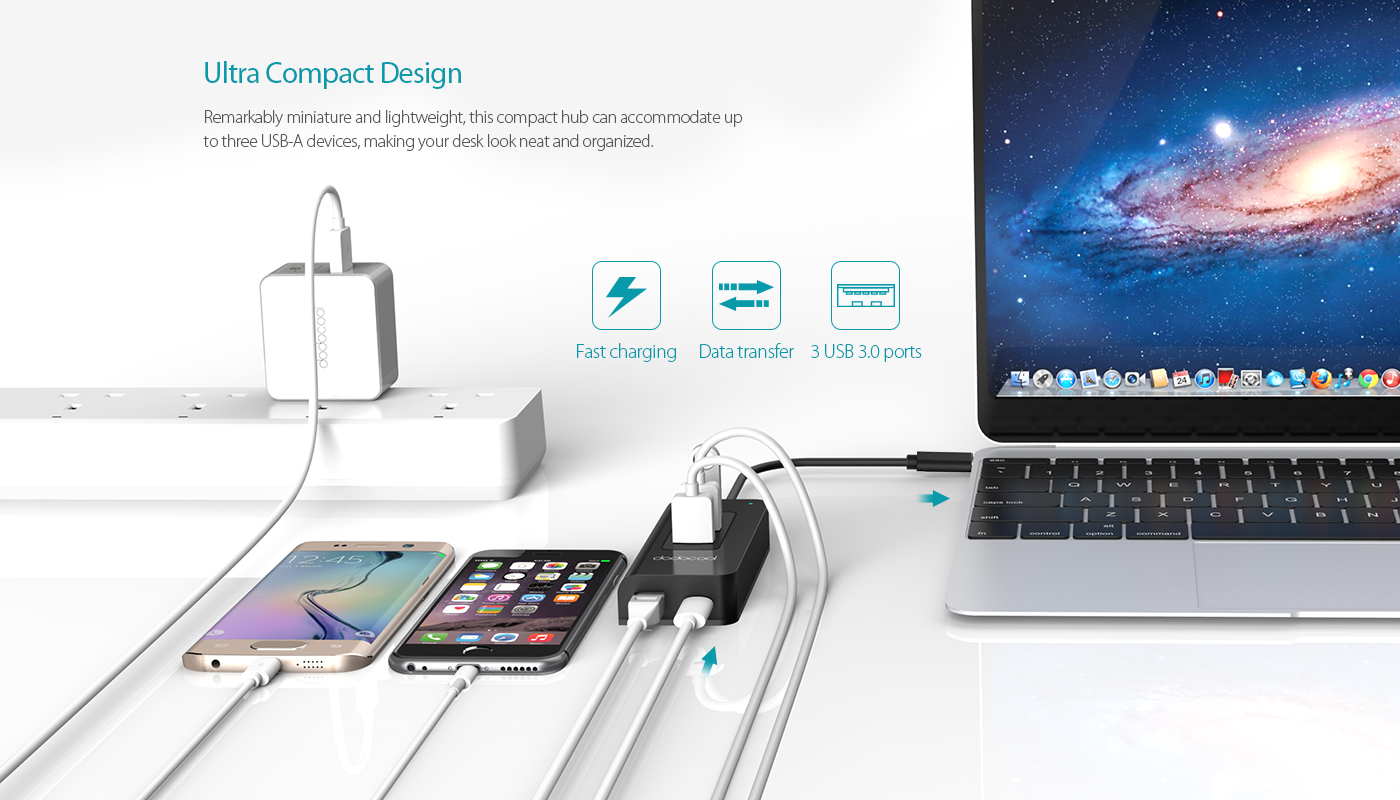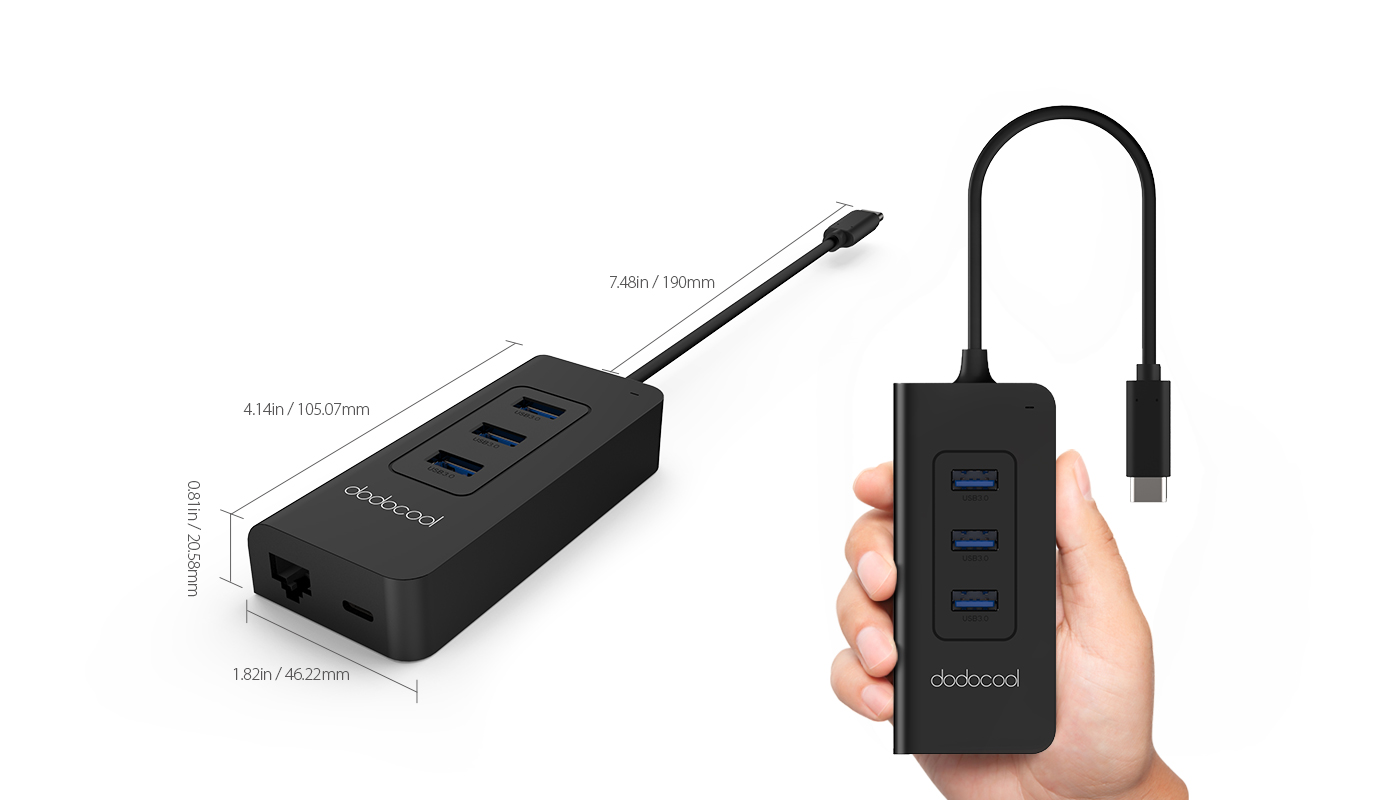 Visão geral
dodocool USB-C a 3-Port USB 3.0 Hub fornece portas de transferência de três USB 3.0 Tipo-A de dados, uma porta Gigabit Ethernet e uma PD USB-C porta de carregamento através de uma única porta USB-C em seus PCs. Cada porta USB 3.0 suporta taxas de transferência de dados de até 5 Gbps. hot swap, plug and play e não há drivers necessários. É uma solução extensão ideal para laptops com uma porta USB-C.
Características
SuperSpeed ​​USB 3.0 Portas
Adicione três-USB 3.0 portas adicionais para os seus dispositivos USB-C para sincronizar ou conectar-se com dispositivos USB-A e periféricos (ex. Pen drives, teclados, ratos). Transferência de dados com o máximo de 5 Gbps, até 10 vezes mais rápido que USB 2.0.
USB-C entrega de potência
A tecnologia avançada Power Delivery 2.0 permite carregar o seu MacBook, Chromebook Pixel ou outro PD USB suportado laptops USB-C ao conectar vários periféricos USB-A para transferência de dados.
Ethernet de alta velocidade
O porto interno RJ45 Gigabit Ethernet permite-lhe desfrutar de uma ligação à Internet com fio de alta velocidade sem se preocupar com conexão Wi-Fi. A porta Gigabit Ethernet 10/100/1000 suporta Gigabit Ethernet.
Plug & Play
função de troca a quente permite que você plug and play sem reiniciar seus computadores. Não há drivers adicionais necessários. Apoiar o uso conveniente sem fonte de alimentação externa.
Ampla compatibilidade
Compatível com Windows 10 / 8,1 / 8/7 e sistemas operacionais Mac OS X. portas USB 3.0 são para baixo compatível com USB 2.0 e USB 1.1.
Design Compacto Ultra
Notavelmente miniatura e leve, este hub compacta pode acomodar até três dispositivos USB-A, tornando sua mesa olhar puro e organizado.
Especificação
Marca: dodocool
Cor preta
Material: ABS + PC
Interface: 1 * USB conector de entrada 3.1 Type-C
3 * 3.0 portas Tipo-A USB
1 * USB 3.1 Type-C PD porta de carregamento
1 * adaptador Gigabit Ethernet
A velocidade de transferência de dados: até 5 Gbps
Nota: A velocidade de transmissão é limitado pela configuração do dispositivo ligado.
sistemas compatíveis: Para Mac OS X e Windows 10 / 8,1 / 8/7
USB-C PD laptops compatíveis: Para a Apple Novo MacBook, o Google Chromebook Pixel, Huawei MateBook e mais
Certificado: CE, FCC, RoHS
Garantia: 12 meses
Tamanho do artigo: Aprox. 4,14 * 1,82 * 0,81 in / 105,07 * 46,22 * 20,58 milímetros (L * W * H)
Item peso: Aprox. 2,26 oz / 64g
Tamanho do pacote: Aprox. 5,71 * 3,58 * 1,02 in / 145 * 91 * 26 mm (L * W * H)
Peso da embalagem: Aprox. 3,39 oz / 96g
O pacote inclui
1 * dodocool USB-C 3,1-3-Port USB 3.0 Hub com Gigabit Ethernet Adapter e entrega de potência
1 * Manual de Instruções (Inglês, Francês, Alemão, Espanhol, Italiano, Japonês)