Quadcopter Cheerson CX-10WD-TX można łatwo przenosić i zmieniać części. To jest wyposażony rezygnować 0.3MP aparat, Wysoka/Średnia/niska predkosc latania i funkcji 3D flip, który przeznaczony jest tylko dla RC super fanów. Więc jest to maszyna, którą można latać tylko w dowolnym miejscu, z oczywistych krawędzi, które przynosi więcej zabawy dla Ciebie.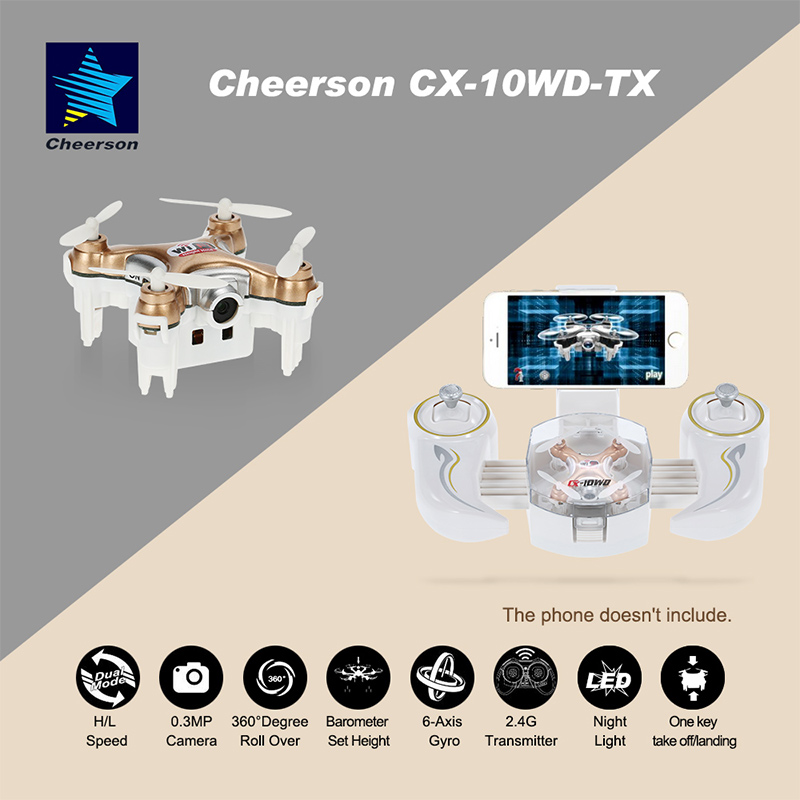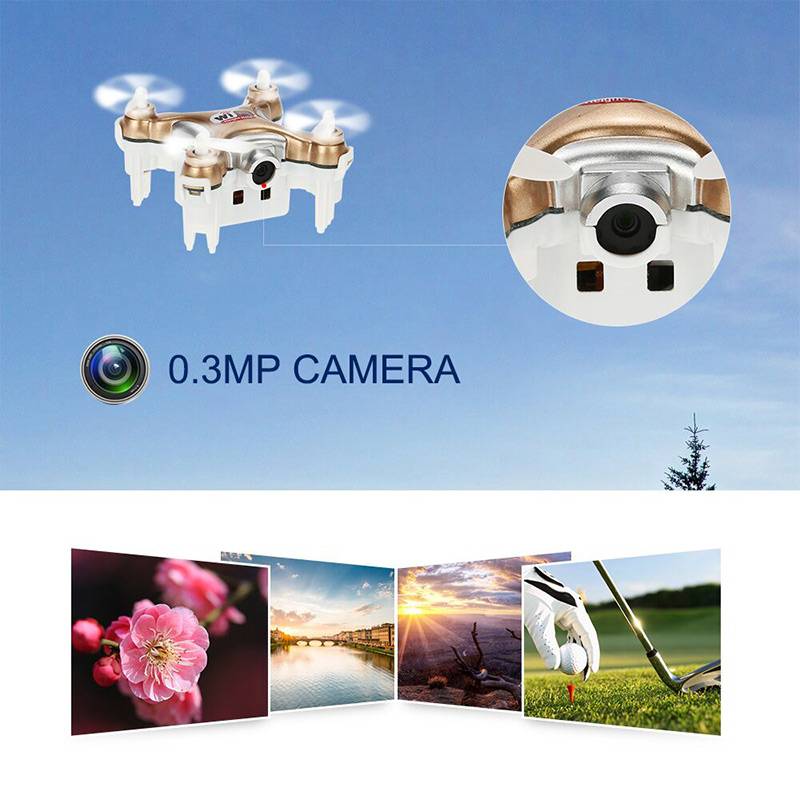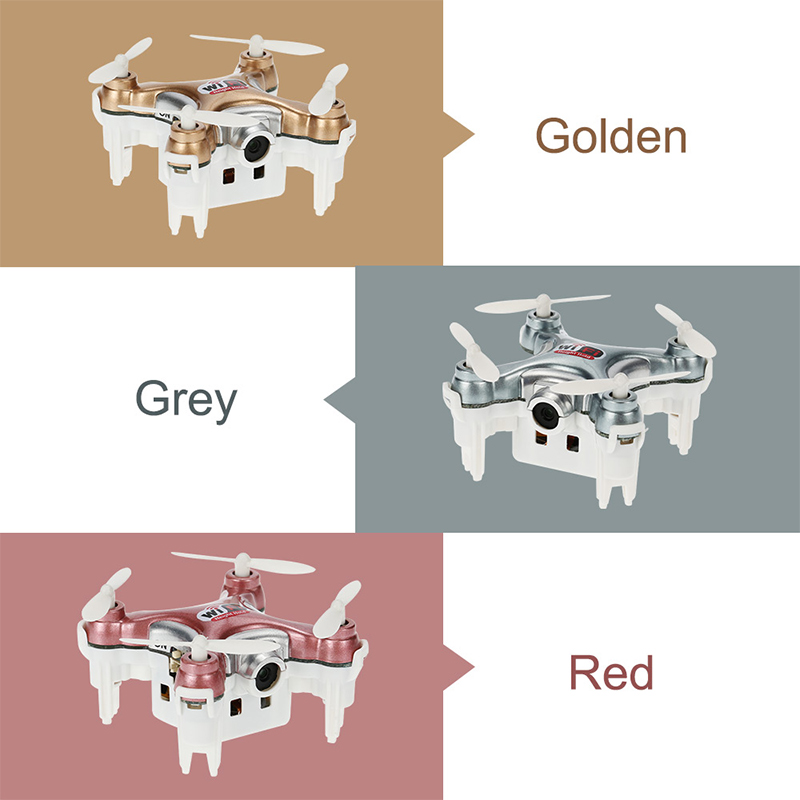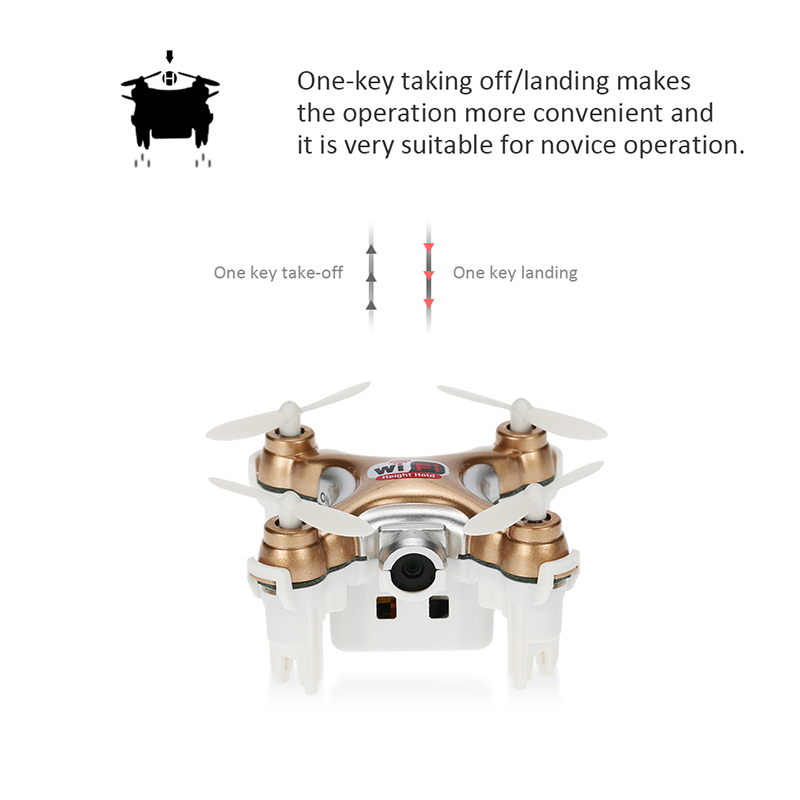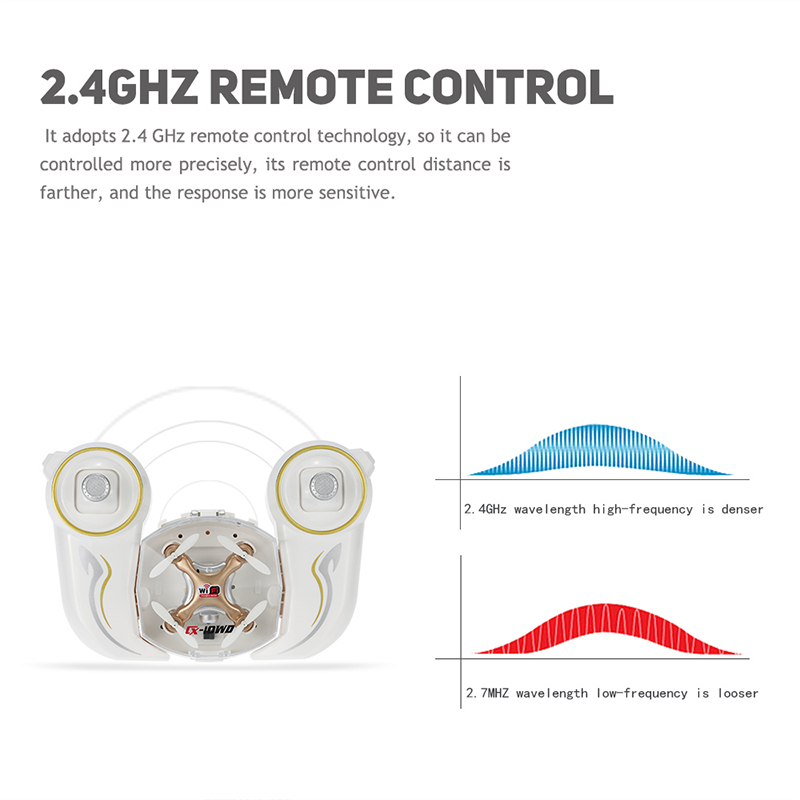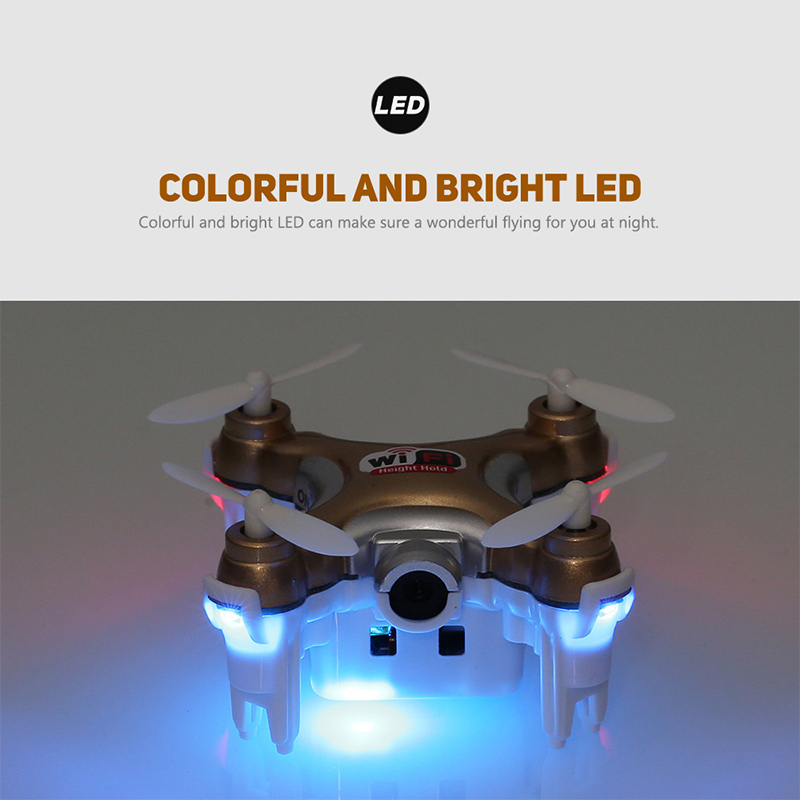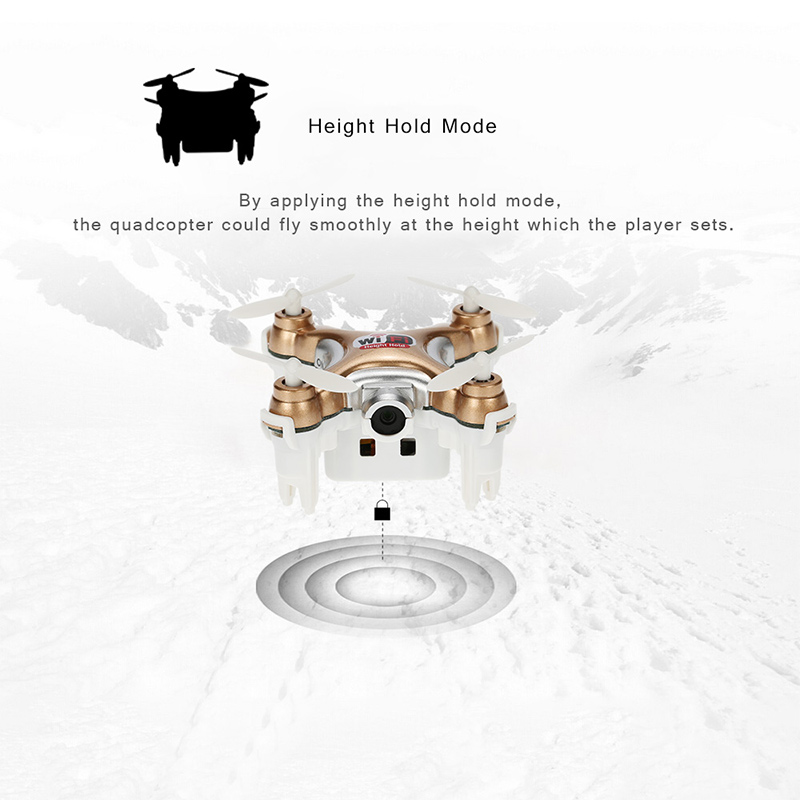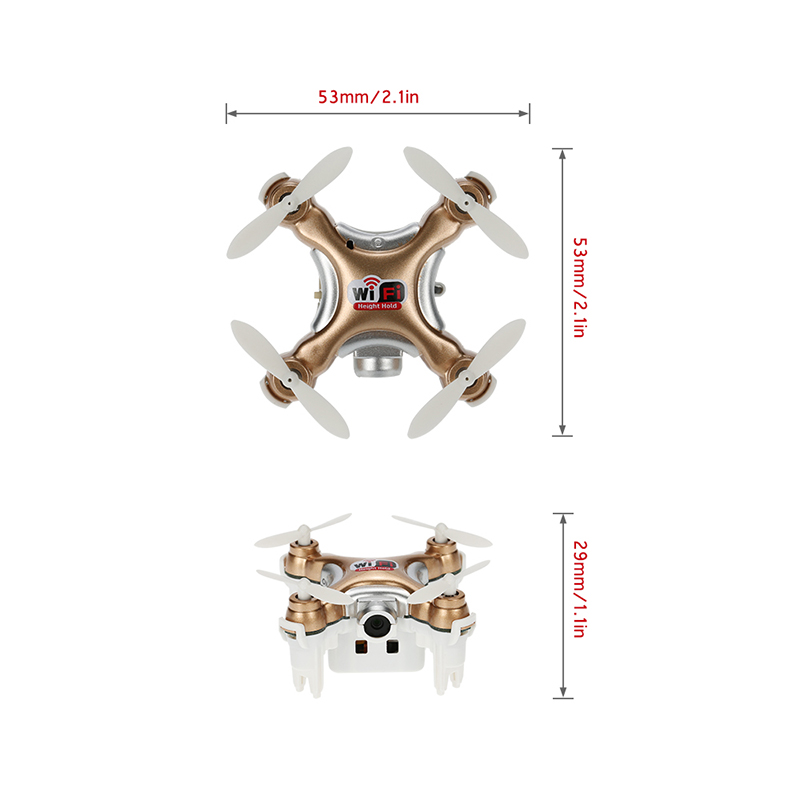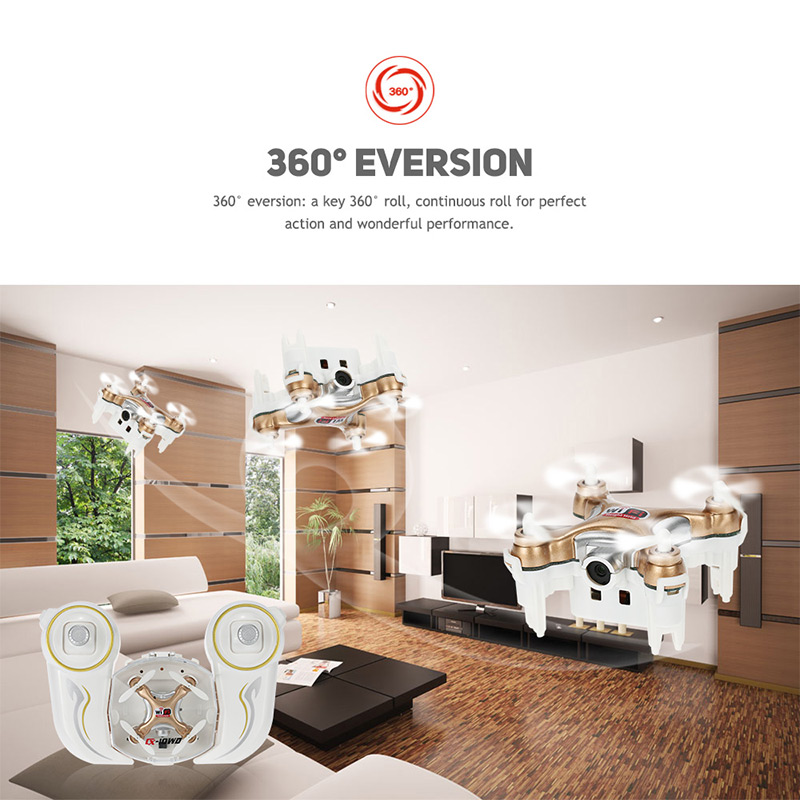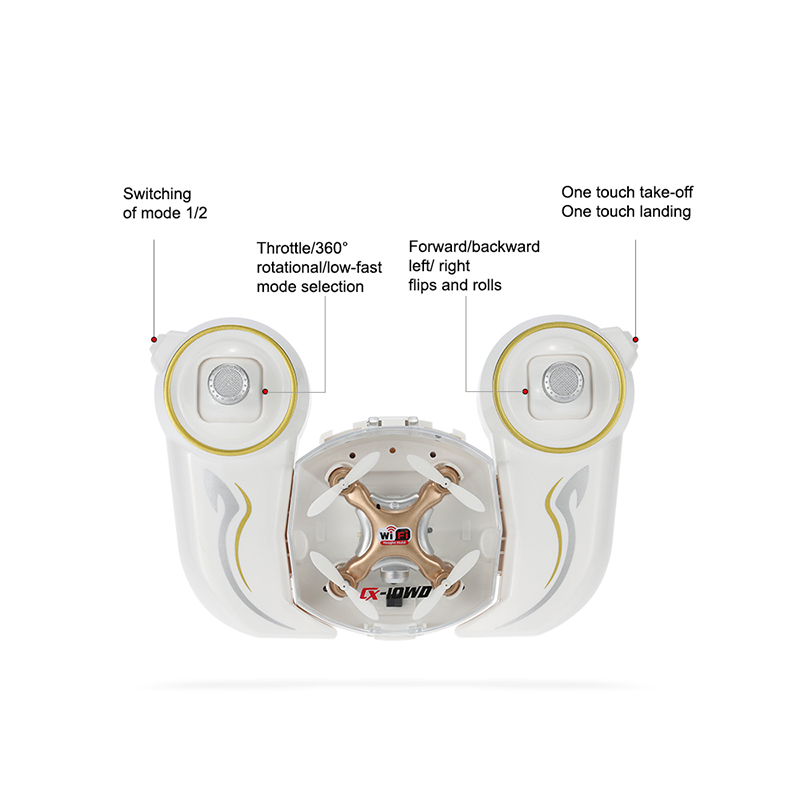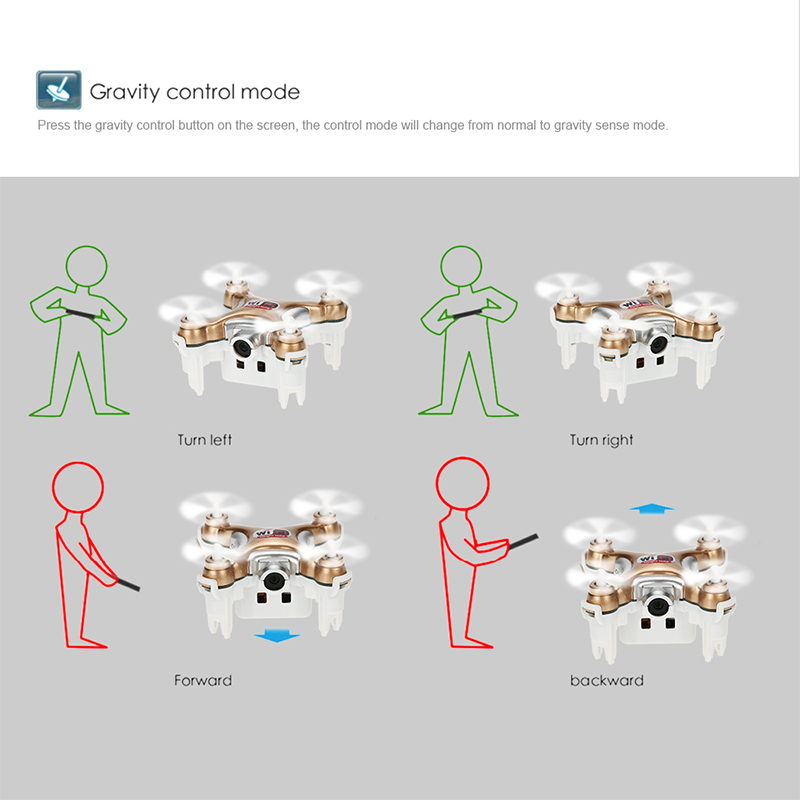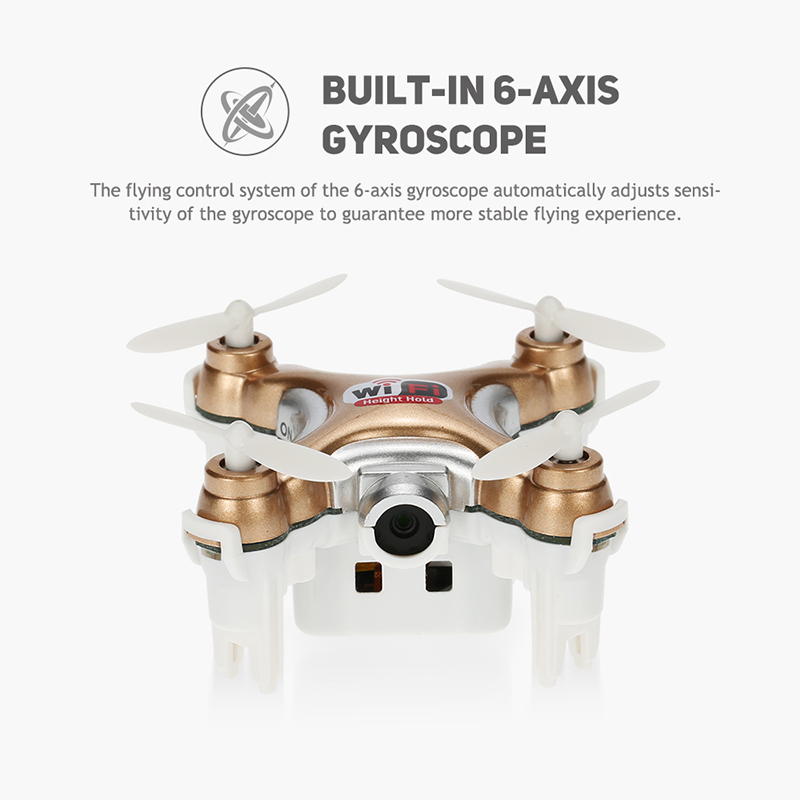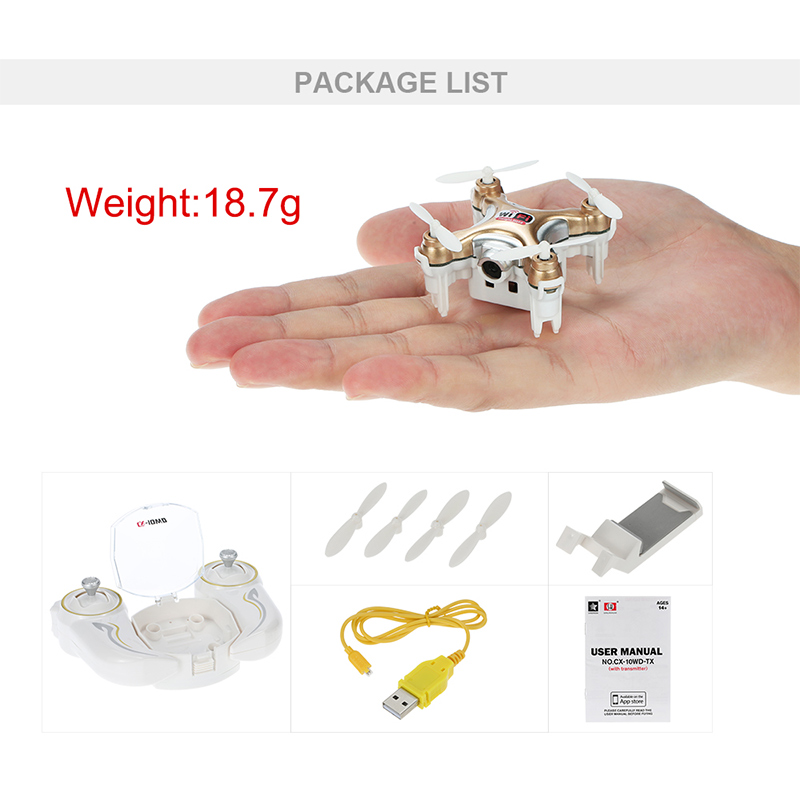 Funkcje:
Możesz wziąć lotnicze filmy i zdjęcia z 0.3MP aparat.
To proste dla drone zrobić 360 ° flip do przodu/do tyłu/lewo/prawo.
WiFi w czasie rzeczywistym transmisji akcji, filmy i zdjęcia na telefon w każdej chwili w dowolnym miejscu.
Jasne diody LED oświetlenie przyniesie lepszą orientację.
6 osi żyroskopu możliwość pilotowania stabilne i precyzyjne.
Startu touch jeden zrobić samolotów startu i ustaw kursor w okolicy około 1,5 m wysokości.
Jeden dotyk lądowania można zrobić ziemi samolotów w ziemi stale.
Stosując tryb hold wysokość, quadcopter można płynnie latać na wysokości, które można ustawić.
Specyfikacja:
Pozycja marki: Cheerson
Nr pozycji: CX-10WD-TX
Kolor: złota/czerwona/grey(three colors optional)
Materiał: ABS! Nadajnik:
Tryb 1
/ Mode 2
Kanały: 4 kanały! Żyroskopu: 6 osi
Aparat fotograficzny: 0.3MP! Funkcja: wifi kontroli / przytrzymaj jeden dotyk take-off/jeden dotknąć lądowania/wysokość / prędkość trzy tryby
Baterii nadajnika: 2 * 1, 5V AAA bateria
(nie dołączone)
Odpowiedni wiek: powyżej 14 lat
Czas ładowania: około 30 minut
Czas pracy: około 5 minut
Pilot zdalnego sterowania zakres: około 25m! Bateria: 3.7V akumulator polimerowy 150mAh
(wybudowania)
Wymiary przedmiotu: 53 * 53 * 29 mm
Ciężar: 18,7 g
Pakiet informacji:
Wielkość paczki: 17.5 * 12 * 8,5 cm / 6,9 * 4.7 * 3,3 w
Waga opakowania: 292g/10,3 oz! Gift box pakiet
Przestroga dla akumulatora:
Nie należy mieszać baterii alkalicznych, standardowy akumulator.
Nie mieszaj starych i nowych baterii.
Non-akumulatory nie powinien być ładowany.
Wyczerpane baterie powinny zostać usunięte.
Tylko baterie typu identyczne lub równoważne są zalecane do stosowania.

Ogłoszenia:
Ten model RC to nie zabawka i nie nadaje się dla dzieci poniżej 14 roku życia, trzymać go z dala od dzieci.
Uważnie przeczytać instrukcję przed użyciem produktu, jeśli jesteś początkujący, to należałoby wspomagana przez doświadczonych dorosły.


Lista pakietu:
1 * Quadcopter Cheerson CX-10WD-TX
1 * nadajnik (! tryb 1! / Mode 2
)
2 * para śmigło! 1 * kabel do ładowania USB
1 * uchwyt na telefon! 1 * angielska instrukcja obsługi!
Peso do artigo: 18,7 g
Informações do pacote:
Tamanho do pacote: 17.5 * 12 * 8,5 cm / 6,9 * 4.7 * 3,3 em
Peso do pacote: 292g/10,3 onças