Ten oryginalny T5G GOOLRC lotu innowacyjnych technologii i maszyny, które można latać tylko w dowolnym miejscu. To można wykonać wywinięcie 360°, tryb CF i jeden klucz zwrotu funkcji. Poza tym 5, 8 G w czasie rzeczywistym FPV przynosi świat przed Tobą. Wszystko, co musisz zrobić jest przyjść i zabrać go do domu
!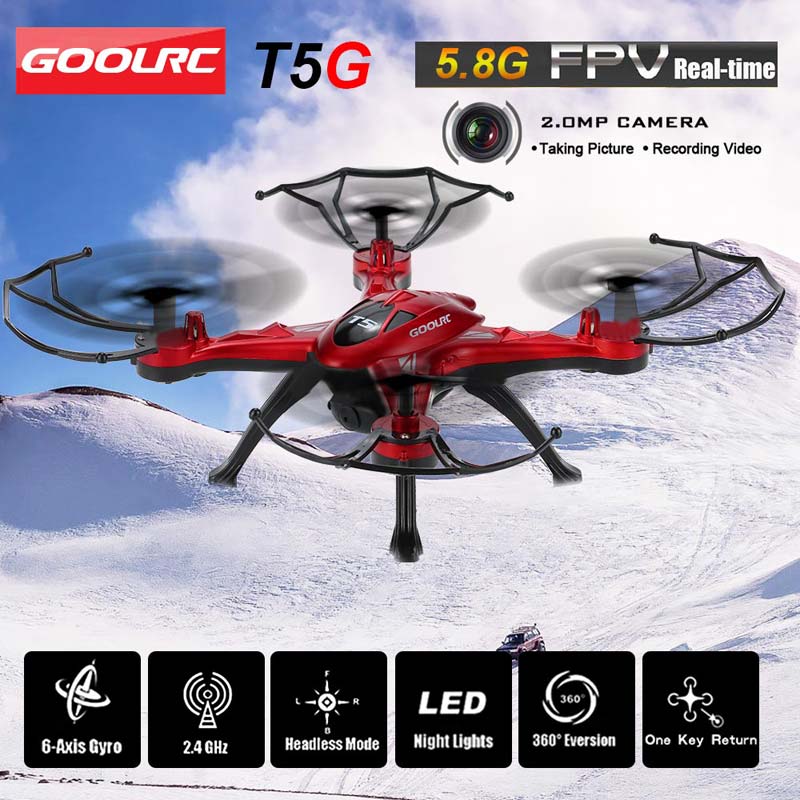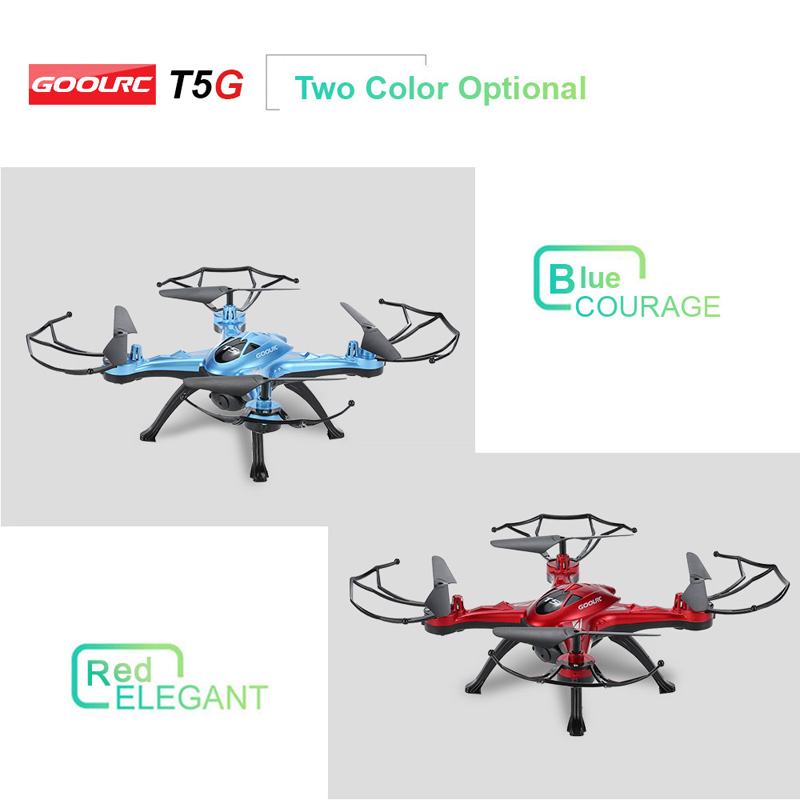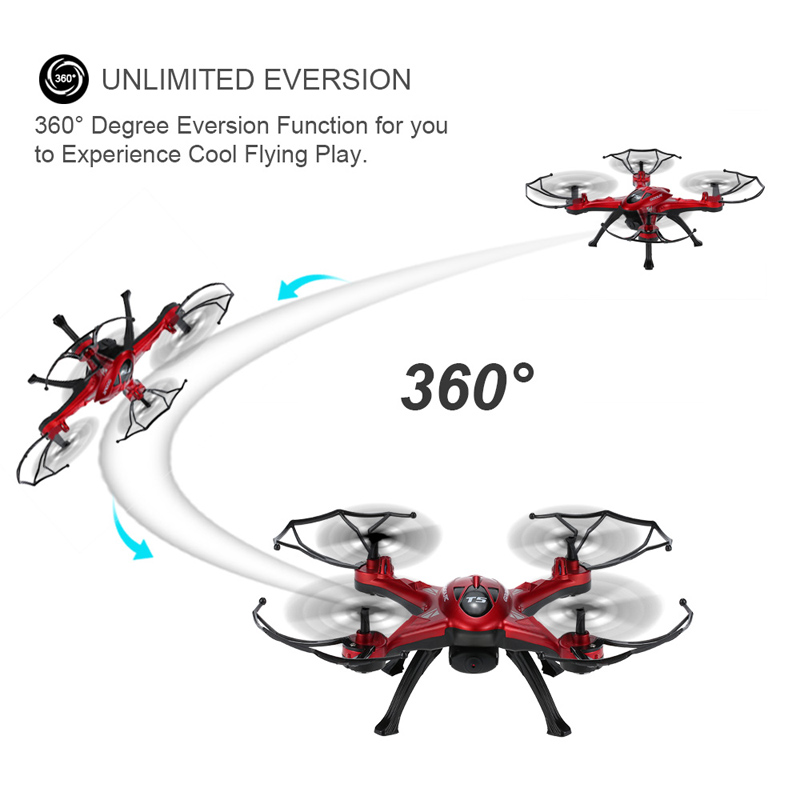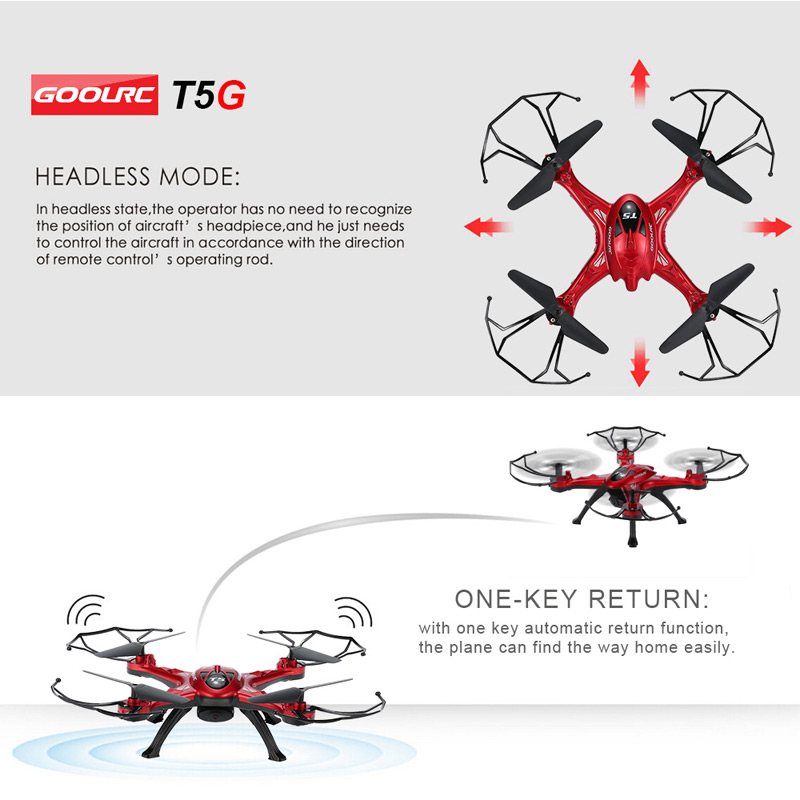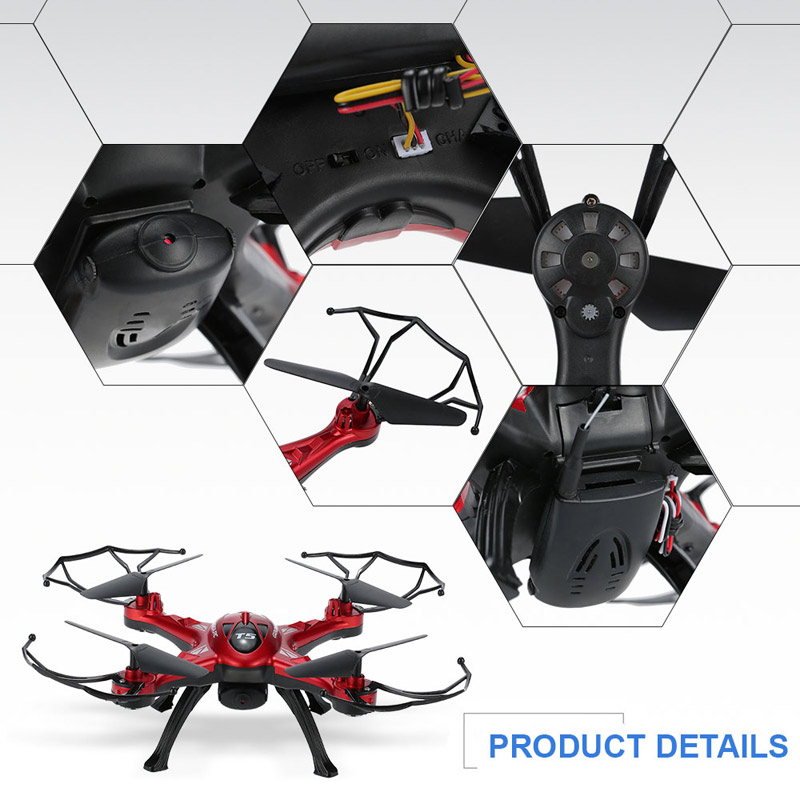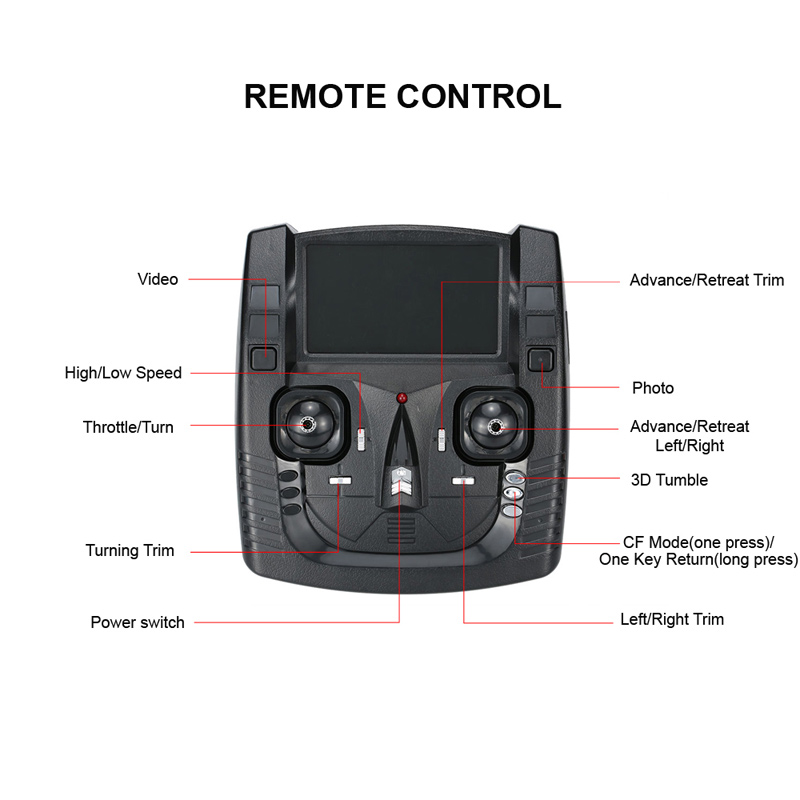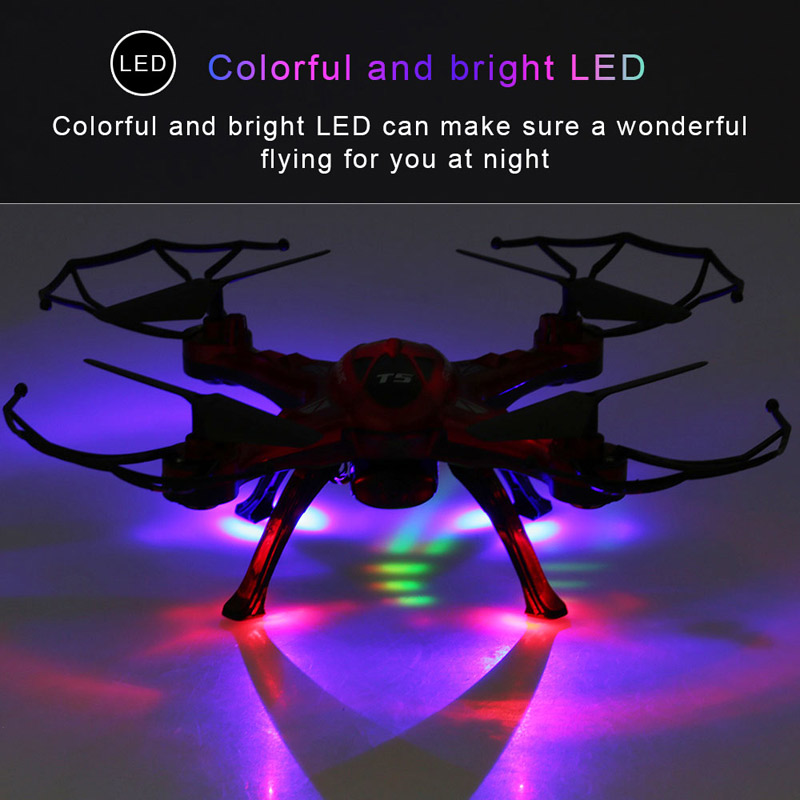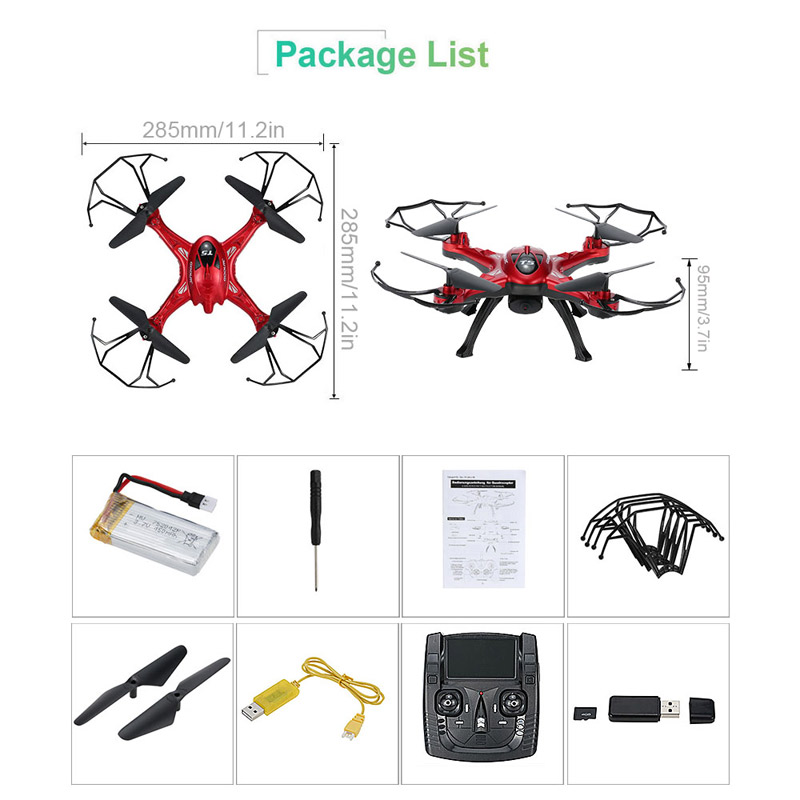 Funkcje:
100% zupełnie nowy.
Kompaktowa i lekka konstrukcja.
Z LED, możliwość mucha noc.
360° wywinięcie funkcji można doświadczyć latający jest super.
Nie ma potrzeby, aby dopasować położenie samolotu przed odlotem w trybie headless.
Jeden klucz do powrotu funkcji sprawia, że łatwo odnaleźć drogę do domu.
Z 2.0MP HD kamera umożliwia robienie zdjęć i nagrywanie wideo.
5.8 G w czasie rzeczywistym FPV przynosi świat przed Tobą.
Dane techniczne:
Nazwa marki: GOOLRC
Nazwa przedmiotu: T5G RC Quadcopter
Materiał: ABS! Kolor: niebieski/czerwony opcjonalne
Pilot zdalnego sterowania: 2.4GHz / 4 kanały / tryb 2
Żyroskopu: 6 osi
Aparat fotograficzny: 2.0MP Kamera HD! FPV transmisji: 5,8 G w czasie rzeczywistym! Funkcja: 360° wywinięcie, tryb CF, jeden klawisz powrotu, górę, dół, lewo, prawo, do przodu, do tyłu, unoszące się
Zdalnie na odległość: około 50m! Bateria do quadcopter: 3.7V 450mAh Lipo baterii! Czas ładowania: około 70-90 minut! Czas pracy: 4-5 minut
Baterii pilota zdalnego sterowania: 3.7V 550mAh Lipo baterii (wbudowany)
Bateria quadcopter Wymiary: 45 * 20 * 8 mm
Wymiary przedmiotu: 285 * 285 * 95 mm
Ciężar: 96g
Pakiet informacji:
Wielkość opakowania: 30 * 23 * 14.5 cm / 11,8 * 9,1 * 5,7 w
Waga w opakowaniu: 821g/1,8 lb! Gift box pakiet
Przestroga dla akumulatora:
Nie nadmierne opłaty lub nadmiernym rozładowaniem baterii.
Nie umieścić go obok wysokiej temperatury.
Nie wyrzucaj go do ognia.
Nie wyrzucaj go do wody.
Ogłoszenia:
Ten RC drone jest wyposażony w silniki DC bez rdzenia, ciągłe korzystanie z różnych baterii nie jest zalecane.
Ten model RC to nie zabawka i nie nadaje się dla dzieci poniżej 14 roku życia, trzymać go z dala od dzieci.
Uważnie przeczytać instrukcję przed użyciem produktu, jeśli jesteś początkujący, to należałoby wspomagana przez doświadczonych dorosły.


Lista pakietu:
1 * GOOLRC T5G RC Quadcopter
1 * nadajnik z wyświetlaczem (tryb 2)
1 * 2.0MP HD kamera! 1 * 4GB karty Micro SD i Reader! Bateria Li-po 450mAh 1 * 3, 7V do Quadcopter
1 * 3.7V 550mAh bateria Li-po do nadajnika (wbudowany)
1 * pary zapasowe śmigła! 4 * pierścień ochronny! 4 * podwozie
1 * kabel do ładowania USB
1 * śrubokręt
1 * angielski Podręcznik  
FAQ statku powietrznego:
1. statek powietrzny nie łączyć się z nadajnika.
Przed powiązaniem, upewnij się, że bateria jest pełna. Następnie włączyć drone i nadajnik, czas między tych dwóch operacji powinien być gotowy w ciągu 2 sekund.
2. jeden lub więcej silników nie działają.
Drone powinny pozostać na płaskiej powierzchni podczas wiązania silnik jest uszkodzony.
3. baterii problemów (nie może być naładowana, obrzęk, itp).
Akumulator uszkodzony, sugerowane do zmiany na nową.
4. Akcesoria brakuje.
Dokładnie sprawdzić gift box pakiet wewnątrz i na zewnątrz. Skontaktuj się z usługi niestandardowe.
5. stan statku powietrznego jest z równowagi (nie potrafią latać, odchylenie, przędzenia na ziemi).
Sprawdź, czy śmigło jest zainstalowany w odpowiedni sposób.
6. w trakcie ładowania, baterii i ładowarki stopić.
Ta ładowarka USB używane tylko dla prądu DC (portu USB komputera), nigdy nie podłączaj do obwodu elektrycznego AC. Poza tym należy zwrócić uwagę na czas ładowania, nigdy nie przeładowaniem.
Before binding, make sure battery is full. Then turn on the drone and the transmitter, the time between these two operation should be finished in 2 seconds.
2. One or more motors don't work.
Drone should stay on a flat surface during the binding, or motor is damaged.
3. Battery problems (can't be charged, swelling, etc).
Battery damaged, suggested to change a new one.
4. Accessories missing.
Check gift box package inside and outside carefully. Contact custom service.
5. The aircraft is out of balance (can't fly, deviation, spinning on the ground).
Check the propeller is installed in the right way.
6. During the charging, battery and charging cable melt.
This USB charger only used for DC current(computer USB port), never connect to AC electric circuit. Besides, pay attention to the charging time, never over charging.