Ten Cheerson CX - 10C RC quadcopter oryginalne w kształcie UFO jest dokładnie to, czego potrzebujesz. Ten dron może realizować flip 360 stopni i wbudowany 6 osiowy żyroskop obiecać stabilny lot. Jego ciało Mini sprawia, że tak słodkie i unikalne. Jeśli nie dostać jeden, nigdy nie wiesz jak wiele radości może przynieść dla Ciebie
!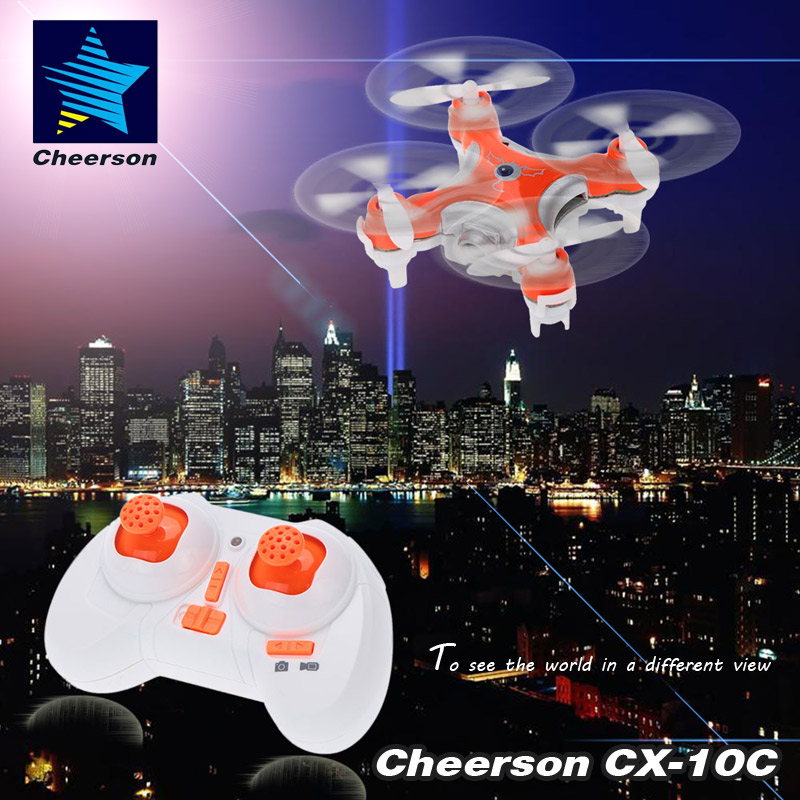 Funkcje:
Góra/dół, lewo/prawo po stronie lotu, unosząc.
4-kanałowy mini quadcopter.
Funkcja wbudowana 6 osiowy żyroskop zapewnia stabilny lot.
Można sobie sprawę, flip 4-sposoby 360 stopni.
Z 0.3MP aparat, pozwala na wykonywanie zdjęć i filmów.
Z LED światła do lotu w nocy.
Dane techniczne:
Nazwa marki: Cheerson
Model nr: CX - 10C
Typ przedmiotu: RC Quadcopter
Kolor: Czarny/pomarańczowy opcjonalne
Materiał: ABS! Tryb kontrolera: tryb 2
Kanały: 4 kanały! Żyroskopu: 6 osi
Funkcja:, dół, lewo, prawo, do przodu, do tyłu, 360 stopni przerzuca
Zdalne sterowanie częstotliwości: 2.4GHz! Zdalnie na odległość: około 15m
Odpowiedni wiek: powyżej 14 lat
Zdalny kontroler baterii: 2 * baterii AAA (nie dołączone)
Pojemność baterii: 3.7V 120mAh li-po
Czas ładowania: O 25 minut
Czas lotu: około 2-4 minut! Quadcopter Wymiary: 40 * 40 * 20 mm! Quadcopter Waga: 14,7 g
Pakiet informacji:
Wielkość opakowania: 12.5 * 8,5 * 7 cm / 5 * 3.3 * 2,8 w
Waga w opakowaniu: 143g/5,1 uncji
Gift box pakiet
Ogłoszenia:
Ten model RC to nie zabawka i nie nadaje się dla dzieci poniżej 14 roku życia.
Uważnie przeczytać instrukcję przed użyciem produktu, jeśli jesteś początkujący, to należałoby wspomagana przez doświadczonych dorosły.
Przestroga dla akumulatora:
Nie nadmierne opłaty lub nadmiernym rozładowaniem baterii.
Nie umieścić go obok wysokiej temperatury.
Nie wyrzucaj go do ognia.
Nie wyrzucaj go do wody.

Lista pakietu:
1 * Quadcopter Cheerson CX - 10C
1 * nadajnik (tryb 2)
1 * 3.7V (zbudowany w quadcopter) bateria Li-po 120mAh
1 * kabel do ładowania USB
2 * pary zapasowe śmigła! 1 * angielski Podręcznik
1 * Cheerson CX-10C Quadcopter
1 * Transmitter (mode 2)
1 * 3.7V 120mAh Li-po Battery (built in the quadcopter)
1 * USB Charging Cable
2 * Pair of Spare Propellers
1 * English Manual