HTRC B6 Mini V2 is a new designed Lipo charger which developed by HuiTuo HTRC. Elegant design, mini size pocket type. High quality, stable performance comes with Marquee led indication. It is a digital intelligent multi-functional charger which support LiPo/Li-ion/LiFe/NiCd/NiMH PB batteries, high power battery LiHV and smart battery I, II, III. Max charger power 70W, discharger power 5W, max charge current 7A with high charging efficiency, discharger current 2A. Easy operation easy to use.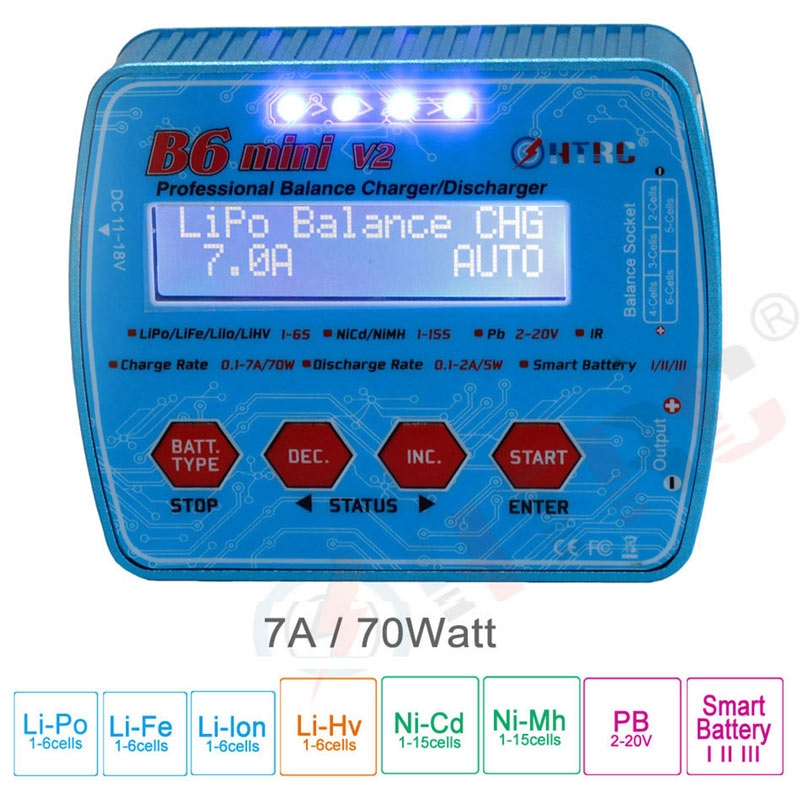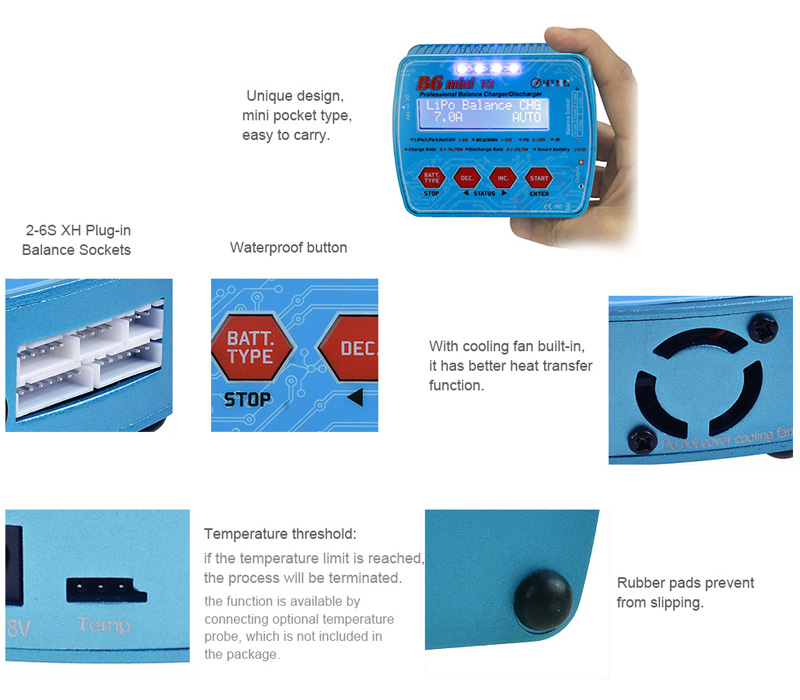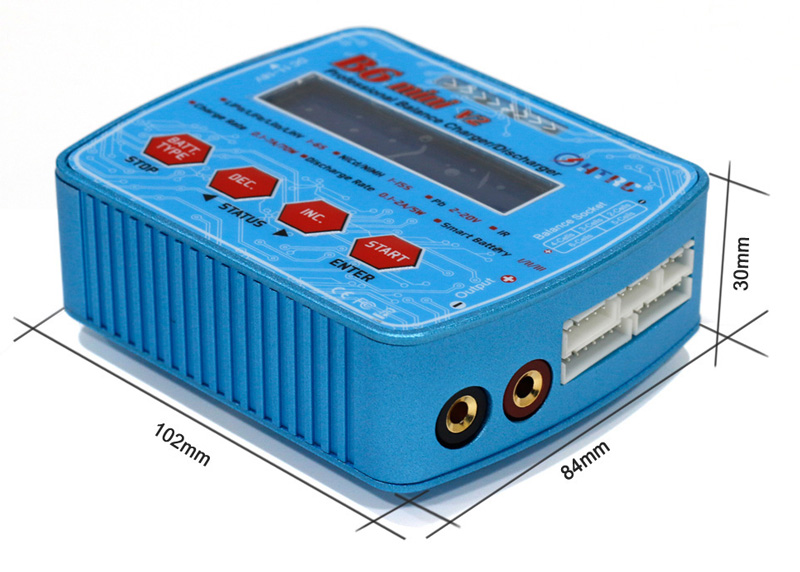 Features:
Elegant design, mini pocket type, comes with Marquee led indication.
Microprocessor controlled Delta-peak sensitivity.
Automatically identify the cells counts of lithium battery section.
Check lithium battery internal resistance. Let you know when a cell is going bad.
Support smart battery I, II, III. (need optional smart battery charging cable)
Maximum safety: Low Input Voltage setting, Delta-peak sensitivity. Capacity limit, processing time limit, Temperature Threshold.
Terminal Voltage Control. User is able to adjust the end charge voltage per cell, and set a voltage which is kinder to the batteries as his will.
Individual cell balancing, cell voltage monitoring.
Data storage and loading (Store up to 20 packs in memory).
Battery break in and cycling.
Specification:
Brand: HTRC
Model: HT-0094
Input voltage: DC 11-18V
Screen: 2x16 LED display
Charge power: 70W
Discharge power: 5W
Charge current range: 0.1-7A
Discharge current range: 0.1-2A
Supported battery: Lilon/LiPo/LiFe/LiHV cell count: 1-6cells
NiCd/NiMH battery cell count: 1-15cells
PB Battery voltage: 2-20V
Smart battery: I/II/III
Current drain for balancing: 500mA/cell
Dimension: 102 * 84 * 30mm
Net weight: About 240g
*Work Mode:
-Lipo/Li-ion/LiFe/LiHv: balance charge, charge, fast charger, storage, discharge.
-NiMH/NiCd: Charge, discharge, cycle.
-PB: Charge, discharge.
Package Information:
Package size: 13.5 * 12.5 * 5cm / 5.31 * 4.92 * 1.96in
Package weight: 379g / 13.4oz
Gift box package
Package List:
1 * HTRC B6 Mini V2
1 * DC Cord
1 * Charge Cable Banana Plug to T-plug
1 * Charger Cable T-plug to XT60
1 * T-plug to Universal Crocodile clip
1 * T-plug to JST Cable
1 * T-plug to Futaba Cable
1 * Manual