GoolRC 40A ESC has the advantages of small size, light weight, fast response, high efficiency, supporting high-speed motor and so on. D2814 1000KV brushless motor is built from high quality aluminum alloy which is produced from the latest CNC milling machines, and is designed with high power and rotation speed to provide longer run time.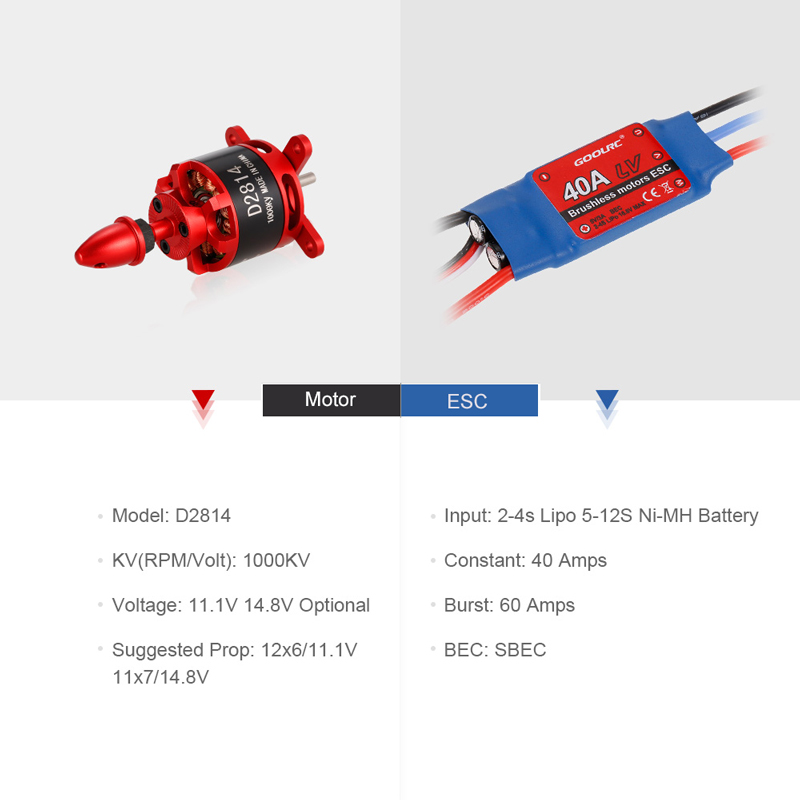 Features:
The motor is high-torque and high-efficiency
CNC machined aluminum case
High purity copper windings maximizes efficiency
Precision engineered for maximum energy conversion
The ESC uses powerful and high-performance MCU processor
With internal SBEC, the operating power to start steering engine is strong and the power dissipation is small
Delicate circuit design with strong anti-interference
This is new generation ESC for entry level and middle level fix-wing
Specifications:
Brand: GoolRC
Item name: Motor and ESC Kit
ESC:
Input: 2-4s Lipo Battery 5-12S Ni-MH Battery
Constant: 40 Amps
Burst: 60 Amps
BEC: SBEC
Dimensions: 66 * 27 * 13mm
Weight: 44g
Motor:
Model: D2814
KV(RPM/Volt): 1000KV
Voltage: 11.1V 14.8V Optional
Suggested Prop: 12x6/11.1V 11x7/14.8V
Load current: 35.5A/11.1V 42A/14.8V
Pull: 2120g/11.1V 2160g/14.8V
Continuous power: 394W/11.1V 622W/14.8V
Outside diameter: 35mm
Shaft diameter: 30mm
Body length: 33.8mm
Overall shaft length: 63.8mm
Suitable for: 1-1.5kg RC Fixed-wing
Max Lipo cell: 3-4S
Weight: 106g
Package Information:
Package size: 10 * 7.5 * 6cm / 3.9 * 3 * 2.4in
Package weight: 196g / 6.9oz
Gift box package
There may be some deviation due to manual measurement.
Package List:
1 * GoolRC 40A ESC
1 * GoolRC D2814 1000KV Brushless Motor