This 3650 5200KV brushless motor with 60A ESC is specially designed for 1/10 RC car. The ESC is built-in 5.5V/3A BEC which can power receiver or other suitable equipment. There is no need to set throttle range before usage. A good choice for your RC car!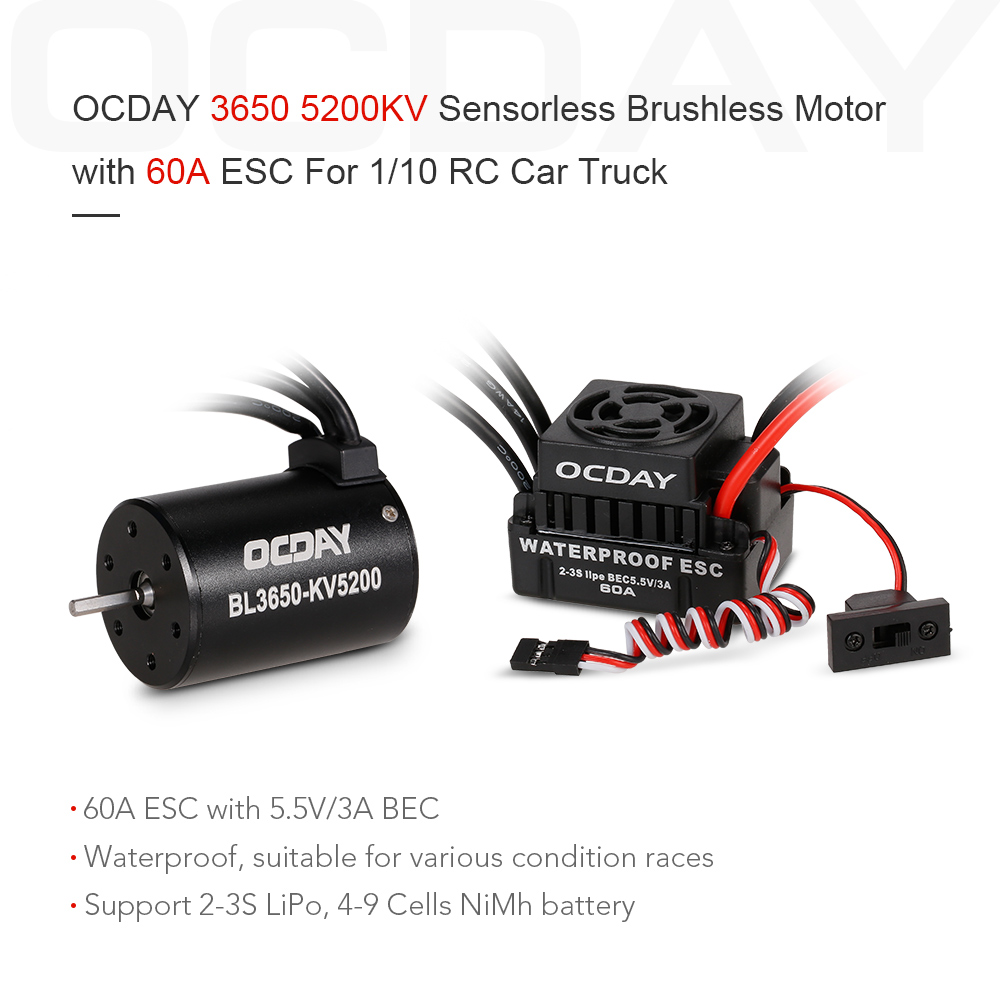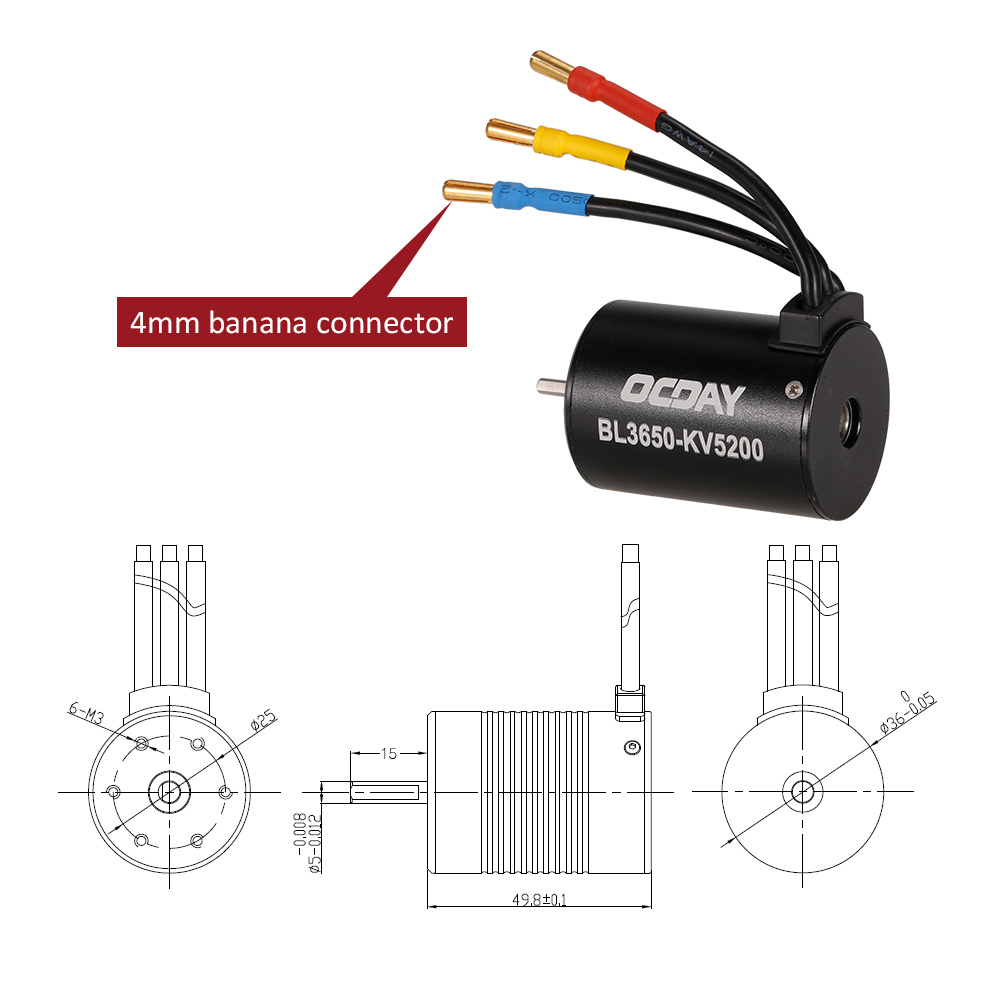 Features:
Waterproof: suitable for various condition races.
Combo: BL3650 5200KV 4P sensorless brushless motor with 60A ESC.
Suitable Car: Normally suitable for 1/10 RC Car.
High quality: the motor is made of aluminum alloy which is produced from the latest CNC milling machines.
Multiple protection features: Low voltage cut-off protection / Over-heat protection / Throttle signal loss protection.
It is designed with high power and rotation speed to provide longer run time.
Enhanced throttle response, excellent acceleration, strong breaks and throttle linearity, hi-efficiency.
Removable/Replaceable rotor.
Motor Specifications:
Brand name: OCDAY
Material: Aluminum alloy
Size: 3650
Watts: 900W
Max voltage: <9.6V
Max Amps: 94A
KV(RPM/Volt): 5200KV
Rotor poles: 4
Diameter: 36mm
Length: 50mm
Shaft length: 15mm
Shaft diameter: 3.175mm
Plug type: 4mm golden banana plug
Mounting Hole: M3
Weight: 179g
ESC Specification:
Brand: OCDAY
Material: plastic
Color: Black
Cont. Current: 60A
Burst Current: 320A
Battery: 2-3 Cells Lipo / 4-9 Cells NiMh
BEC Output: 5.5V/3A (Switch Mode)
Power Supply Plugs: T Male
Motor Plugs: Female 4mm Bullet Connector
Compatible Blushless Motor: >= 9T
Size: 50.8 * 38 * 37mm
Weight: 77g / 2.7oz
Note:
1 Although this combo suitable for most 1/10 RC car/truck, please check the size especially the mounting holes of the motor before purchase.
2 The ESC is waterproof for slight water. Don't put the ESC into water for a long time which may cause the fan burns.
3 Contact us to purchase the specified program card if you need.
Package information:
Package size: 18 * 8 * 7cm/ 7.1 * 3.1 * 2.8in
Package weight: 267g/ 9.4oz
Package list:
1 * 3650 5200KV Brushless Motor
1 * 60A ESC
1 * Manual