This SURPASS HOBBY Platinum set 3660 3800KV brushless motor with 60A ESC is specially designed for 1/10 RC car. The ESC is built-in 5.8V/3A BEC which can power receiver or other suitable equipment. The set supports 2-3s LiPo battery or 4-9 cells NiMH battery. There is no need to set throttle range before usage. A good choice for your RC car!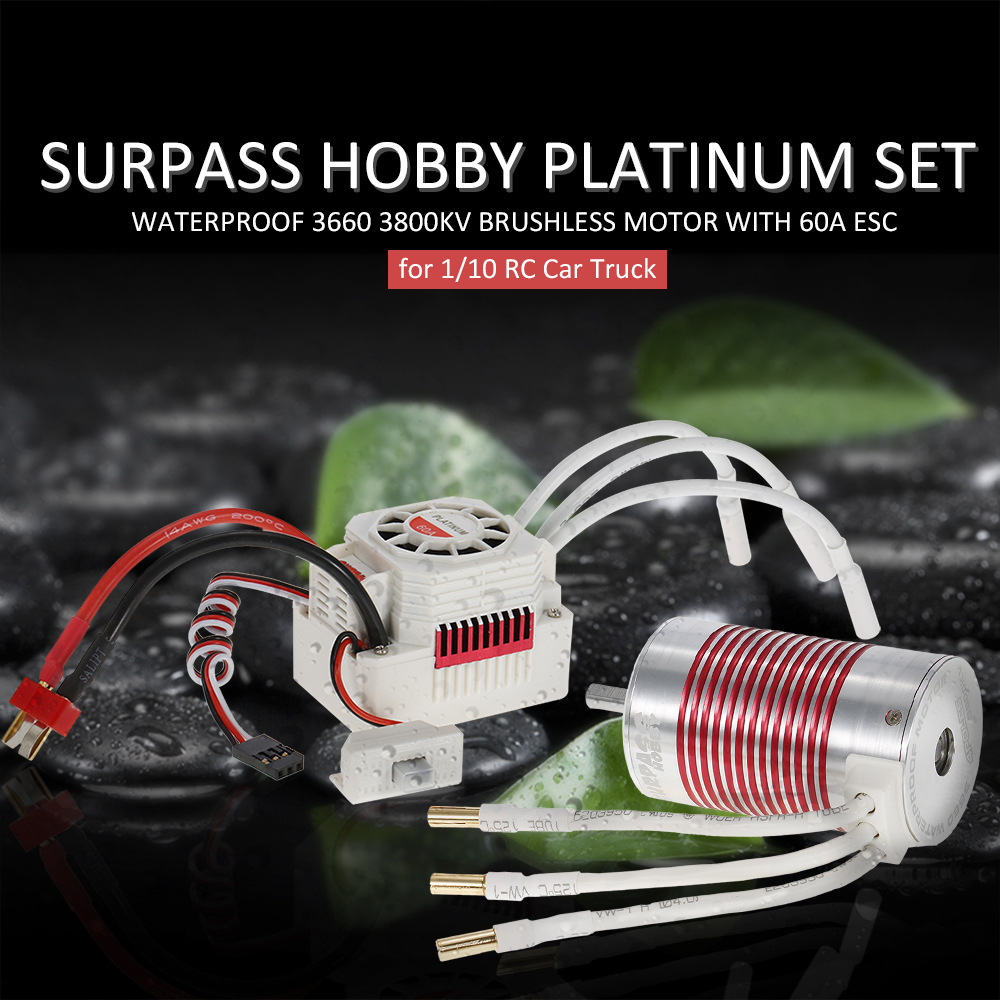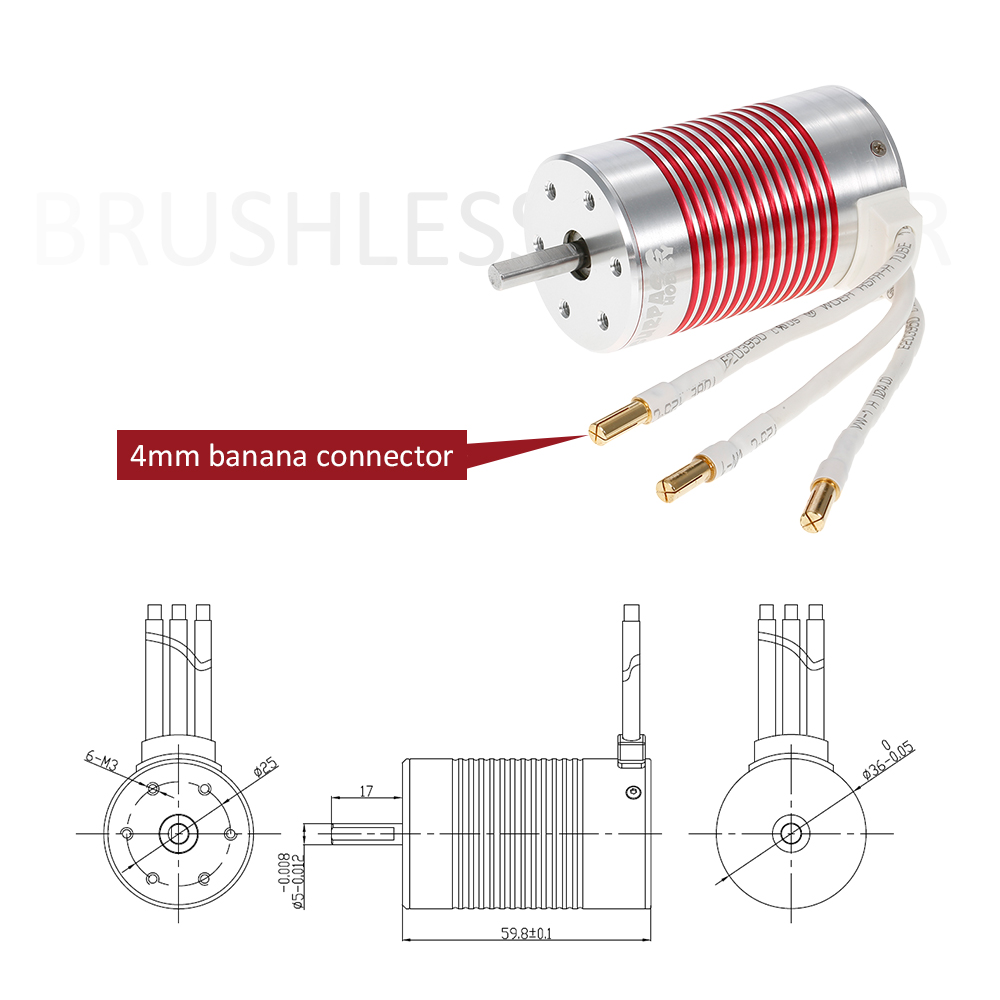 Features:
Waterproof, suitable for various condition races.
4 pole 12 slot High-torque motor design.
CNC Machined 6061 T6 billet aluminum heatsink can.
High purity copper windings maximizes efficiency.
High RPM ABEC5 oversized bearings.
Precision balanced rotor, smoothness for best reliability and maximum RPM
Stator - super thin (0.35mm) Laminations
Removable/replaceable rotor.
Multiple protection features of the ESC: low voltage cut-off protection for lithium or nickel battery / over-heat protection / throttle signal loss protection / motor blocked protection.
The ESC is easily programmed and compatible with specified pocket-sized program card.

Motor Specifications:
Brand name: SURPASS HOBBY
Size: 3660
Watts: 1200W
Max voltage: <13V
Max Amps: 92A
KV(RPM/Volt): 3800KV
Max RPM: 50000
Diameter: 36mm
Length: 60mm
Shaft length: 17mm
Shaft diameter: 5mm
Plug type: 4mm golden banana plug
Mounting Hole: M3
Weight: 217g

Electronic Speed Controller Specifications:
Cont. Current: 60A
Burst Current: 360A
Battery: 2-3 Cells Lipo / 4-9 Cells NiMh
BEC Output: 5.8V/3A (Switch Mode)
Power Supply Plugs: T Male
Motor Plugs: Female 4mm Bullet Connector
Motor Type
For 2s Lipo or 6 cells NiMH:
On-road: 3660-size or smaller motor with the KV<6000
Off-road / Buggy / Monster: 3660-size or smaller motor with the KV<4000
For 3s Lipo or 9 cells NiMH:
On-road: 3660-size or smaller motor with the KV<4000
Off-road / Buggy / Monster: 3656-size or smaller motor with the KV<3000
Size: 50.8 * 38.5 * 36.5mm
Weight: 91g / 3.2oz
Note:
1 Although this combo suitable for most 1/10 RC car/truck, please check the size especially the mounting holes of the motor before purchase.
2 The combo is waterproof for slight water. Don't put the ESC into water for a long time which may cause the fan burns.
3 Contact us to purchase the specified program card if you need.
Package information:
Package size: 14 * 8.5 * 5cm/ 5.5 * 3.3 * 2.0in
Package weight: 355g/ 12.5oz

Package list:
1 * 3660 3800KV Brushless Motor
1 * 60A Brushless ESC
1 * Manual