The new Skyzone SKY03 5.8G 48CH 3D FPV Goggles remains all the features of previous versions, including 3D/2D mode, built-in DVR with playback, head tracking, and built-in front camera etc., also some new features highlight in HDMI-IN, channel auto searching, adjustable IPD, cooling fan and LED light.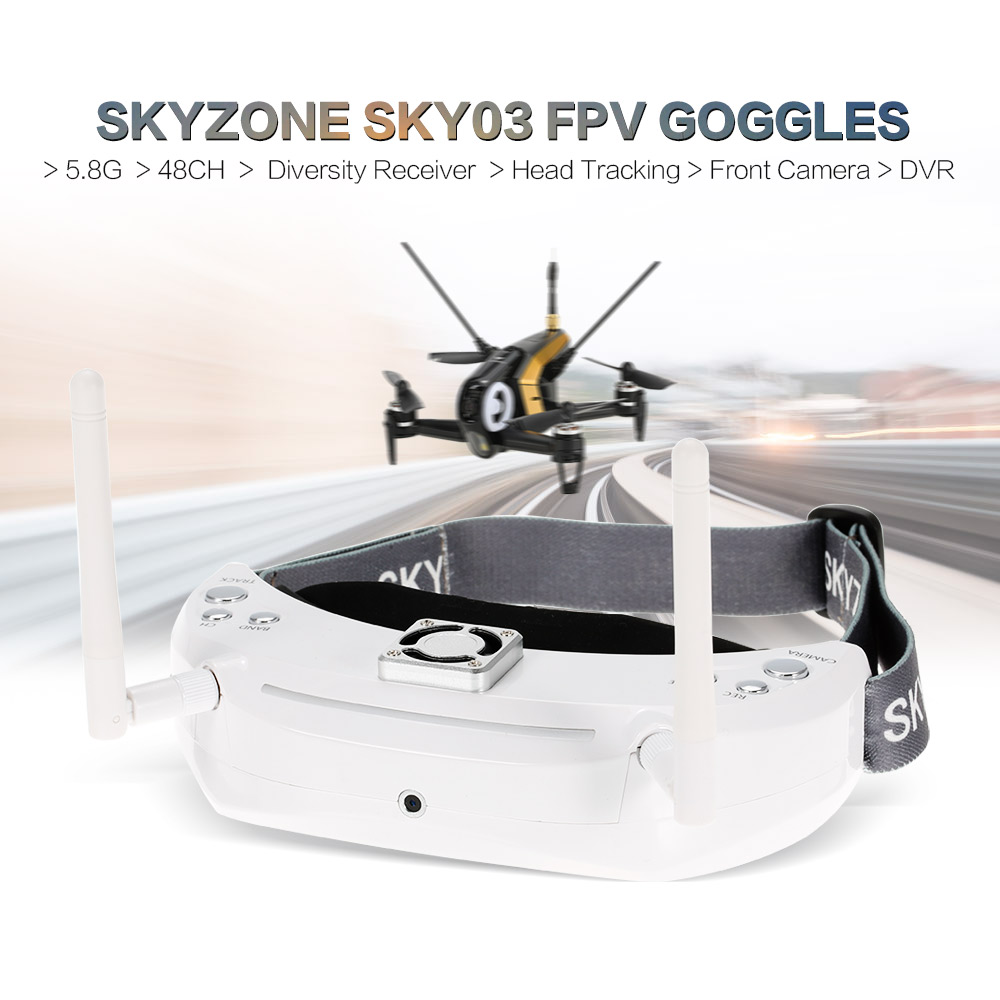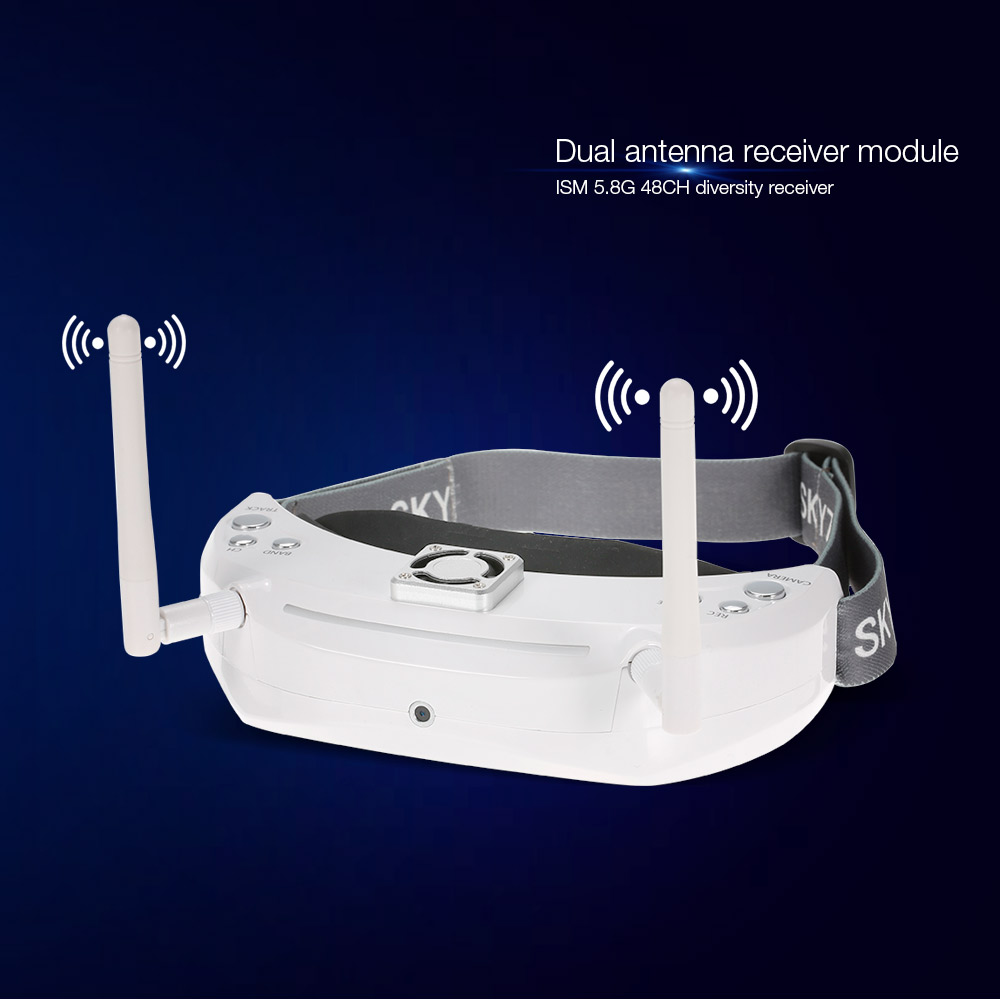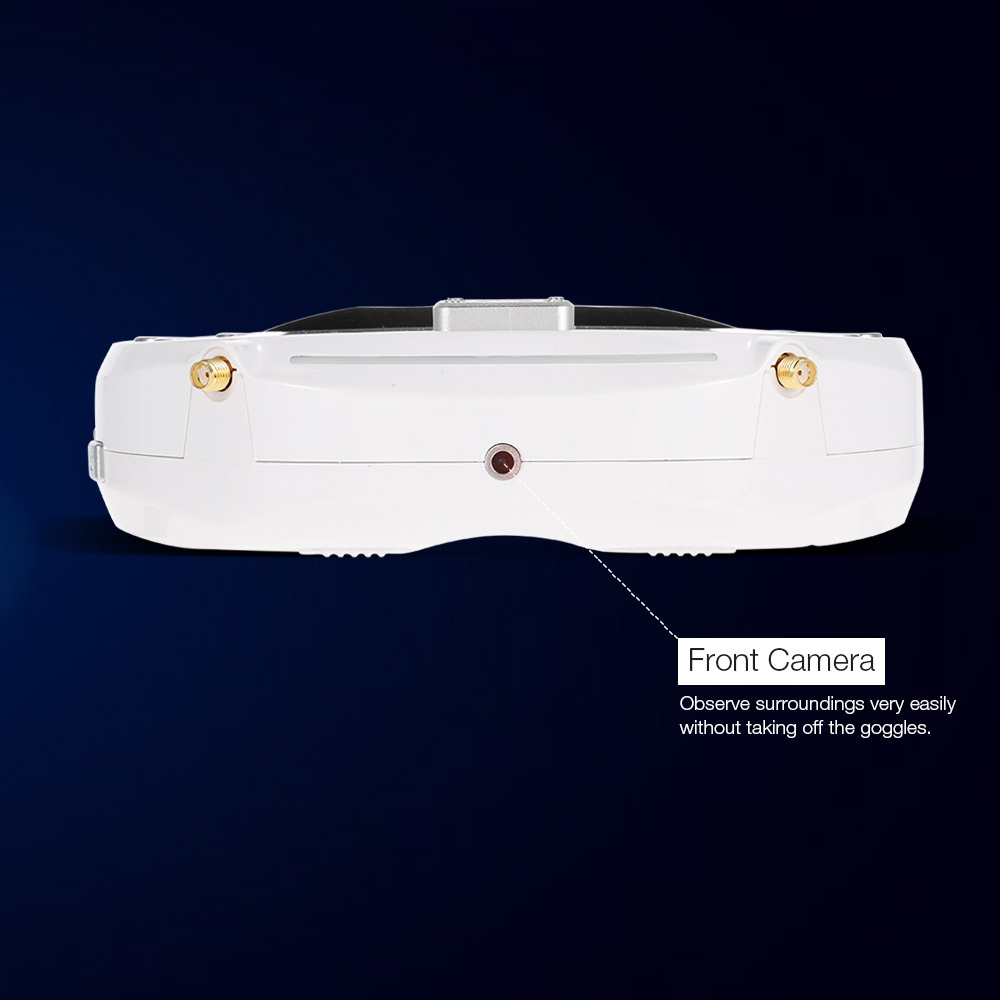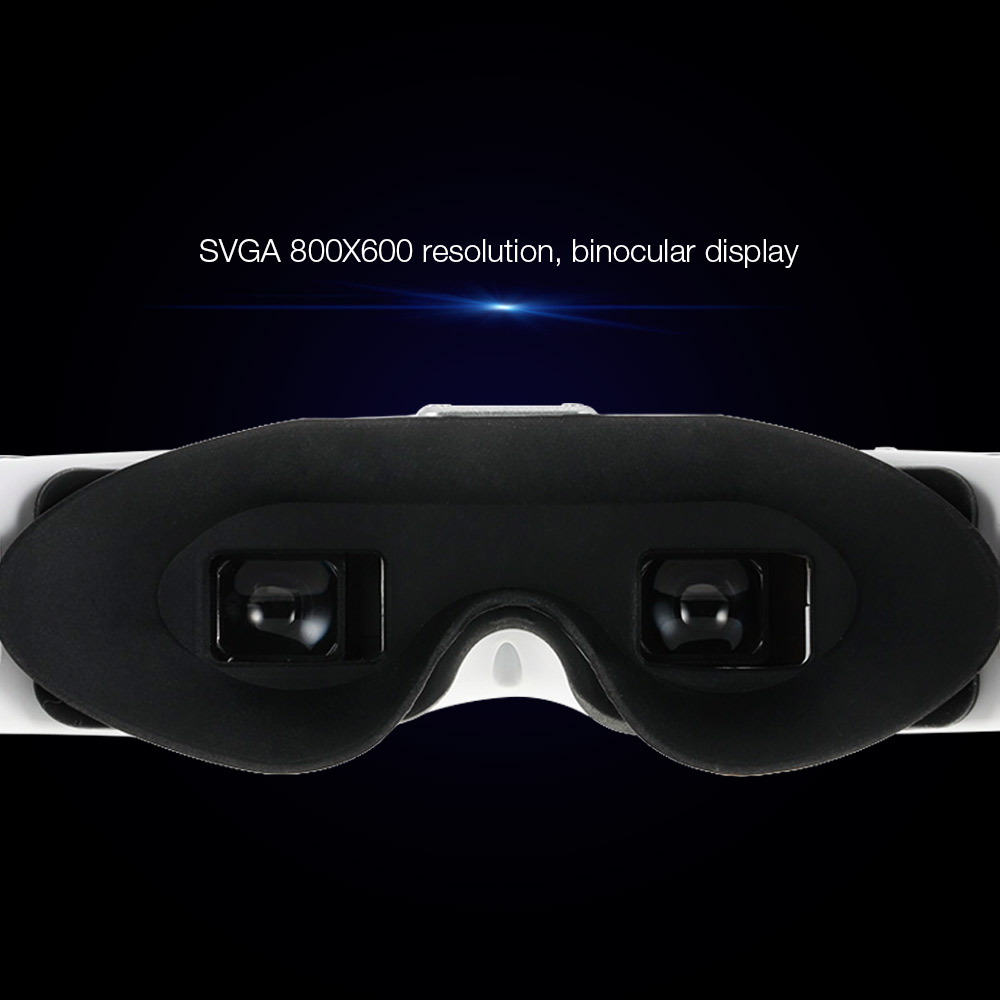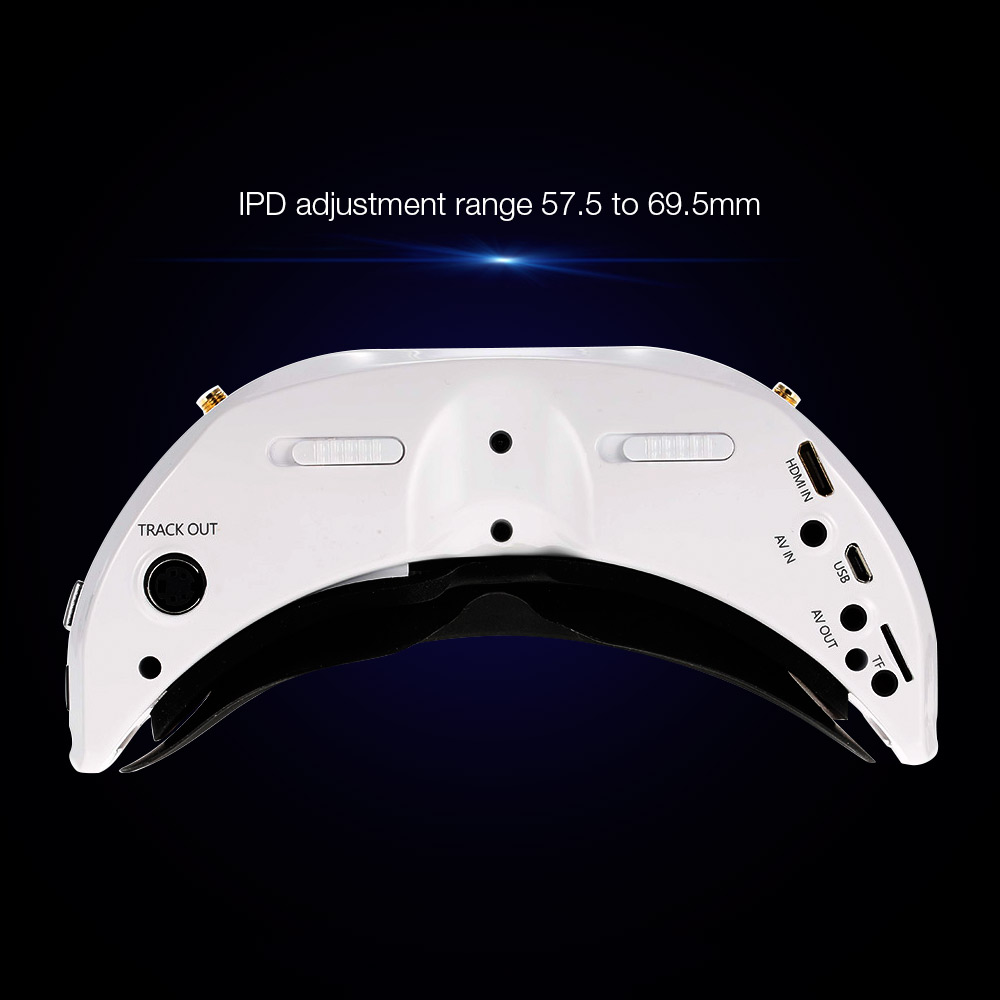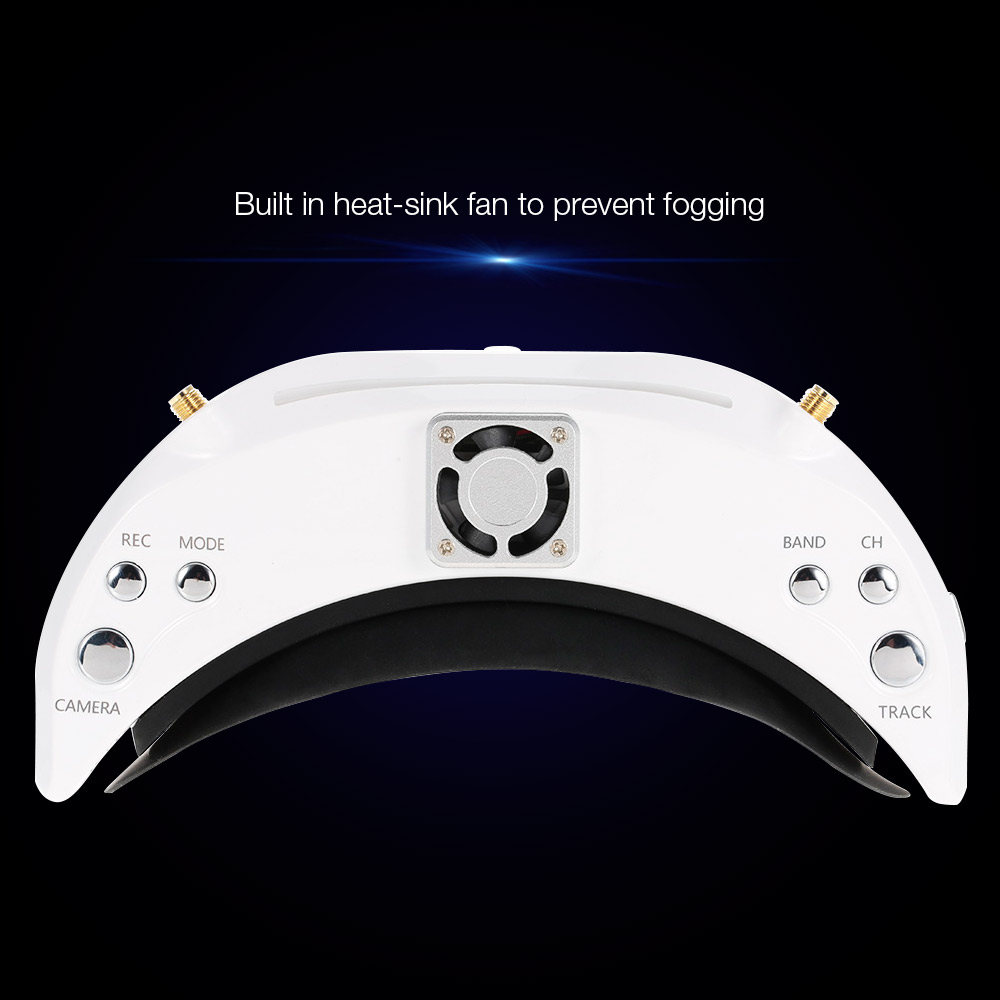 Features:
Multiple functions: With 2D/3D mode (SCAM303 3D camera required but not included), support HDMI in and AV in/out, support channel auto searching, built-in DVR with playback.
Built-in 48CH 5.8G diversity receiver: compatible with most FPV 5.8G transmitters on the market.
Head Tracking function: just tilt your head to control the angles of the gimbal.
Built with Front Camera: the front camera for FPV goggles has the VGA resolution and good low- illuminance characteristics, enabling to easily observe surroundings without taking off the goggles.
Clear binocular monitor: 800*600(SVGA), 1,440,000 color sub-pixels.
Comfortable experience: Adjustable IPD and diopter for your eyes, adjustable brightness and contrast.
Specification:
Binocular display
FOV: 43 degrees (diagonal)
Resolution: 800*600(SVGA) 1,440,000 color sub-pixels
Brightness: 200cd/㎡
Interpupillary distance (IPD): 57.5-69.5mm adjustable
Wireless Receiver
Sensitivity: -90dBm±1dBm
Antenna port: 2 * SMA, 50ohm
Front Camera
FOV: 60 degrees (diagonal)
Resolution: 640*480(VGA)
Focal length: f=4.0mm
F/NO: 2.8
Head Tracker
Sensor: Magnetic, inertial and gyro
Output: PPM 8 channel, Optional 5-6CH, 5-7CH, 5-8CH, 6-7CH, 6-8CH, 7-8CH
Record
Micro SD: Support to 128GB(UHS-I interface, U1)
Compression: H264, 30fps, MOV
Picture: JPEG
Record rate: 6Mbps
AV Signal
Video standard: NTSC/PAL
Video output level: 1.0Vp-p Typ./75ohm
Audio output level: 1.0Vp-p Typ./10Kohm
AV Port
AV OUT (3.5mm4P): Diversity receiver, video, audio output
EAR OUT (3.5mm3P): Stereo 16Ω/150mW
AV IN (3.5mm4P): Video/Audio input
HDMI IN(C-Type): HDMI 1.4 specification: 1920x1080p60, 1920x1080p50,
1920x1080i60, 1920x1080i50,1280x720p60, 1280x720p50, 576p,
576i, 480p, 480i, PC Format (Not all)
Power Supply
DC IN: DC 7~26V/1A
Power consumption: 12V input: 5.8W (RF mode)
Operating Temperature: 0℃~+60℃
Goggles Dimensions: 170 * 83 * 44mm (Not include prominent part)
Goggles Weight: 223g
Custom Frequency:
A: 5865M, 5845M, 5825M, 5805M, 5785M, 5765M, 5745M, 5725M
B: 5733M, 5752M, 5771M, 5790M, 5809M, 5828M, 5847M, 5866M
E: 5705M, 5685M, 5665M, 5645M, 5885M, 5905M, 5925M, 5945M
F: 5740M, 5760M, 5780M, 5800M, 5820M, 5840M, 5860M, 5880M
R: 5658M, 5695M, 5732M, 5769M, 5806M, 5843M, 5880M, 5917M
L: 5362M, 5399M, 5436M, 5473M, 5510M, 5547M, 5584M, 5621M
Note:
The 3D mode requires SCAM303 camera which is not included in the package.
Package information:
Package size: 21.5 * 14 * 9cm / 8.5 * 5.5 * 3.5in
Package weight: 713g / 1.6lb
General Box Package
Package Included:
1 * Goggles
1 * Carry Case
2 * Antenna
1 * AV Cable
1 * JR Data Cable
1 * Futaba Data Cable
1 * XT60 Plug Power Cable
1 * Set Accessories
1 * English User Manual