The GoolRC 4 in 1 10A ESC is designed to provide both quality and performance at an affordable price. It is built from high quality material and compatible with a wide range of motors. D1104 7500KV CW/CCW brushless motor kit is built from high quality aluminum alloy which is produced from the latest CNC milling machines, and is designed with high power and rotation speed to provide longer run time.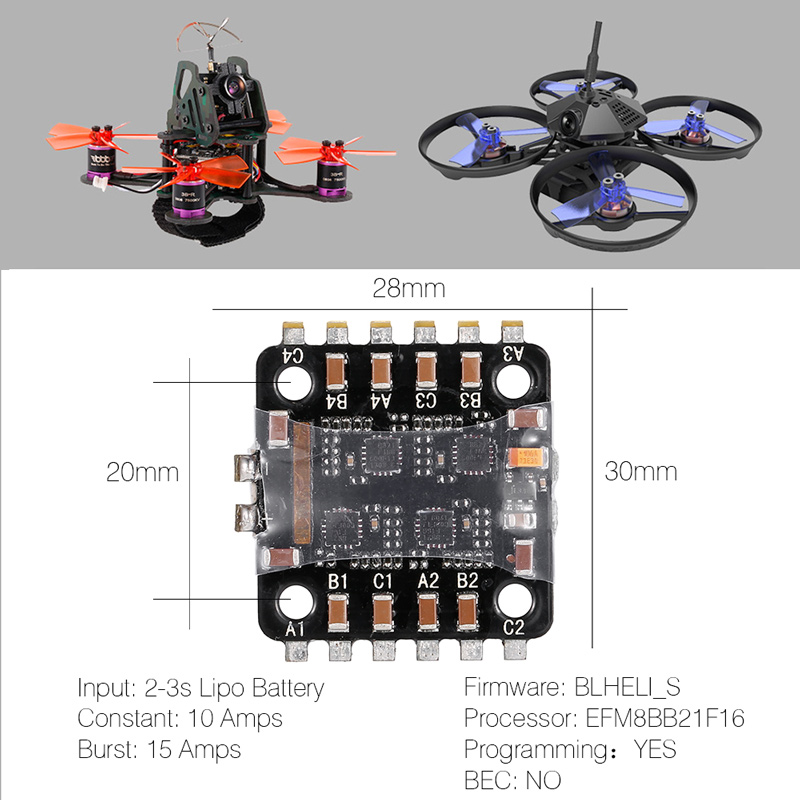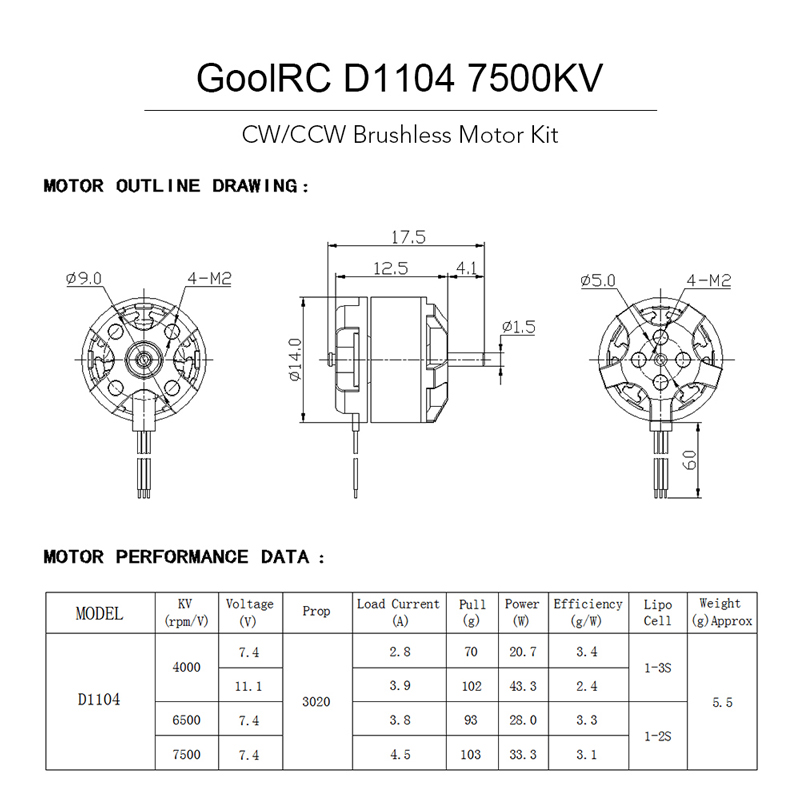 Features:
Chips on EFM8BB21F16,50MHZ Greatest
BLHeli_S is designed for superior performance in multirotors, and uses hardware generated motor pwm for smooth throttle response and silent operation.
Small size combined with light weight for easy installation
The code supports regular 1-2ms pulse width input, as well as Oneshot125 (125-250us), Oneshot42 (41.7-83.3us) and Multishot (5-25us)
The input signal is automatically detected by the ESC upon power up
All codes use damped light mode.Damped light does regenerative braking, causing very fast motor retardation, and inherently also does active freewheeling
The code supports features to prevent sync loss. There are tuneable parameters that can make the code run well even in the most demanding situations, although default settings will work excellently in normal operating environments
The code also supports a beacon functionality, where the ESC will start beeping after a given time of zero throttle, this can be very useful for finding lost crafts
The motors are high-torque and high-efficiency
CNC machined aluminum case
High purity copper windings maximizes efficiency
Precision engineered for maximum energy conversion
Specifications:
Brand: GoolRC
Item name: 4 in 1 ESC and Motor Kit
ESC:
Input: 2-3s Lipo Battery
Constant: 10 Amps
Burst: 15 Amps
Mounting Dimensions: 20 * 20mm
Signal wire: 44mm
Firmware: BLHELI_S
Processor: EFM8BB21F16
Programming:YES
BEC: NO
Support: Oneshot125 Oneshot42 Multishot
Dimensions: 30 * 28 * 7mm
Weight: 4.8g
Motor:
Model: D1104
KV(RPM/Volt): 7500KV
Load current: 4.5A/7.4V
Pull: 103g/7.4V
Suggested Prop: 3020
Continuous power: 33.3W/7.4V
Outside diameter: 14mm
Shaft diameter: 1.5mm
Body length: 12.5mm
Overall shaft length: 17.5mm
Suitable for: 80 90 100 Tiny Micro FPV Racing Quadcopter
Max Lipo cell: 1-3S
Weight: 5.2g/pcs
Package Information:
Package size: 10.4 * 7.5 * 5.5cm / 4.1 * 3 * 2.2in
Package weight: 63g / 2.2oz
Gift box package
There may be some deviation due to manual measurement.
Package List:
1 * GoolRC 10A 4 in 1 ESC
2 * CW D1104 7500KV Brushless Motor
2 * CCW D1104 7500KV Brushless Motor
1 * Signal Wire