The GoolRC 4 in 1 12A ESC is designed to provide both quality and performance at an affordable price. It is built from high quality material and compatible with a wide range of motors. D1104 7500KV CW/CCW brushless motor kit is built from high quality aluminum alloy which is produced from the latest CNC milling machines, and is designed with high power and rotation speed to provide longer run time.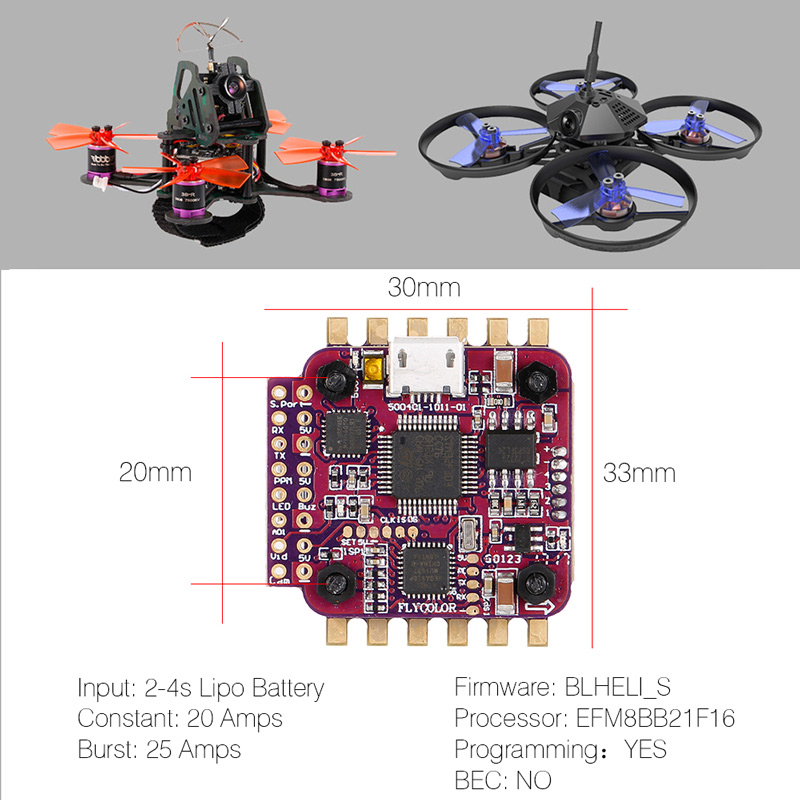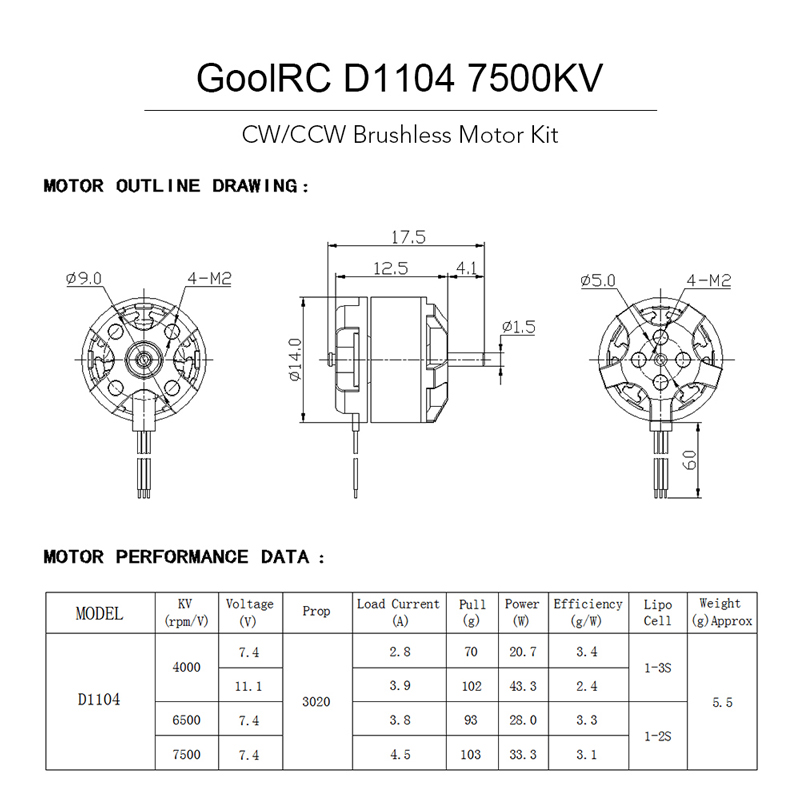 Features:
EFM8BB21F16G MCU, makes with 50 MHz maximum operating frequency
Using dedicated 3in1 drivers, the start more smooth
ESC maximum speed is limited to 500k eRPM
More suitable for ultra small multirotors
Two layers tower structure between 4in1 ESC and FC using quick pin connection, making the installation faster and more convenient
F3 flight controller, supports PPM and SBUS remote control/receiving mode
FC integrated OSD, no external OSD device is required, integrated 5V/1A for image transmitter, camera, buzzer, LED and other peripheral devices
BLHeli-S firmware designed for superior performance in multirotors, and uses hardware generated motor
There are tuneable parameters that can make the code run well even in the most demanding situations
The code supports regular 1-2ms pulse width input, as well as Oneshot125 , Oneshot42 and Multishot
Supports Dshot digital signal, anti-interference ability is stronger, and do not need throttle calibration
The motors are high-torque and high-efficiency
CNC machined aluminum case
High purity copper windings maximizes efficiency
Precision engineered for maximum energy conversion
Specifications:
Brand: GoolRC
Item name: 4 in 1 ESC and Motor Kit
ESC:
Input: 2-3s Lipo Battery
Constant: 12 Amps
Burst: 15 Amps
Mounting Dimensions: 20 * 20mm
Connector wire: XT30
Firmware: BLHELI_S
Processor: EFM8BB21F16
Programming:YES
BEC: 5V/1A(F.C)
Support: Dshot Oneshot125 Oneshot42 Multishot
Dimensions: 33 * 30 * 19mm
Weight: 11g
Motor:
Model: D1104
KV(RPM/Volt): 7500KV
Load current: 4.5A/7.4V
Pull: 103g/7.4V
Suggested Prop: 3020
Continuous power: 33.3W/7.4V
Outside diameter: 14mm
Shaft diameter: 1.5mm
Body length: 12.5mm
Overall shaft length: 17.5mm
Suitable for: 80 90 100 Tiny Micro FPV Racing Quadcopter
Max Lipo cell: 1-3S
Weight: 5.2g/pcs
Package Information:
Package size: 10.4 * 7.5 * 5.5cm / 4.1 * 3 * 2.2in
Package weight: 72g / 2.5oz
Gift box package
There may be some deviation due to manual measurement.
Package List:
1 * GoolRC 12A 4 in 1 ESC F3 Tower Flight Controller
2 * CW D1104 7500KV Brushless Motor
2 * CCW D1104 7500KV Brushless Motor
1 * XT30 Connector Wire