The DJI Goggles are comfortable goggles designed for seamless FPV flying with DJI products. They combine a pair of large ultra-high quality screens, long-range, low lag wireless connectivity, and direct control of photo and video capture. With Intelligent Flight Modes like ActiveTrack, TapFly, Terrain Follow, Cinematic Mode and Tripod mode, a totally new flying dimension is created.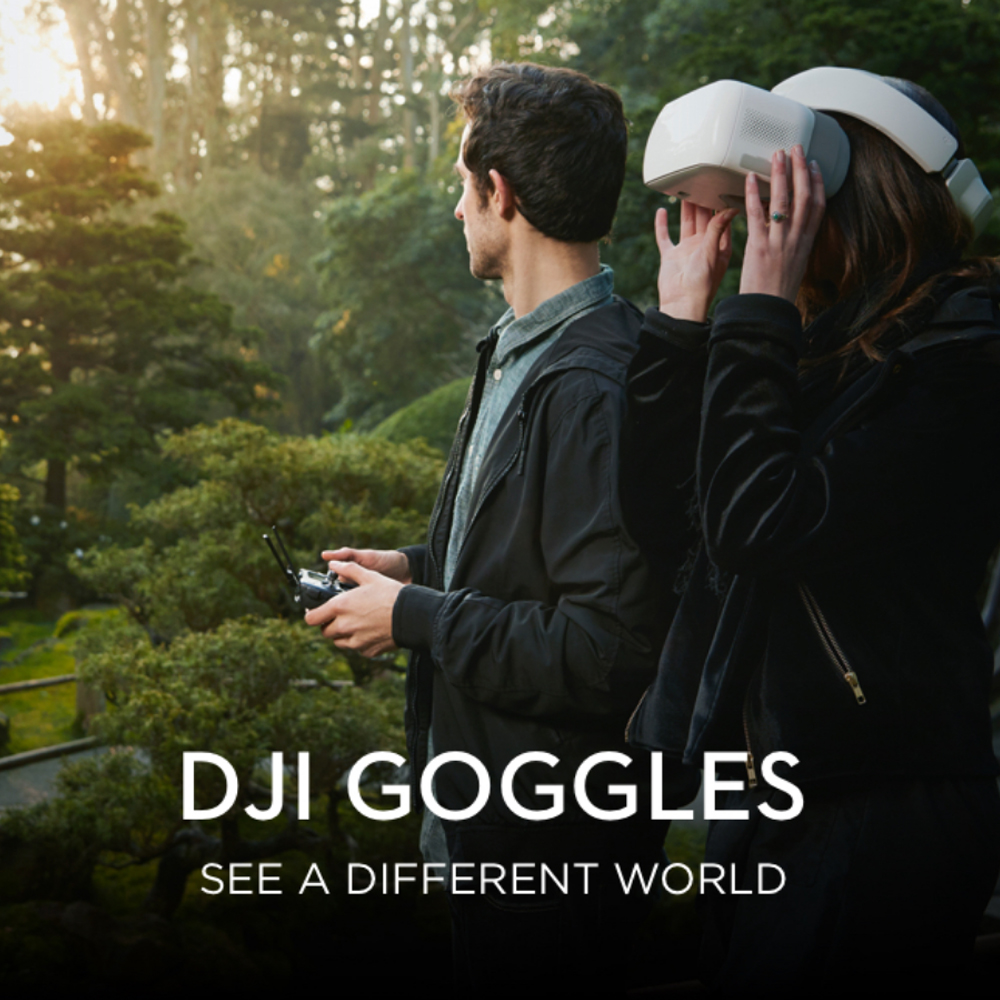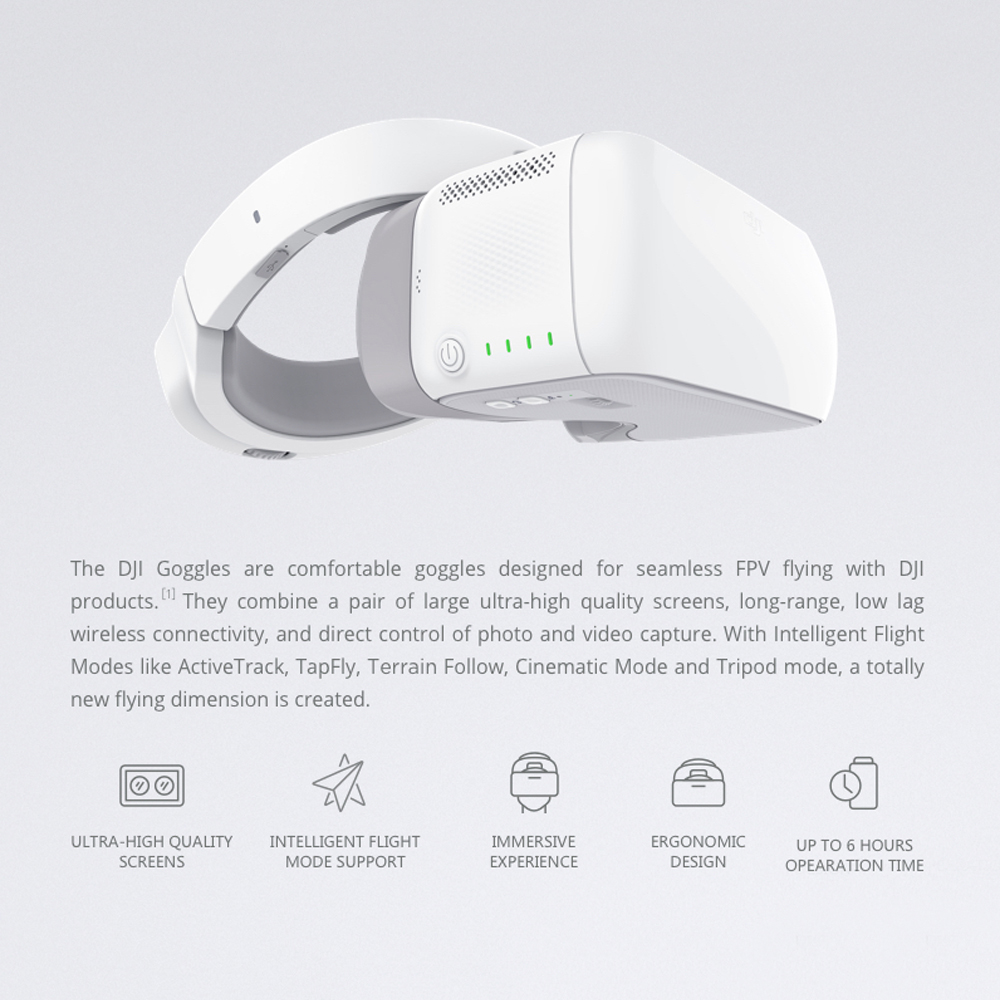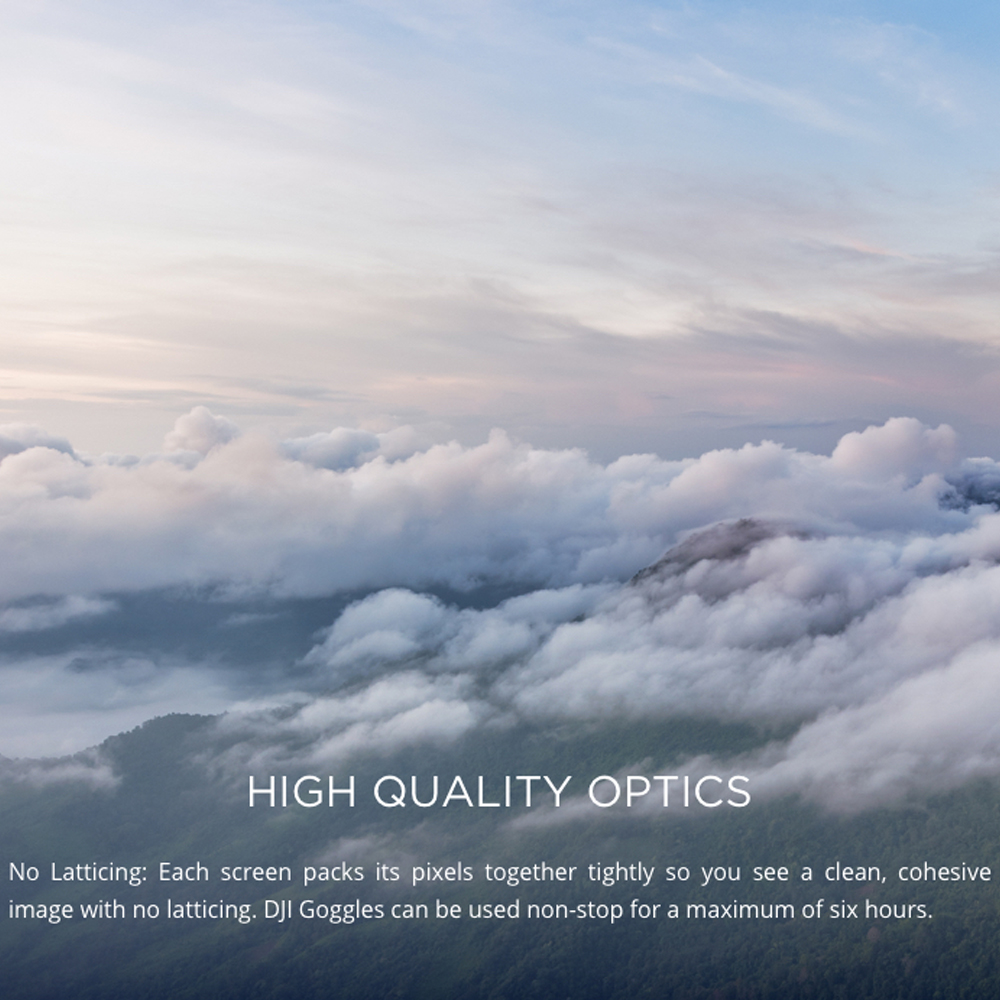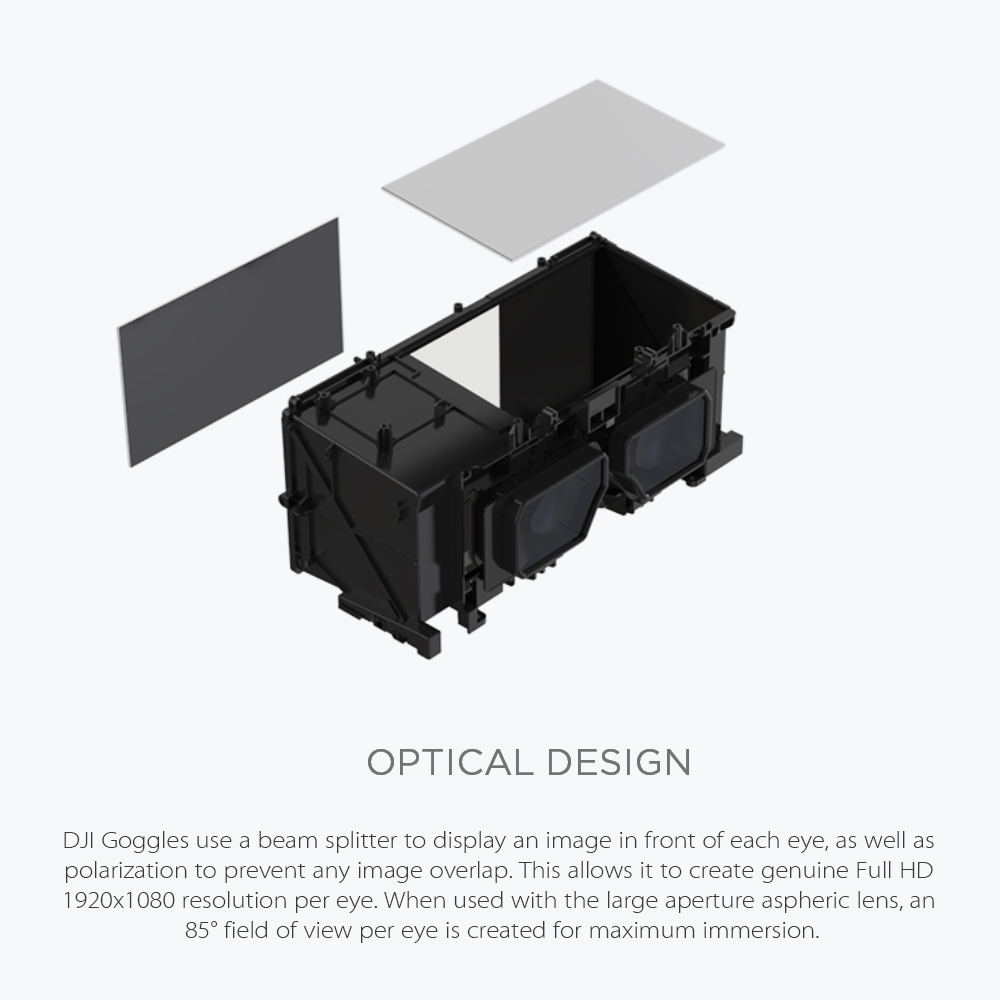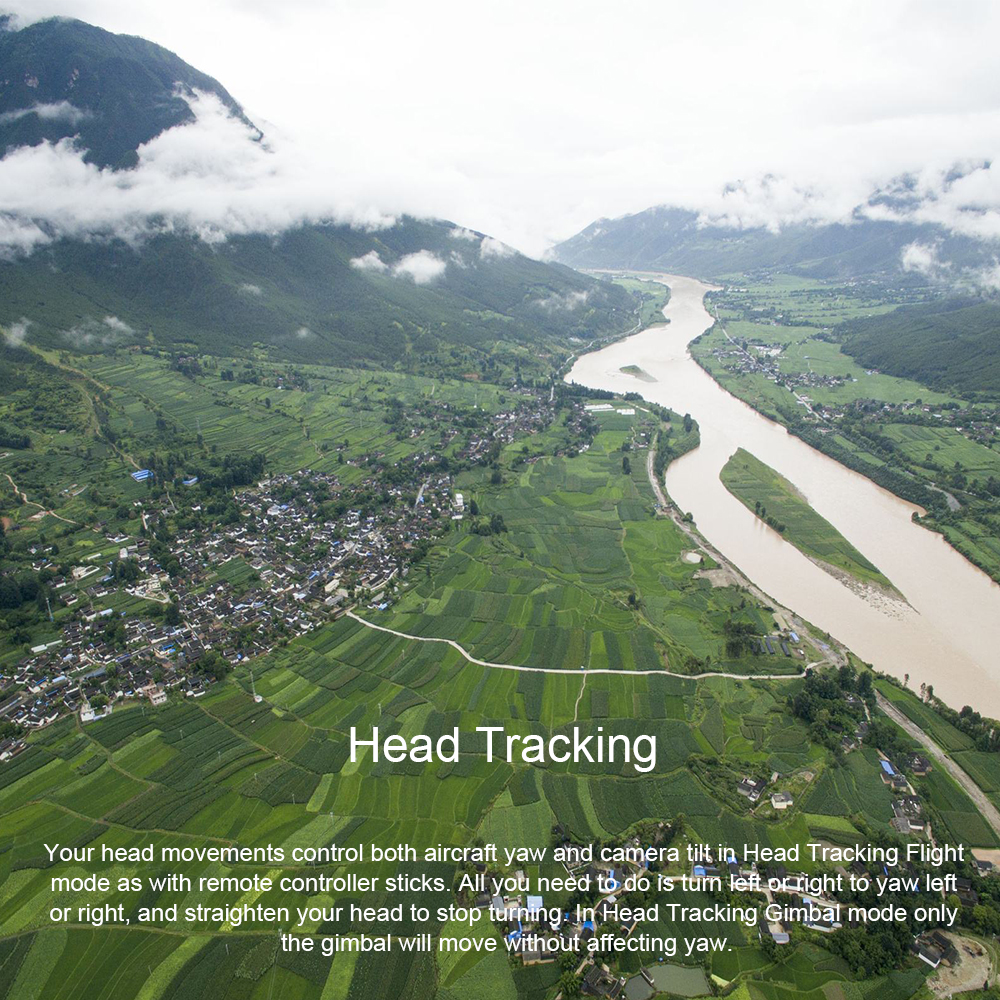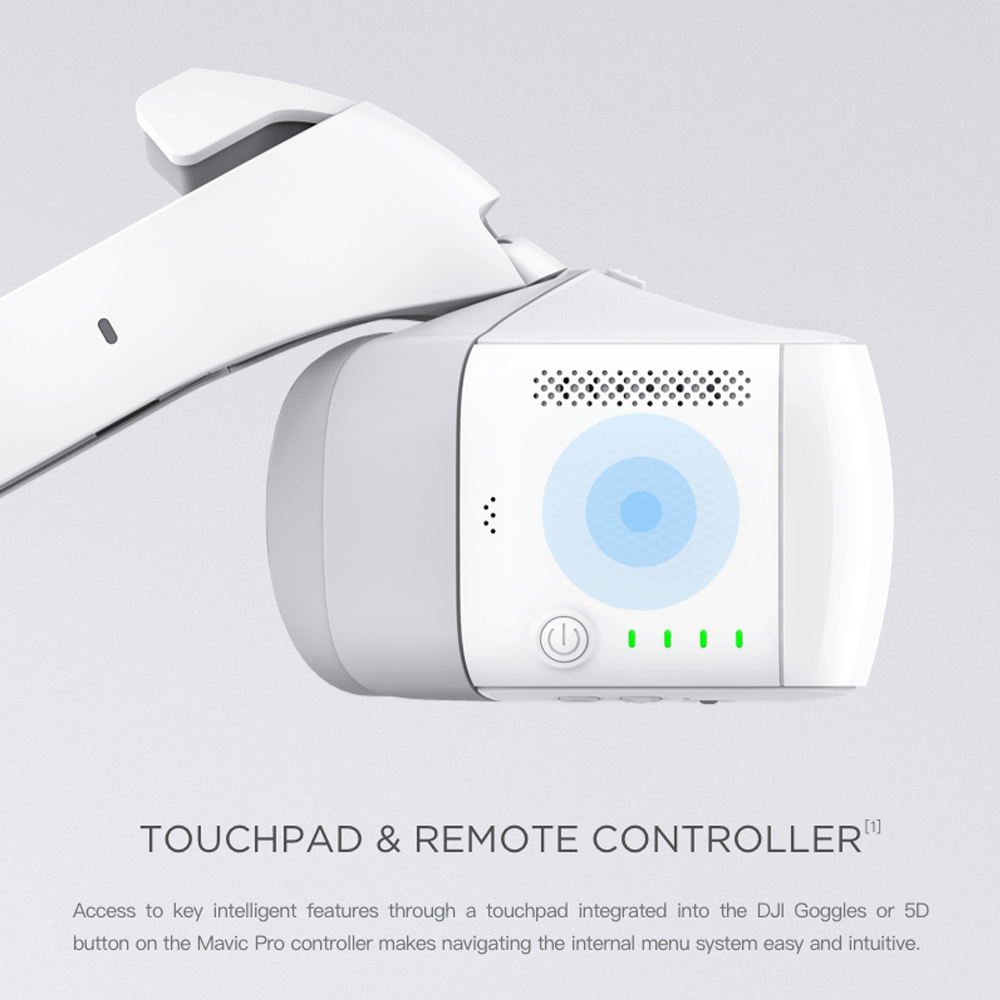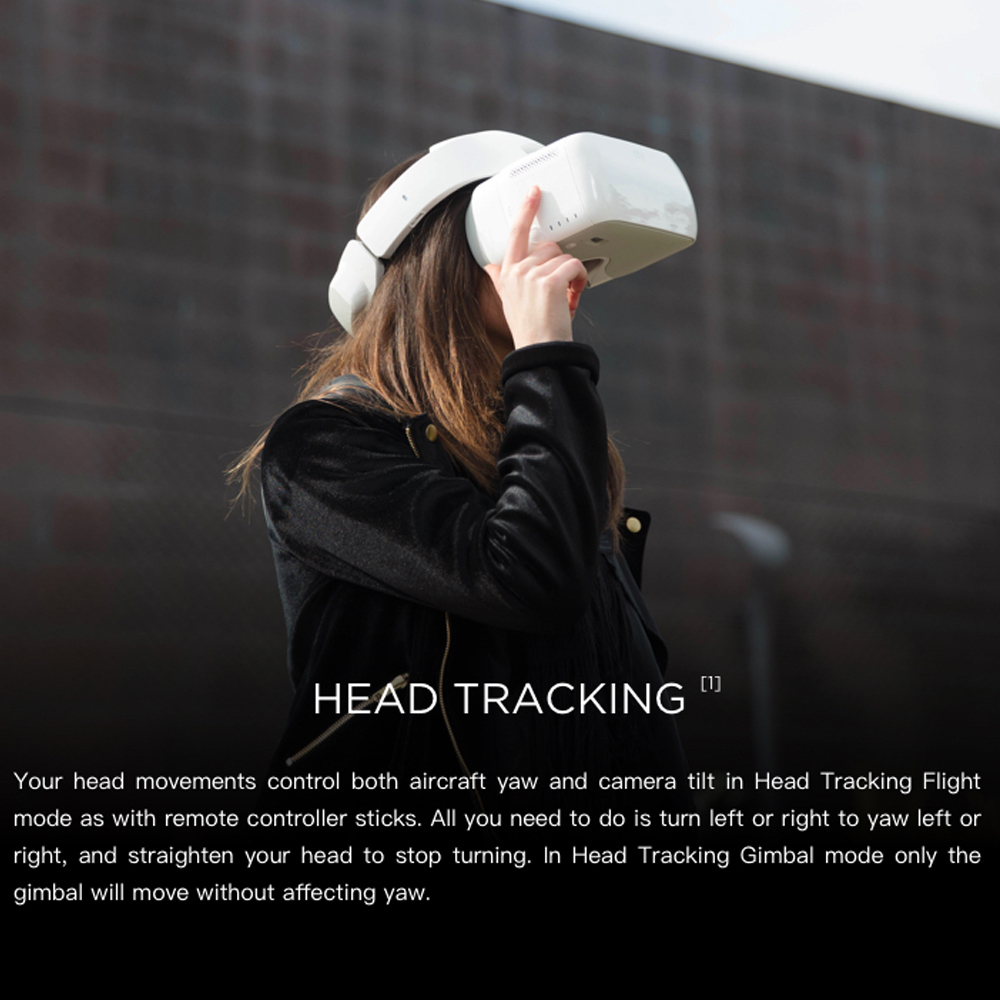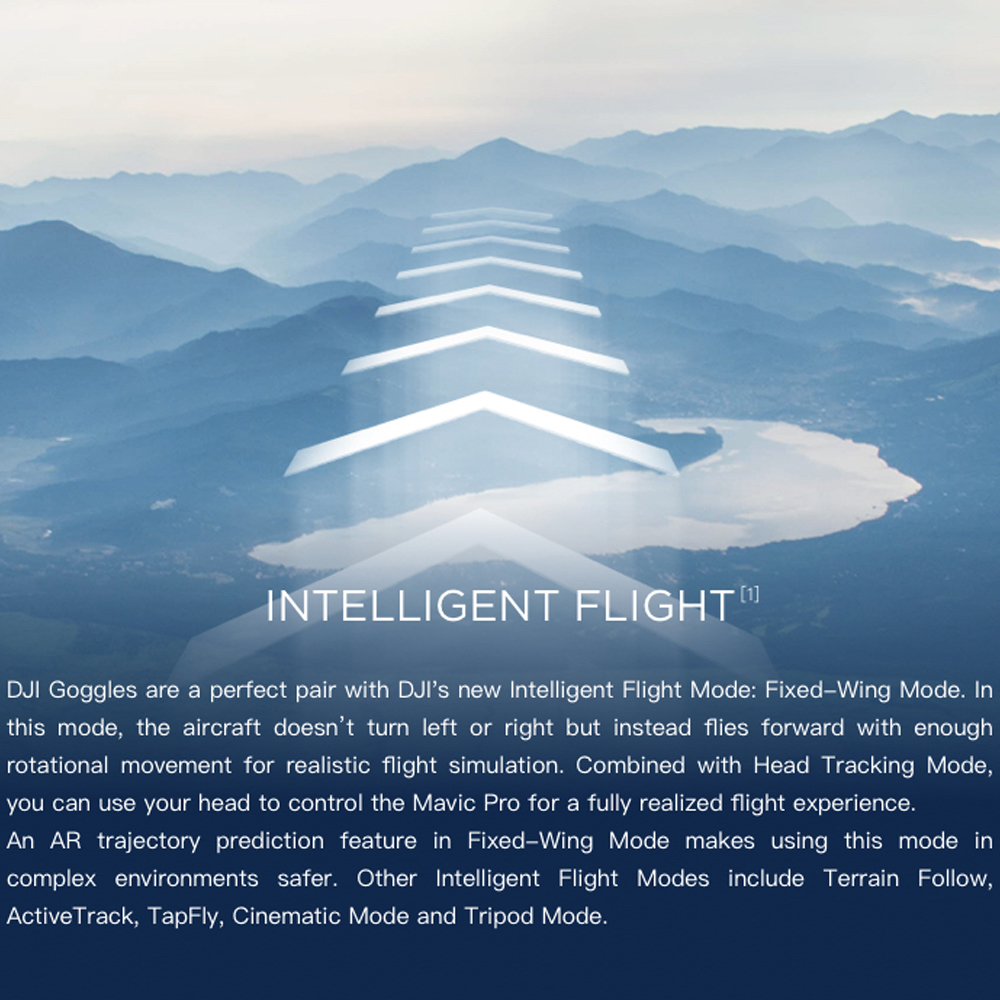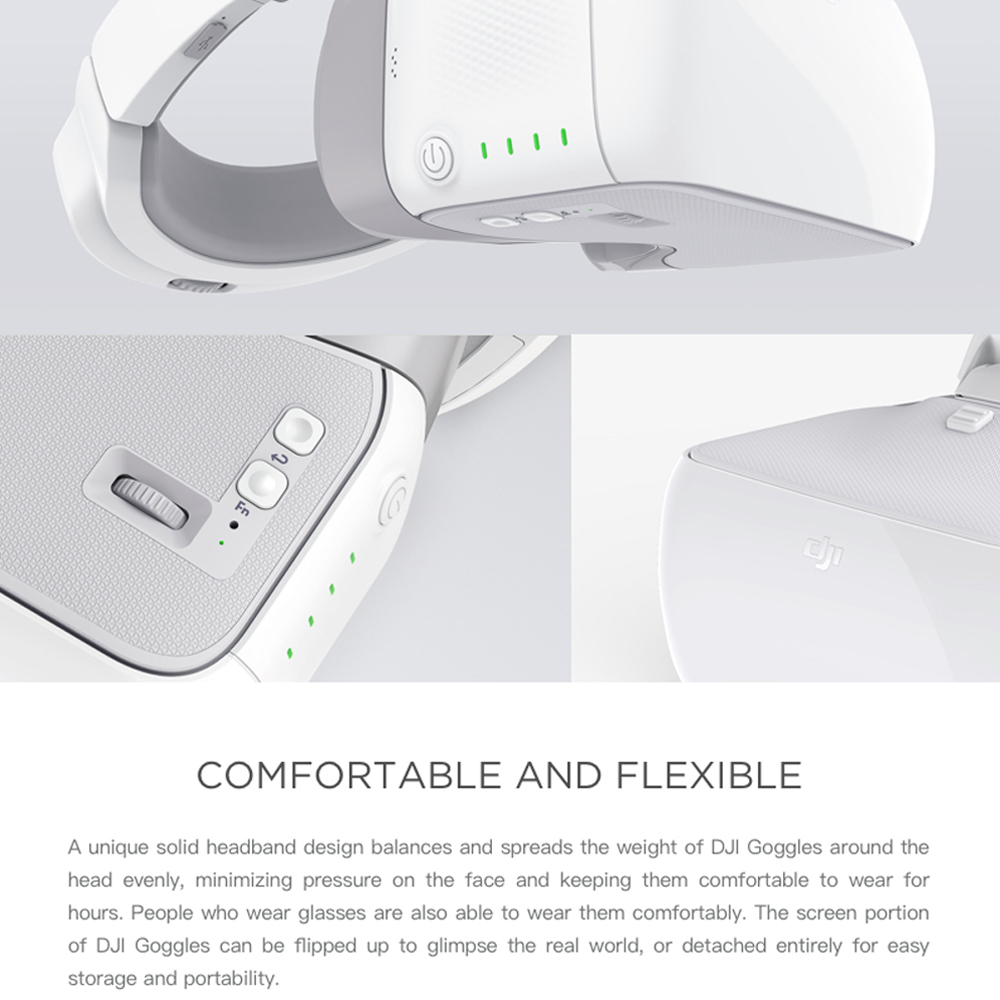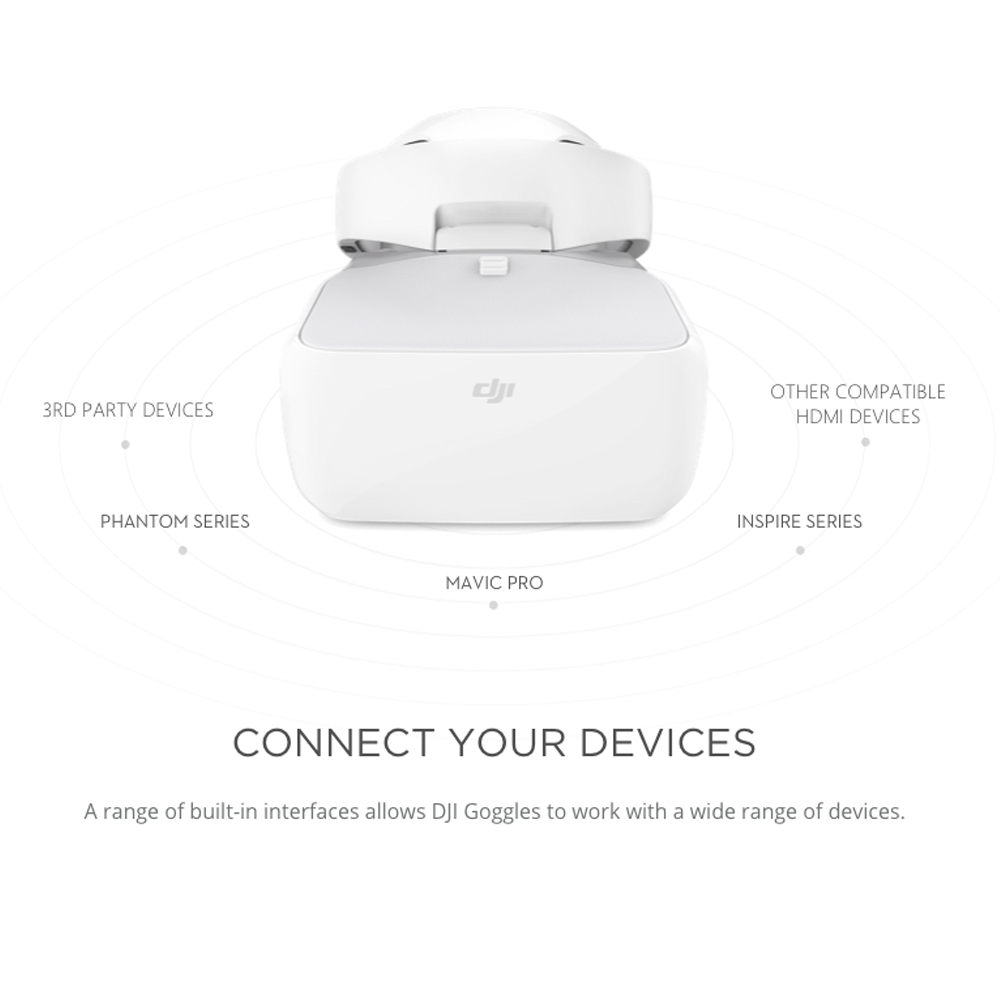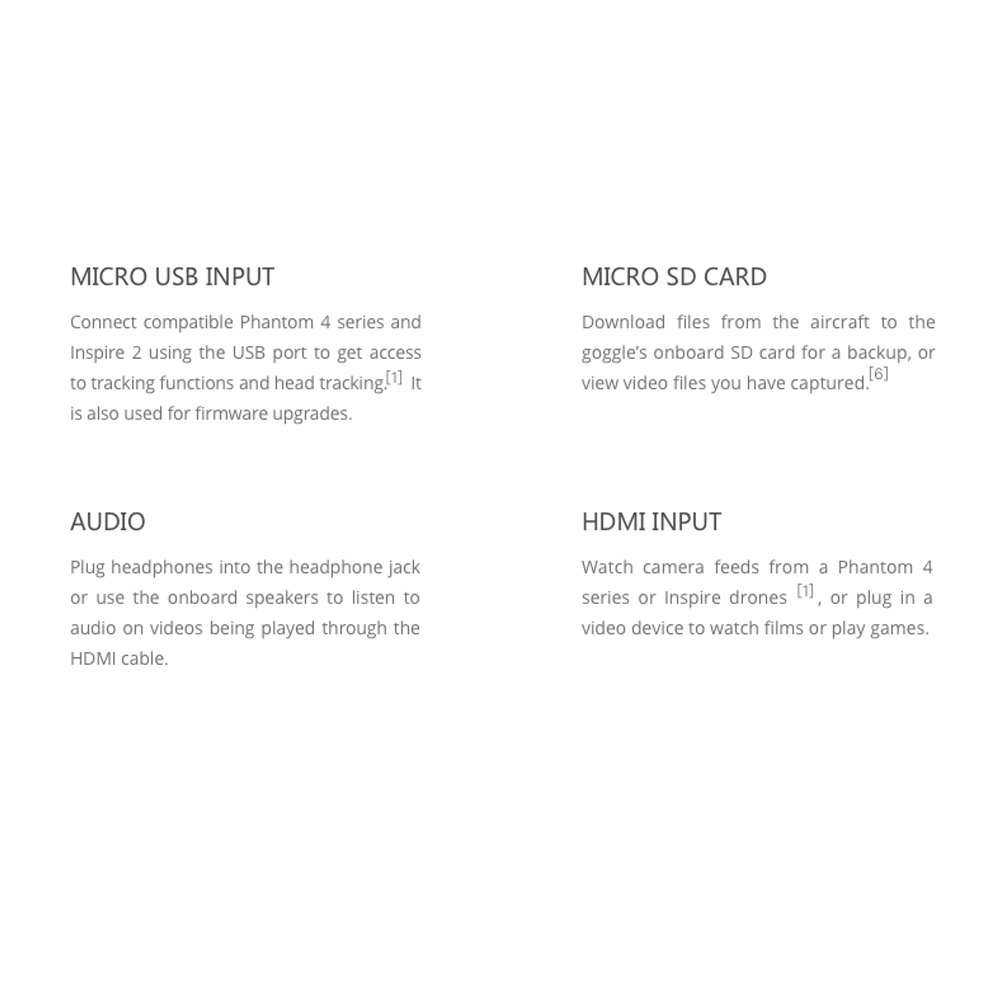 Features:
Two 1920 * 1080 screens providing more than twice the amount of pixels of a typical 2K single screen.
Able to offer both 720p/60fps and close range 1080p/30fps viewing with an extremely low latency of just 110ms.
Through DJI's OcuSync wireless transmission system, up to four devices can be connected to the Mavic Pro simultaneously.
Antennas built into the headband ensure 360° of coverage, offering a reliable connection even if the aircraft is flying behind you.
Head tracking function tilt your head and the gimbal will tilt along to get real view of the sky.
Access to key intelligent features through a touchpad integrated into the DJI Goggles or 5D button on the Mavic Pro controller makes navigating the internal menu system easy and intuitive.
Intelligent flight / fixed wing mode to control the drone with DJI Goggles with AR trajectory prediction provides real exciting fly experience.
A unique solid headband design balances and spreads the weight and comfortable to wear even for hours.
Micro USB input, Micro SD Card input, HDMI input and audio output.
Specifications:
Weight:
Goggles: 495g
Headband: 500g
Dimensions:
Goggles: 195 * 155 * 110mm
Headband(Folded): 255 * 205 * 92mm
FOV: 85° (single screen)
Screen Size: 5 inch * 2
Interpupillary Distance Range: 58-70mm
Refresh rate: 60 Hz
Screen Resolution: 3840 * 1080 (single screen: 1920 * 1080)
Operating Frequency: 2.4GHz
Max.Transmission Distance: Same as the aircraft connected
Video Downlink Resolution: 1080p 30, 720p 60, 720p 30
Video Downlink Latency at least:
(Near field and free of interference)
110 ms (Mavic Pro, 720p60, video format: 720p120)
150 ms (Phantom 4 series, 720p60, video format: 720p60/720p120)
140 ms (Inspire 2+X5S, 720p60, video format: 1080p120)
190 ms (Inspire 2+X4S, 720p60, video format: 1080p60)
Battery Capacity: 9440 mAh
Battery Energy: 35.44 Wh
Max Operating Time: 6 hrs
Operating Temperature Range: 32°F (0°C) - 104°F (40°C)
I/O Interface: Micro USB, 3.5mm audio jack, HDMI type-D, Micro SD card slot
HDMI Supported: HDMI 1.4b, HDCP 1.4
Sensors: Gyroscope, Accelerometer, Proximity sensor
Charger:
Input: 100-240VAC, 50/60 Hz. 0.5A
Output: 5V,3A ; 9V,2A;12V,1.5A
Package information:
Package size: 28.7 * 28.7 * 18.3cm / 11.3 * 11.3 * 7.2in
Package weight: 1955g / 4.3lb
Gift box package
Package list:
1 * DJI Goggles
1 * Headband
1 * Micro USB Cable
1 * HDMI Cable
1 * Wire Clip
1 * Cleaning Cloth
1 * Charger