The Inspire 1 was a revelation. The first filmmaking drone in the world to integrate an HD video transmission system, 360° rotating gimbal and a 4K camera, as well as the simplicity of app control. The launches of the Zenmuse X5 and X5R cameras further cemented the Inspire as a critical tool for filmmakers around the globe.
The Inspire 2 takes everything that was good about the Inspire 1 and improves it. An all-new image processing system records at up to 5.2K in CinemaDNG RAW, Apple ProRes and more. It goes from 0 to 50mph (80kph) in just 5 seconds and hits a maximum speed of 58mph (94kph) and has a max descent speed of 9m/s for unheard of speed and agility in an aircraft this size. A dual battery system prolongs the flight time to a maximum of 27 minutes (with an X4S), while self-heating technology allows it to fly even in low temperatures. FlightAutonomy has been revised and developed specifically for the Inspire 2, providing two directions of obstacle avoidance and sensor redundancy. Increased intelligence adds multiple intelligent flight modes, including Spotlight Pro, giving even single pilots the ability to create complex, dramatic shots. An upgraded video transmission system is now capable of dual signal frequency and dual channel, streaming video from an onboard FPV camera and the main camera simultaneously, for better pilot and camera operator collaboration.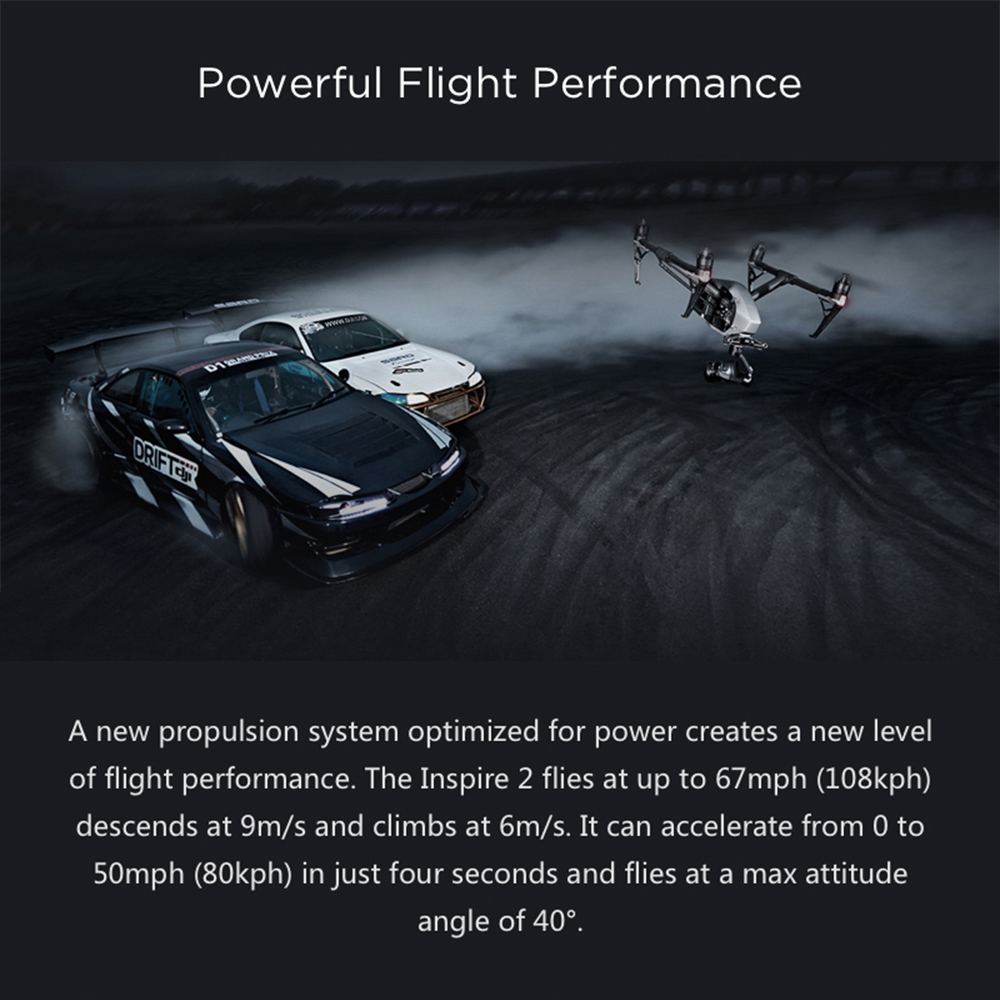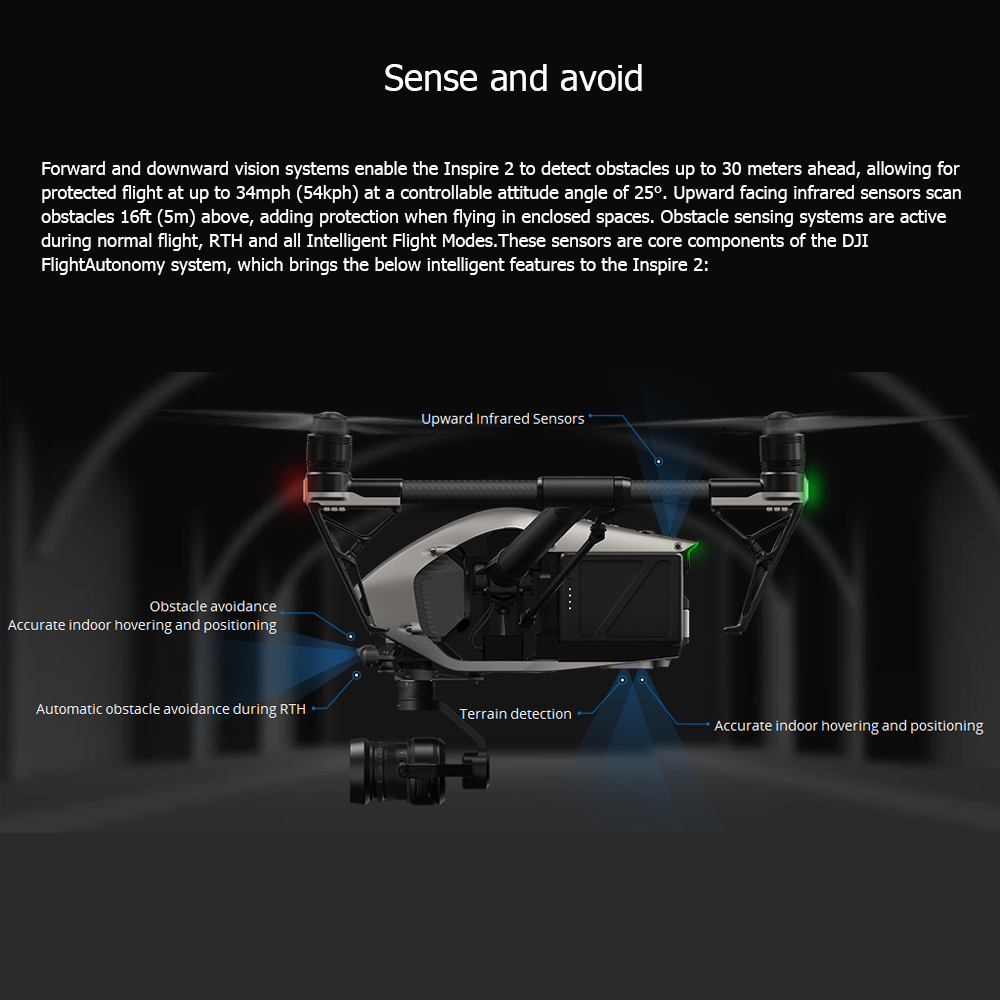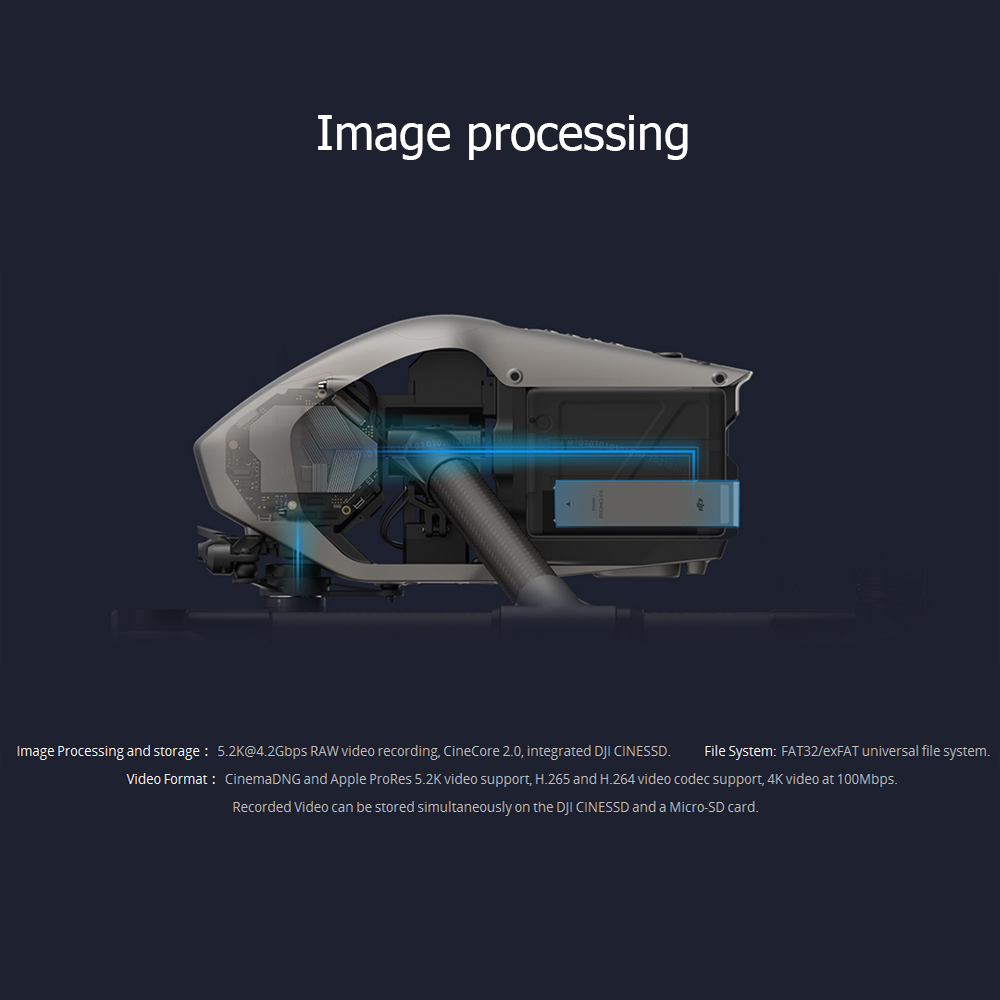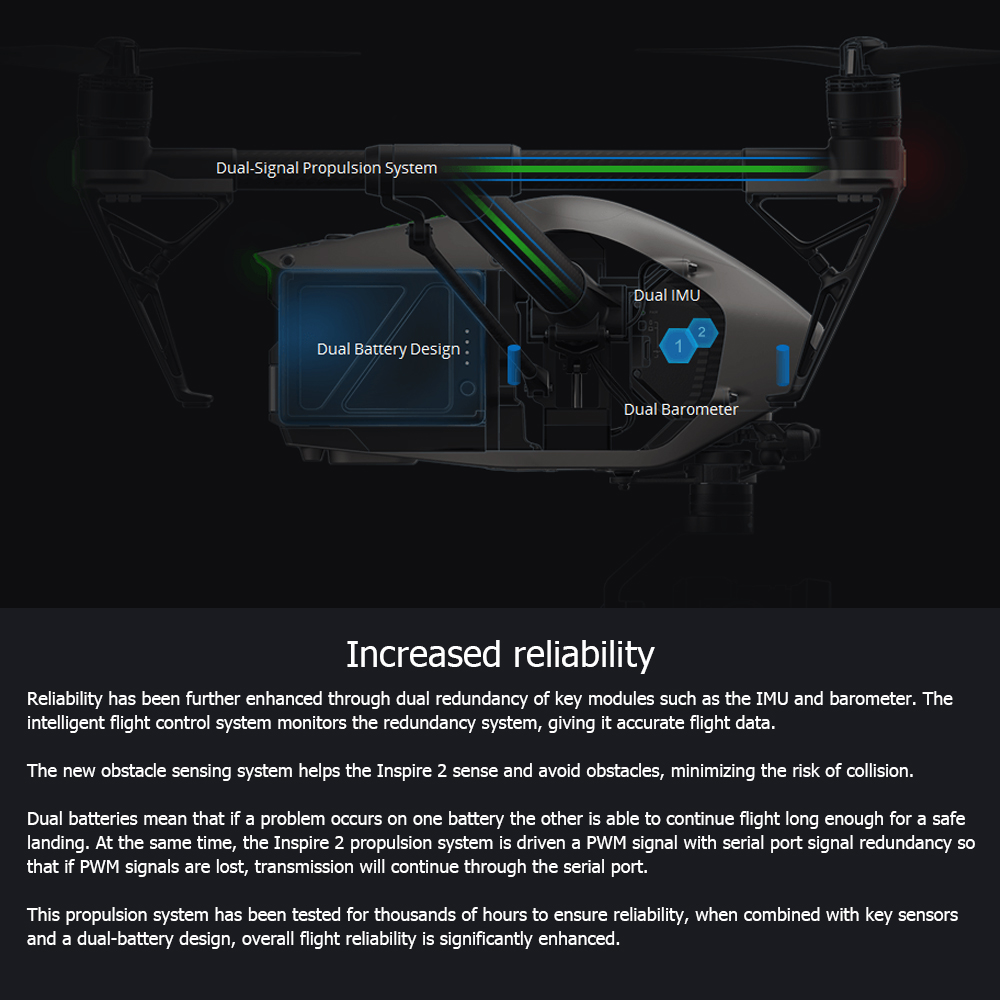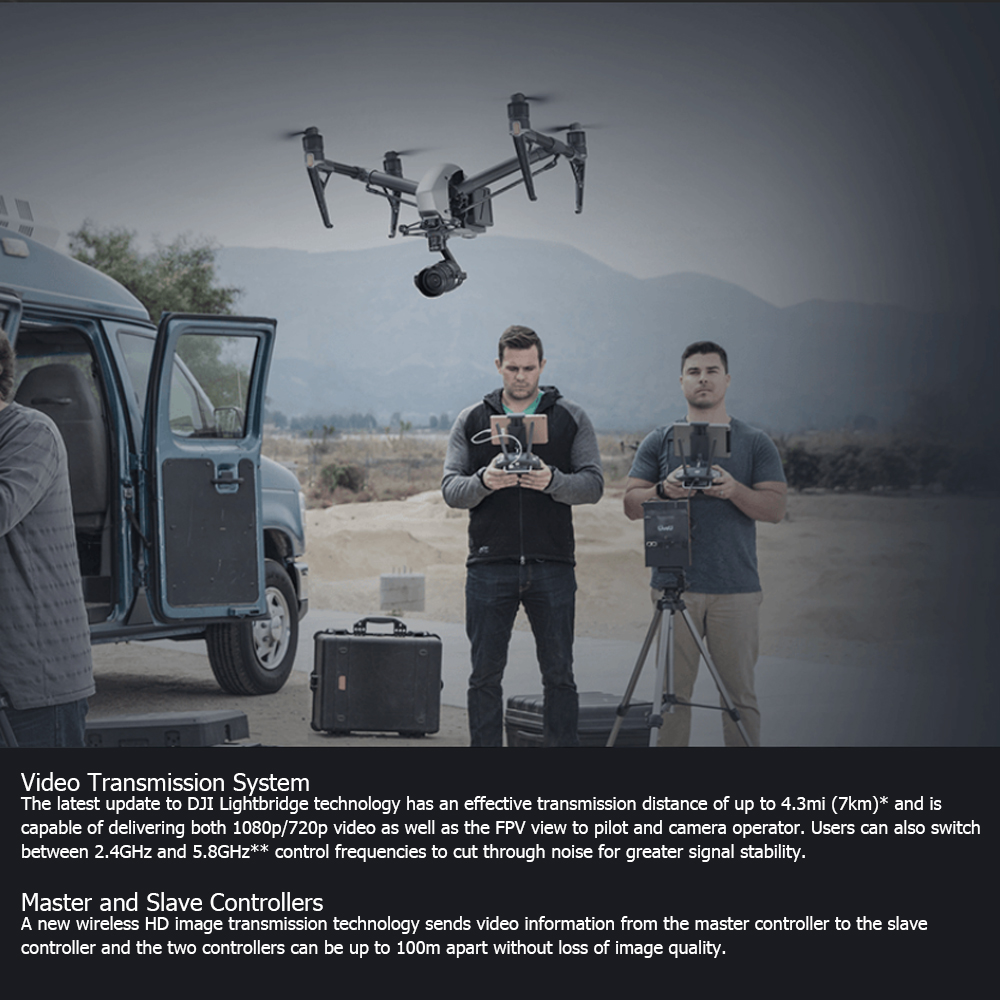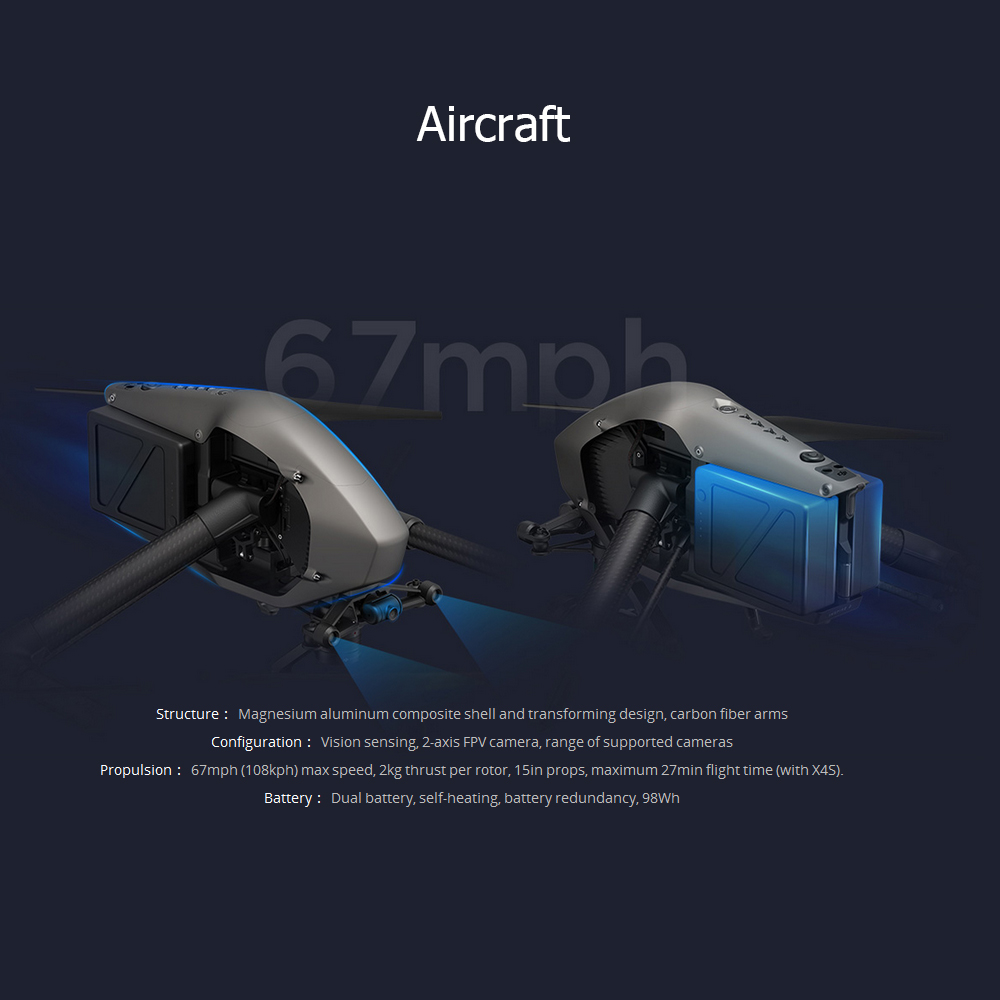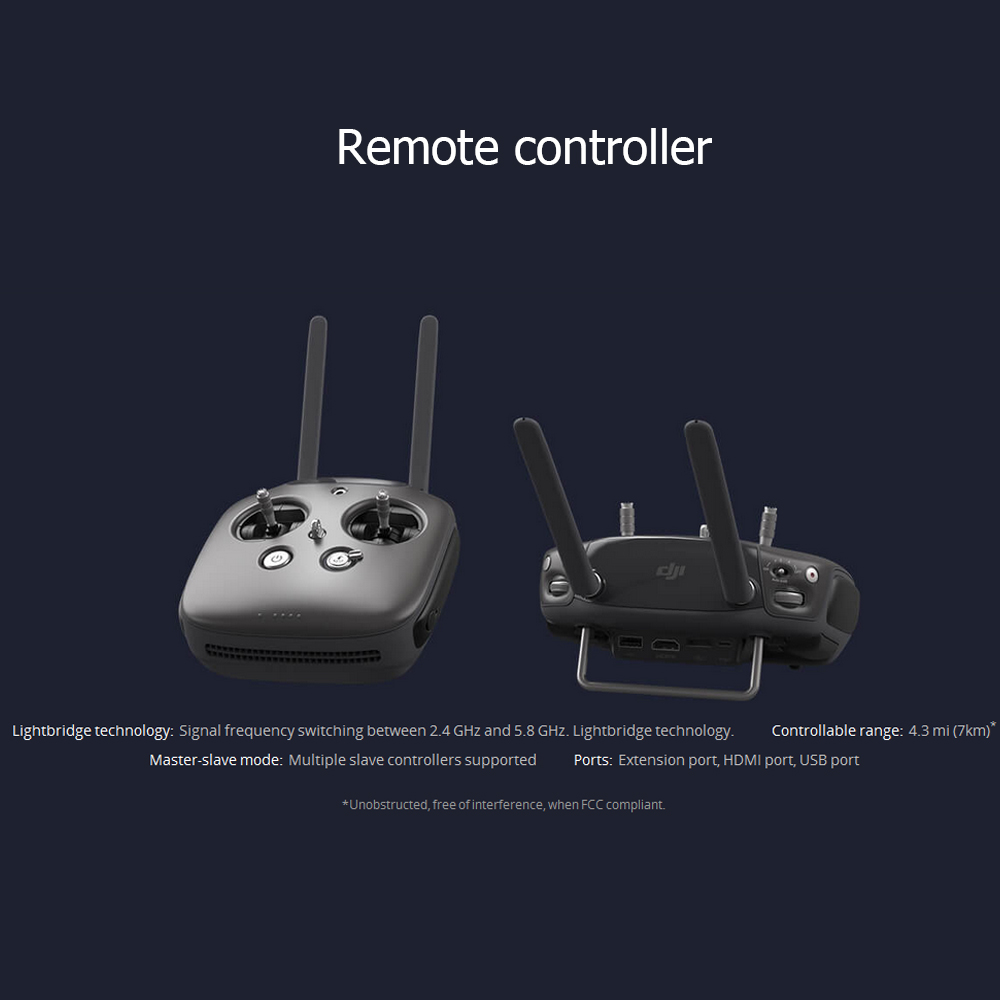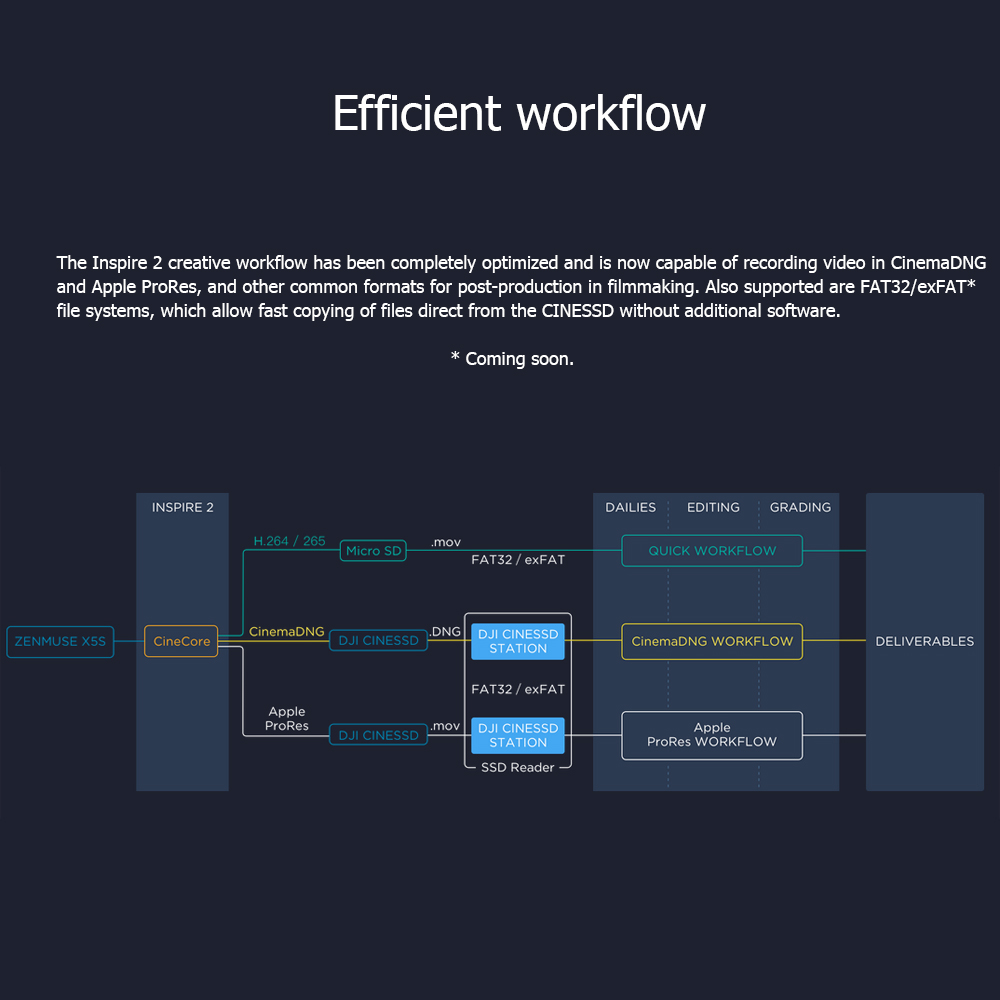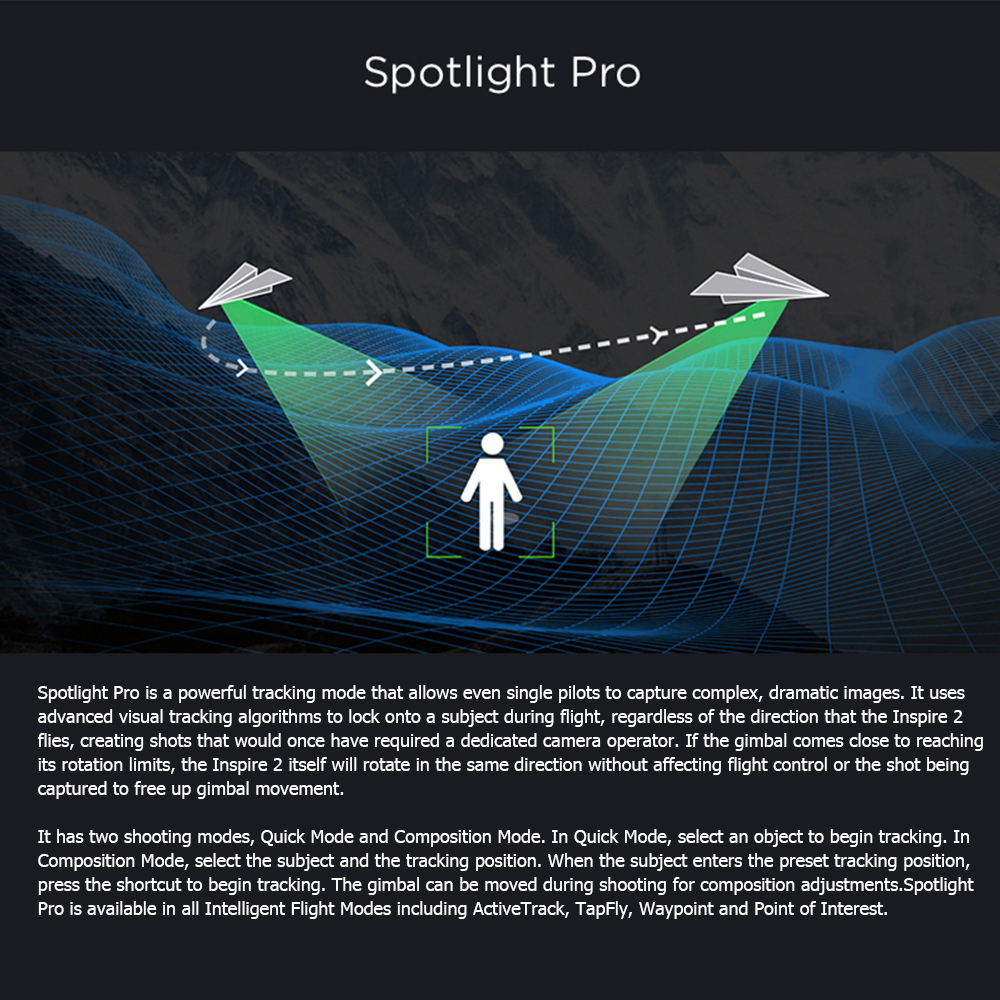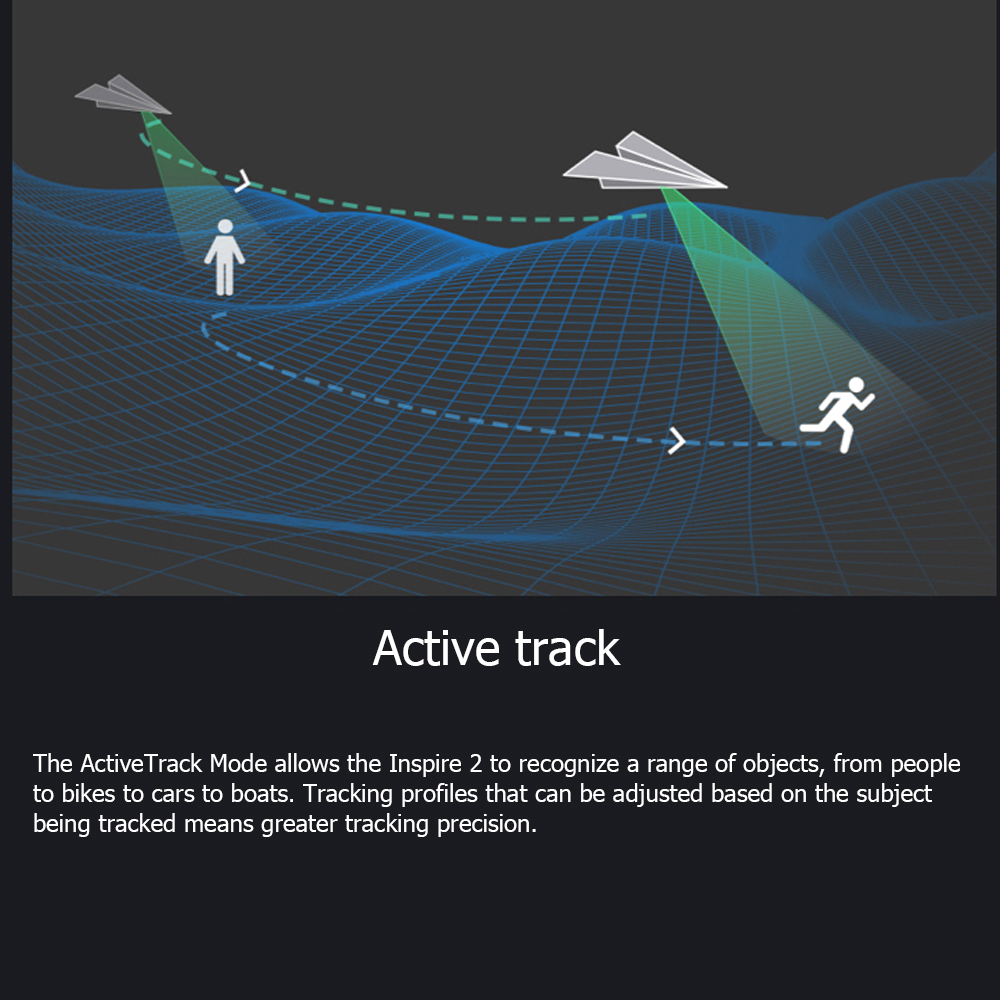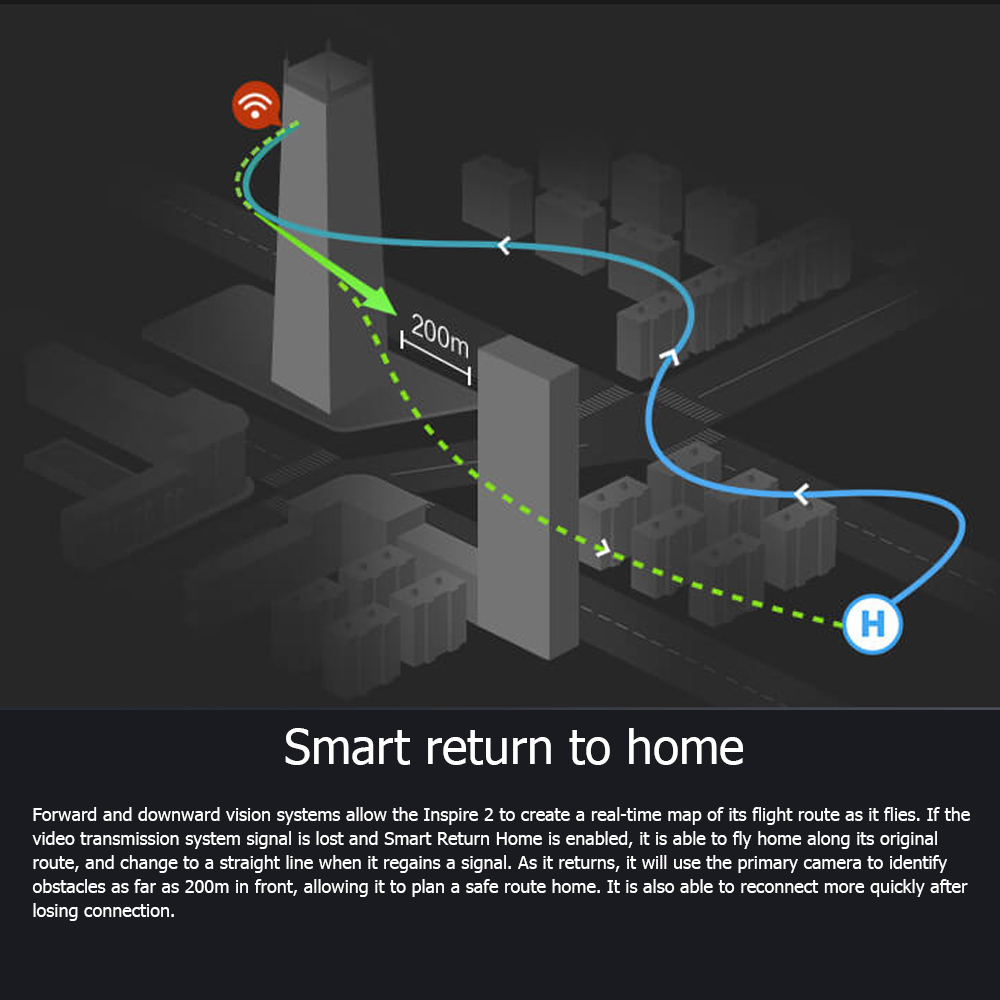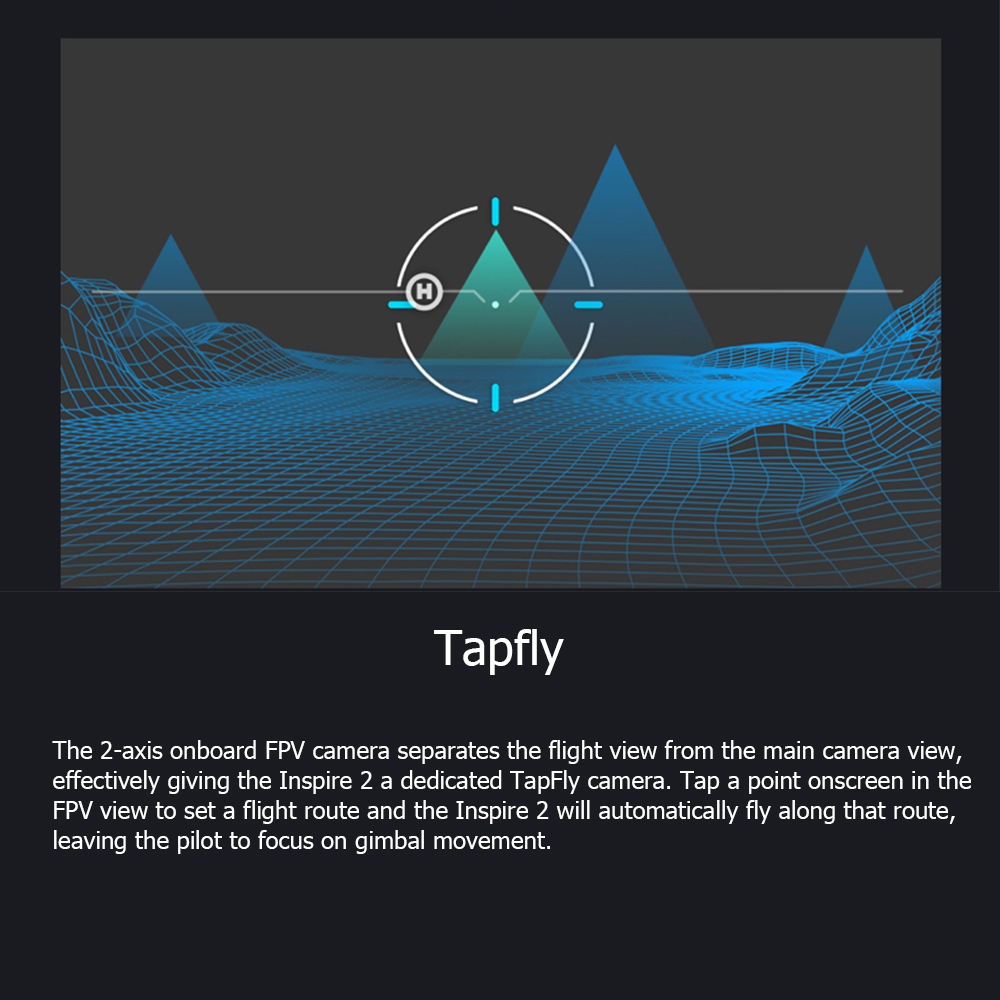 Features:
67mph(108kph) max speed, 2kg thrust per rotor, 15in props.
Dual battery, self-heating, battery redundancy, 98Wh, maximum 27min flight time.
Vision sensing, 2-axis FPV camera, range of supported cameras.
Magnesium aluminum composite shell and transforming design, carbon fiber arms
The latest update to DJI Lightbridge technology has an effective transmission distance of up to 4.6mi (7km)* and is capable of delivering both 1080p/720p video as well as FPV to pilot and camera op.
Users can also switch between 2.4GHz and 5.8GHz control frequencies to cut through noise for greater signal stability.
Drone supports CinemaDNG and ProRes Recording.
Specifications:
Aircraft:
Model: T650
Weight: 7.58 lbs (3440 g, including propellers and two batteries, without gimbal and camera)
Max Takeoff Weight: 8.82 lbs (4000 g)
GPS Hovering Accuracy:
Vertical: ±1.64 feet (0.5 m) or ±0.33 feet (0.1 m, Downward Vision System enabled)
Horizontal: ±4.92 feet (1.5 m) or ±0.98 feet (0.3 m, Downward Vision System enabled)
Max Angular Velocity: Pitch: 300°/s, Yaw: 150°/s
Max Tilt Angle:
P-mode: 35° (Forward Vision System enabled: 25°)
A-mode: 35°
S-mode: 40°
Max Ascent Speed:
P-mode/A-mode: 16.4 ft/s (5 m/s)
S-mode: 19.7 ft/s (6 m/s)
Max Descent Speed:
Vertical: 13.1 ft/s (4 m/s)
Tilt: 13.1-29.5 ft/s (4-9 m/s)
Max Takeoff Sea Level:
1.55 mi (2500 m)
3.1 mi (5000 m with specially-designed propeller)
Max Wind Speed Resistance: 10 m/s
Max Flight Time: Approx. 27 min (with Zenmuse X4S)
Motor Model: DJI 3512
Propeller Model: DJI 1550T
Indoor Hovering: Enabled by default
Operating Temperature: -4° to 104° F (-20° to 40° C)
Diagonal Distance(propeller excluded): 23.8 inch (605 mm, Landing Mode)
Max Speed: 58 mph or 94 kph(Sport mode)
Remote Controller:
Model: GL6D10A
Operating Frequency:
2.400-2.483 GHz
5.725-5.850 GHz
Max Transmitting Distance(unobstructed, free of interference):
2.4 GHz:
FCC: 4.3 miles (7 km);
CE: 2.2 miles (3.5 km);
SRRC: 2.5 miles (4 km);
MIC: 2.5 miles (4 km);
5.8 GHz:
FCC: 4.3 miles (7 km);
CE: 1.2 miles (2 km);
SRRC: 3.1 miles (5 km);
MIC: - ;
EIRP 2.4 GHz:
FCC: 26 dBm;
CE: 17 dBm;
SRRC: 20 dBm;
MIC: 17dBm;
5.8 GHz:
FCC: 28 dBm;
CE:14 dBm;
SRRC: 20 dBm;
MIC: - ;
Video Output Ports: USB, HDMI
Power Supply: Built-in battery
Charging: DJI charger
Dual User Capability: Host-and-Slave connection
Mobile Device Holder: Tablet or Smart Phone
Max Mobile Device Width: 170 mm
Output Power: 9 W (Without supplying power to smart device)
Operating Temperature: -4° to 104° F (-20° to 40° C)
Storage Temperature:
Less than 3 months: -4° to 113° F (-20° to 45° C)
More than 3 months: 72° to 82° F (22° to 28° C)
Charging Temperature: 32° to 104° F (0° to 40° C)
Battery: 6000mAh 2S LiPo
USB Supply Power: iOS: 1 A @ 5.2 V (Max); Android: 1.5 A @ 5.2 V (Max)
Battery (Standard)
Name: Intelligent Flight Battery
Model: TB50
Capacity: 4280 mAh
Voltage: 22.8 V
Battery Type: LiPo 6S
Energy: 97.58 Wh
Net Weight: 515 g
Charging Temperature: 41° to 104° F (5° to 40° C)
Operating Temperature: -4° to 104° F (-20° to 40° C)
Max Charging Power: 180 W
Storage Temperature:
Less than 3 months: -4° to 113° F (-20° to 45° C)
More than 3 months: 72° to 82° F (22° to 28° C)
Downward Vision System
Velocity Range: <32.8 ft/s (10 m/s) at height of 6.56 feet (2 m)
Altitude Range: <32.8 feet (10 m)
Operating Range: <32.8 feet (10 m)
Operating Environment: Surfaces with clear patterns and adequate lighting (> 15 lux)
Ultrasonic Sensor Operating Range: 0.33-16.4 feet (10-500 cm)
Ultrasonic Sensor Operating Environment: Non-absorbing material, rigid surface (thick indoor carpeting will reduce performance)
Upward Infrared Sensor
Obstacle Sensing Range: 0-16.4 feet (0-5 m)
FOV: ±5°
Operating Environment: Large-size non-reflective obstacles
Gimbal
Model:
ZENMUSE X4S (optional not included)
ZENMUSE X5S (optional not included)
Angular Vibration Range: ±0.01°
Controllable Range:
Pitch: -130° to+40°
Roll: ±20°
Pan: ±320°
Max Controllable Speed:
Pitch: 180°/s
Roll: 180°/s
Pan: 270°/s
Interface Type: Detachable
Mechanical Range:
Pitch: -140° to+50°
Roll: -50° to+90°
Pan: ±330°
Charger
Model: IN2C180
Voltage: 26.1 V
Rated Power: 180 W
Charging Hub
Model: IN2CH
Input Voltage: 26.1 V
Input Current: 6.9 A
Forward Vision System
Obstacle Sensing Range: 2.3-98.4 feet (0.7-30 m)
FOV: Horizontal: 60°; Vertical: 54°
Operating Environment: Surfaces with clear patterns and adequate lighting (> 15 lux)
APP
Name: DJI GO 4
Mobile Device System Requirements: iOS 9.0 or later, Android 4.4.0 or later
Package list:
1 * DJI Inspire 2 Quadcopter
1 * Remote Control (Transmitter)
4 * Propeller Pairs
2 * DJI Intelligent Flight Battery
1 * Battery Charger
1 * Charging Hub
1 * Power Cable
1 * USB Cable
1 * 16GB MicroSD Memory Card
1 * Vision System Calibration Plate
3 * Gimbal Damper
2 * Propeller Mounting Plates
1 * Carrying Case
4 * Battery Insulation Sticker