MC-UV CPL-PRO ND4 ND8 ND16 HD Lens for DJI MAVIC PRO FPV Drone Quadcopter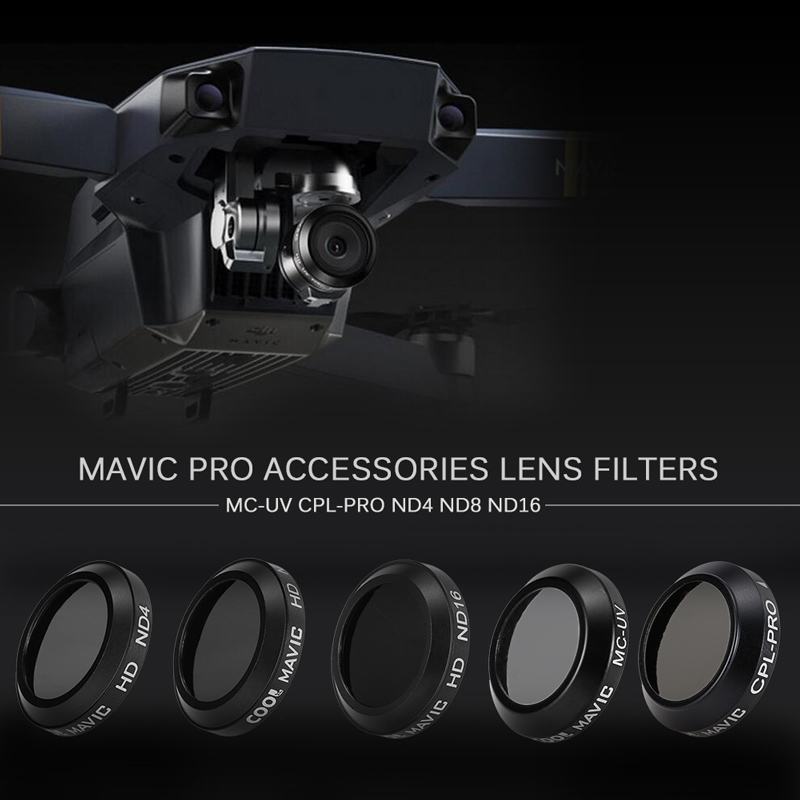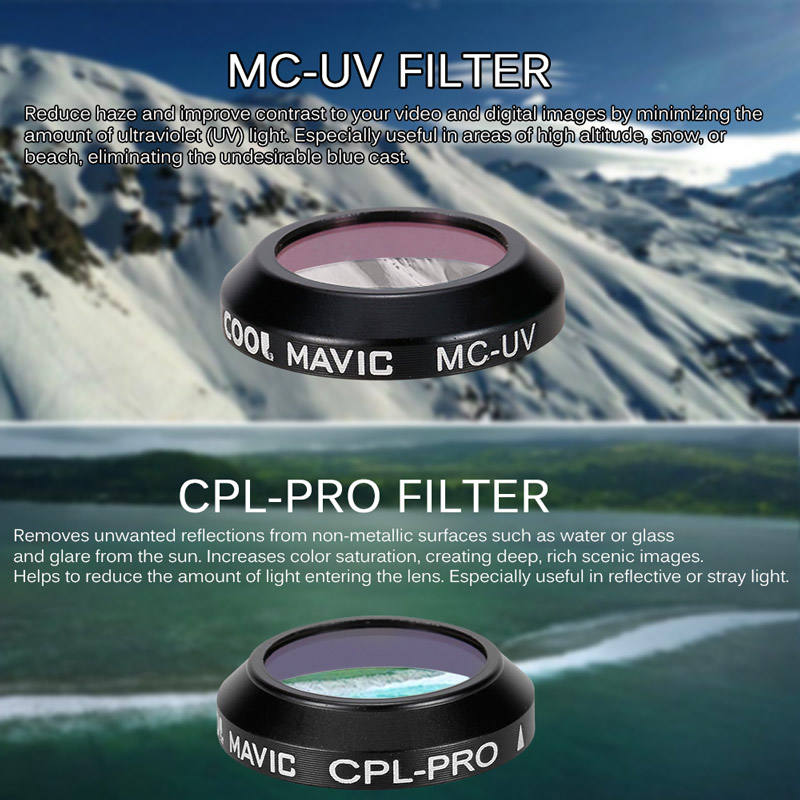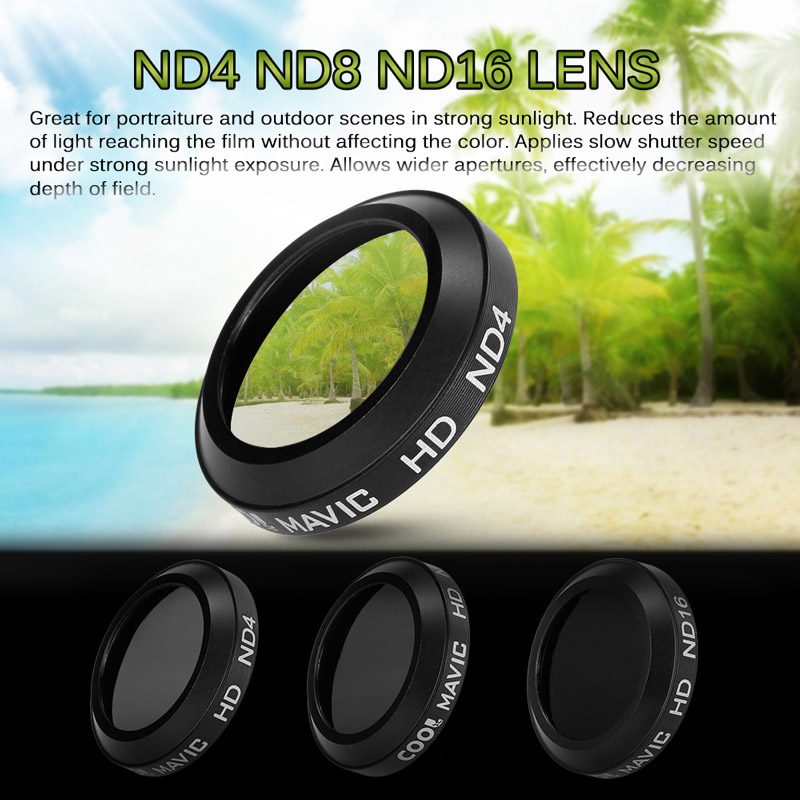 Features:
5pcs filter lens: include CPL-PRO Polarizer + MC-UV Filter Lens + ND4 Filter + ND8 Filter + ND16 Filter
No tools, clamps or glue! Compatible for DJI MAVIC PRO
Aviation aluminum-alloy, double grinding optical glass, the multilayer coating
Top level of transmittance Ultra-thin; 99.5% light transmittance, ultra-thin no dark corners.
Precision CNC machined; high precision laser engraving.
Control light and color directly on your raw images at the time of shooting. Same scenery clap different flavor.
Keep the quality of your images without excessive post production work; Create specific effects saving time on your computer.
Portable and durable.
MC-UV (Ultraviolet) Filter
- Reduce haze and improve contrast to your video and digital images by minimizing the amount of ultraviolet (UV) light. Especially useful in areas of high altitude, snow, or beach, eliminating the undesirable blue cast. Imported optical glass, top level of transmittance.
CPL (Circular Polarizer) Filter
- Removes unwanted reflections from non-metallic surfaces such as water or glass and glare from the sun. Increases color saturation, creating deep, rich scenic images. Helps to reduce the amount of light entering the lens. Especially useful in reflective or stray light.
Neutral Density Filter (ND4 ND8 ND16)
- Great for portraiture and outdoor scenes in strong sunlight. Reduces the amount of light reaching the film without affecting the color. Applies slow shutter speed under strong sunlight exposure. Allows wider apertures, effectively decreasing depth of field. ND4 reduces the intensity by two degree; ND8 reduces three...... Made of high-quality optical glass.
Specifications:
Type: Camera Lens Filter for DJI MAVIC PRO
Color: Black
Compatible: For DJI Mavic PRO
Net weight: About 0.9g-1.2g/pcs
Diameter: 22mm/0.86in
Thickness: About 4-5mm/pcs
Package Information:
Package size: 10.8 * 5.5 * 3.7/ 4.25 * 2.16 * 1.45in
Package weight: 51g / 1.8oz
Poly bag package
Package List:
1 * MC-UV Lens Filter
1 * ND4 Lens Filter
1 * ND8 Lens Filter
1 * ND16 Lens Filter
1 * CPL-PRO Lens Filter