KISS FC 32bit Flight controller V1.03 for Racing Drones Quadcopters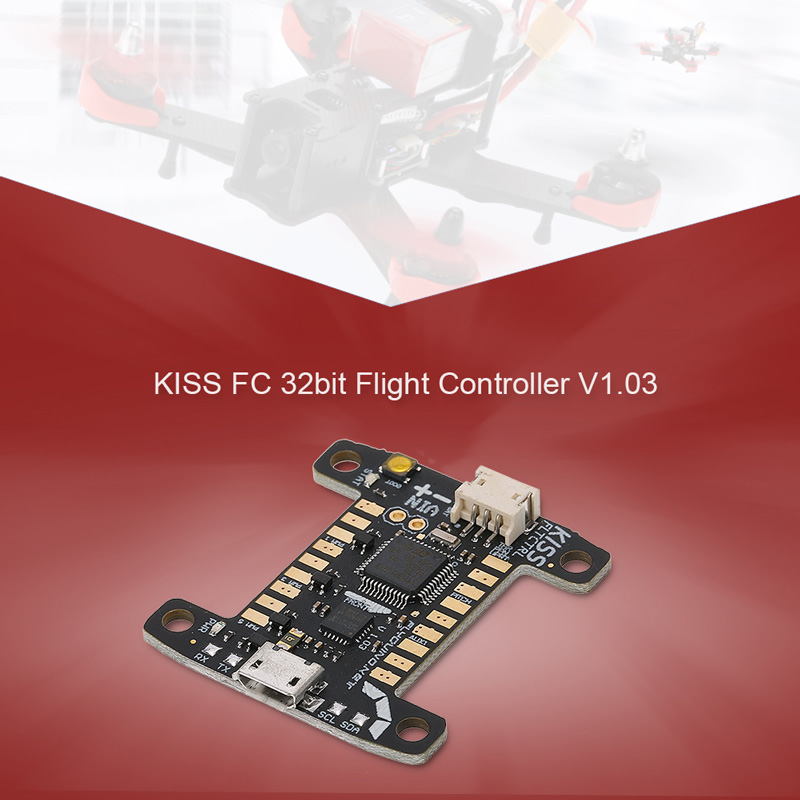 Features:
Exquisite workmanship, small size(L*W): 38*36mm.
Special for DIY FPV racing drone quadcopter.
The idea behind the KISS project was to simplify some things and due to intensive long term testings of some pretty good pilots.
You just need to choose your airframe in the GUI and are able to fly.
Every KISS FC - 32bit Flight Controller has a serial number to prevent fraud or illegal copies.
A nice feature is the inbuilt telemetry in combination with our 32bit ESC line, it's easy to set up. With it you can have the lipo mah consumption, the motors rpm and many more things on your OSD.
Specification:
Item name: KISS FC 32bit flight controller
Supported copter frames:
- Tri, Y4, Y6
- Quad +/x
- Hexa +/x
Supported RX types:
- PPM Sum
- Spektrum Sat. (serial / DSM2 & DSMX)
- Futaba / Taranis SBUS
- Jeti ExBus
- Graupner SumD / SumO
- MultiPlex
- classic RX with single channel output
Mounting holes: About 3.2mm holes (widely compatible)
Voltage: 2-6S (max 5s recommended)
Product size: About 38 * 36mm
Weight: About 5g
Package information:
Package size: 4.5 * 4.5 * 1cm / 1.8 * 1.8 * 0.4in
Package weight: 6g / 0.2oz
Poly bag package
Package list:
1 * KISS FC 32bit Flight Controller