This is a rapid charger/discharger with built in balancer, computerised with microprocessor and specialized operating software. It employs the circuit that has maximum output power of 100W. As a result it can charge or discharge up to 15 cells of NiCd/NiMH and 6 series of Lithium batteries with maximum current of 7.0A. Furthermore, the cooling system is so efficient that can hold such a power without any trouble of running the CPU or the operating program.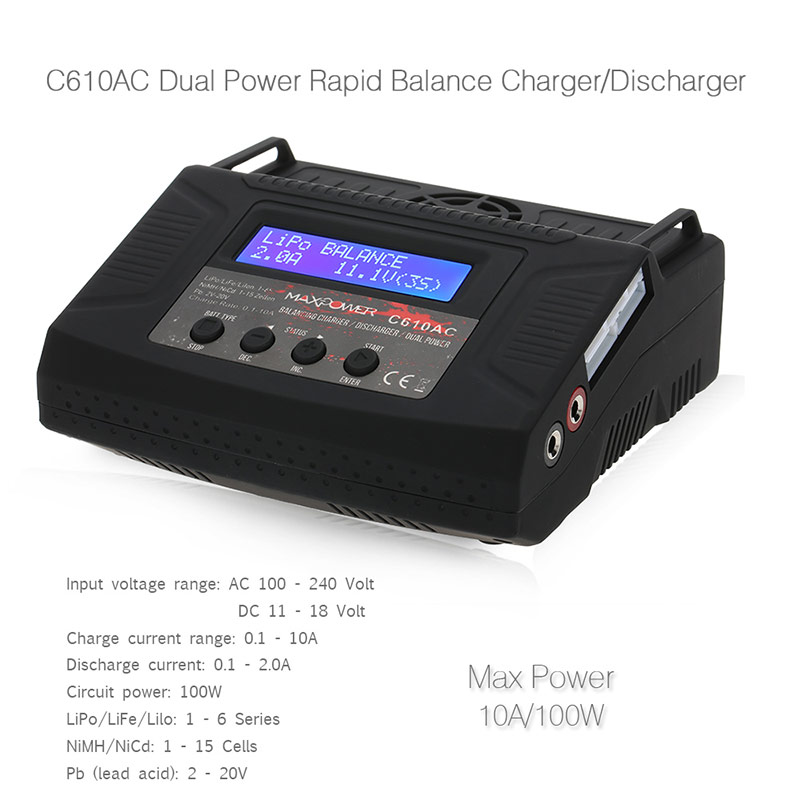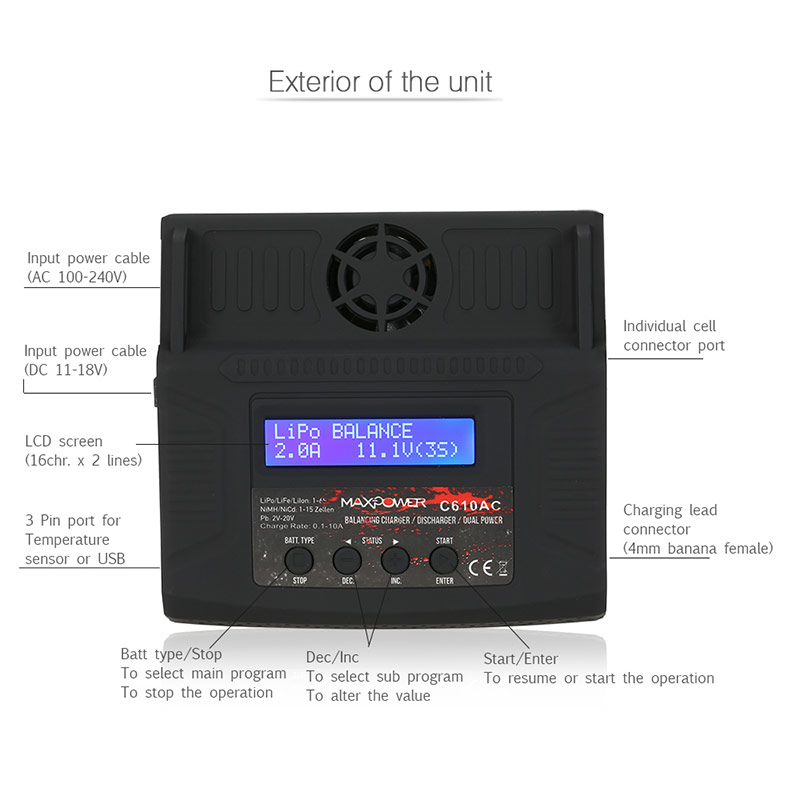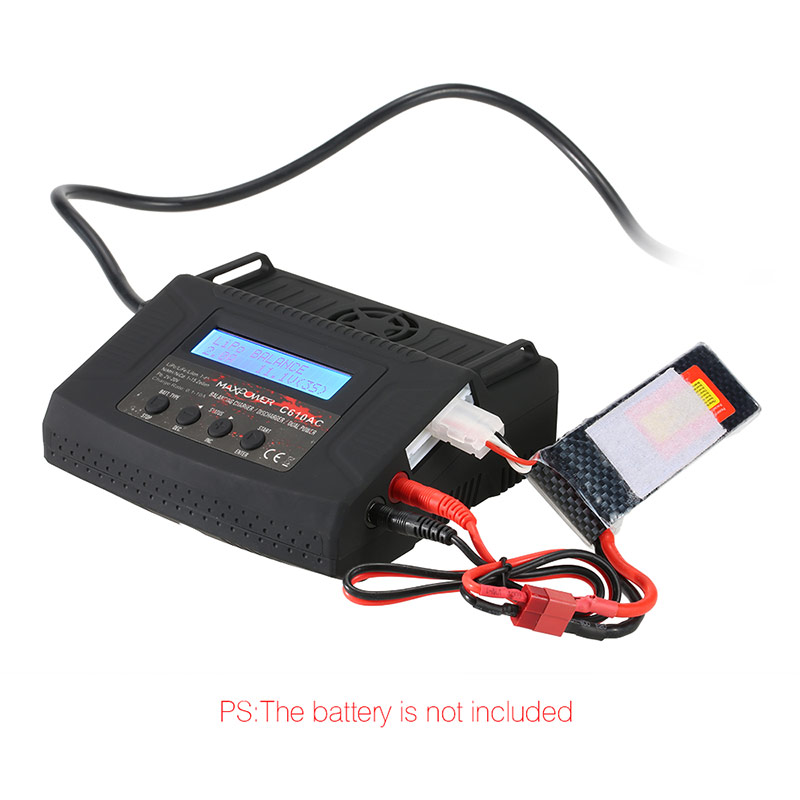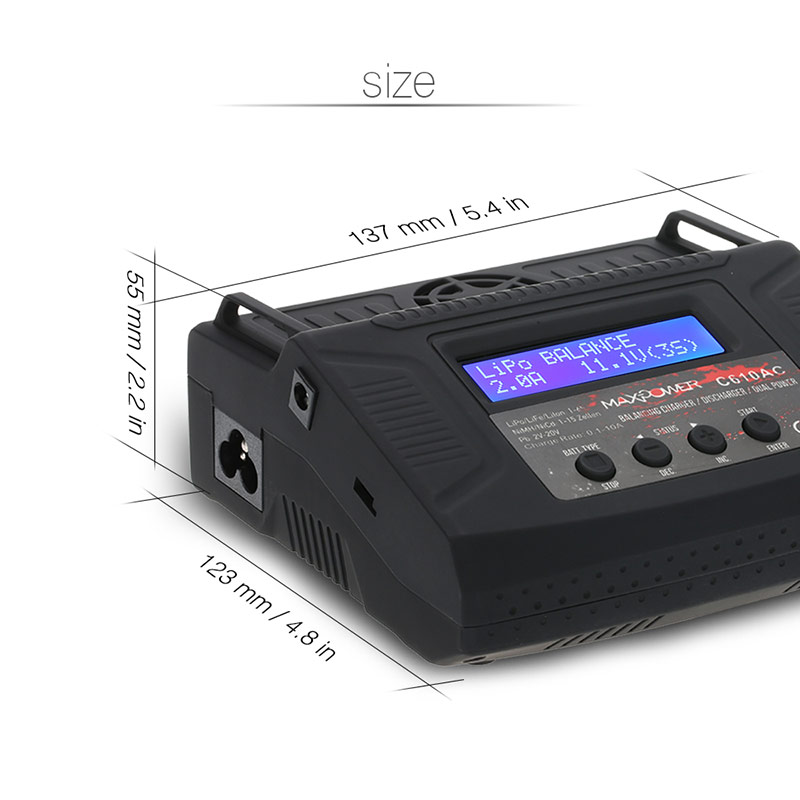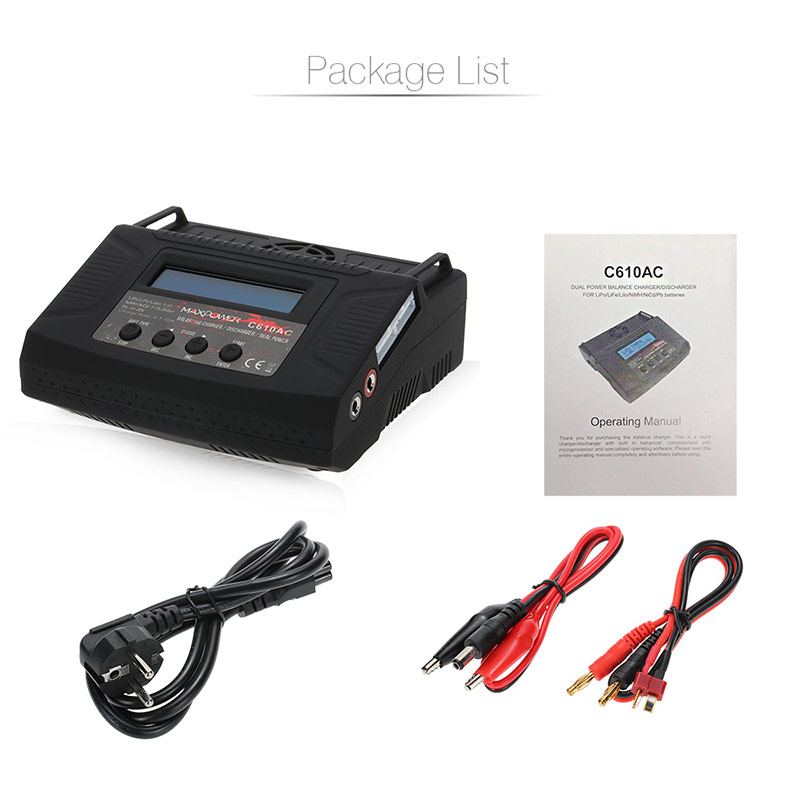 Feature:
Maximum safety
Data store/load
Cyclic charging/discharging
Optimised operating software
High-power and high-performance circuit
Individual voltage balancer for Lithium batteries inside
Balance individual cells in the discharge process
Accept various types of Lithium battery
Lithium battery "Fast" and "Storage" mode
Suitable for LiPo/LiFe/Lilo/NiMH/NiCd/Pd batteries
Specifications:
Item name: 10A/100W AC/DC Dual Power Rapid Balance Charger/Discharger
Model: 10821 C610AC
Material: Plastic
Charge plug: US/EU/UK plug optional
Operating voltage range: 10.0-18.0 Volt
Circuit power: max. 100W for charging/ max. 10W for discharging
Charge current range: 0.1-10A
Discharge current range: 0.1-2.0A
Current drain for balancing Li-po: 300mAh/cell
NiCd/NiMH battery cell count: 1-6 series
Pb battery voltage: 2 to 20V
Suitable for: LiPo/LiFe/Lilo/NiMH/NiCd/Pd batteries
Item dimension: 137 * 123 * 55mm
Item weight: 417.6g
Warning:
Never leave the charge unsupervised when it is connected to its power supply.
Keep away the unit form dust, damp, rain, heat, direct,sunshine and vibration. Do not drop it.
The circuit of the unit is designed to be powered by a 10-18V DC only.
Be sure to understand the information of the battery to be charged or discharged accurately. If the program is set up incorrectly the battery can severely be damaged.
To avoid short-circuits between the charge lead, always connect the charge cable to the unit first and only then the battery to be charged or discharged. Reverse the sequence when disconnecting.
Please read this entire operating manual completely and attentively before using.
Package Information:
Package size: 22 * 14 * 8cm / 8.7 * 5.5 * 3.1in
Package weight: 743g / 1.6oz
Gift box package
Package List:
1 * C610AC Balance Charger
1 * Charge Cable
1 * Charge Cable with Alligator Clips
1 * T Plug Charge Cable
1 * Manual