The RadioLink AT10Ⅱ 2.4G 10CH transmitter adopts DSSS & FHSS spread-spectrum technology, which makes our product have excellent anti-interference capability and stability. Most completed function and model type integration frequency 2.4GHz, response time 3ms. Just come and get it!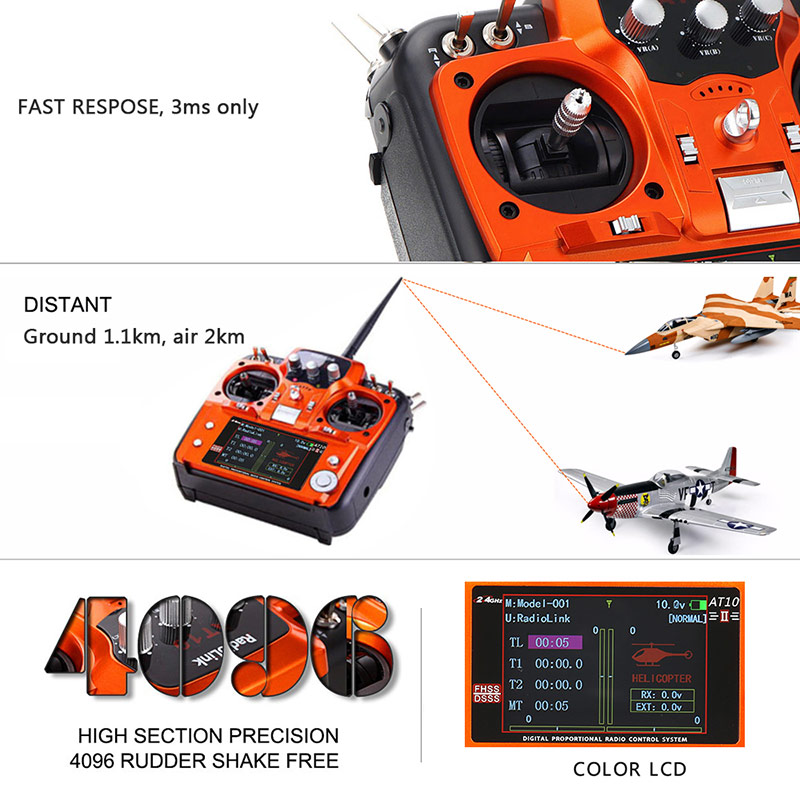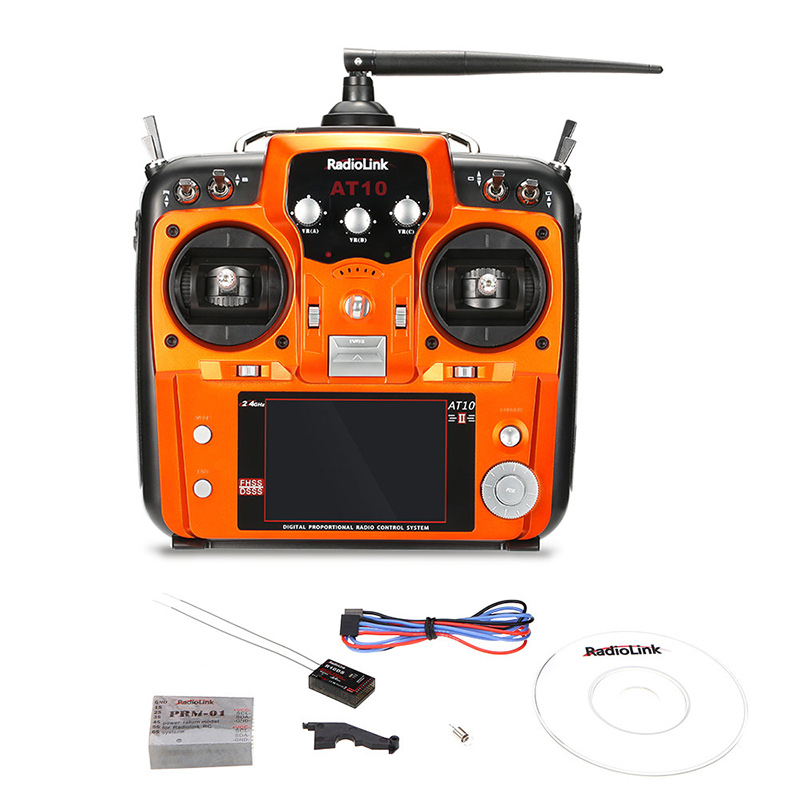 Feature:
Combines airplane, glider and helicopter programming
Remote range is over 1000 meters on ground
320 * 480 pixels full color TFT LCD
Direct sequence spectrum spread technology
Postback and monitor real time flight message
Real 2048 resolution for all channels, receiver output signal trembling less than 0.5us
Real-time response, respond time from sticks to receiver out less than 3ms
Servo monitor display
Wide supply range, from 5V to 20V, can set alarm point freely
Specifications:
Brand: RadioLink
Model: AT10Ⅱ
Color: orange / gray optional
Frequency: 2.4GHz ISM band (2400MHz to 2483.5MHz)
Modulation mode: QPSK
Channel bandwidth: 5.0MHz & 250Kbps
Spread spectrum: DSSS & FHSS
Control mode: mode 2 (left hand throttle)
Adjacent channel rejection: >38dbm
Transmitter power: <100mW (20dbm)
Operating current: 90mA@12V
Operating voltage: 7.4~15.0V
Control distance: more than 1000 meters ground
Channel: 10 channels, 5-10 channels are customized
Simulator model: under the simulator model the transmitter action turn off, change to power saving mode
Screen: 16 colorful screen, size 78 * 52mm, 320 * 480 pixels
Switches included: two 3-section, five 2-section, one reset swich and five proportional potentio-meter
Compatible model: include all 120 degree and 90 degree swash-plate helicopter, all fix wing and glider, and multirotor
Copatible receiver: R10DS(PWM&SBUS), R10D(PWM), R9DS(SBUS&PWM), R6DS(SBUS&PPM&PWM)
Item size: 220 * 180 * 95mm
Item weight: 662 (battery excluded)
Receiver Specification:
Brand: RadioLink
Model: R10DS
Channel: 10channel, support SBUS and PWM signal output synchronously, with red LED
Working voltage: 4.8-10V
Working current: 38-45mA (input voltage: 5V)
Section precision 4096
Item size: 50 * 30 * 15mm
Item weight: 15g
Battery voltage telemetry sensor: PRM-01
Function: feedback VOLT information and will vibaration alarm when low voltage as the same function of BB.
Item size: 40 * 27 * 13mm
Item weight: 6g
Package Information:
Package size: 33 * 26 * 12cm / 13.0 * 10.2 * 4.7in
Package weight: 1049g / 2.3lb
Gift box package
Package List:
1 * RadioLink AT10Ⅱ 10CH Transmitter (Mode 2)
1 * R10DS 10CH Receiver
1 * CD-ROM
1 * PRM-01 Voltage Return Module
1 * 4Pin Connector