NEO-M8N GPS Compatible for DJI NAZA Lite V1 V2 Flight Controller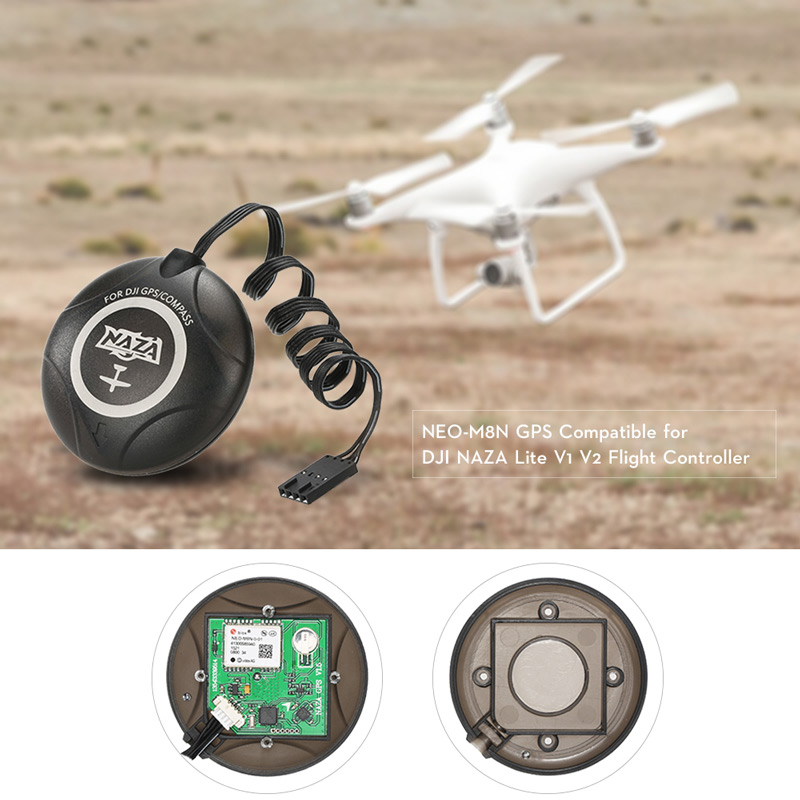 Features:
Using 32-bit processor, compatible with DJI NAZA LITE V1 V2 flight controller, incomparably superior than 8-bit processor.
Please take notice of the arrow on GPS, which stands for the head of flyer.
Similar calibration and usage with DJI GPS.
Coming with soft silicone gel cable.
For softness, black rubber was wrapped on surface.
Metal foil label has been mounted on the bottom of GPS to reduce signal interference from other electronic equipments.
Specifications:
Color: Black
Diameter: 52mm / 2.05 in
Height: 18mm / 0.71 in
Net weight: 28g
Operation Notice:
To calibrate the electronic compass is the first important thing when received your GPS.
Calibration Method:
Connect GPS to Flight controller, dial the model switch of radio control 7-10 times, LED light turns orange; Turn the flyer horizontally one circle, then the LED light turns green; Make the head of flyer downwards and turn it one circle, then the LED light flashed on.
Package information:
Package size: 9.3 * 7 * 2.5cm / 3.6 * 2.7 * 0.98in
Package weight: 33g / 1.2oz
Poly bag package
Package list:
1 * NEO-M8N GPS Module
1 * Sticker