Frame all adopt 90 degree square X structure. The advantage is that the aircraft can fly in any direction flexible. The machine arm using 4mm 3K carbon plate thickness, width of only 14mm, to ensure the minimum drag. 2mm thickness is adopted on the upper plate and the upper plate of the fuselage main board and the upper plate, and the upper plate is made of 1.5mm thickness. One aluminum alloy fixings four machine arm, aluminum alloy piece is fixed the machine arm double strong and detachable arm machine, fast random replacement, extremely Crashworthiness. We finally chose to put the battery in the bottom of the fuselage, because the design of the camera position will be higher, if the battery in the lower body, the balance performance will be better. Camera positions we are very clever use of the fixed part, the angle can be adjusted, the maximum angle of 60 degrees, so that it is very good compatible with Runcam camera or GoPro camera.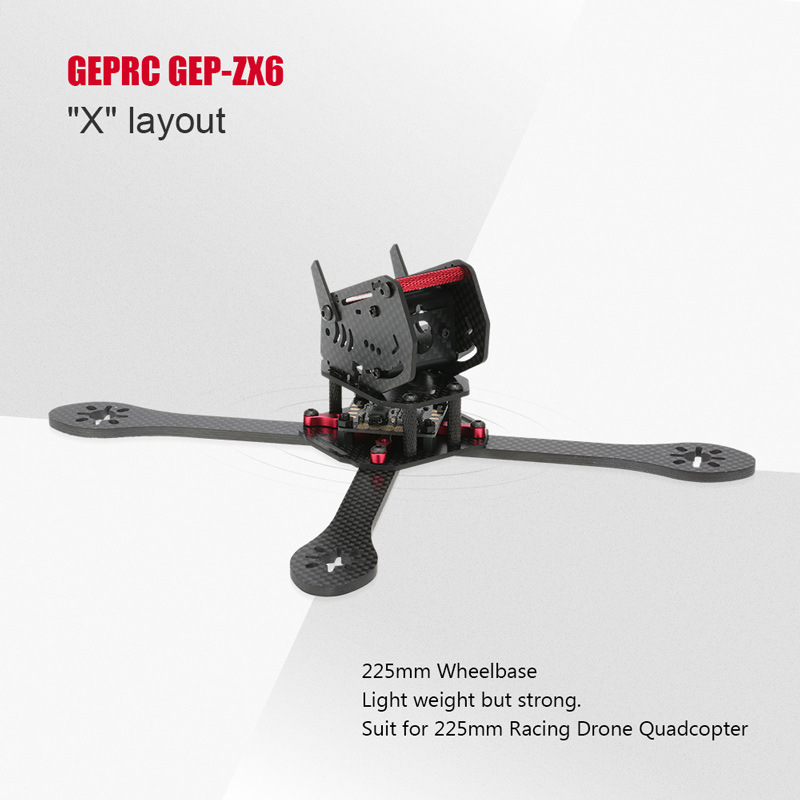 Features:
100% brand new and high quality.
225mm wheelbase, small and compact.
The windage is small, but stay strong.
Forward direction can be selected .
The structure is strong, beautiful and light weight.
Motor position widened, better protection of motor.
Camera angle adjustable, adjustable 60 degrees.
3K high strength carbon board to ensure that the framework is strong.
Thanks to one piece of aluminum, the arm is stronger. Quick changing arm.
The lens comes with fixed film, for the market of 95% CCD fixed lens.
This is "X" layout, between each arm is 90 degrees and the aircraft can fly in any direction flexible.
Specifications:
Brand name: GEPRC
Item Name: GEP-ZX6
Wheelbase: 225mm
Arms board: 4mm
Main board: 2mm
Other board: 1.5mm
Size: 195 * 195mm
Weight: 109g
There may be some deviation due to manual measurement.
Recommended Parts:
Flight Controller: F3 /Naze32/ CC3D Flight Control
Motors: 2204/2205/2206/2305
ESC: 20A-30A ESC
Propeller: 5 inch propeller
Battery: 3S 1300mAh ~ 4S 1300mAh battery
Package information:
Package size: 16.1 * 16.1 * 2.4cm / 6.34 * 6.34 * 0.94in
Package weight: 188g / 6.6oz
General box package
Package list:
1 * GEP-ZX6 225mm Carbon Fiber Frame Kit
1 * PDB
1 * XT60 Cable
1 * Manual