This original Turbowing TX600 wireless AV transmitter is perfect for FPV upgrading. Textured metal cover and heat dissipation design feature its high quality and durability.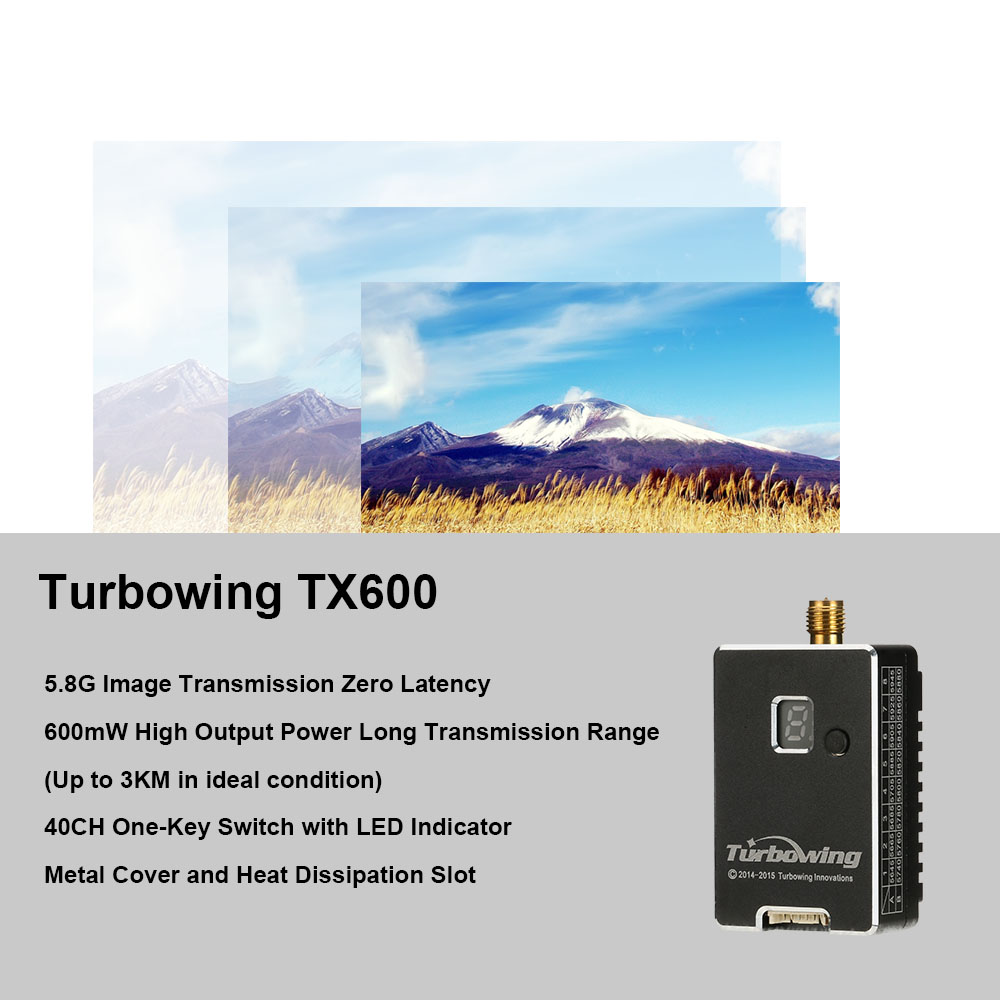 Features:
Lightweight, mini size with metal cover and heat dissipation.
40 channels switch avoids interference.
600mW high power features a long transmission range.
Button control instead of code switch, LED for frequency selection.
Single press to change channels, press and hold for 2 seconds to change frequency group.
Specifications:
Output power: 600mW
Frequency range: 5.6-5.9Ghz
Transmission Range: 500-3000m
(There may be deviation due to different conditions)
Channel: 40CH
Operating voltage: 7V-28V
Supply current: 450mA at 12V
Video band width: 8M
Antenna connector: RP-SMA K
Dimension: 50 * 28 * 17mm(without antenna)
Weight: 31.1g
Frequency range:
A1: 5645Mhz B1: 5740Mhz C1: 5725Mhz D1: 5733Mhz E1: 5658Mhz
A2: 5665Mhz B2: 5760Mhz C2: 5745Mhz D2: 5752Mhz E2: 5695Mhz
A3: 5685Mhz B3: 5780Mhz C3: 5765Mhz D3: 5771Mhz E3: 5732Mhz
A4: 5705Mhz B4: 5800Mhz C4: 5785Mhz D4: 5790Mhz E4: 5769Mhz
A5: 5885Mhz B5: 5820Mhz C6: 5825Mhz D6: 5828Mhz E6: 5843Mhz
A7: 5925Mhz B7: 5860Mhz C7: 5845Mhz D7: 5847Mhz E7: 5880Mhz
A8: 5945Mhz B8: 5880Mhz C8: 5865Mhz D8: 5866Mhz E8: 5917Mhz
Package information:
Package size: 7.6 * 7.6 * 3.7cm / 3 * 3 * 1.5in
Package weight: 72.4g / 2.55oz
General box package
Package list:
1 * Turbowing TX600 Transmitter
1 * Cable