The charger is quite compact. So it can be stored in your pit bag or box easily! The charger also features Li-Po balance charge, Li-Po fast charge, Li-Po storage, and Li-Po discharge modes. Besides, the charger can be used to power other DC devices such as chargers, lathes, lights, etc. It puts out a whopping 1000W of power. And its screen will provide a read out of each cell's voltage, the total pack voltage, as well as the highest and lowest cells. You couldn't miss it.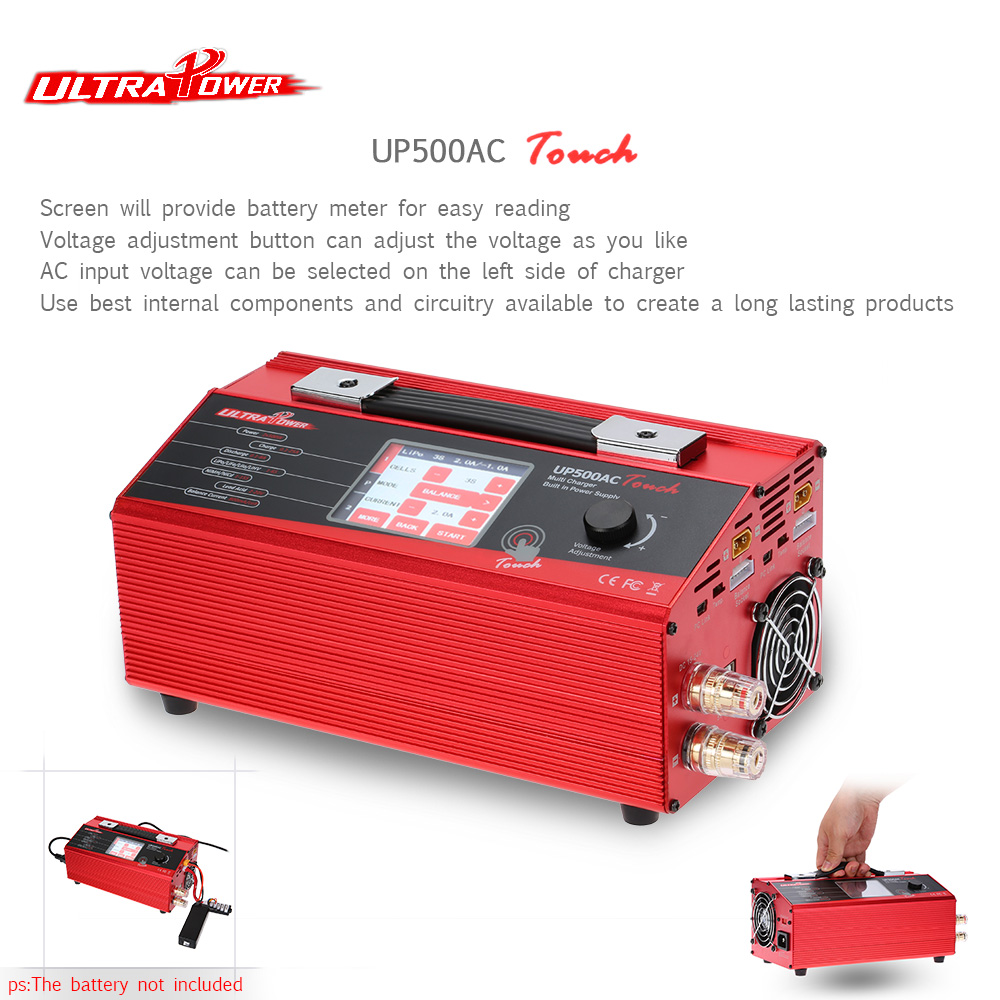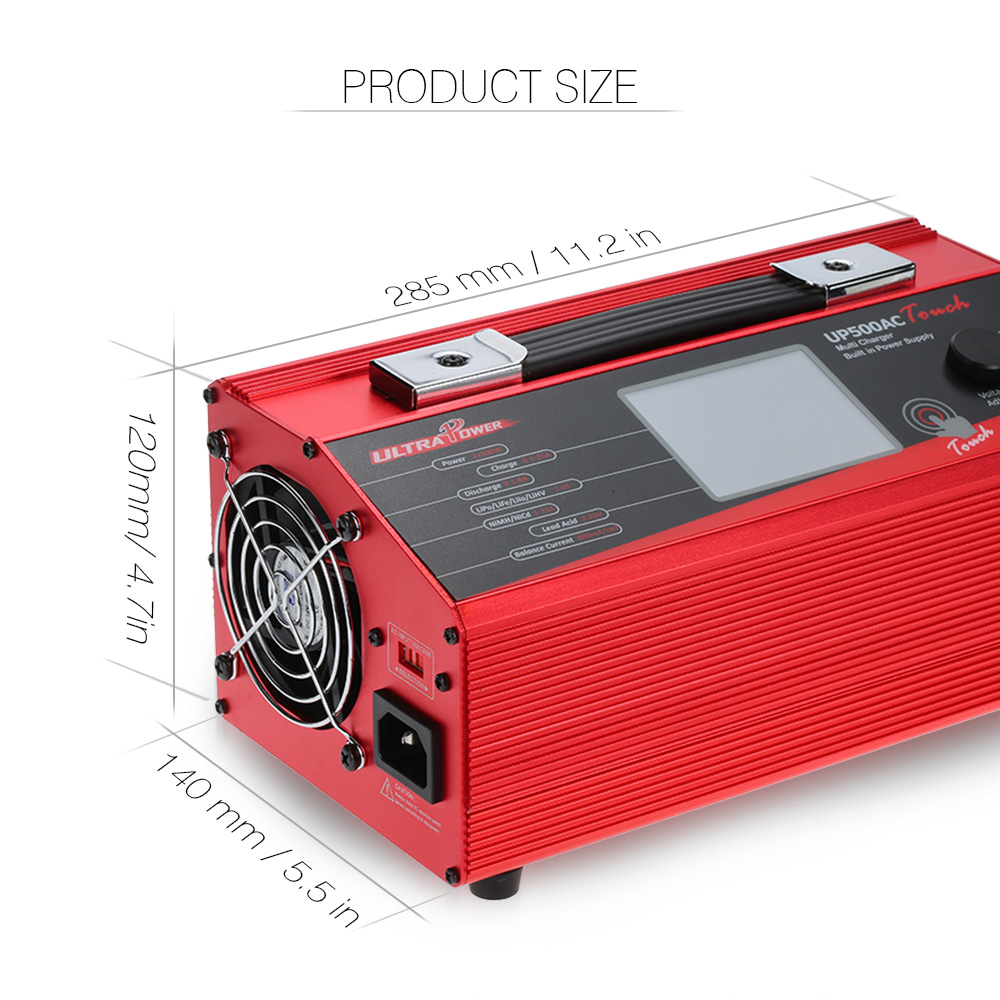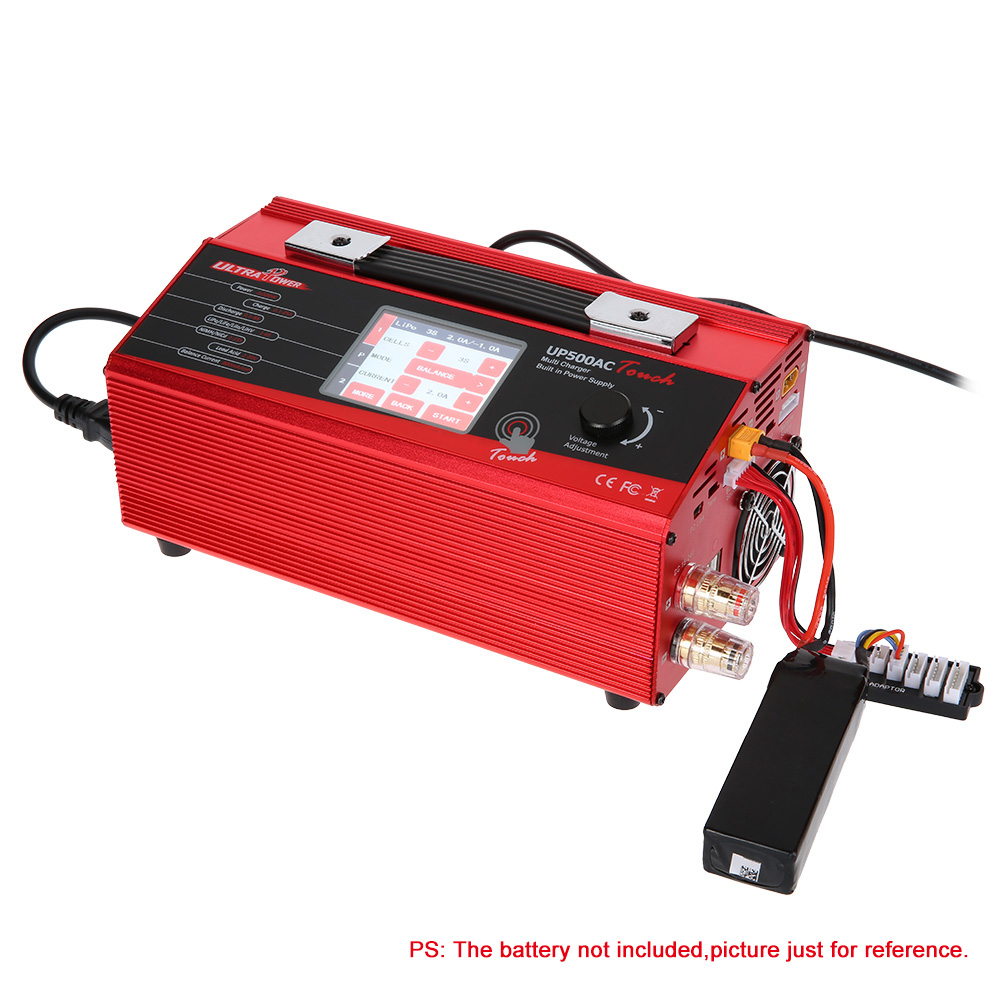 Features:
Rectangle design with good looking.
Independent input and output socket.
Practical for variety of batteries.
With multiple charging modes for choice.
Simple to operation and easy to use.
With handle belt for convenient to take.
Two USB ports for PC control & firmware upgrade.
Screen will provide battery meter for easy reading.
Voltage adjustment button can adjust the voltage as you like.
AC input voltage can be selected on the left side of charger.
Use best internal components and circuitry available to create a long lasting products.
Specifications:
Brand name: Ultra Power
Model name: UP500AC Touch
Charger plug: UK, US, EU charger plug optional
Color: Red
AC input voltage: 110V / 220V
DC input voltage: 15 - 24V
Charge power: Max.2 * 500W
(1000W)
Charger current range: 0.1 - 10.0A
Discharger power: Max.2 * 25W
(50W)
Charger current range: 0.1 - 25.0A
Discharger current range: 0.1 - 8.0A
Max balancing current: 800mA / cell
Lilon/LiPo/LiFe/LiHV cell count: 1 - 6 series
NiCd/NiMH battery cell count: 1 - 15cells
Pb battery voltage: 2 - 20V
(1-10cells)
Lead acid: 2 - 20V
Battery data memory: 6 profiles
Upgrade: PC, firmware upgrade
Item size: 285 * 140 * 120mm
(artificial measurements error allowed)
Item weight: 3381g
Package Information:
Package size: 38 * 18.5* 16.3cm / 15.0 * 7.3 * 6.4in
Package weight: 3869g / 8.53lb
Gift box package
Caution:
Always check AC selection switch before connecting to mainpower.
Please read the instruction carefully before you operation this product.
Package List:
1 * Ultra Power UP500AC Touch Balance Charger
2 * Multiple Balance Board
1 * Charger Plug
1 * English Manual