The SP Racing F3 gives you all the features you need for the heart of your aircraft, whether you're into FPV racing, acrobatic flying or aerial photography, it's perfect.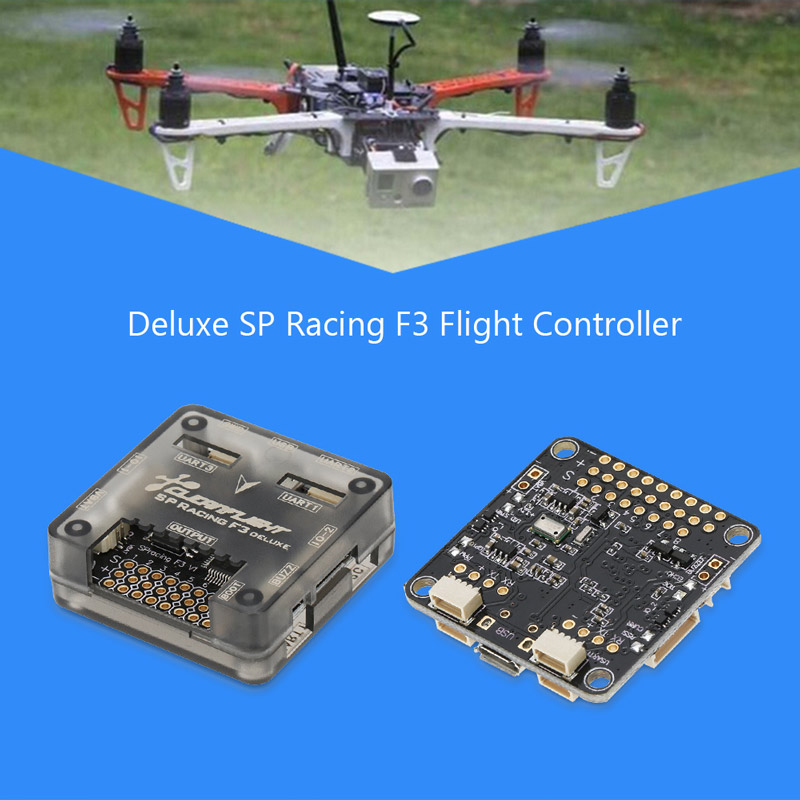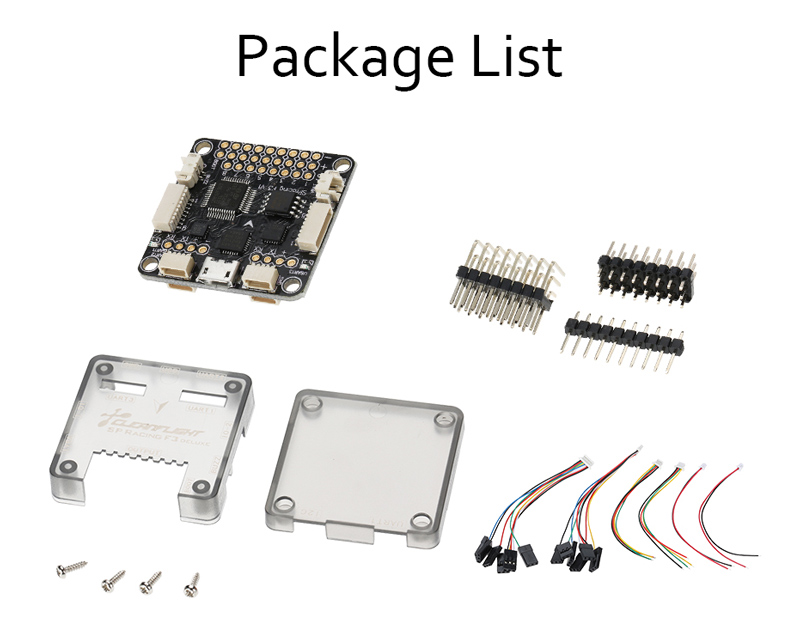 Deluxe features:
Tiny and light weight.
Stackable, compact, professional, neat and tidy.
Supports a variety of aircraft, planes and more.
Practical and easy to access connectors and solder pads.
Configurable, choose to use connectors, solder pads or pins.
Designed to give awesome flight performance based on tried and tested sensors.
Also providing unparalleled and I/O capabilities in a small and extremely lightweight form-factor using a next-generation CPU.
Flight performance: the SP Racing F3 builds on tried and tested software, processor and sensor technology to make your aircraft fly like it's on rails.
The SP Racing F3 runs Clean flight which can be configured to suit your needs using a cross-platform GUI (Windows/OSX/Linux).
Flight Logging: on-board high-capacity black box flight log recorder - optimize your tuning and see the results of your setup without guesswork.
Developer friendly debugging port (SWD) and boot mode selection, unbrickable bootloader.
Broad RC receiver Support. Supports SBus, SumH, SumD, Spektrum1024/2048, XBus, PPM, PWM receivers.
Battery Monitoring. Battery monitoring ports for voltage and current.
Loop times up to 2x as fast as previous-generation STM32F1 based boards.
One shot ESC. Full support for One Shot ESCs for easy PID tuning and a sharper response.
Sonar support for precision low-altitude hold. Buzzer port for audible warnings and notifications.
I2C port always powered, perfect for external sensors or always-on OLED Screen.
No-compromise I/O.Use all the features all the time. Monitoring + Sonar + 8 motors - all at the same time.
The SP RacingF3 has an ARM Cortex-M4 72Mhz CPU with Math co-processor (FPU) for efficient flight calculations that gets more done in less time.
Specifications:
Item name: Deluxe SP racing F3 flight controller board
Panel Color: Black
Board size: 36 * 36 * 8mm / 1.4 * 1.4 * 0.3inch
Shell Case: 39 * 39 * 13mm / 1.5 * 1.5 * 0.5inch
Board weight: 8g
There may be some deviation due to manual measurement.
Package information:
Package size: 9 * 9 * 2cm / 3.5 * 3.5 * 0.78in
Package weight: 30g / 1.1oz
Poly bag package
Notice: (general advice)
Follow the advice below for best performance and long-life of your flight controller:
Apply resin/glue to reinforce JST-SH connectors - helps if you crash your aircraft.
Using an enclosure/box for the flight-controller is recommended.
Install open-cell foam under the pressure sensor - sandwich some between the FC and frame.
Route motor/battery wires as far away from the compass sensor (magnetometer) as possible.
Only install the BOOT jumper pins if you need them.
Using color coded pin headers is recommended (not supplied), especially for VBAT headers.
Do everything you can to prevent vibrations reaching the accelerometer/gyro sensor.
Package list:
1 * SP Racing Flight Controller
1 * Straight pin Header Connector
1 * Looper Header Connector
1 * Row Pin Header Connector
1 * Shell Case
1 * Lines and Screws Set