XT60 PDB power distributor board 5V 5V output for martian QAV drone quadcopter
Warm notice: the xt60 plug is not welded, need welding by yourselves!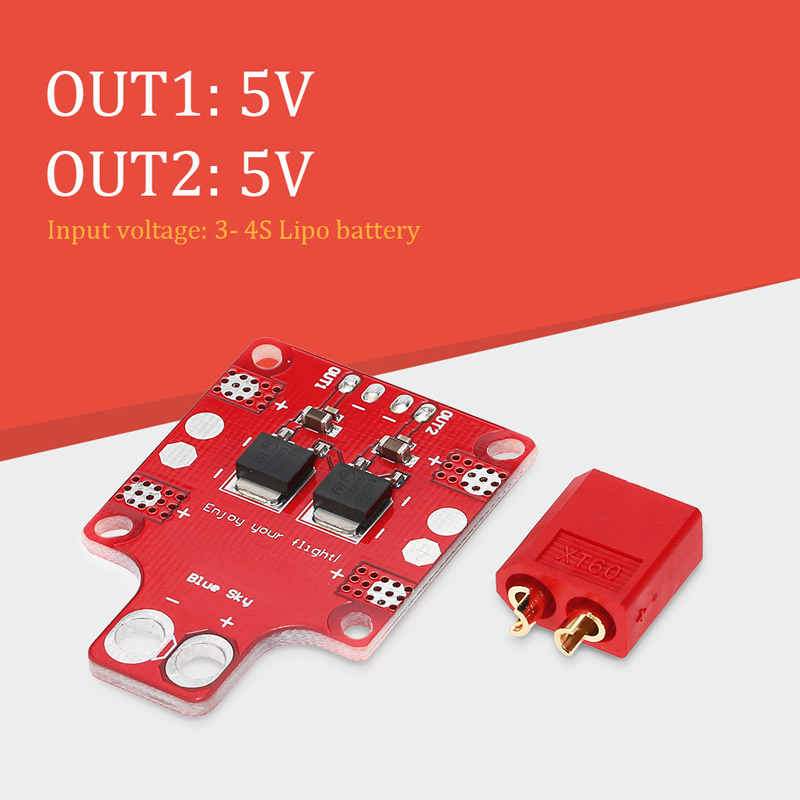 Features:
Power distribution board,dual output 5V+5V.
Input voltage: 3- 4S LiPo battery.
Output voltage: 5V/5V, voltage accuracy of 2.5%.
It offers a XT60 socket to connect the LiPo pack conveniently.
The PDB-XT60 has been engineered to provide the highest performance.
Specifications:
Item Name: XT60 Distributor Board 5V/5V Output
OUT1: 5V
OUT2: 5V
Input voltage: 3-4S LiPo battery
Output voltage: 5V / 5V, voltage accuracy of 2.5%
Output Current: 500mA
Usage: spare part for racing combo
Size: 51 * 36 * 2mm / 2.0 * 1.4 * 0.08inch
Weight: 12g
Package information:
Package size: 6.5 * 5 * 1cm / 2.5 * 2.0 * 0.4in
Package weight: 13g / 0.5oz
Poly bag package
Package list:
1 * XT60 Distributor Board
1 * XT60 Plug