Here comes DOBBY, the innovative selfie smart drone! Its debut makes UAV no longer MACHINE but the flying ROBOTS, making a breakthrough of imagination margin. Equipped with 13MP Camera, DOBBY is ready to give it a full shot to reinvent your vision. Hesitate for what? LET'S DOBBY!
NOTE: Gesture-Based Interaction, Face Track and FOLLOW SNAP 2.0 cannot be realized in app at moment but will be updated soon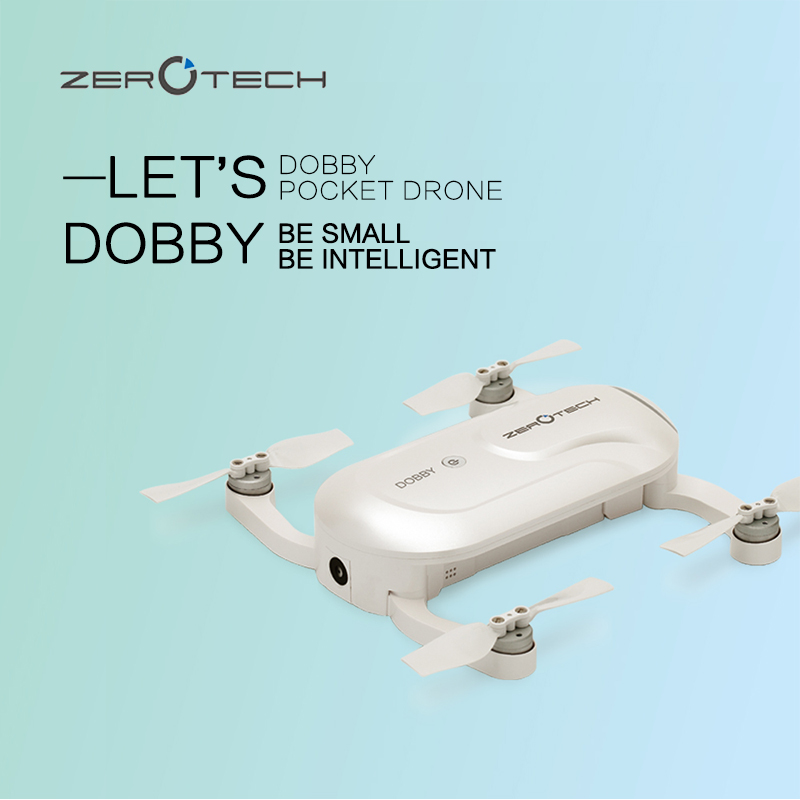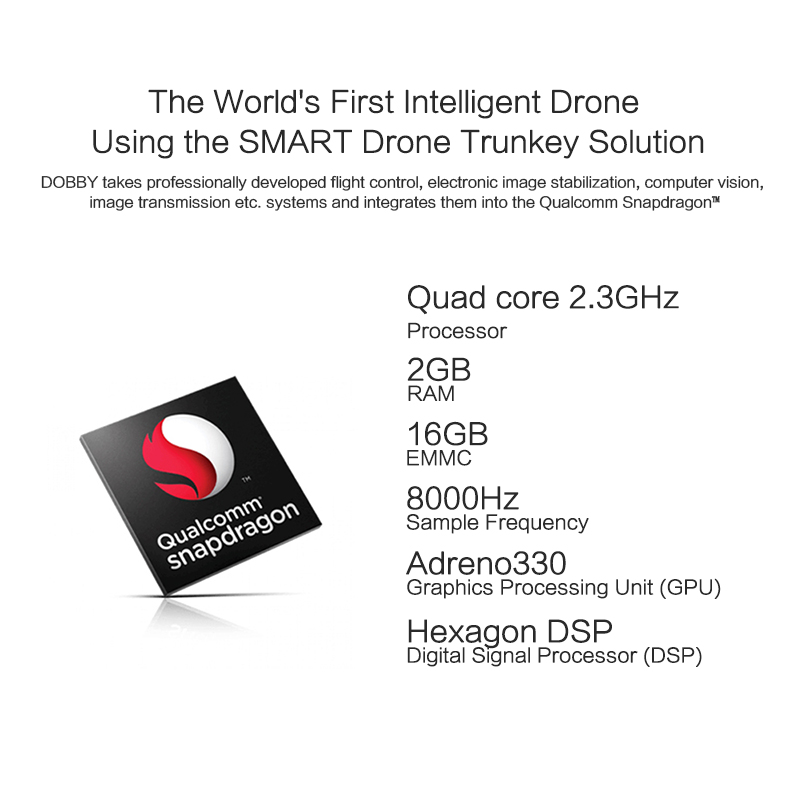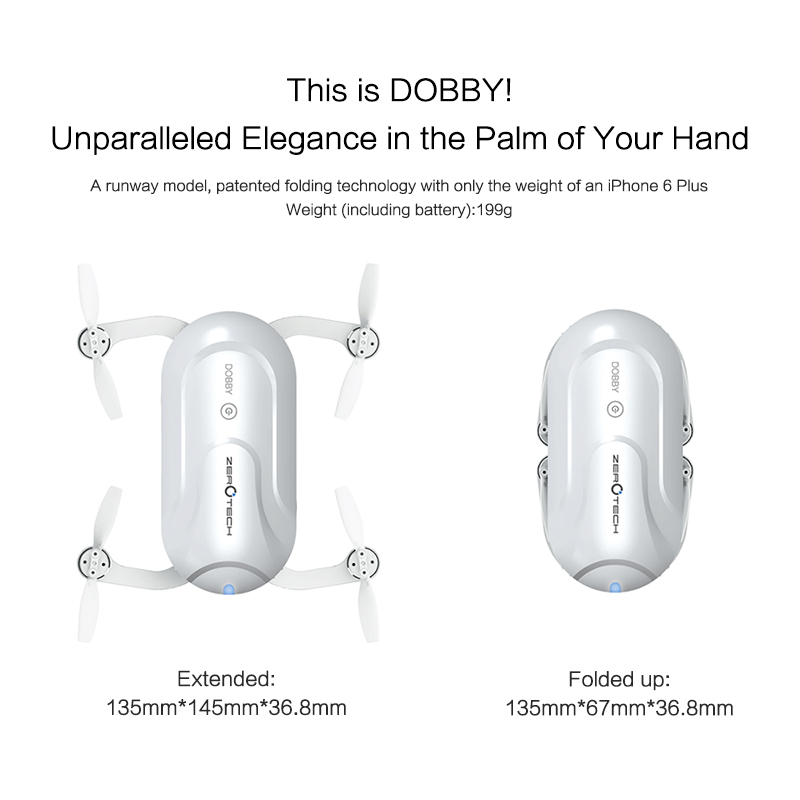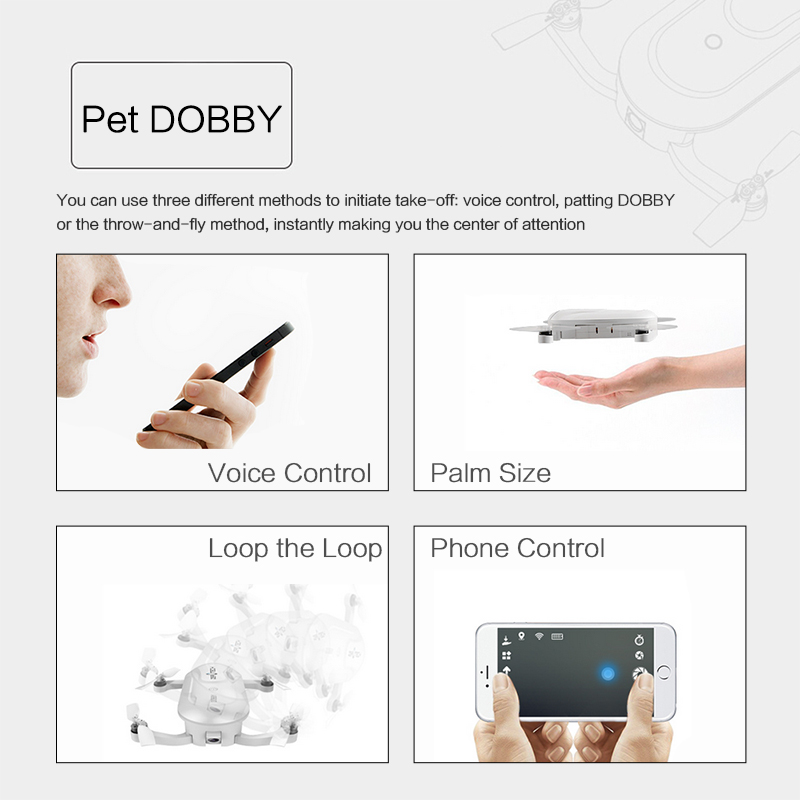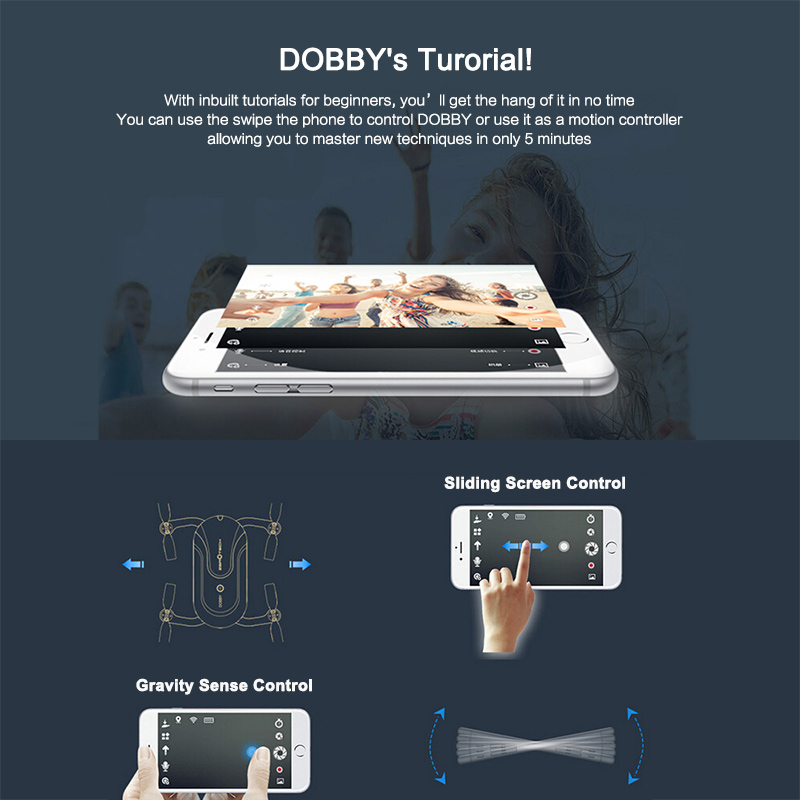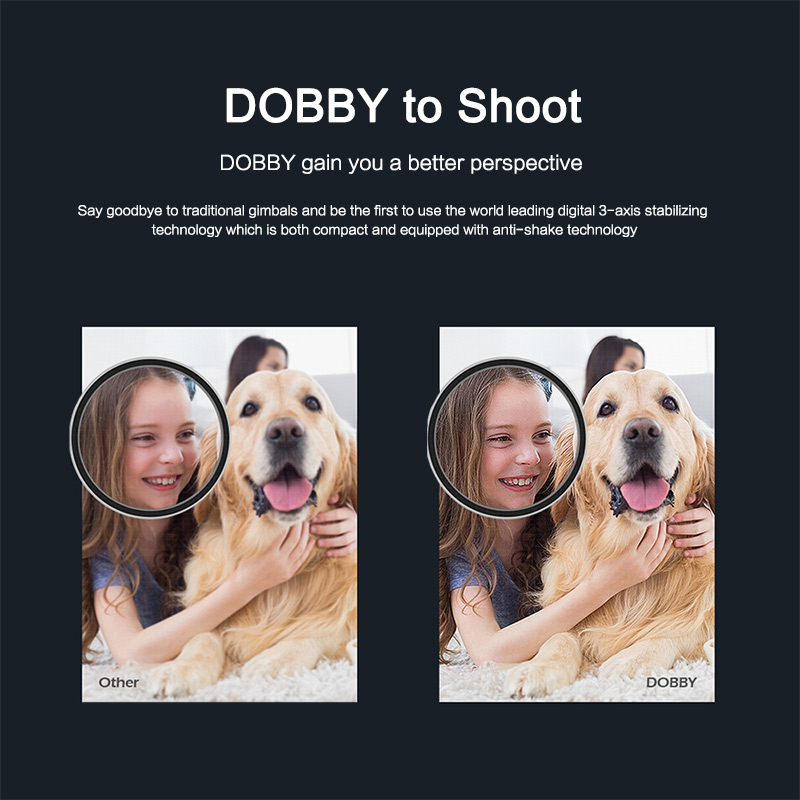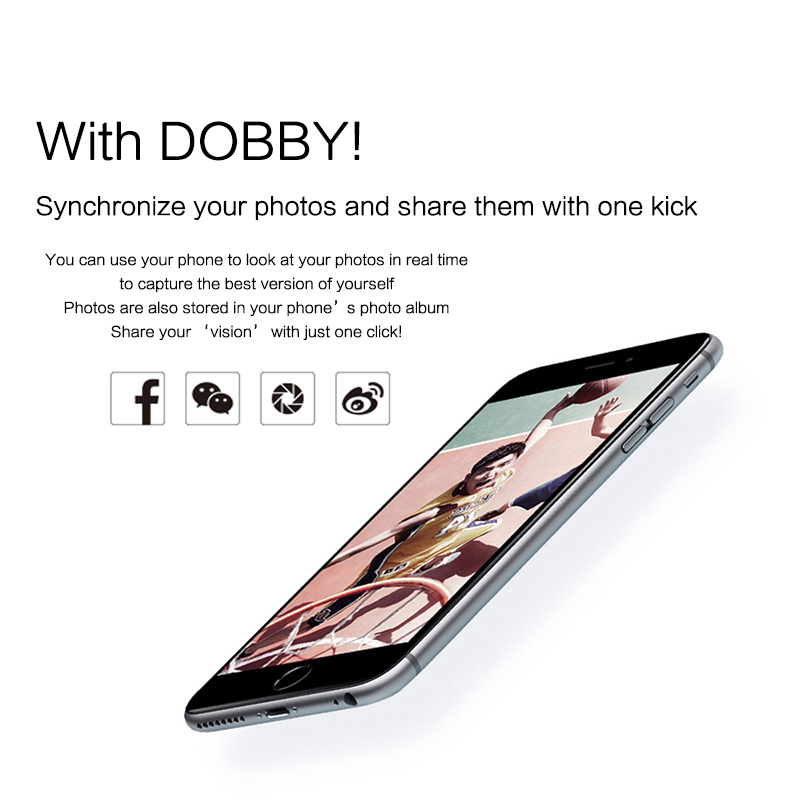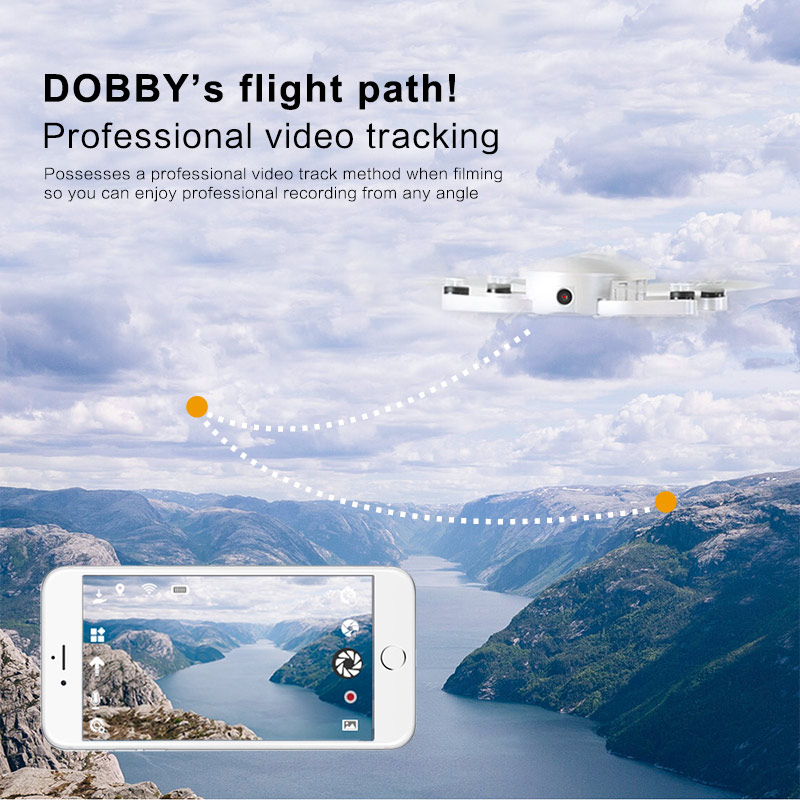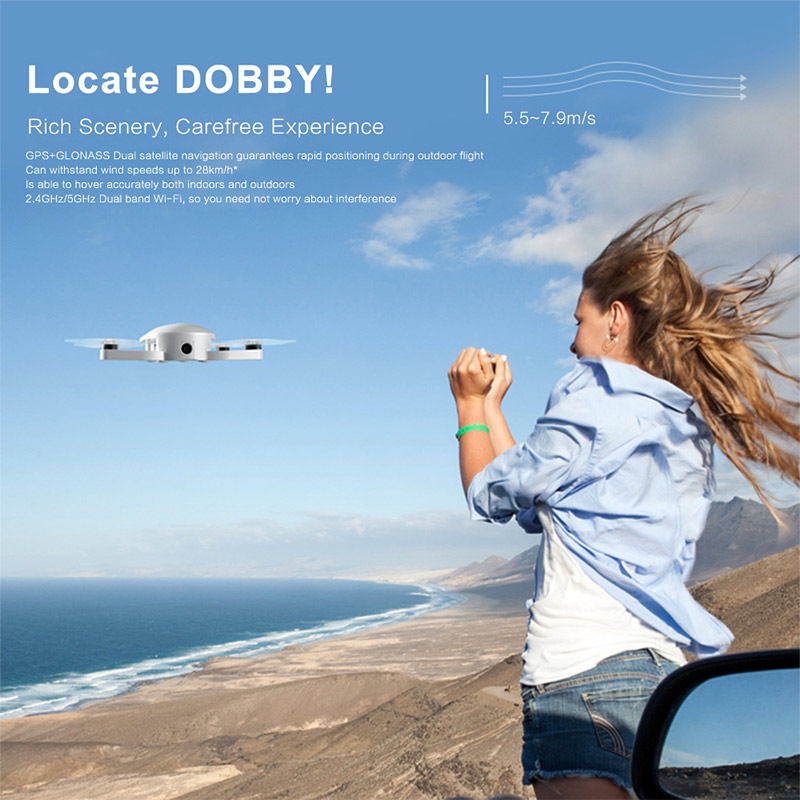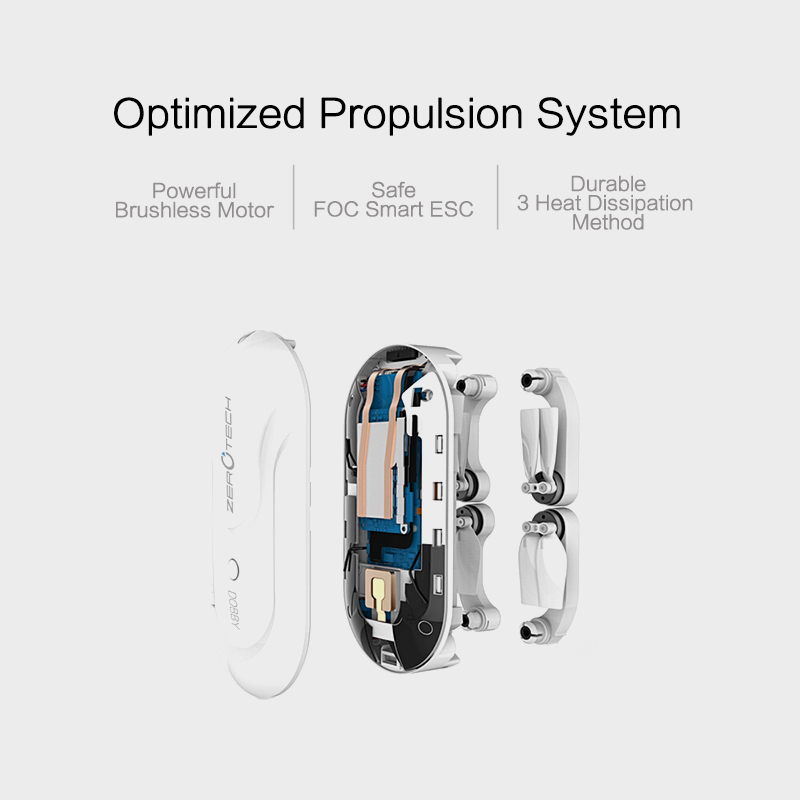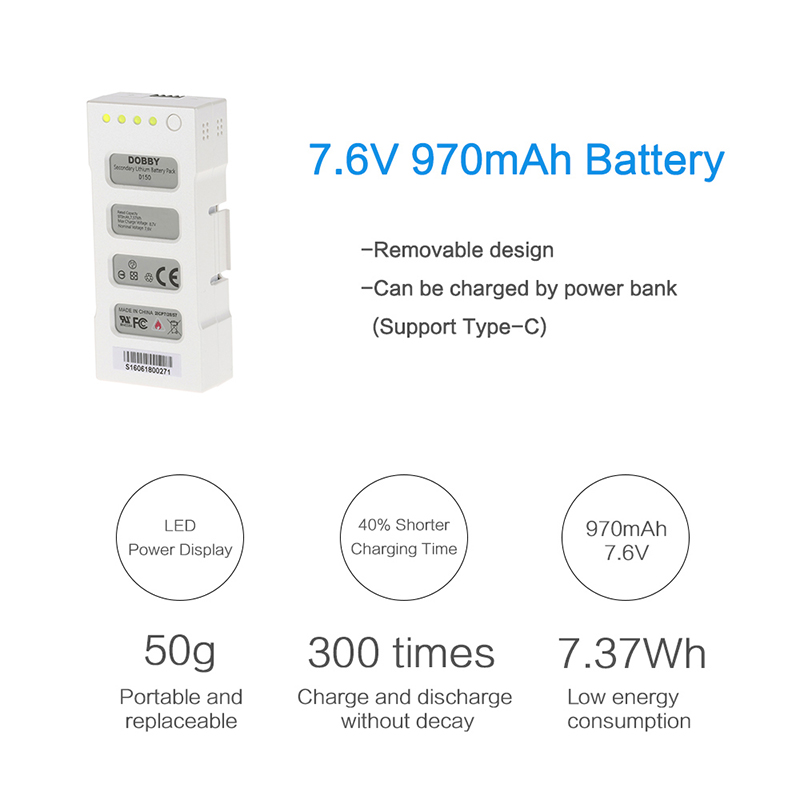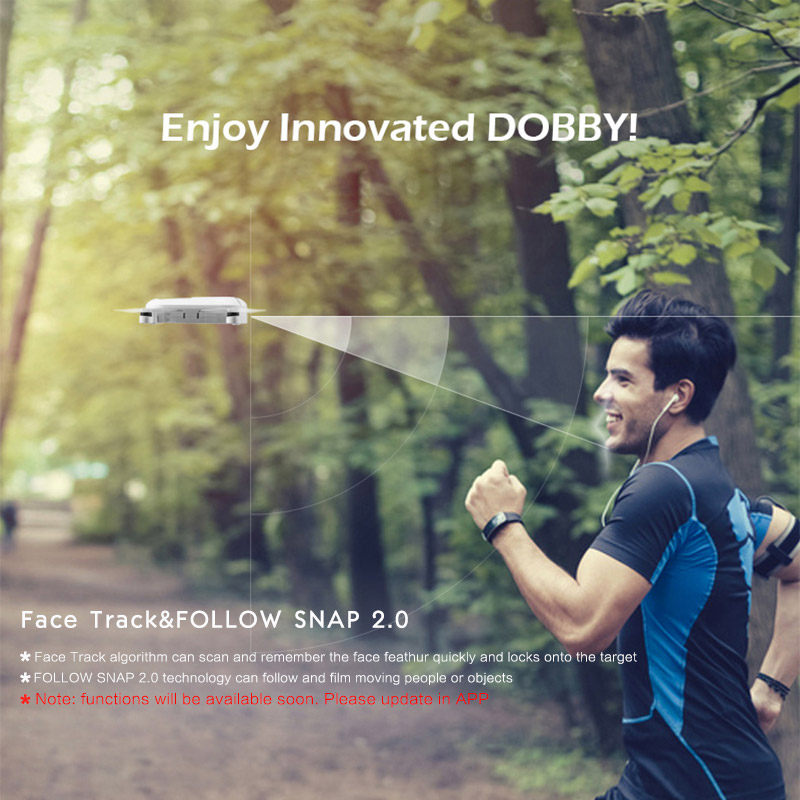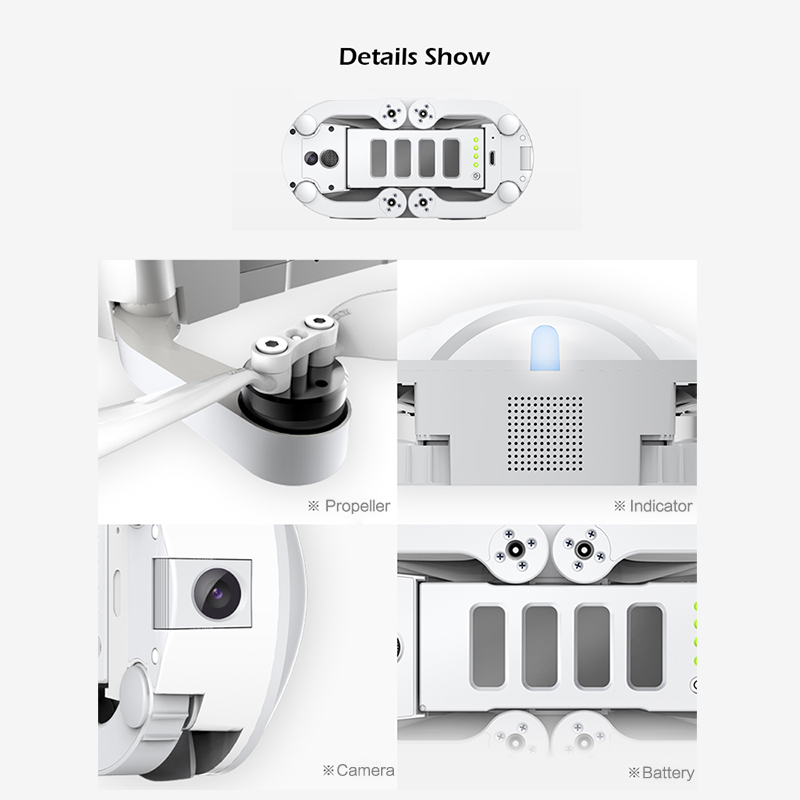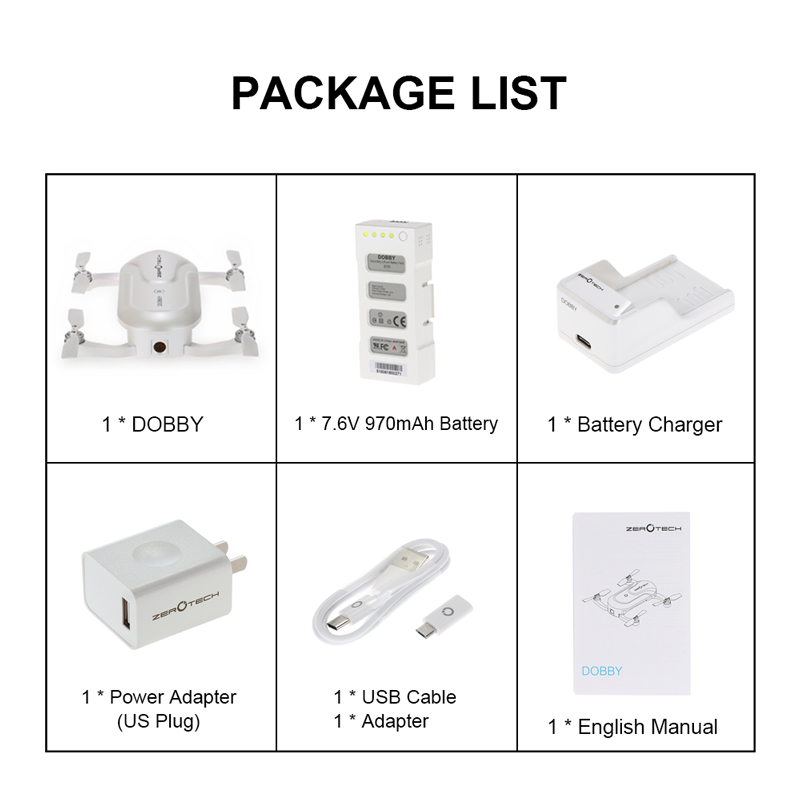 Features:
DOBBY takes professionally developed flight control, electronic image stabilization, computer vision, image transmission etc. systems and integrates them into the Qualcomm Snapdragon
Digital 3-axis stabilizer helps create smooth and steady videos
Unparalleled elegance in the palm of your hand---A runway model, patented folding technology with only the weight of an iPhone6 Plus
Three different methods to initiate take-off: voice control, patting DOBBY or the throw-and-fly method
With inbuilt tutorials for beginners to start a flight
13 million pixels, 4K Acquisition, 1080P high definition digital video stabilizer to reinvent your vision
Allows for single-shot photos, burst shots and timed photos
Provide a professional video track method when filming
GPS+GLONASS Dual satellite navigation guarantees rapid positioning during outdoor flight, and can withstand wind speeds up to 28km/h
Share your VISION on social website with just one click
Able to hover accurately both indoors and outdoors. 2.4GHz/5GHz Dual band Wi-Fi can get rid of the interference
Control Black Technology for DOBBY:
(The Following three functions will be available soon. Please update in APP)
-Control DOBBY's flight path by waving your arm – it will follow the direction of your arm's movements
-Face Track algorithm can scan and remember the face feathur quickly and locks onto the target
-FOLLOW SNAP 2.0 technology can follow and film moving people or objects
Specifications:
Quadcopter:
Brand Name: ZEROTECH
Item Name: DOBBY
Weight: 199g(battery included)
Dimension: 135 * 67 * 36.8mm(folded up) 135 * 145 * 36.8mm(expanded)
Positioning System: Outdoors: GPS/GLONASS dual band
                               Optical flow + Ultrasonic wave (illuminance>15lux)
Max. Flight Height(meters above sea level): 3000m
Flight Duration: 9mins(At 0m above sea level)
Max. Height Using GPS: According to your country's regulations
Max. Height Using Optical flow: 3m
Operating Temperature: 0~40℃
Control Distance: 100m(no interference)
Hover Accuracy: Vertical: +/-0.1m(during normal operation with optical flow positioning); +/-0.5m(outdoors)
                           Horizontal: +/-0.3m(during normal operation with optical flow positioning); +/-1.0m(outdoors)
WIFI:
Dual Band WIFI: 2.4GHz/5GHz
Emissive Power: EIRP 2.4G: 19dBm/EIRP 5G: 25dBm
Camera:
Image Sensor: 1/3.06in CMOS; 13MP effective pixel
Lens: FOV75°; 28mm (35mm format equivalent); f/2.2; Infinity focus
Camera Pitch Limit: -90°~22.5°
Highest Photo Resolution: 4208 * 3120
Photo Shooting Mode: Single shot, Timer, Beauty photo, Burst shot(2~15photos)
Film Shooting Mode: 10s auto-track short video shooting, HD video shooting
IOS Range: 100~3200
EV Range:-12, -8, -4, 0, 4, 8, 12
Timed Shots: 3s/5s/10s/20s
Video Resolution: 4K@30fps after image stabilization 1080P@30fps
Storage Format: JPF/MP4(MPEG-4 AVC/H.264)
Storage Capacity: 16G
USB Port Type: Micro-USB port
Battery
Capacity: 970mA
Energy Rating: 7.37Wh
Nominal Voltage: 7.6V
Charge Voltage Limit: 8.7V
Battery Type: Lipo 2S
Operating Temperature(charge&discharge): 0~45℃
Charging Dock:
Port Type on Charging Dock: Type-C
Voltage: 9V
Rated Power: 15W
App:
App Name: Do.Fun
Real Time Image Transmission: 640*480@30fps; 320*240@30fps
Delay: 160ms (depends on the environment and mobile device used)
Required Mobile Systems: Android 4.3 and above
                                         iOS 8.0 and above
Package information:
Package size: 14.8 * 8.3 * 7.5cm / 5.8 * 3.3 * 3.0in
Package weight: 443g / 15.6oz
Gift box package
Notice:
This RC model is not a toy and is not suitable for children under 14 years old, keep it away from children.
Carefully read the instruction before any use, if you are a beginner, it's advisable to be assisted by an experienced adult.

Caution for the battery:
Don't over-charge, or over-discharge batteries.
Don't put it beside the high temperature condition.
Don't throw it into fire.
Don't throw it into water.
Package list:
1 * DOBBY Drone
1 * 7.6V 970mAh Battery
1 * Battery Charger
1 * Power Adapter(US Plug)
1 * USB Cable
1 * Connecter
1 * English Manual