RadioLink T4EU 2.4G 4CH transmitter adopts FHSS 2.4GHz technology, it is compatible with both helicopter and airplane. Adopt FHSS technology to make our product have excellent anti-interference capability, our radio cotroller can keep out the interference from equipments in the same frequency, and always be in the control.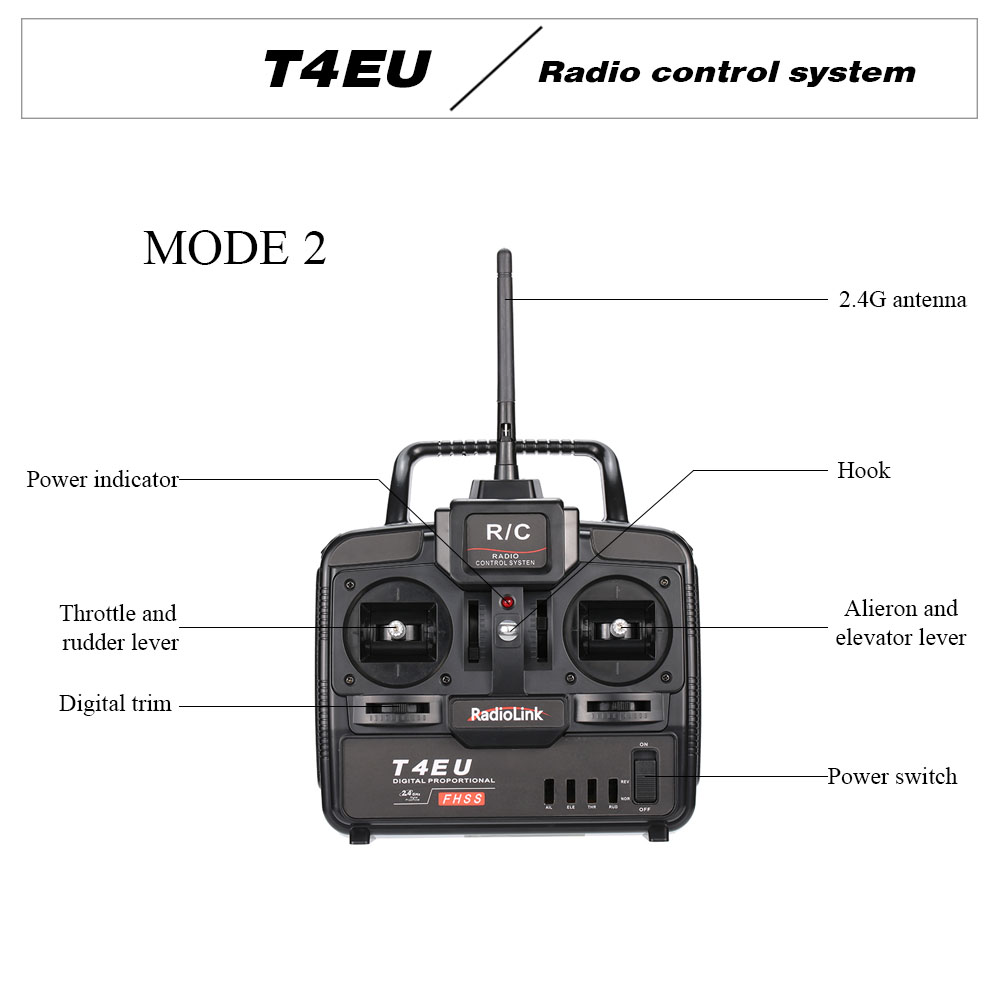 Features:
Regarding to plane, the transmitter gets V-Tail mixing controlling function.
Comfortable to control the transmitter stick, it makes the flight very smooth.
RF range: on ground 400M, in air 900M. excellent anti-interference capability
Low-voltage alert function; the alert would be triggered with twinkling LED light when the voltage is lower than 8.6V.
Regarding to Lama helicopter, this transmitter with 4 in 1 controller can make helicopter head-locked stably, fly smooth. It is more suitable for beginner to use.
Transmitter Specifications:
Brand: RadioLink
Model: T4EU
Frequency: 2.4G
Channel: 4CH
Modulation: FHSS
Control mode: Mode 2
(left hand throttle)
Power supply: 9.6V Ni-Cd battery or 8 * AA battery
Current drain: <80mA
Control distance: 400m on ground and 900m in air
Output power: <0.01W
Item size: 190 * 180 * 56mm
Item weight: 492g
(battery excluded)
Receiver Specifications:
Brand: RadioLink
Model: R7EH-S
Channel: 7CH
Max input voltage: 6V
(suggest using ESC with 5V BEC)
Current: 19-25mA
Signal output: S-BUS, PPM and PWM
Item size: 50 * 24 * 15mm
Item weight: 11g
Package Information:
Package size: 25.5 * 22 * 11cm / 10 * 8.6 * 4.3in
Package weight: 744g / 1.64lb
Brand gift box package
Package List:
1 * RadioLink T4EU Transmitter
(Mode 2)
1 * RadioLink R7EH-S Receiver
1 * CD