TH Robot wifi smart robot tank has adopted stainless steel crawler chassis, and one manipulator (much more fun), as well as equipped with 480P camera, i
t supports wifi real-time video transmission, that you can use Windows/Android/IOS device to control the car. With
Arduino 2560 main control, it's a perfect educational tool. This top of the line version includes extra ultrasonic sensor. infrared sensor and a LED screen, it can perform patrol line, automatic follow, ultrasonic obstacle avoidance functions.
Note: The PC, Pad and Phone are not included!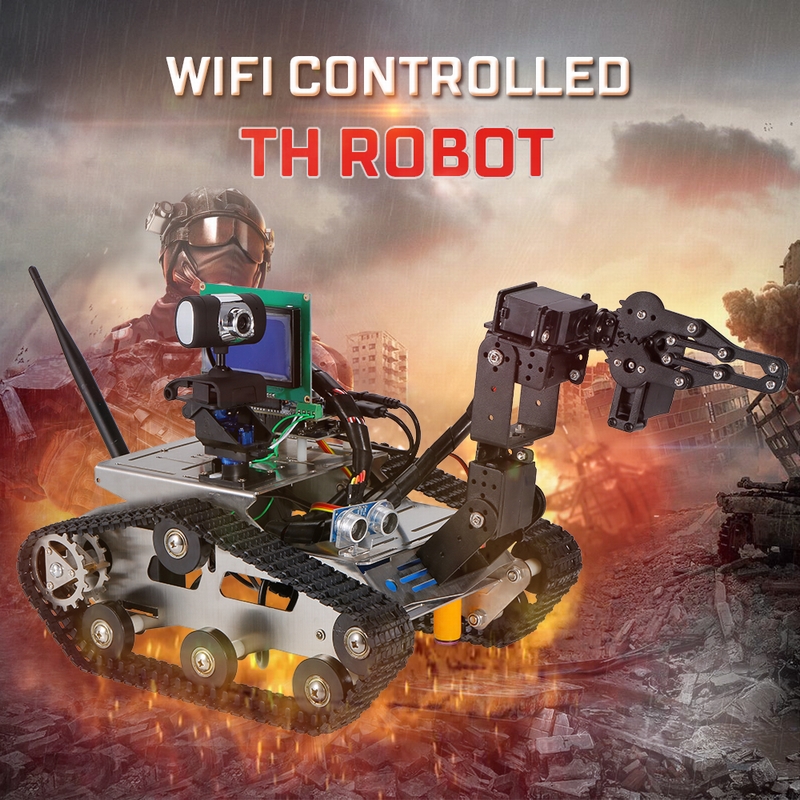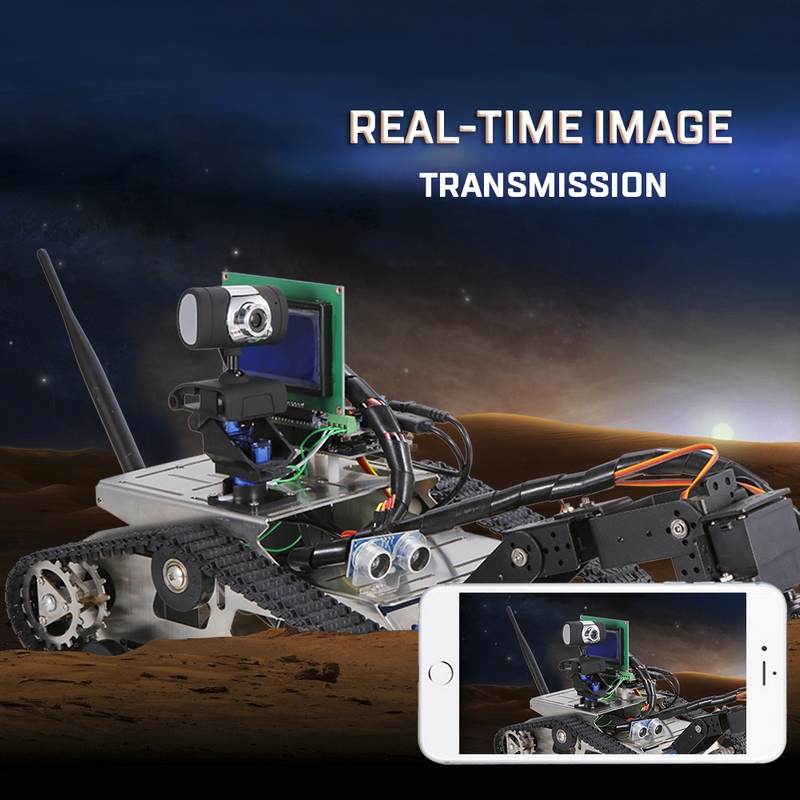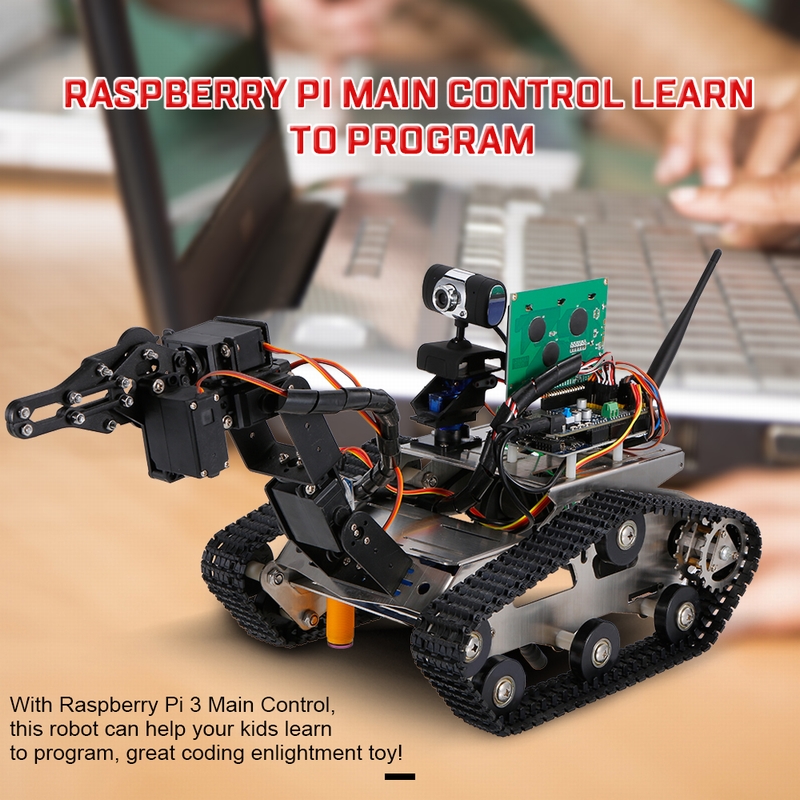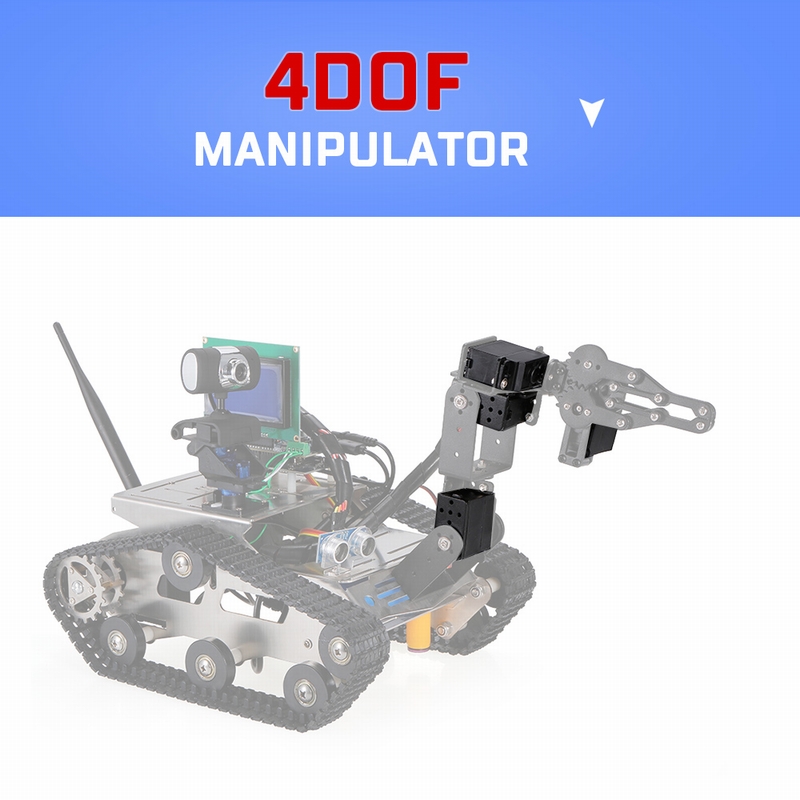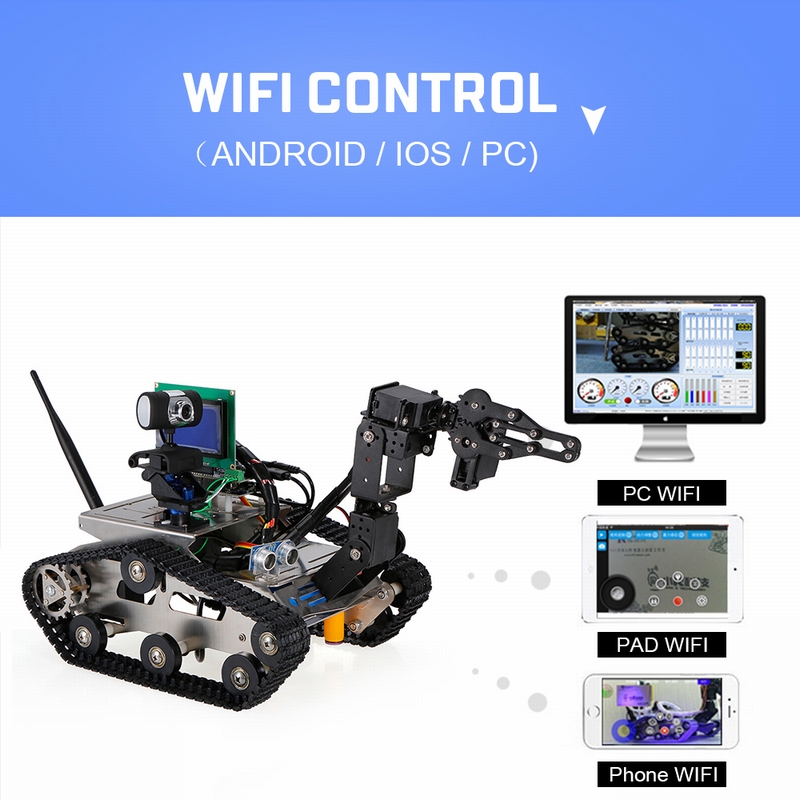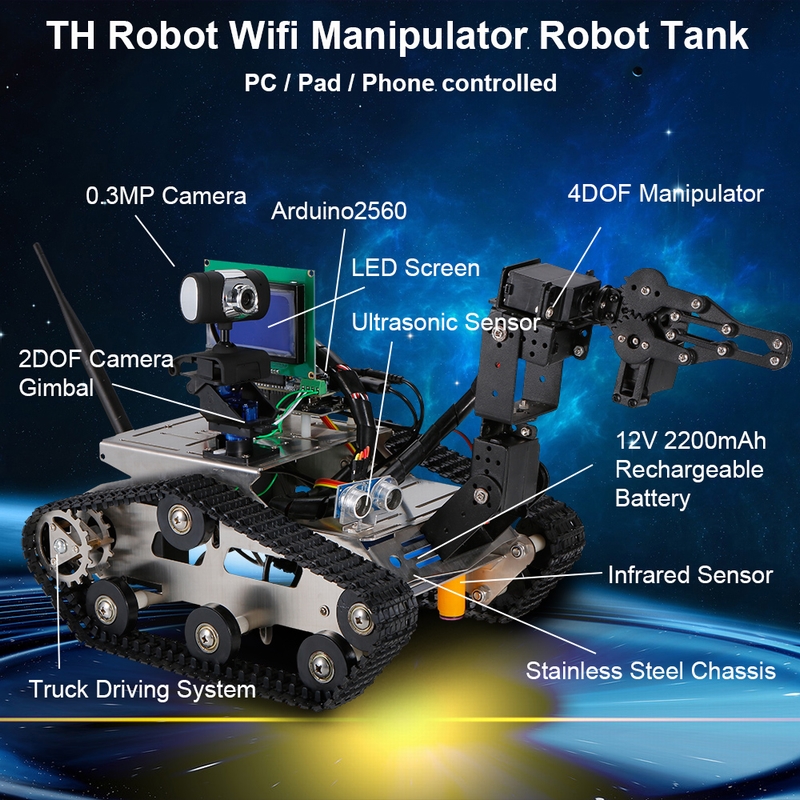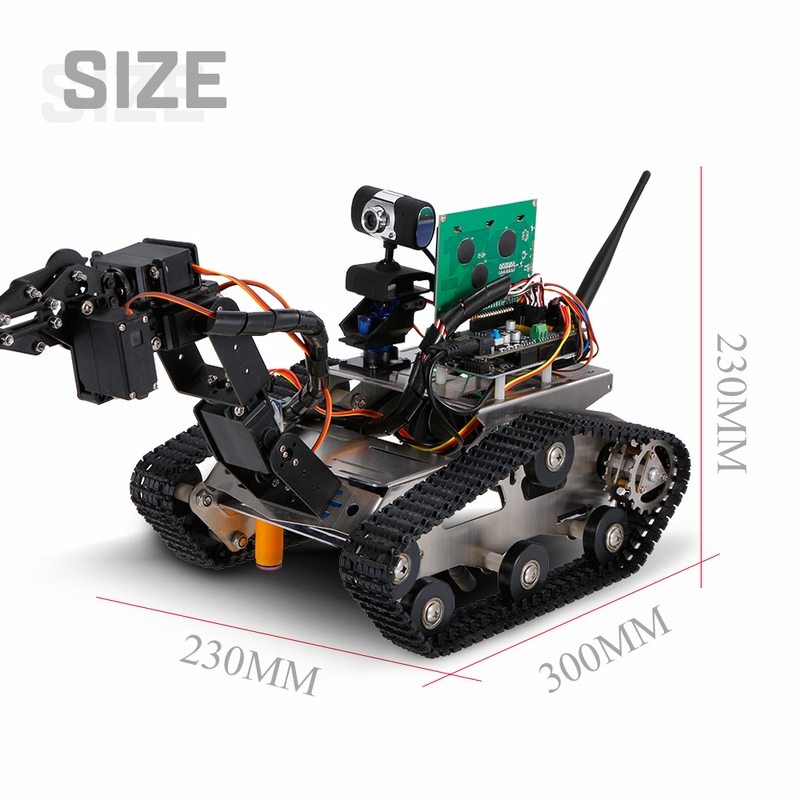 Features:
480P camera provides photo taking and video recording as well as FPV transmission.
2-Axis adjustable camera gimbal controlled by remote control.
Dual high-power motor supply powerful strength.
Wifi control, that you can use PC / Android / iOS device to control the robot.
Stainless steel chassis strong and durable.
Rechargeable high performance 12V 2200mAh battery, supporting stronger power and longer running time.
4DOF manipulator with 4 high power servos which is super flexible.
Arduino 2560 main control to be your perfect education tool of coding enlightment for your kids.
With ultrasonic sensor. infrared sensor, it can perform patrol line, automatic follow, ultrasonic obstacle avoidance functions.
Large size LED screen to show running mode and other data.
Specifications:
Brand name: XIAO R TECHNOLOGY
Product Name: TH Robot
Item type: RC Car
Main Material: Metal
Camera: 480P camera
Mainboard: Arduino 2560 mainboard
Battery: 12V 2200mAh battery (included)
Charging time: 120 min approx.
Working time: 30 min approx.
Remote Control Type: Wireless Wifi remote control
Remote control: Support PC, Android, iOS device
Function: Go forwards, backwards, turn left, turn right, left rotation and right rotation, take photos, record video (PC control), catch and grab, track follow, obstacle avoidance
Battery dimensions: 70 * 55 * 20mm
Item dimensions: 300 * 230 * 230mm
Package information:
Package size: 36 * 29 * 18.5cm / 14.2 * 11.4 * 7.3in
Package weight: 3267g / 7.2lb
General box package
Notice:
Carefully read the instruction before any use, if you are a beginner, it's advisable to be assisted by an experienced adult.
The main board is not original Arduino, but compatible with Arduino program.
The robot comes unassembled, you need to assemble by yourself.
Caution for the battery:
Don't over-charge, or over-discharge batteries.
Don't put it beside the high temperature condition.
Don't throw it into fire.
Don't throw it into water.
Package list:
1 * Screw Set
1 * 12V 2200mAh lithium battery
1 * Battery Charger
1 * Stainless Steel Crawler Chassis
1 * 480P Camera
1 * Micro Mini USB to Network Interface Cable
1 * Arduino 2560 Main Control Board
1 * Wifi Module
1 * Wifi Antenna
1 * Ultrasonic Sensor
1 * Infrared Sensor Set
1 * LED Screen
2 * Servo (9g)
1 * Nylon Gimbal
1 * 4DOF Manipulator
1 * Cables Set
1 * Manual