The DJI Phantom 4 is the smartest flying camera drone from DJI, allowing you to capture superb aerial images on your iPhone or iPad. Not only does it fly intelligently with a tap and automatically create seamless tracking shots, it can autonomously avoid obstacles and do much more.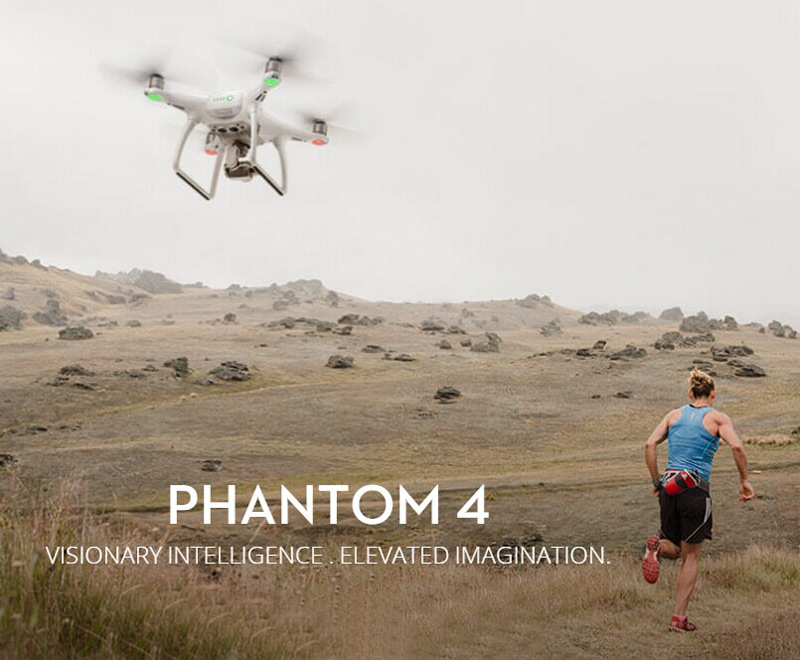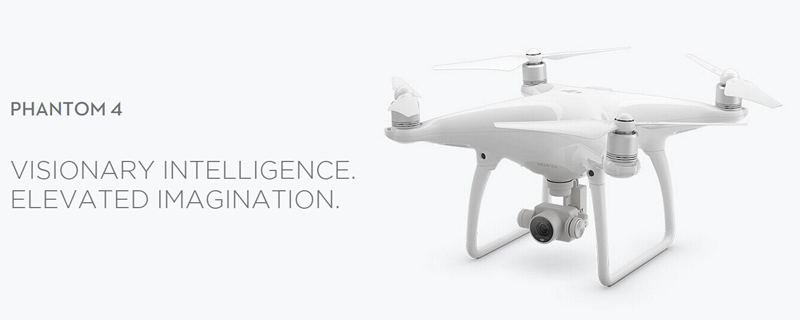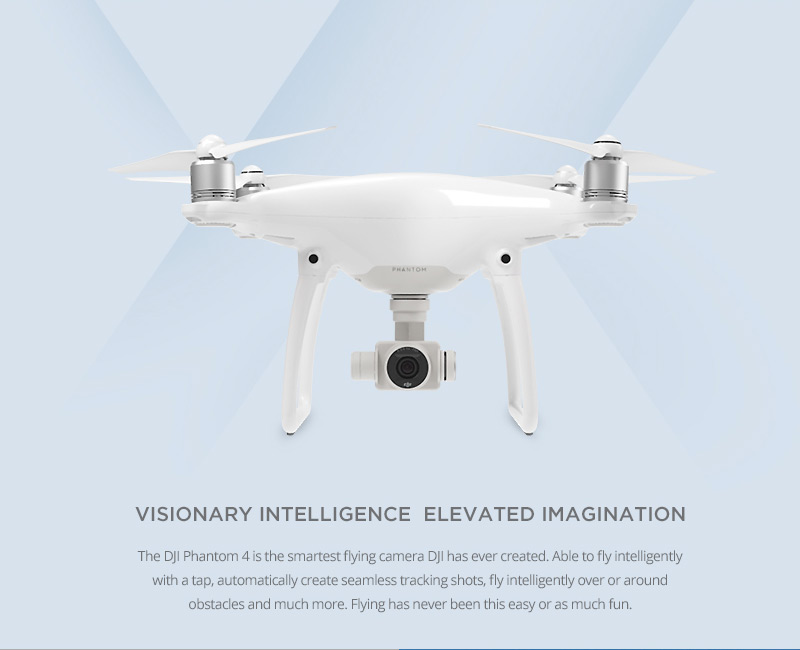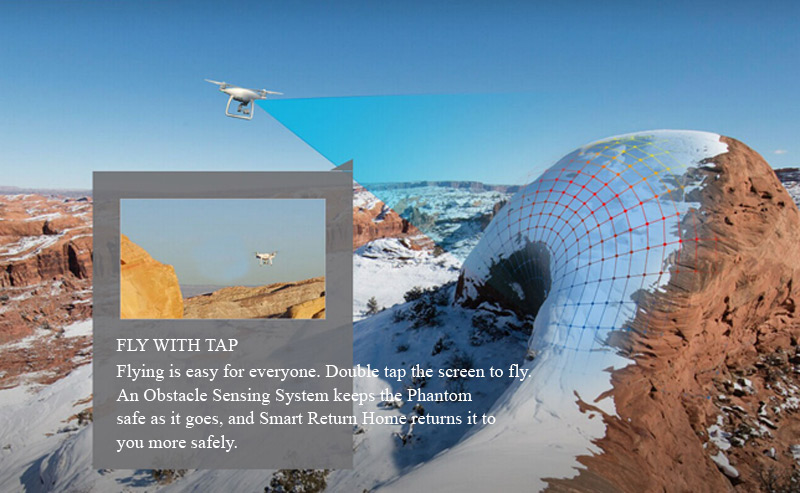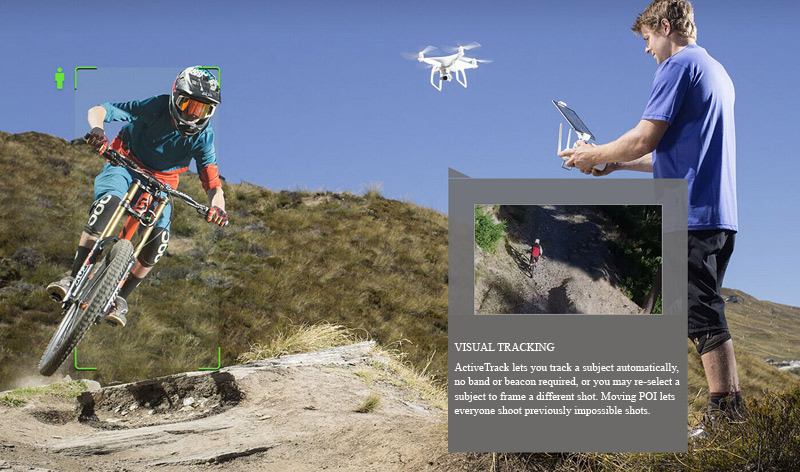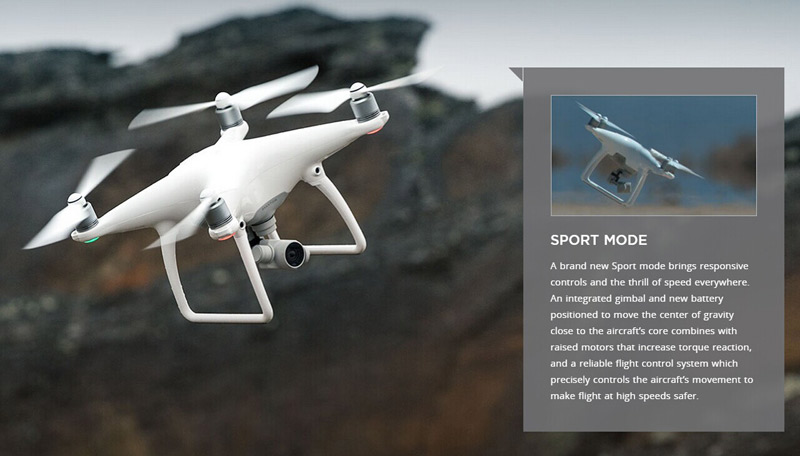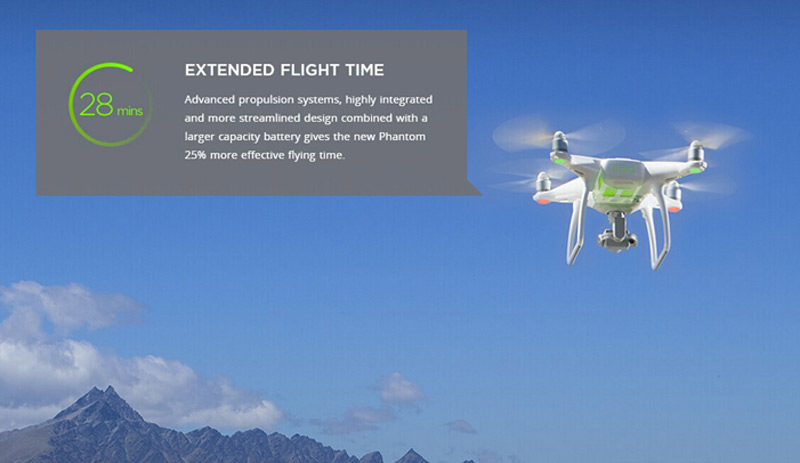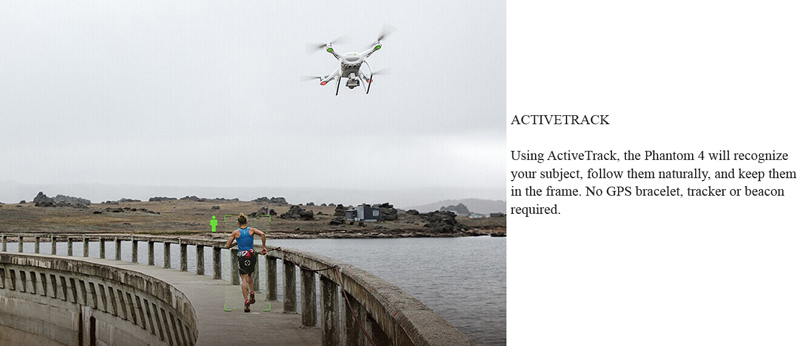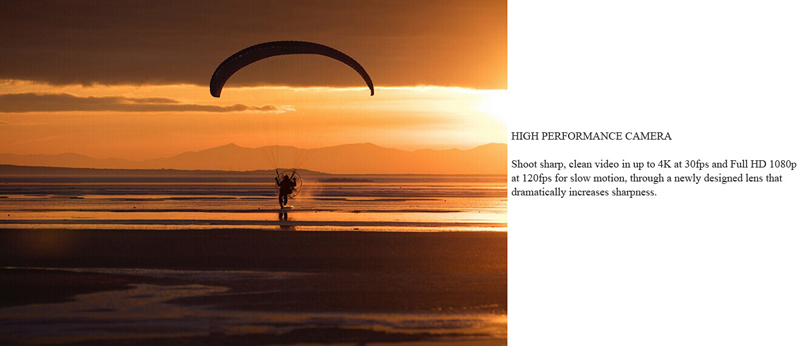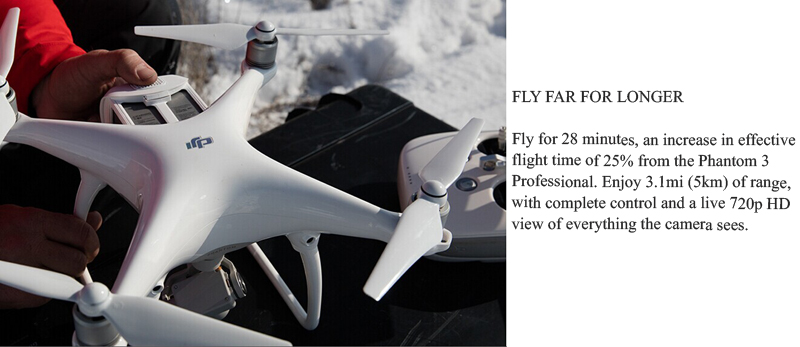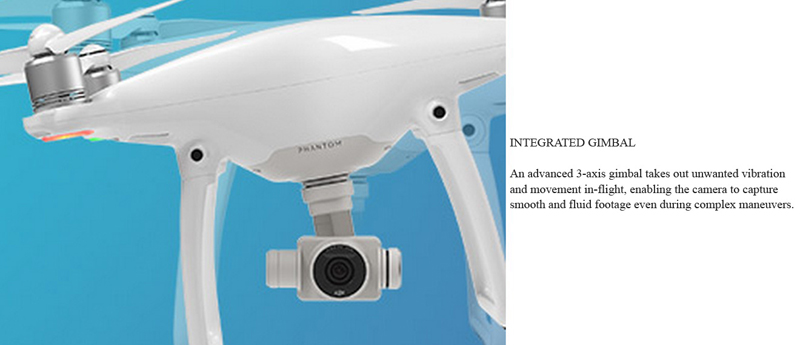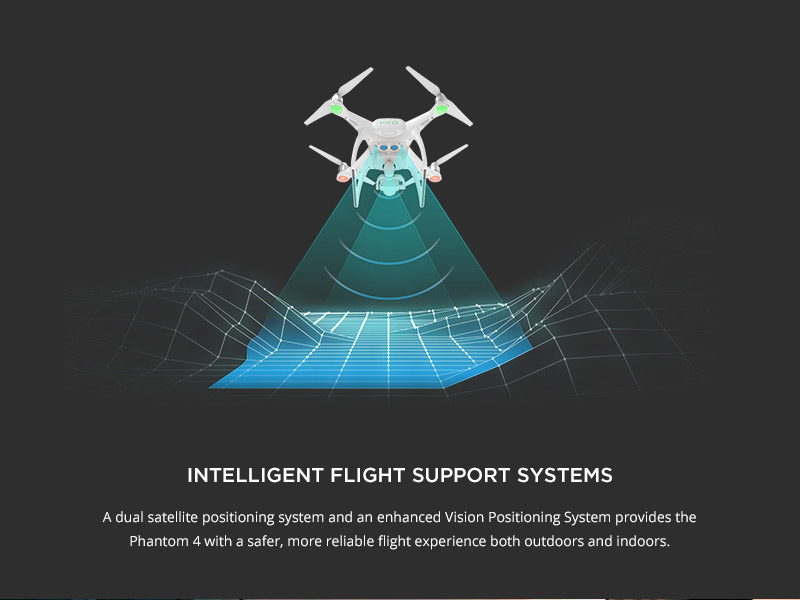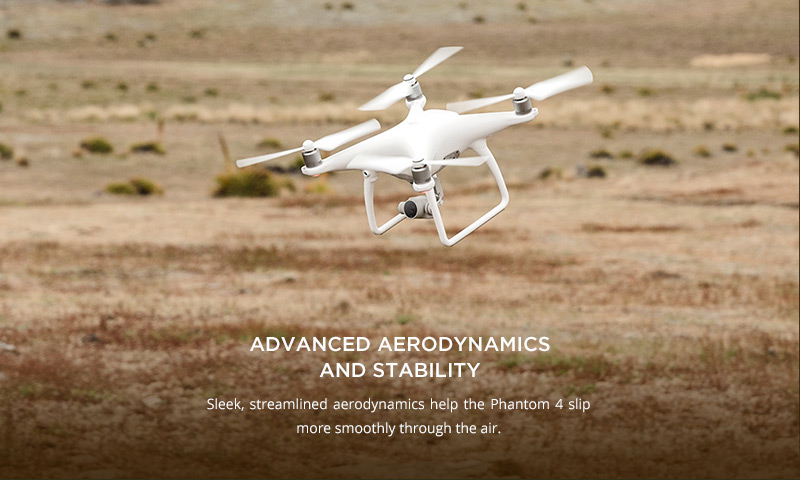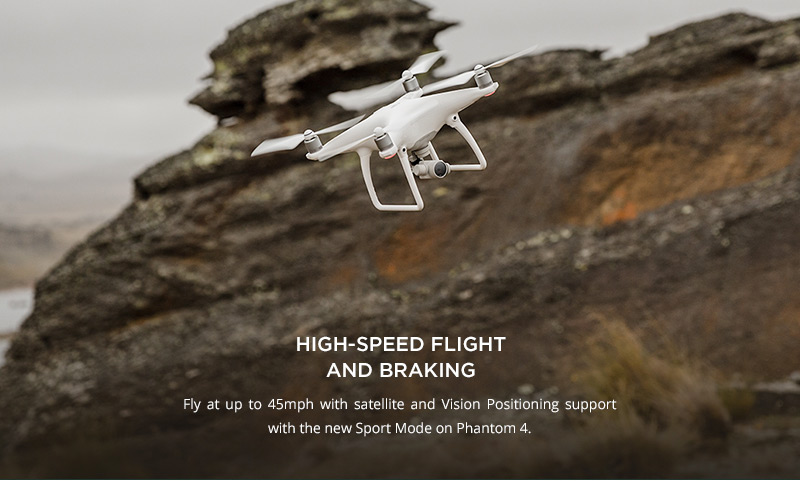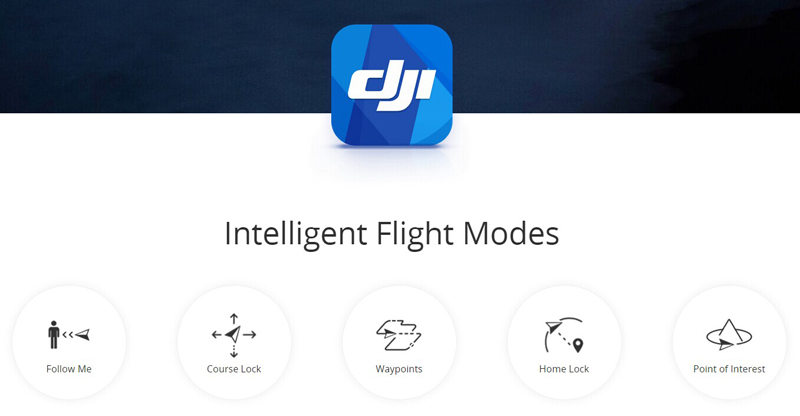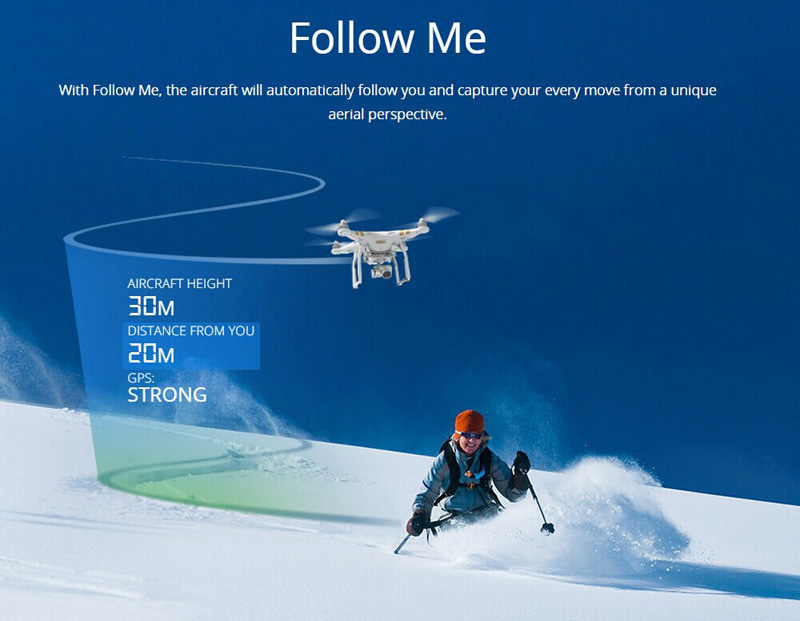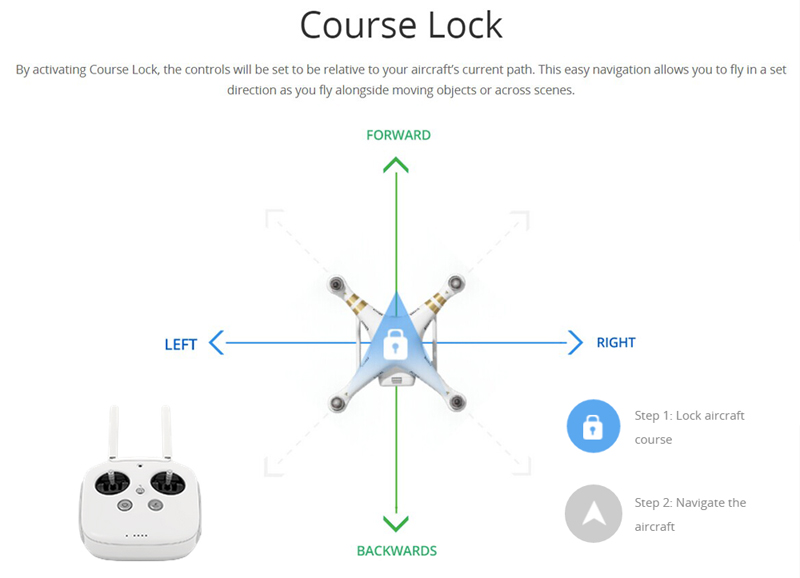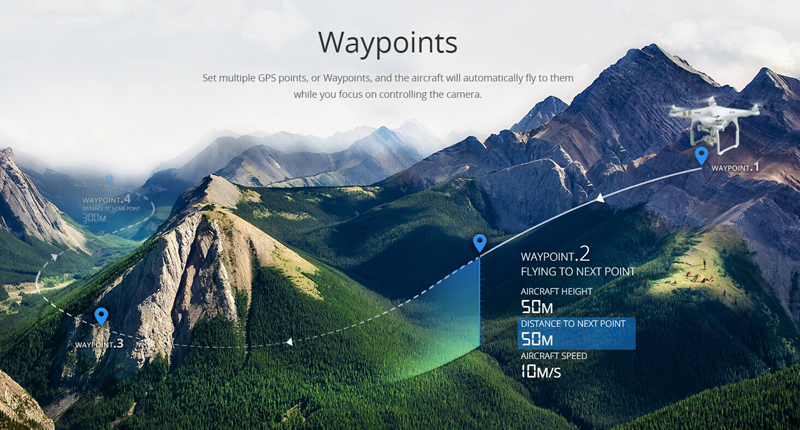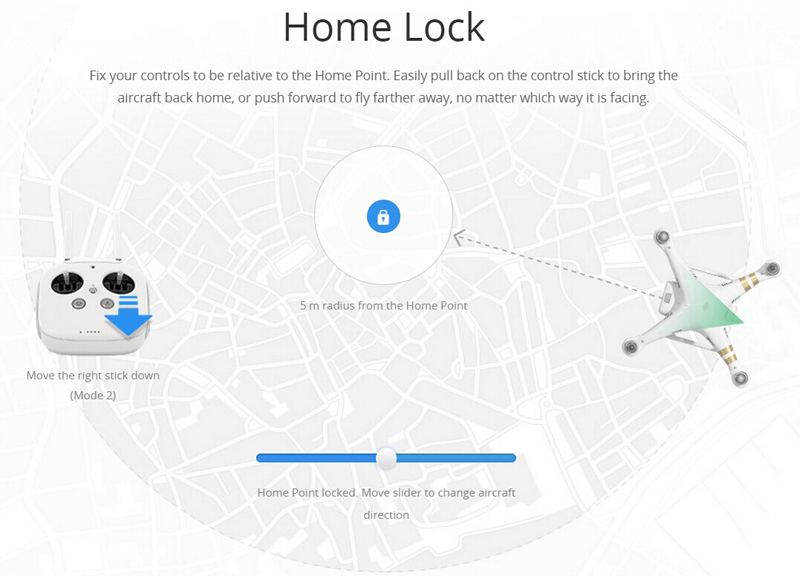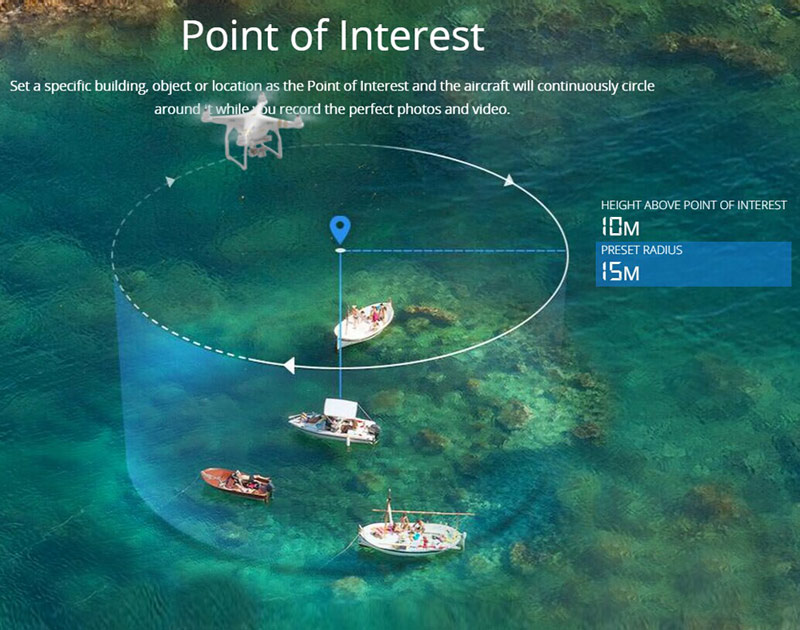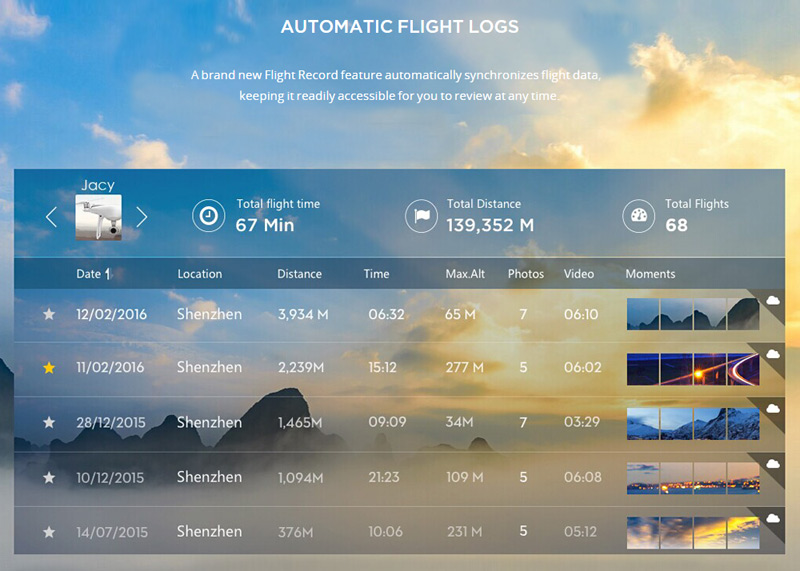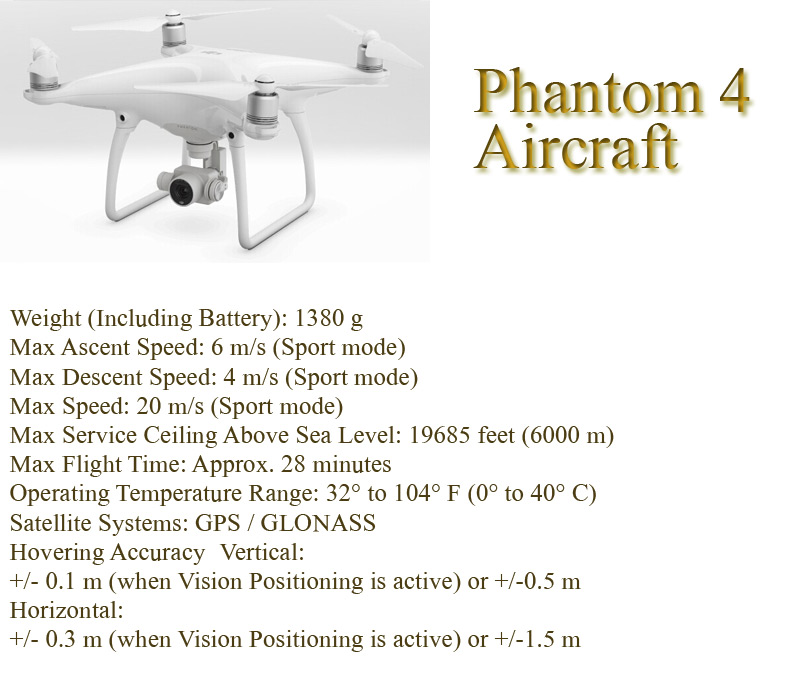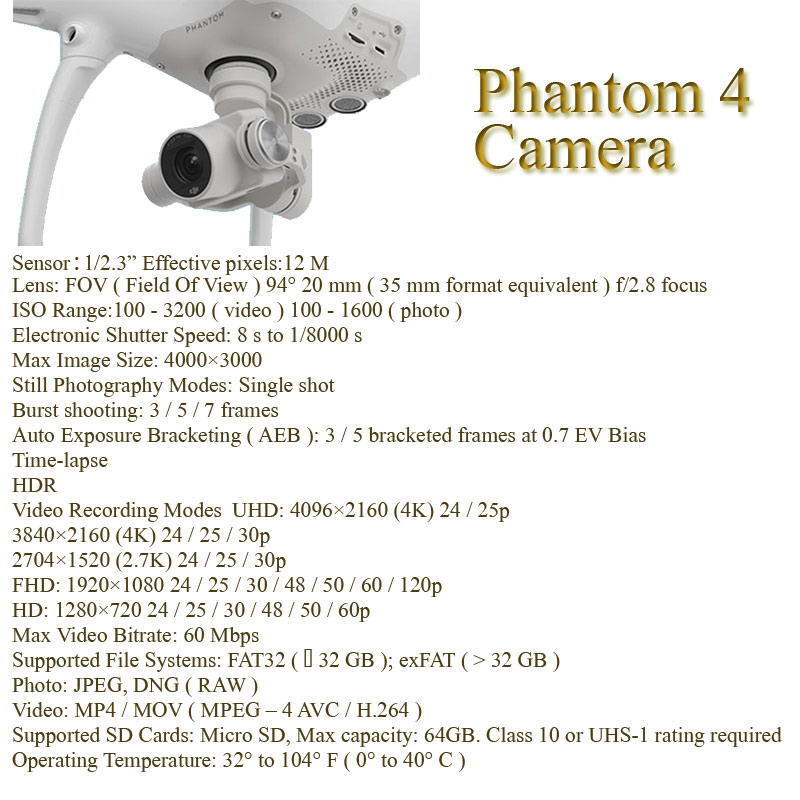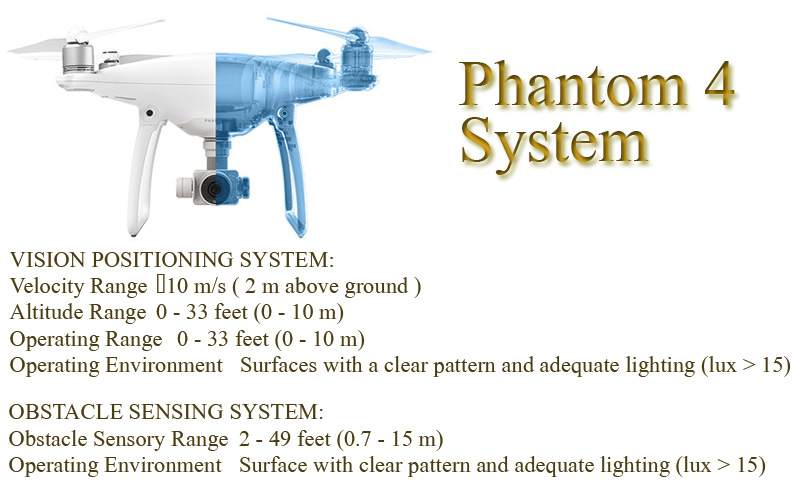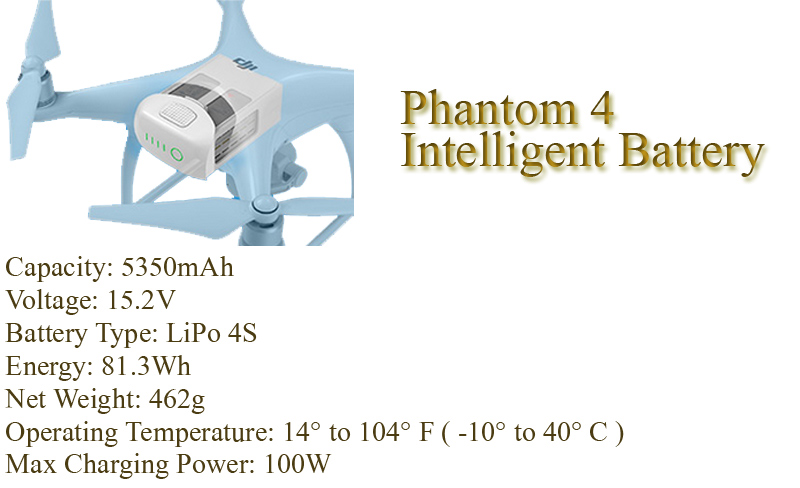 Features:
Ready to fly out of the box.
Avoid obstacles automatically.
Maximum speed of 44mph (72kmh).
4K 30fps and 1080p 120fps video.
12 megapixel, Adobe DNG RAW photos.
TapFly lets you fly with a tap of the finger.
Track moving subjects automatically using ActiveTrack.
28 minute maximum flight time, maximum control range of 3.1mi (5km).
Smart Return Home allows the Phantom to avoid obstacles as it returns home.
Integrated gimbal for greater camera stability and smoother footage.
Optimized Vision Positioning System raises positioning altitude up to 10 meters.
Specifications:
Brand name: DJI
Model name: DJI Phantom 4
Function: Visual tracking, professional-quality imaging, easy to fly, high-speed fun, long flight times, comprehensive app control
Remote control frequency: 2.400GHz to 2.483GHz
Battery of remote controller: 6000mAh LiPo 2S
Max Service Ceiling Above Sea Level: 6000m
Max Flight Time: Approximately 28minutes
Satellite Systems: GPS / GLONASS
Gimbal Controllable Range: Pitch -90°to +30°
Intelligent Flight Battery: 15.2V 5350 mAh Li-po 4S battery
Camera: up to 4K at 30fps and Full HD 1080p at 120fps for slow motion
Item dimensions: 289.5 * 289.5 * 196mm
Weight (Including Battery ): 1408g
Package information:
Package size: 40 * 33 * 22.5cm / 15.8 * 13 * 8.9in
Package weight: 4808g / 10.6lb
Gift box package
Caution for the battery:
Don't over-charge, or over-discharge batteries.
Don't put it beside the high temperature condition.
Don't throw it into fire.
Don't throw it into water.
Package list:
1 * DJI Phantom 4 aircraft
1 * Remote Controller(mode 2) with Support Gear for phone
4 * Pair of Propellers
1 * Propeller storage bag
1 * Aircraft Bag
1 * Intelligent Fight Battery
1 * Battery Charger
1 * Power Cable
1 * English Manuals Set
1 * Gimbal Clamp
1 * USB OTG Cable
1 * Micro USB Cable
FAQ of DJI Phantom 4:
1. What is ActiveTrack?
ActiveTrack allows an aircraft to track a moving subject without a separate GPS tracker. Simply tap on the mobile device screen inside the DJI GO app to select the subject to be tracked. The aircraft will lock on the subject and start tracking it automatically from a safe distance.
2. What is TapFly?
TapFly means you can fly in any direction with a tap of the finger, without a remote controller. With Obstacle Avoidance turned on, the aircraft will automatically avoid obstacles, slow down or hover when required, provided that the scene is bright enough ( < 300 lux) or too bright ( > 10,000 lux).
3. What is the Phantom 4 Obstacle Sensing System?
The Phantom 4 is equipped with an Obstacle Sensing System that constantly scans for obstacles in front of it, allowing it to avoid collisions by going around, over or hovering.
4. What improvements have been made to the Phantom 4 Vision Positioning Unit?
The Vision Positioning System now uses four sensors to increase hovering accuracy and reliability, creating a more controlled flying experience. Its sonar system has been improved and now functions from up to 10 meters off the ground. In ideal situations, these combine to give the Phantom 4 Vision Positioning System a vertical hover accuracy of +/- 0.1 m and a horizontal hover accuracy of +/- 0.3 m.
5. What are the major improvements in the Phantom 4 propulsion system?
The motor on the Phantom 4 is designed to work with the latest Push-and-Release Propellers. With this locking mechanism, propellers can withstand drastic changes of motor speed, allowing the aircraft to be more agile and more responsive to the pilot command.
6. What are the major differences between the Phantom 4 propellers and the Phantom 3 ones?
The new Push-and-Release propellers are faster to install and more secure than the Self Tightening propellers used previously. This security allows them to handle faster acceleration and harder braking.
7. What makes the Phantom 4 camera better?
The Phantom 4 camera has been improved in terms of image quality. Chromatic aberration has been reduced by 56% and lens distortion had been reduced by 36% compared to Phantom 3 Professional. In addition to lens improvements, camera firmware has been tweaked to enable the camera to capture 120fps video in full 1080p FHD (the camera's field of view will be reconfigured to 47° when recording in this mode) for smooth slow motion. The camera is also used for ActiveTrack and TapFly modes.
8. Does the Phantom 4 have Return-to-Home?
It also has Smart Return Home which engages the Obstacle Sensing System during return to home flight. If the aircraft sees an obstacle on its way back, it will intelligently avoid it as it comes home.