The SKYRC engine heater uses technology similar to that used by Formula 1, Indy Car and NASCAR Teams! It will properly pre-heat your engine to 60-70°C in 10 minutes based on ambient temperature. It will pre-heat all the critical parts of your nitro engine, giving you a minimal of stress and wear on the engine.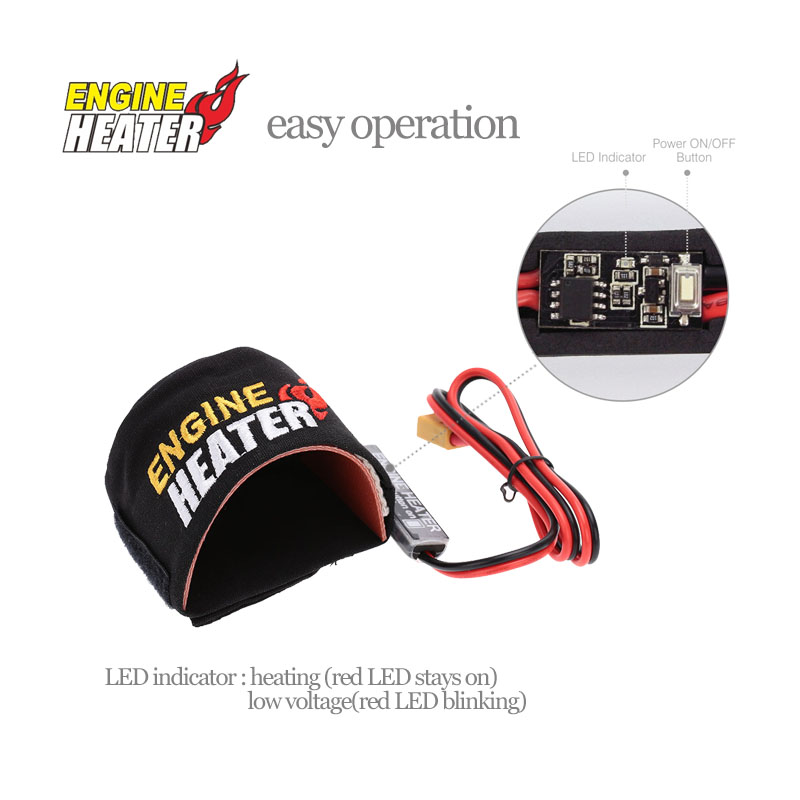 Features:
Small, lightweight and compact
Fits all 19-26 RC nitro engines
12V DC source with low voltage cut-off
LED indicator for status of engine heater
Fireproof and heat resistant adjustable cover
It's designed to transfer heat effectively and efficiently
Safety time: turn off power around 10 minutes automatically
MCU control heating time and heating power for maximum safety
Built-in temperature sensor: to control the output power of the heater
Access port on top allows you to start and monitor your engines temperatures without having to take the heater off
Specifications:
Brand: SKYRC
Input Voltage: DC 12V
Heating Power: 90W
Heating Time: Around 10 minutes
Low Voltage Cutoff: 9-10V
LED Indicator:
Heating
(Red LED Stays On)
Low Voltage
(Red LED Blinking)
Net Weight: 69g
Dimension: 65 * 53mm
Warning: Never have power on the heater, if it is not mounted on the engine, it can overheated.
Package Information:
Package size: 11 * 8.5 * 6cm / 4.3 * 3.3 * 2.4in
Package weight: 122g / 4.3oz
Brand gift box package
Package List:
1 * SKYRC Engine Heater
1 * XT60 DC Wire
1 * English Mannual