This battery protective safe bag is a must have for your Mavic pro batteries. It withstands very high temperatures for a reasonable period of time. The bags are stitched together with an extremely strong fire retardant thread. Ideal as a Li-Poly charging bag.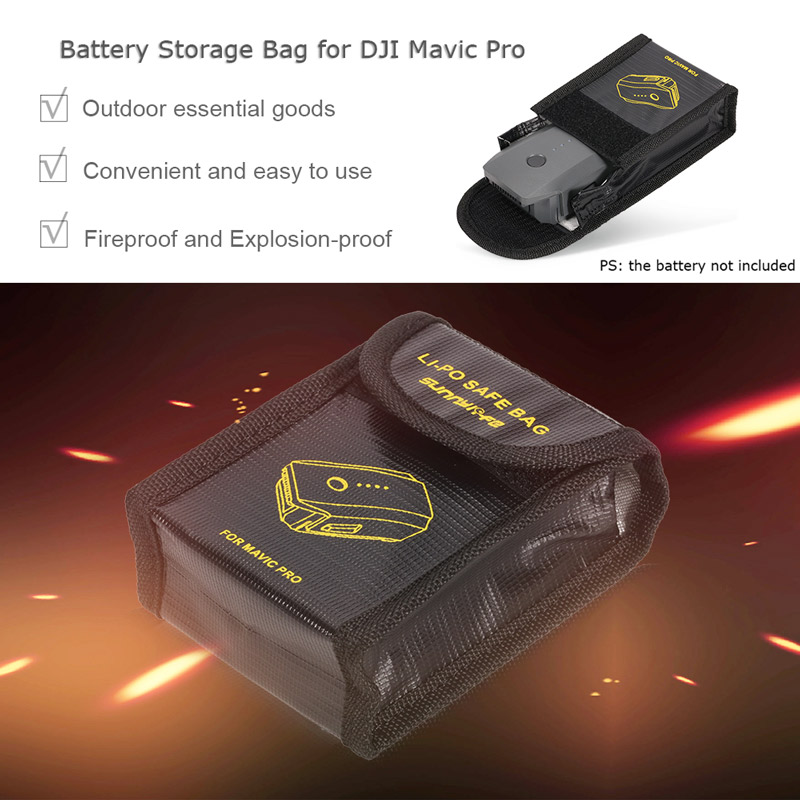 Features:
Heat-resistance, radiation protection, explosion-proof Lipo safe bag for DJI MAVIC PRO.
A must have for batteries safety charging, traveling, transportation and storage.
Protect your workshop, family and home from the hazard of lipo charging.
This is a fireproof bag, designed to stop and contain any fire caused by incorrectly charging poorly functioning lipo packs.
Dimensions: about 12.5x9.2x4.5cm Net weight: about 41.5g Package Includes: 1pcs * Lipo safe bag, battery is not included!
Specification:
Item name: Battery safety bag
Applications: Protect battery while charging, store Mavic battery
Product size: About 125 * 92 * 45mm / 4.9 * 3.6 * 1.8in
Weight: About 41.5g
There may be some deviation due to manual measurement.
Package information:
Package size: 13 * 9.4 * 2cm / 5.1 * 3.7 * 0.78in
Package weight: 43g / 1.5oz
Poly bag package
Warning:
Never leave charging battery unattended.
Always ensure the battery is on a non-flammable surface.
Ensure flap is sealed while charging.
The Lipo safe bag is intended to reduce the chances of damaged in the event of a lipo fire.
Package list:
1 * Battery Safety Bag