SKYRC Ultimate Duo is a twin-channel charger with two independent circuits which can charge two different kinds batteries simultaneously. Users could set the terminal voltage by themselves and connect it to PC for PC control and firmware upgrade. And it comes with synchronous mode: when charging two same batteries, both charging channels can be set by channel one. What's more, users could also use it as Lithium battery meter and Lithium battery internal resistance meter.
Ultimate Duo 1400W employs the circuit that features output power of 700W*2 watts. It can charge 20 cells of NiCd/NiMH or 8 series of Lithium batteries with maximum current of 30A.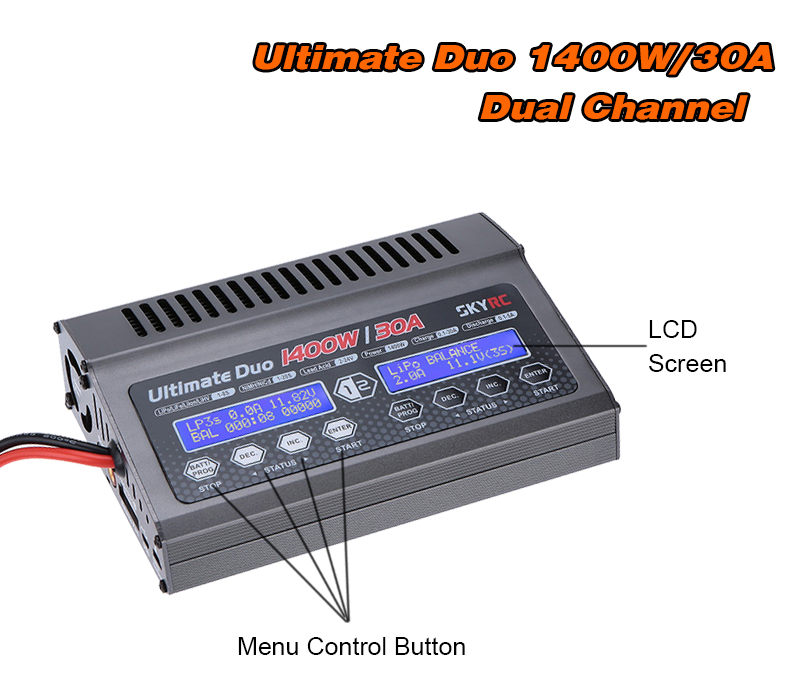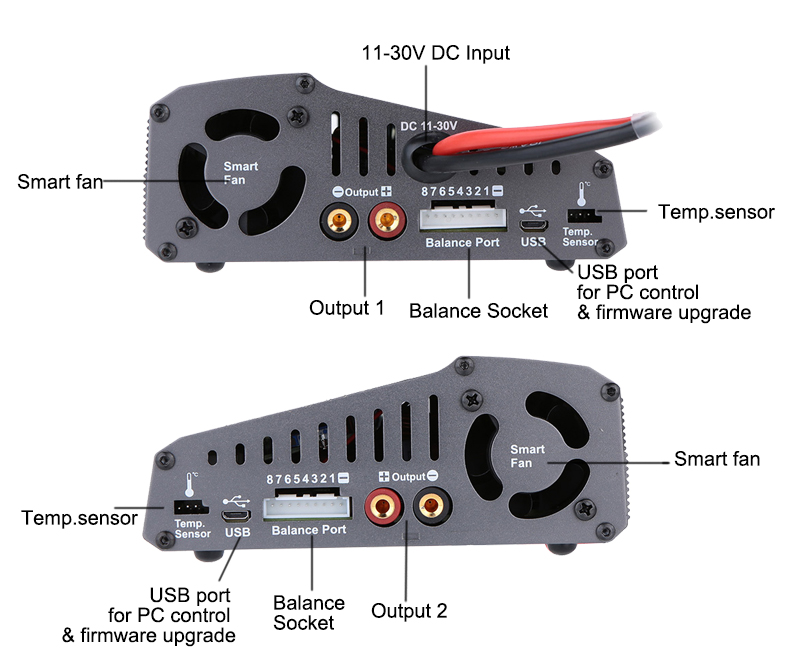 Features:
Two channels charge two different kinds of batteries simultaneously.
Terminal voltage control.
Balance port for charging/discharging.
LiHV mode available.
Re-peak mode for NiMH NiCd battery.
Battery meter.
Battery internal resistance meter.
PC communications: USB port for PC control & firmware upgrade.
Specifications:
Item brand: SKYRC
Item model: Ultimate Duo
Charge battery type: LiPo/LiFe/LiIon/LiHV/NiMH/NiCd/Pb
Input voltage: DC 11-30V
Note: Power adapter is not included.
Charge circuit power: 700W*2
Discharge circuit power: 30W*2
Charge current range: 0.1A-1A(±0.3A) 1.1A-30A(±10%)
Discharge current range: 0.1-5A(±10%)
Current drain for balancing port: MAX 800mA/cell
LiPo/LiFe/LiIon/LiHV cell count: 1-8S
NiMH/NiCd cells: 1-20S
Pb(Lead Acid) battery voltage: 2-24V
Memory: 10 different charge/discharge profiles in each channel
Charge method: CC/CV for lithium types and lead (Pb) batteries; Delta-peak sensitivity for NiMH/NiCd
Weight: 1220g / 2.7lb
Size: 200 * 140 * 55mm / 7.9 * 5.5 * 2.2in
Package information:
Package size: 34.5 * 18 * 8.5cm / 13.6 * 7.1 * 3.3in
Package weight: 1667g / 3.7lb
General gift box
Package list:
1 * SKYRC Ultimate Duo 1400W charger
2 * 2-8S multiple balance board adapter
2 * Insulated banana to XT60 battery connector
2 * Charging cable with insulated banana connector
1 * English user manual