G.T.POWER A612-D is a rapid charger, which employs the circuit that has maximum output power of 200Watts. It can charge or discharge up to 18 cells of Nicd/NiMH and 6 series of Lithium batteries with maximum current of 12A.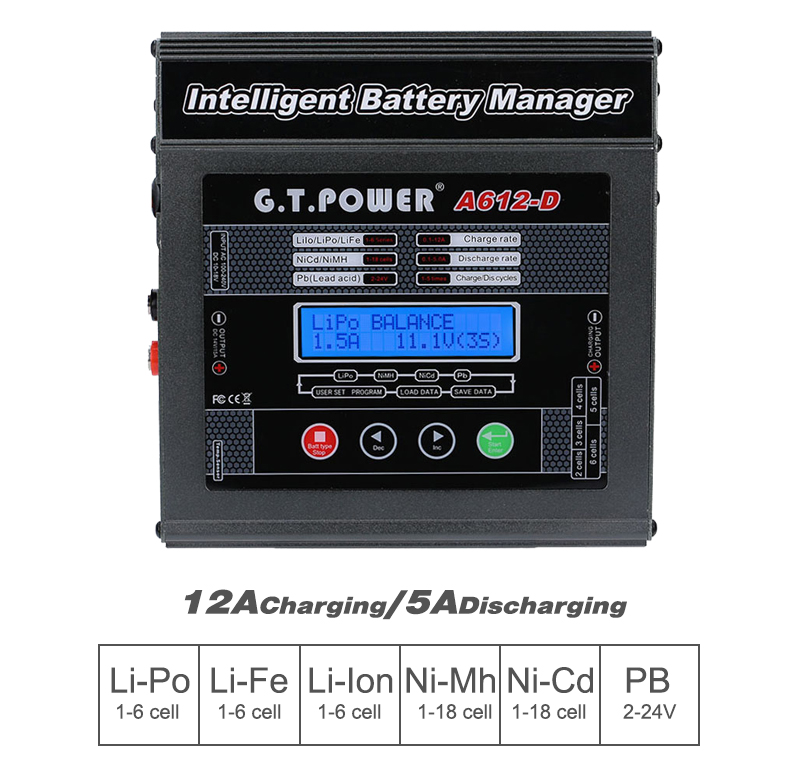 Features:
High Power and high performance circuit.
Individual voltage balancer for Lithium battery inside.
Balance individual cells on discharging.
Accept various types of battery: LiIo, LiPo, LiFe, NiMH, NiCD, Pb.
Fast and storage mode of Lithium battery.
Maximum safety: delta-peak sensitivity, auto-charge current limit, capacity limit, processing time limit, temperature limit, input power monitor, automatic cooling fan.
Can store 5 data of different batteries.
Perform 1 to 5 cycles of charge>discharge or discharge>charge continually for battery refreshing and balancing.
Specifications:
Item brand: G.T.POWER
Item num: A612-D
Input voltage: AC 220V / DC 10.0-18.0V
Charging power: Max. 200 Watt
Discharge power: Max.25 Watt
Charging current: 0.1-12.0A
Discharge current: 0.1-5.0A
LiIo/LiPo/LiFe: 1-6 series
NiCd/NiMH: 1-18 cells
Pb Battery voltage: 2V-24V
Current drain for balancing Lipo: 200mA
Weight: 889g / 2.0lb
Size: 150 * 145 * 55mm / 5.9 * 5.7 * 2.2in
Package information:
Package size: 22 * 16.5 * 7cm / 8.7 * 6.5 * 2.8in
Package weight: 1257g / 2.8lb
General gift box
Package list:
1 * A612-D balance charger
5 * Charge connect cable
1 * AC input power cable
1 * English user manual