Walkera QR X350 Premium Dual-Navigation FPV Drone Helicoper RC Quadcopter With DEVO F12E iLook+.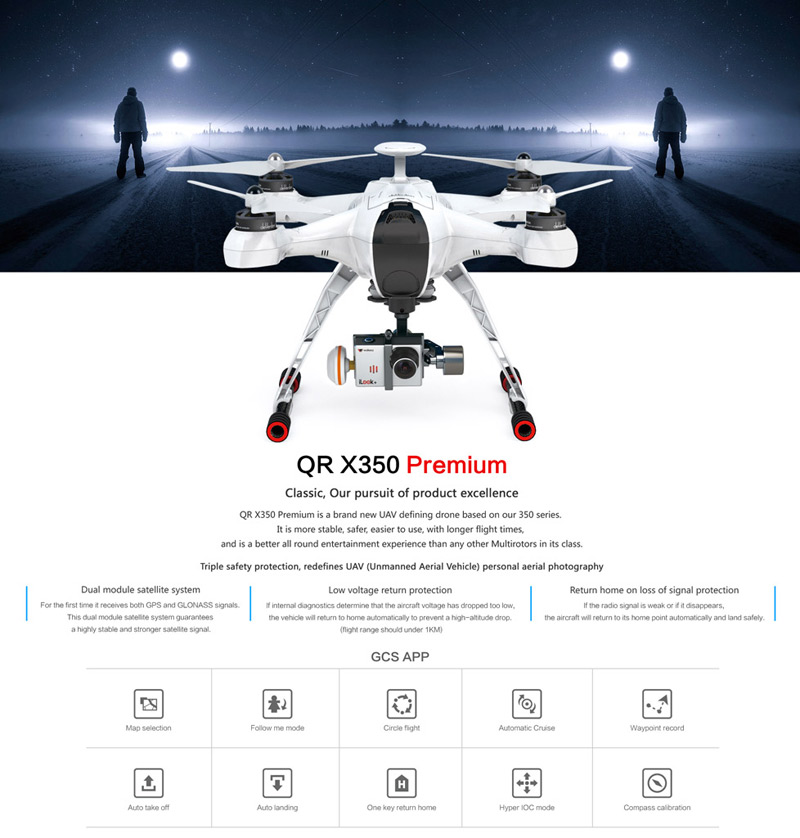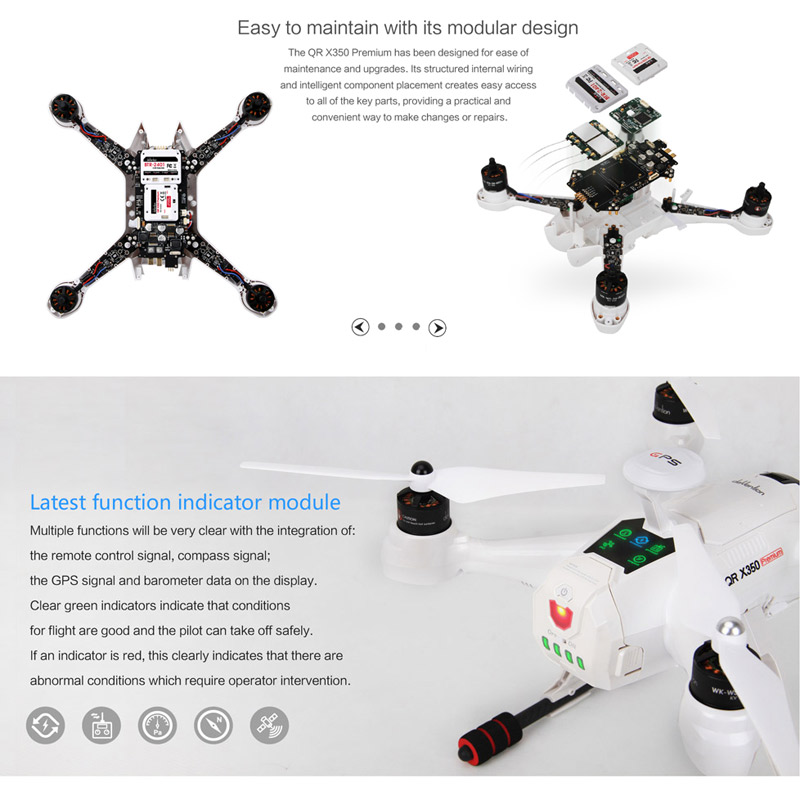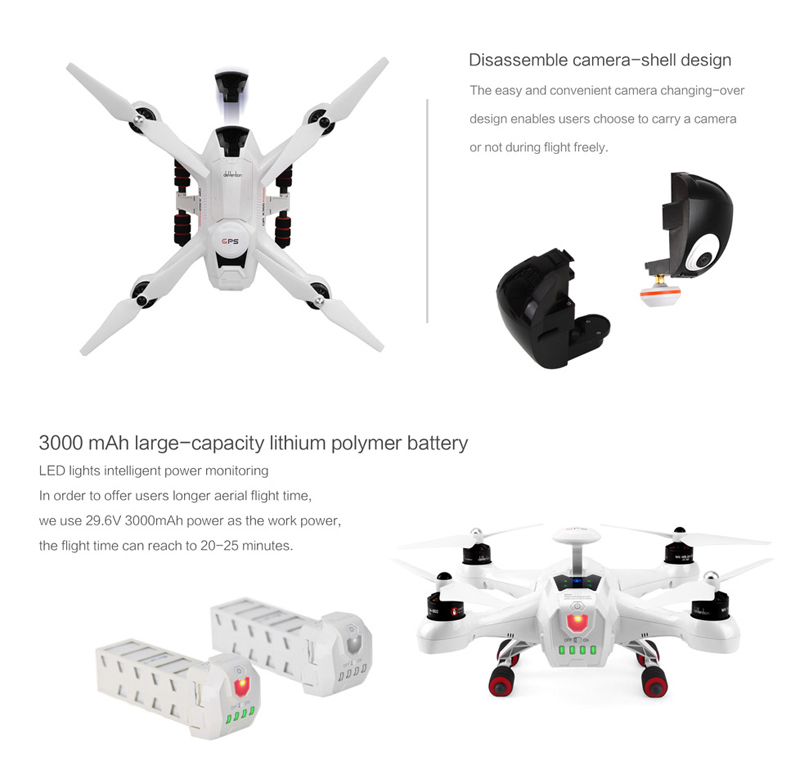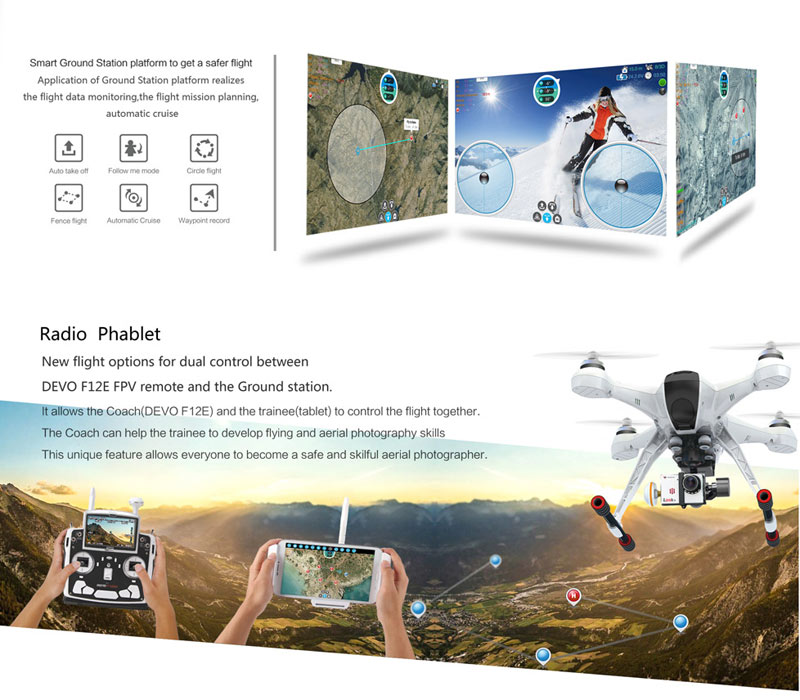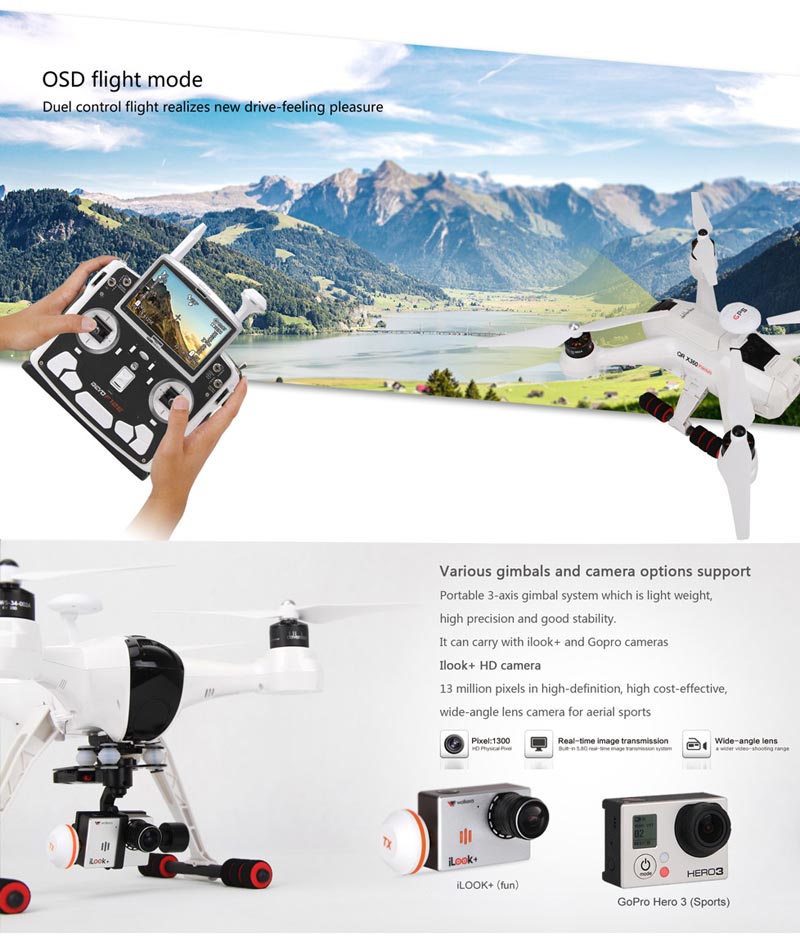 Features:
QR X350 Premium:
Dual GPS System. High performance GPS/GLONASS provides redundancy and accuracy in autopilot.
360° auto rotation circle mode.
Follow Me Mode.
One key to start (Auto take off).
One key to go home.
Failsafe returns and lands.
Supports G-2D, G-3D, G-3DH, G-3S gimbal.
Supports waypoint flying mode.
Monitor flight time, on screen display for long distance piloting.
System self-diagnostic. Prearm safety checks on receiver, GPS signals , compass , barometer and battery.
Ground station control system, using a mobile phone or tablet, you can change flight modes and set waypoints.
First Person View (FPV) with a professional 12-channel radio, real-time telemetry monitoring aircraft battery voltage, height , distance, flight speed, flight time , GPS coordinates.
Adopting modular design, easy to install and connect.
Insert 5.8 G image transmit sytem and OSD system, can get image and OSD information easily.

DEVO F12E Transmitter:
Telemetry function.
Built-in 32 channels to receiver 5.8GHz real-time images.
Battery voltage, motor temperature real-time warning.
Ergonomic gimbal control knobs.
Max transmit distance can reach to 1.5Km.
G-3D Gimbal:
Simple operation, more stable for shooting video.
Smart design, aluminium production.
High precision brushless motor driving control system.
Perfect support iLook, iLook+, GoPro3, GoPro3+ camera.
iLook+ :
Low latency and long range FPV.
Wide-angle lens camera.
Support 5.8 Ghz wireless video link.
Support output Micro SD card.
Support G-2D and G-3D brushless gimbal.
Quick FPV assembly with built-in video transmitter.
Compatible with Fatshark and Walkera DEVO F7.
Specifications:
Brand name: Walkera
Item name: QR X350 Premium
Transmitter: DEVO F12E
Motor: brushless motor
Controller mode: mode 2
Control channel: 6 channels
Age range: >14 years old
Transmitter battery: 8 * AA Battery
Quadcopter battery: 29.6V(8S) 3000mAh Lipo battery
Gimbal support: 3D Gimbal
Camera: FPV iLook+ camera
Quadcopter Color: White
Charging voltage: 110-220V
Charging time: 90 mins
Flight duration: 20-25 minutes
Radio transmitter Control Range: 1km
Item weight: 940g
Item size: 40 * 40 * 13cm
Package information:
Package size: 62 * 54 * 20cm / 19.3 * 18.1 * 8.3in
Package weight: 6685g / 14.7lb
Gift box package
Package list:
1 * Walkera QR X350 Premium Quadcopter
1 * Camera Gimbal
1 * iLook+ Camera
1 * DEVO F12E Transmitter
1 * 29.6V(8S) 3000mAh Lipo Battery
1 * 2.4G Bluetooth Datalink Box
2 * Pair Spare Propeller Set
1 * Transmitter Upgrading Cable
1 * Main Control Board Upgrading Cable
1 * Transmitter Training Cable
1 * EU-plug Charging Cable
1 * Transmitter Strap
1 * Accessory set
1 * Antenna Set
1 * High Landing Gear
1 * Low Landing Gear
1 * English Users Manual
1 * CD Manual