Drawing on decades of experience designing and manufacturing the best radio equipment for the R/C hobby, JR is proud to introduce the world to its magnum opus- the 28X transmitter. The 28X was born from clean sheet of paper, a fresh perspective of the needs of today's modeler, and borrows from JR's unwavering commitment to the highest quality and precision in every facet of the transmitter's design and manufacture. Origianal JR 28X 2.4GHz 28 Channel DMSS transmitter & JR RG712BX 7CH 2.4GHz receiver X.BUS System. Based on DMSS system, it can maximize the signal reception efficiency and can reach high speed servo response with telemetry functions.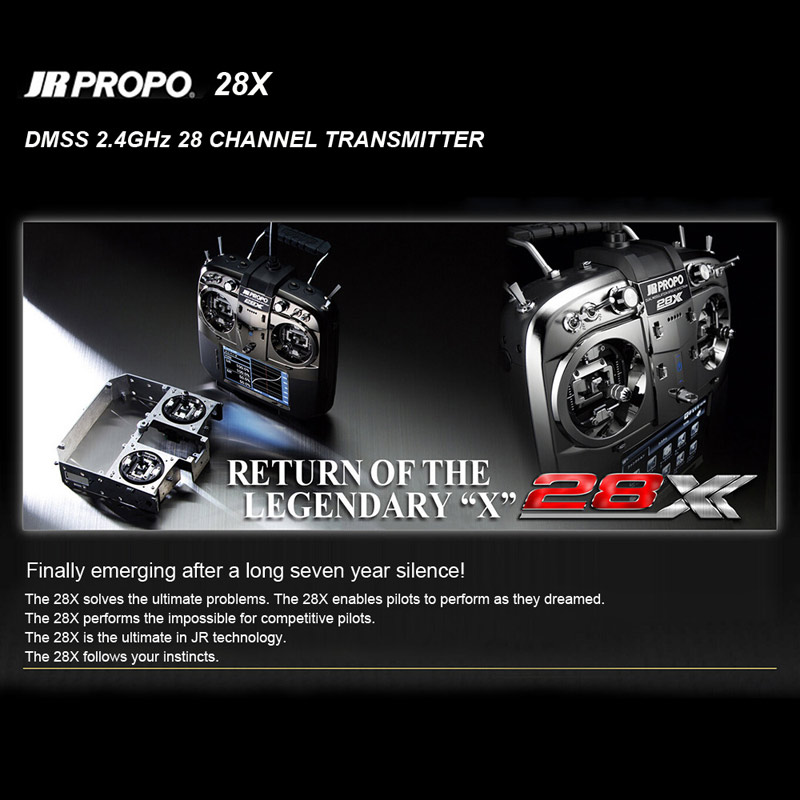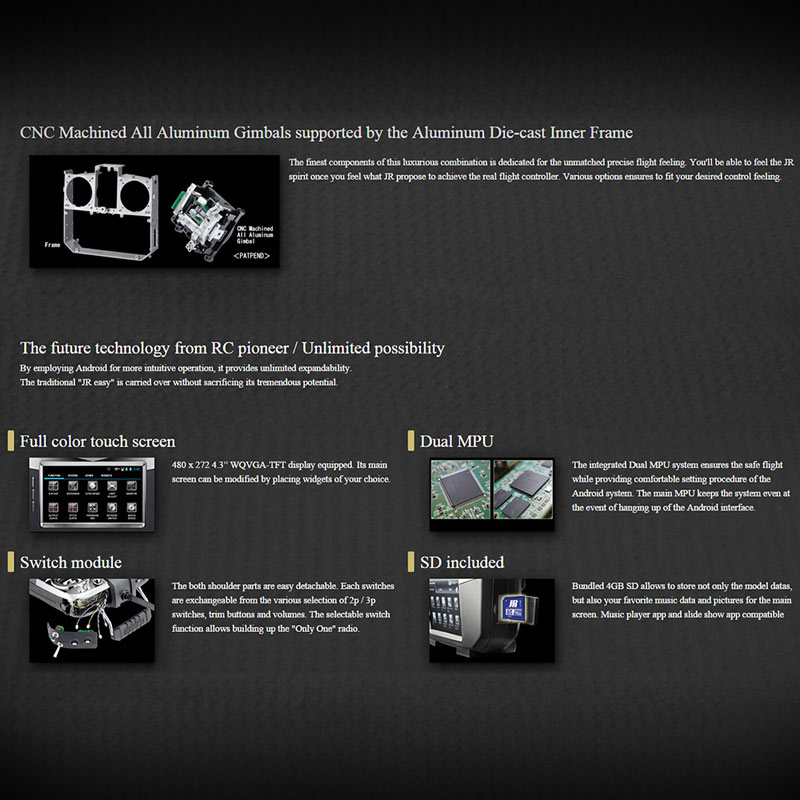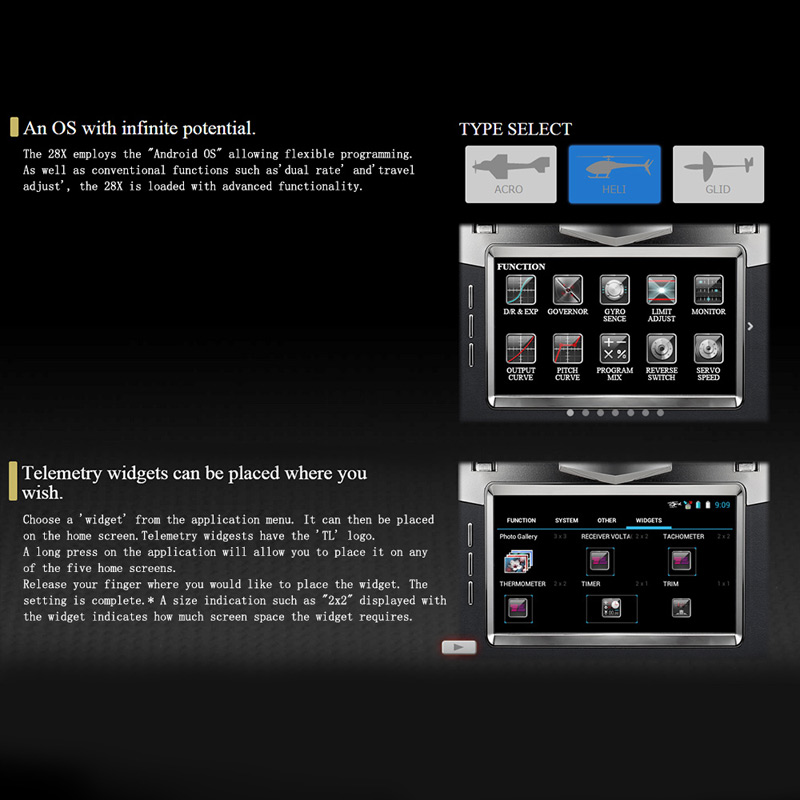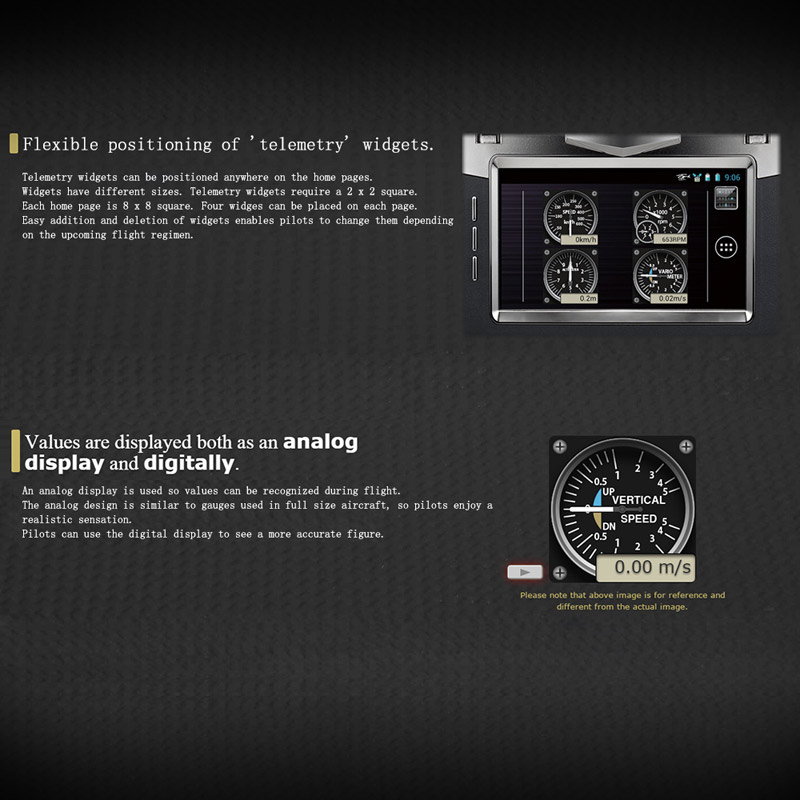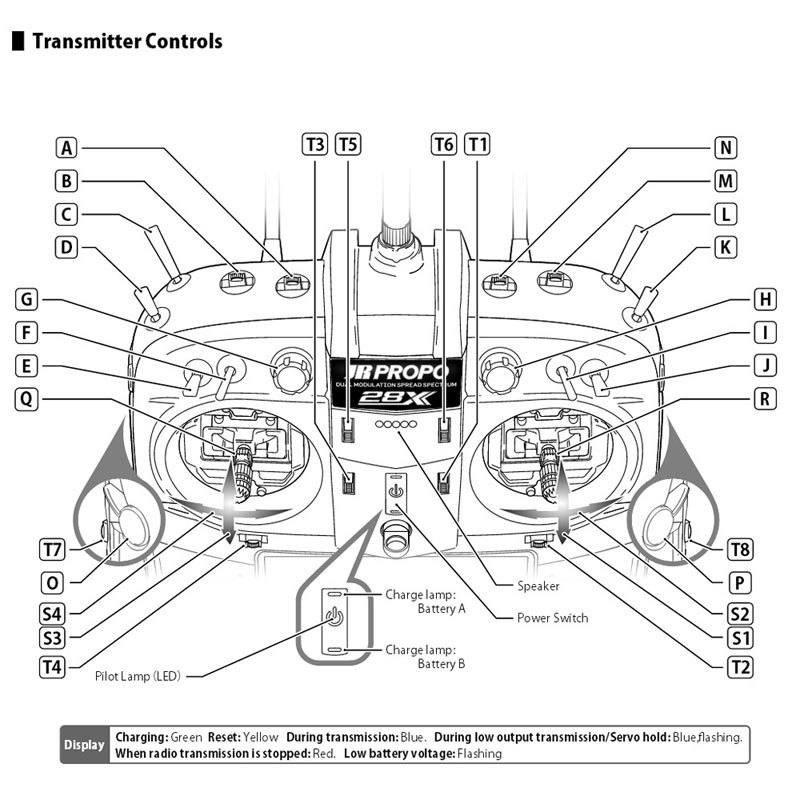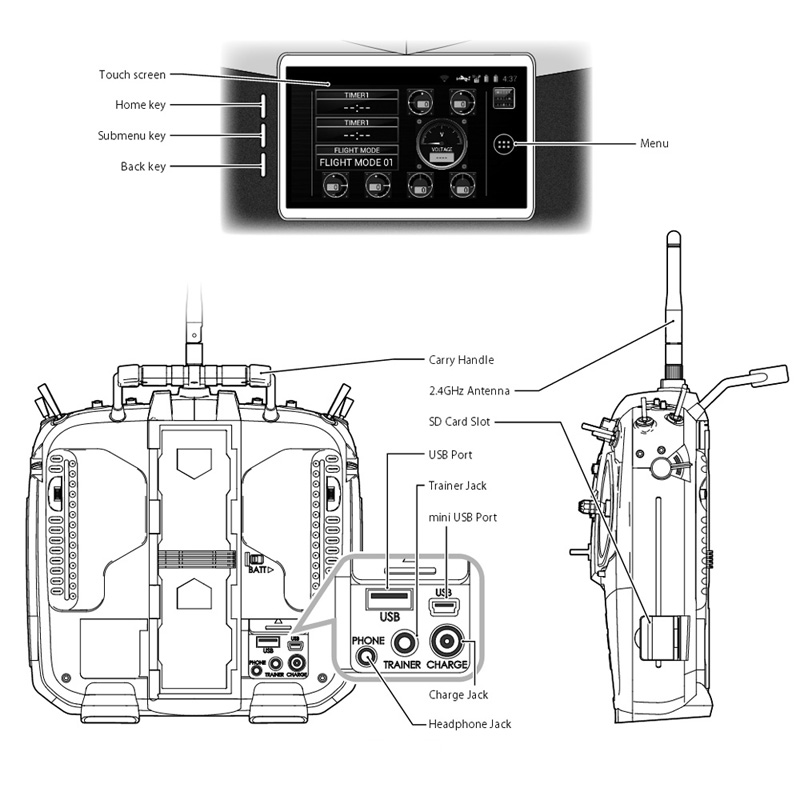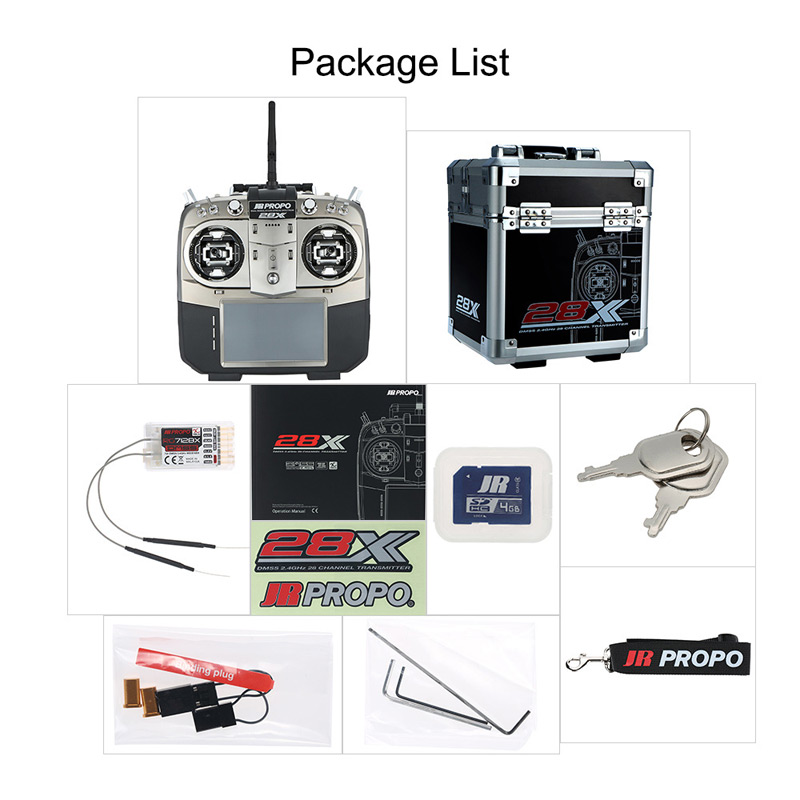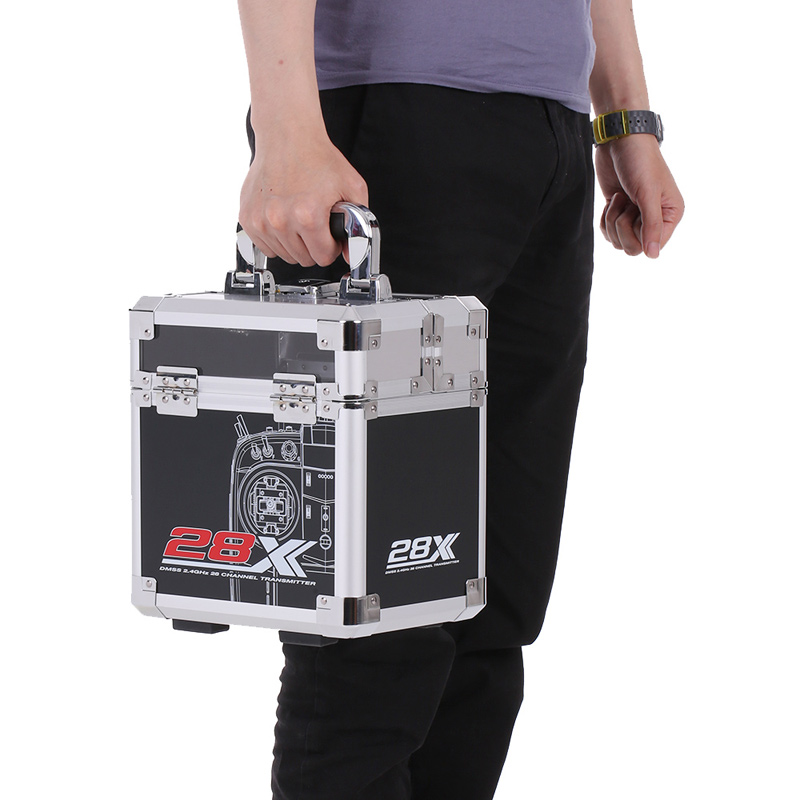 Features:
CNC machined all aluminum gimbals supported by the aluminum die-cast inner frame.
28 available channels/ 15 flight modes.
By employing Android for more intuitive operation, it provides unlimited expandability.
Full color touch screen, 480 x 272 4.3" WQVGA-TFT display equipped. Its main screen can be modified by placing widgets.
Fully customizable user interface allows users to set wallpaper, color schemes, and notifications to personalize their radio.
The integrated Dual CPU system ensures the safe flight.
The both shoulder parts are easy detachable, allows building up the "Only One" radio.
Bundled 4GB SD allows to store model datas, music data and pictures.
Jaw-dropping 65,536 step stick resolution is 16 times more precise than XG11 R/C transmitter.
Removable antenna for safe storage when not in use.
Push-button power switch virtually eliminates accidental powering on and off.
Built-in USB port that you can connect other USB devices or PC, the data transmission be faster and more reliable.
The curve parameter can be adjusted by trimming.
Customizable vibration and tone notifications.
Audio Controller for voice, music, and telemetry notifications.
Equipped with six 3-position switches, two 2-position switches.
Two analog potentiometers, eight digital potentiometers.
The JR 28X comes with one 3200mAh Li-Ion battery, and supports an optional second battery for extended operation.
Transmitter Specifications:
Brand name: JR 28X
TX: NET-T1128G
Channel: 28 channel
Mode type: 2.4GHz
System: DMSS/Computer Mixing
Model type: Helicopter, airplane and glider optional
Support port: USB port, mini USB port, charger jack, trainar jack, earphone jack
TX Battery: 7.2V 3200mAh battery
Neutral position: 1.5ms
Weight: 1250g (without battery)
AC Adaptor:
Model No: NEC-A1530
Input voltage: AC100V~240V 50/60Hz 1.2A
Output voltage: DC 15V 2A 30W
Receiver Specification:
Receiver type: RG712BX
Channels: 7 Channel
Modulation: DMSS (Dual Modulation Spectrum System)
Antenna Length: 140mm
Size: 47 * 25 * 15mm
Package Information:
Package size: 32.5 * 30 * 21cm / 12.8 * 11.8 * 8.3in
Package weight: 4701g / 10.4lb
General box Package
Caution for the battery:
Don't over-charge, or over-discharge batteries.
Don't put it beside the high temperature condition.
Don't throw it into fire.
Don't throw it into water.
Package List:
1 * JR 28X 2.4GHz 28 Channel Transmitter (Mode 2)
1 * JR RG712BX 7CH Receiver
1 * Battery Charger
1 * 4GB SD Card
1 * TX Case
1 * Binding Plug
1 * Shoulder Straps
3 * Hex Screw Driver
1 * Operating Manual