This digital voltmeter/ammeter, with mini size and high precision, can easily measure the voltage and current. The voltage measuring range is 0.00-33.00V; the minimum resolution is 10mV. The current measuring range is 0-999.9mA-3.000A. When the measuring current is below 1A, it display ***.*mA, the resolusion is 0.1mA; when the measuring current is higher than 1A, it display *.***A, the resolution is 1mA.
Features:
Mini size and high precision, convenient for use.
LED digital display, easy and clear for readings.
Can measure voltage(0-33.00V) and current(0-999.9mA-3A).
With voltage compensation function, can measure the precise voltage of the system supply power.
Voltage Compensation Function Description:
When the system load is bigger, there will be some certain voltage drop on the connecting wire. So the header will not display the right output voltage of the system supply power. Now the voltage compensation function can solve this problem by moderate compensation of the voltage loss on connecting wire. So the meter can measure the precise voltage of the system supply power.
1. When you use this function, you must prepare a more than four and half digit multimeter. Please connect it with the output point of the system supply power, and then shut down the power of the voltage current. Then keeping press the button on the back of the voltage current meter and give the meter power at the same time. Now the below digital tube will display [**]; ** indicate the storage compensation voltage level (when the meter was just produced, the level is 00, display [00], meaning no compensation). when you loose the button, the below tube display --**
2. When it displays --**, it indicates the meter is going in the state of setting compensation voltage. Please connect the bigger load in the circuit( we advise the current of the load should be higher than 2A, so the compensation will be more precise.) , then see the voltage which the above tube show. Press shortly the button one time, it will be automatically added one level (The maximum commpensation level is 99), until the voltage on the meter is the same to the voltage on the multimeter.
3. Keeping press the button more than 2s to store the current compensation voltage. so you will measure the voltage by this compensation level. If you want to shunt down the compensation, please adjust level to 00.
Instruction of Wiring:
Red thin wire (VCC): Power input+ 3.5-28V(NOTE: If the measuring signal is lower than 28V and have abundant power supply, it can be used as power supply for the module [black wire and yellow wire are contacted together to use])
Black thin wire(GND): Power input- Measurement signal - 3.5-28V
Yellow thin wire (VIN): Measurement signal+ (0-99.9V)
Red thick wire (I+): Current input+ (connect with load negative)
Black thin wire(I-): Current input-(in series in power supply negative)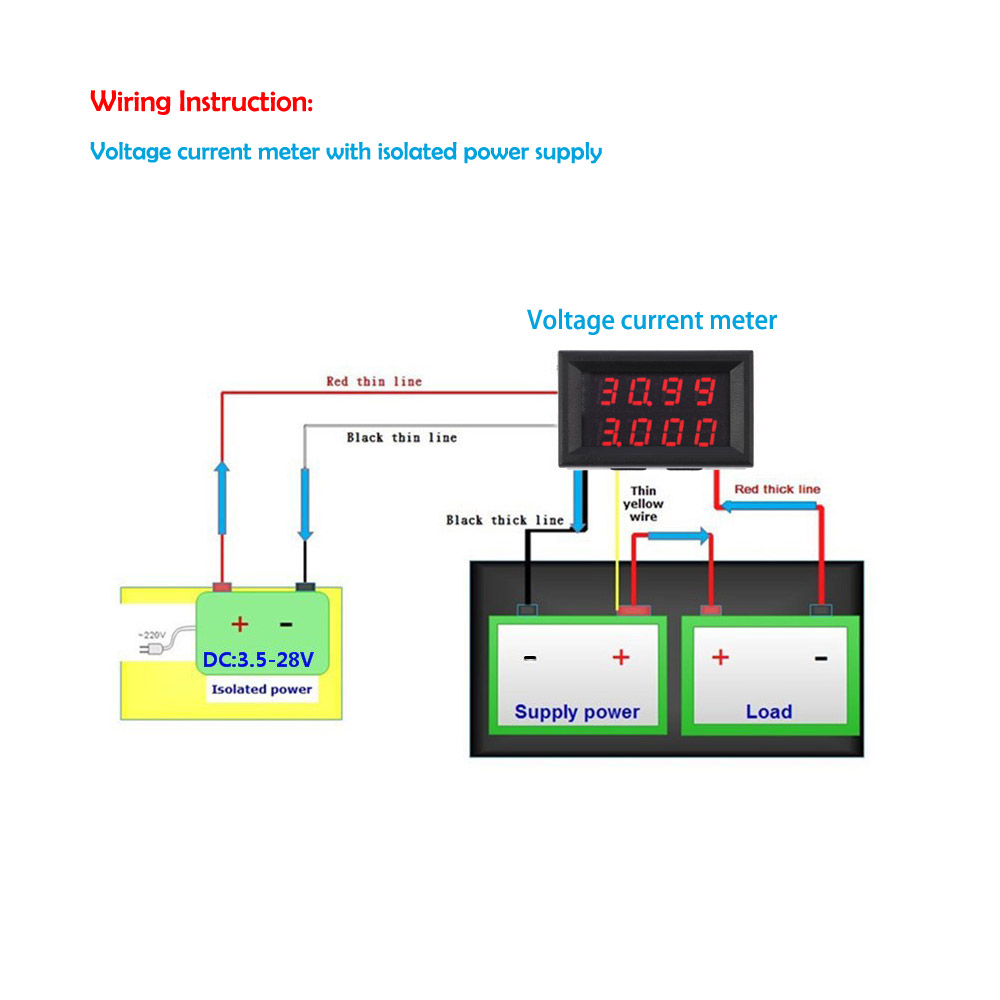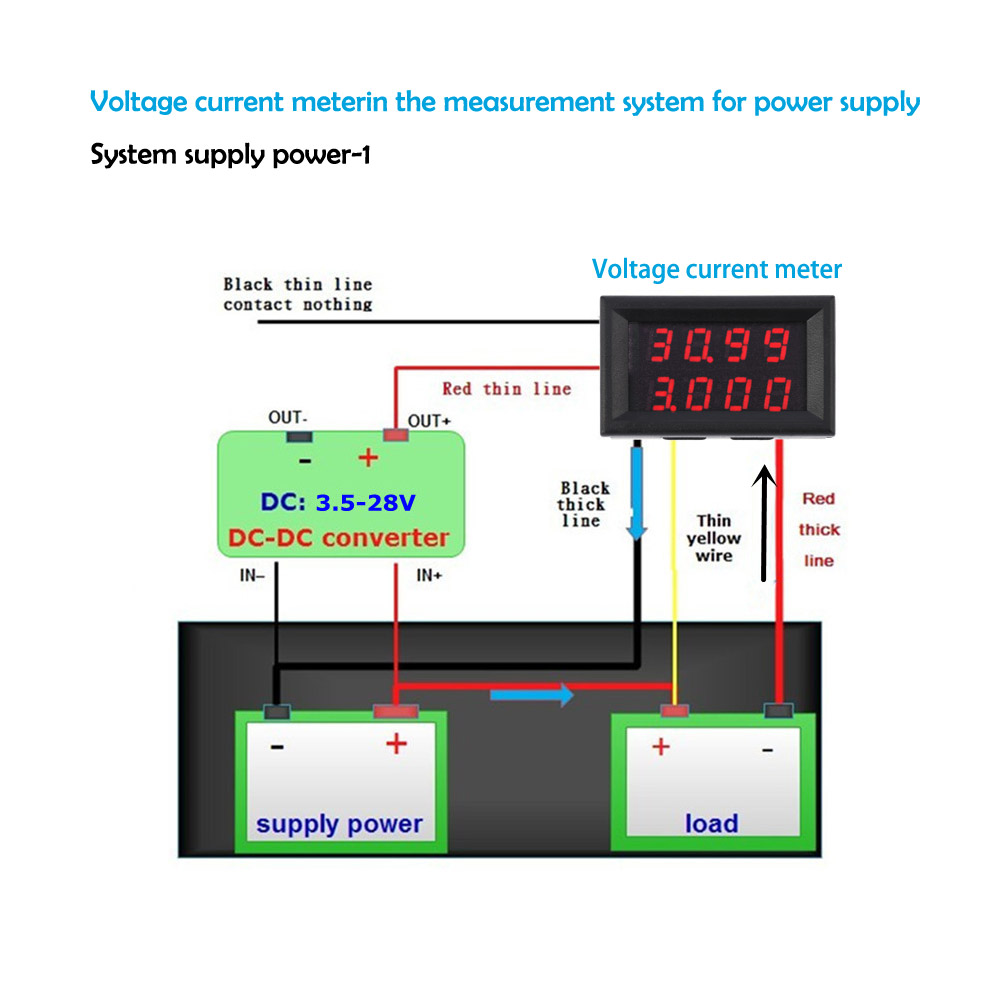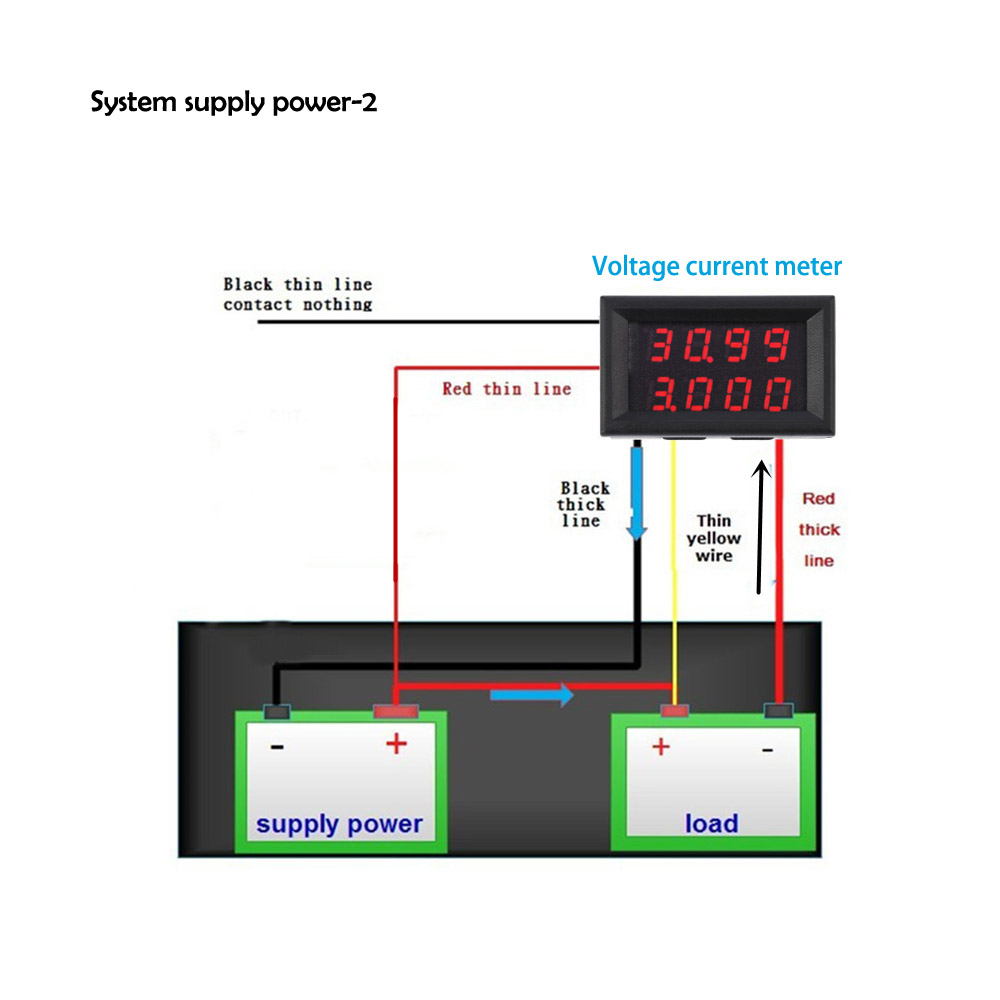 Specifications:
Display Color: Red+Red / Red+Green / Red+Blue(Optional)
Supply Voltage: 3.5-28V
Lead Wire Length: 14cm(Five wires)
Update Rate: About 200ms/time
Voltage Measurement Range: DC0.00-33.00V
Min. Voltage Resolution: 10mV
Current Measurement Range: 0-999.9mA-3A
Current Measurement Accuracy: ±(0.3% + 2digits)
Operation Temperature: -10~65°C
Item Size: 48 * 29 * 21mm
Item Weight: 21g
Package List:
1 * Voltmeter Ammeter