This instrument can measure AC/DC voltage, AC/DC current, resistance, diode and connectivity; with non-contract voltage detection function, timely remind the user to pay attention to operation safety, so it's more safe and rest assured for user to use.
Features:
2000 counts Auto ranging DMM.
3 1/2 digit LCD display with backlight.
With backlight and work light, fitting for most of environment, even in the dark.
Perform measurements of DC/AC voltage, DC/AC current, resistance, and diode & continuity check.
Data Hold function.
With NCV(AC voltage detector)function, more safe to use.
Low battery indication, auto power off, save energy.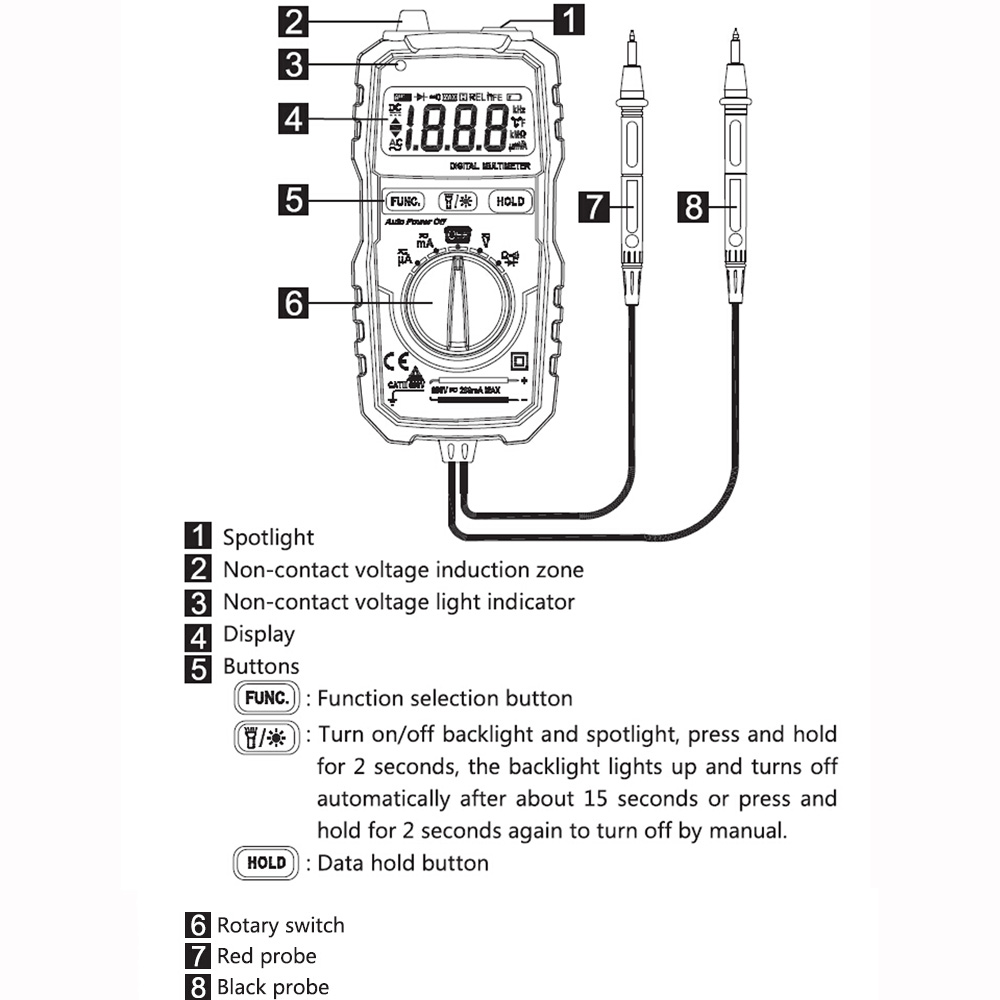 Specifications:
Color: Black + Blue
Display: 3 1/2 Bit LCD
Fuse Protection: Fuse FF250mA/600V
Safety Class: IEC/EN 61010-1, CATII 600V
Power Supply: 2 * 1.5V AAA Batteries (NOT included)
Sampling Time: About 3 times/second
DC Voltage: 200mV/2V/20V/200V ±(0.5%+3); 600V ±(0.8%+5)
AC Voltage: 2V/20V/200V ±(0.8%+3); 600V ±(1.0%+5)
DC Current: 200μA/2000μA/20mA/200mA ±(1.8%+5);
AC Current: 200μA/2000μA/20mA/200mA ±(2.0%+5)
Resistance: 200Ω/2kΩ/20kΩ/200kΩ/2MΩ ±(1.0%+3); 20MΩ±(1.2%+15)
Operating Temperature & Humidity: 0~40°C(32~104 °F), <80% RH
Storage Temperature & Humidity: -10~60°C(14~140 °F), <70% RH
Product Size: 130 *62 * 27mm / 5.12 * 2.44 * 1in
Product Weight: 150g / 5.28oz
Package Size: 14 * 9.5 * 3.5cm / 5.51 * 3.74 * 1.38in
Package Weight: 188g / 6.65oz
Package List:
1 * Digital Multimeter with Test Lead
1 * User Manual (English)