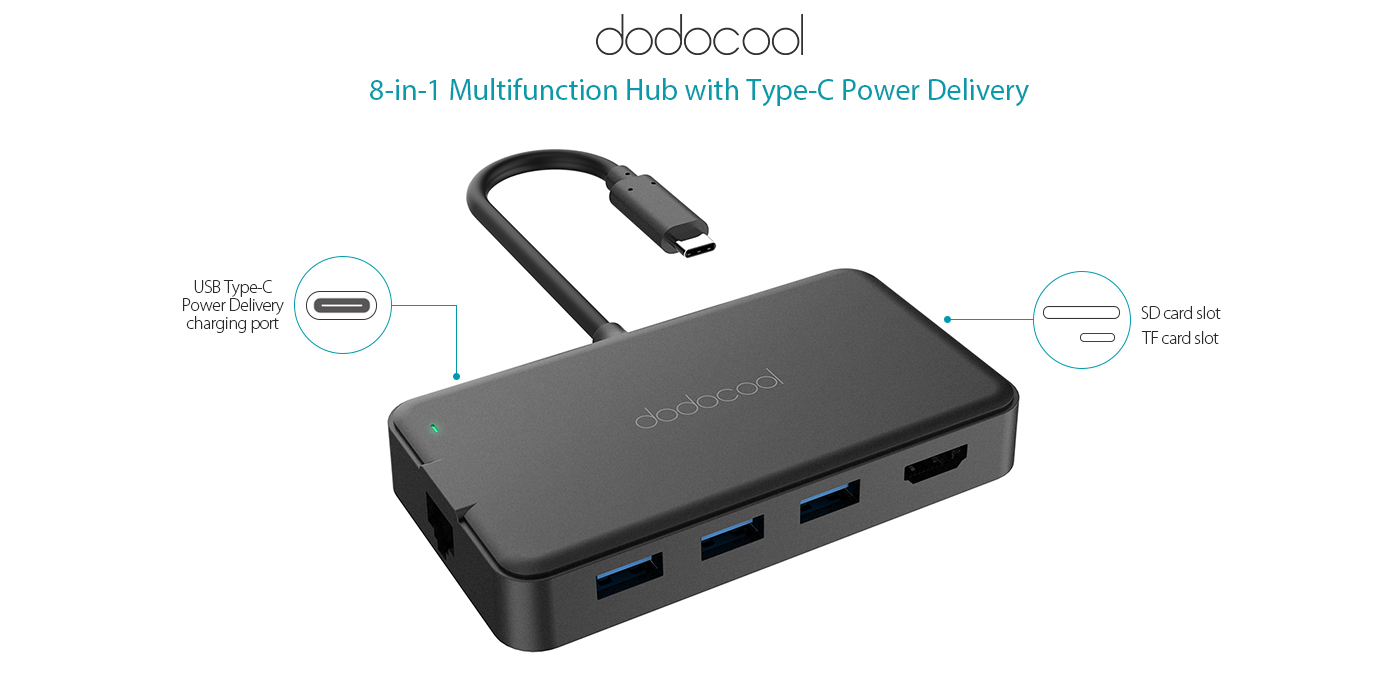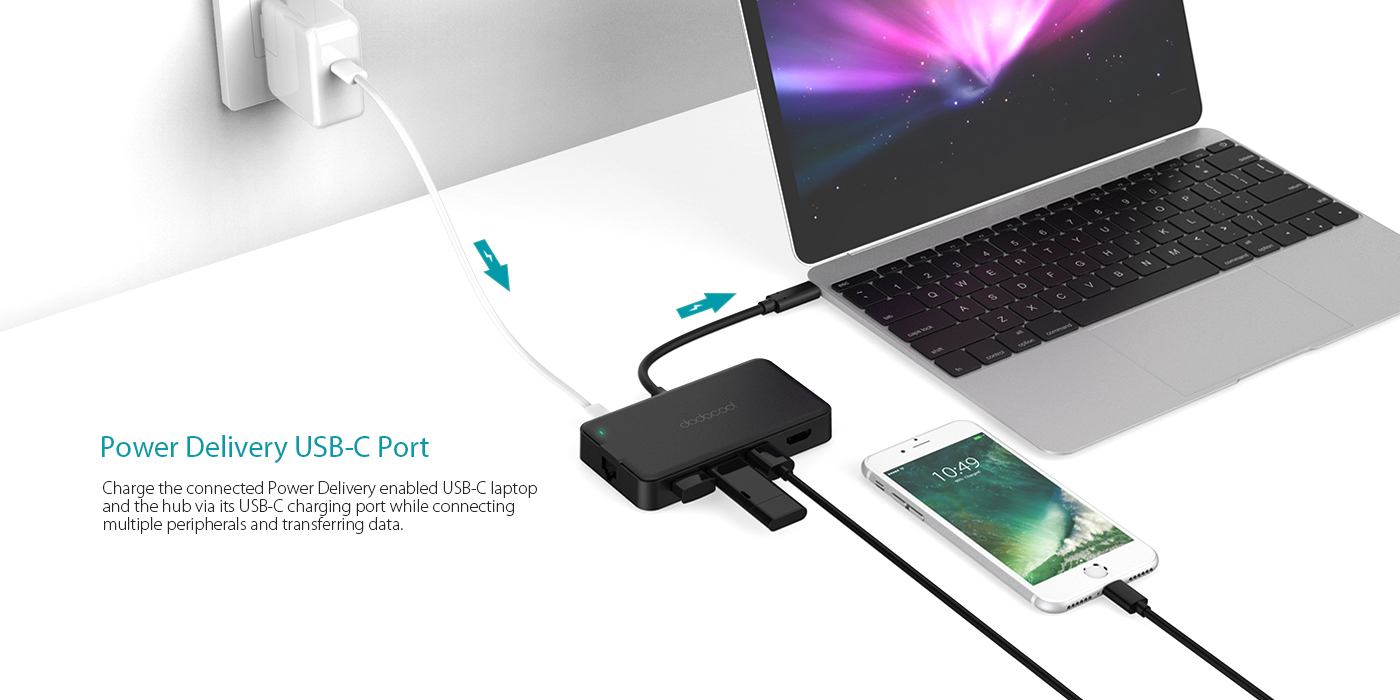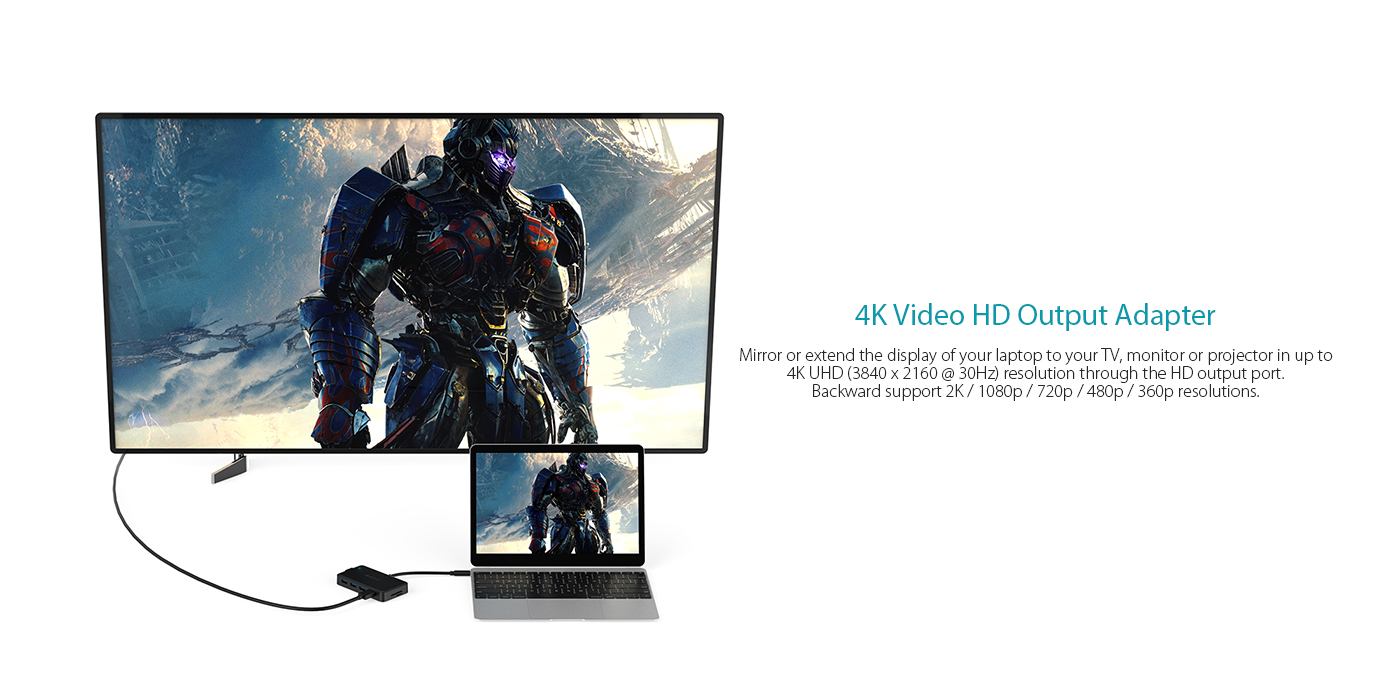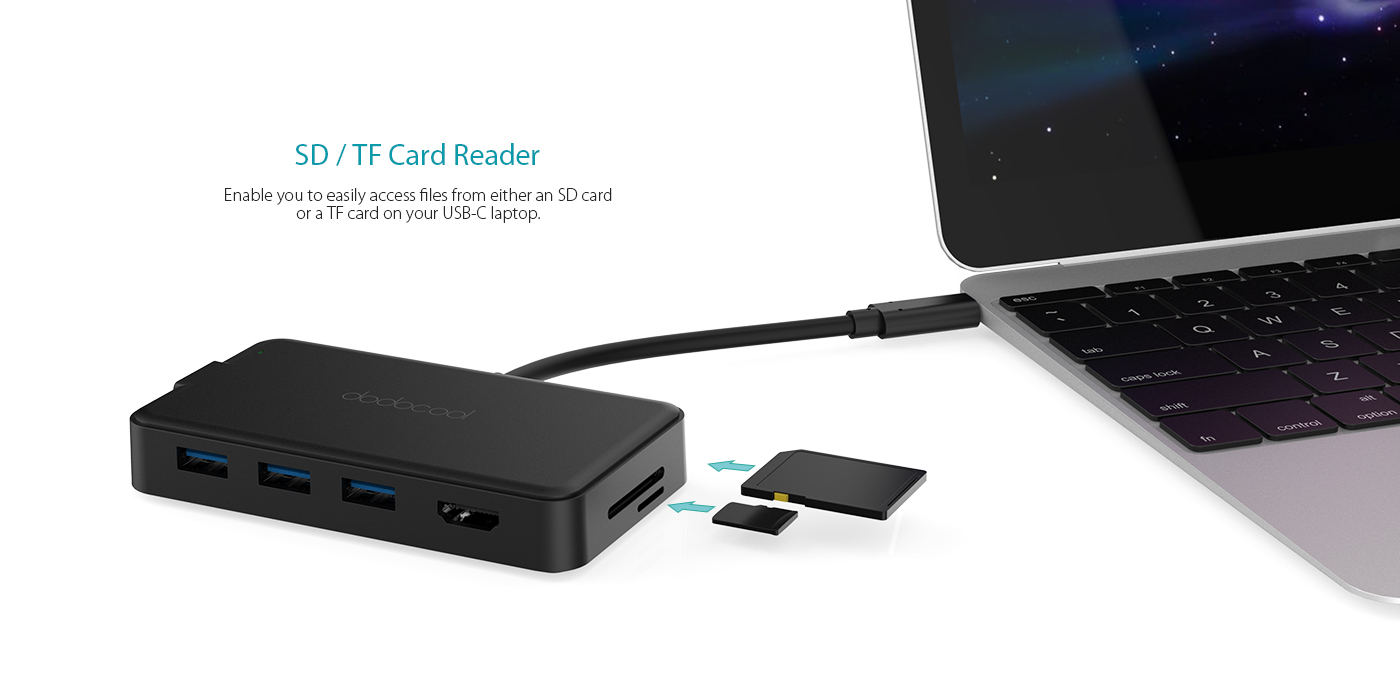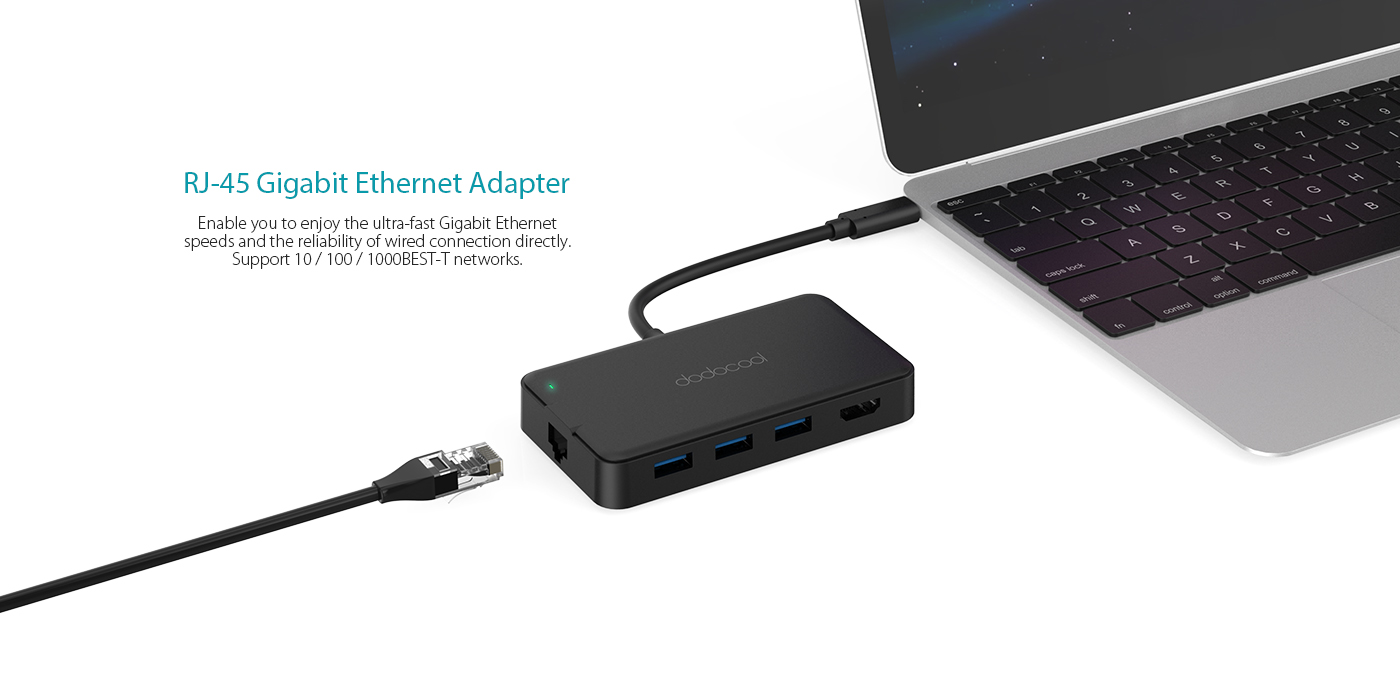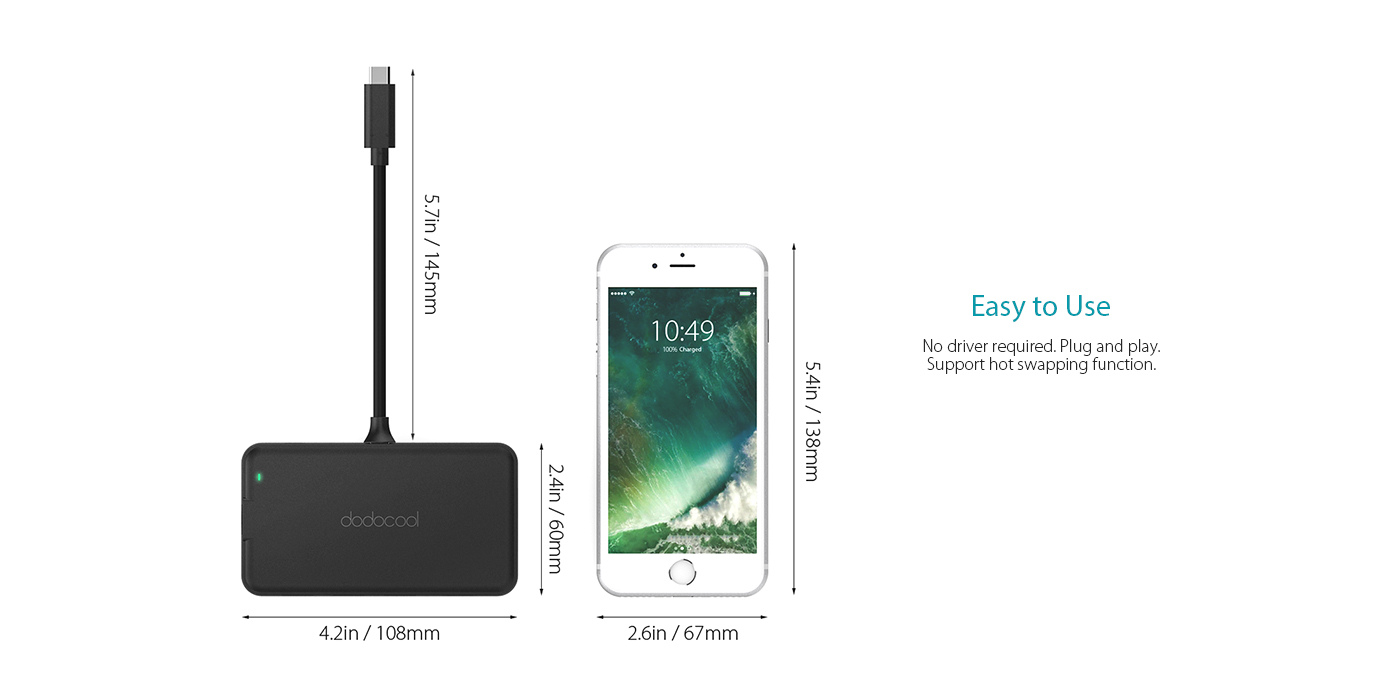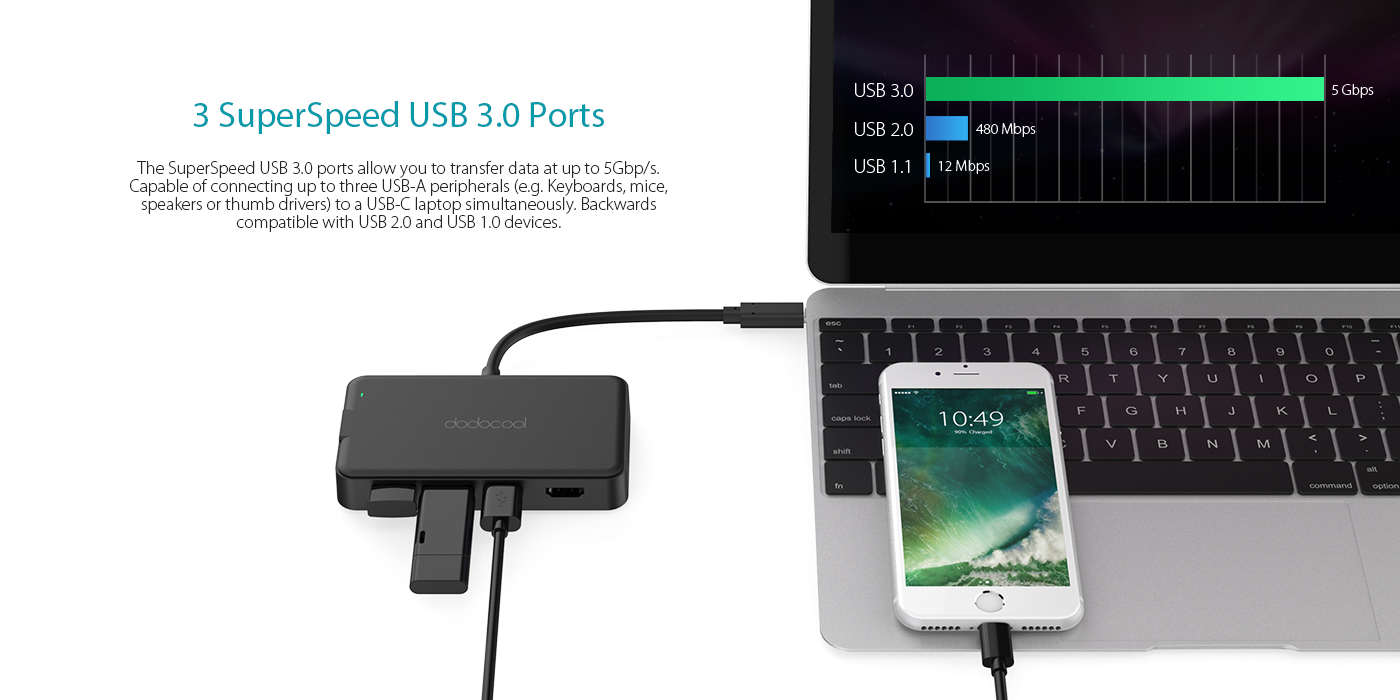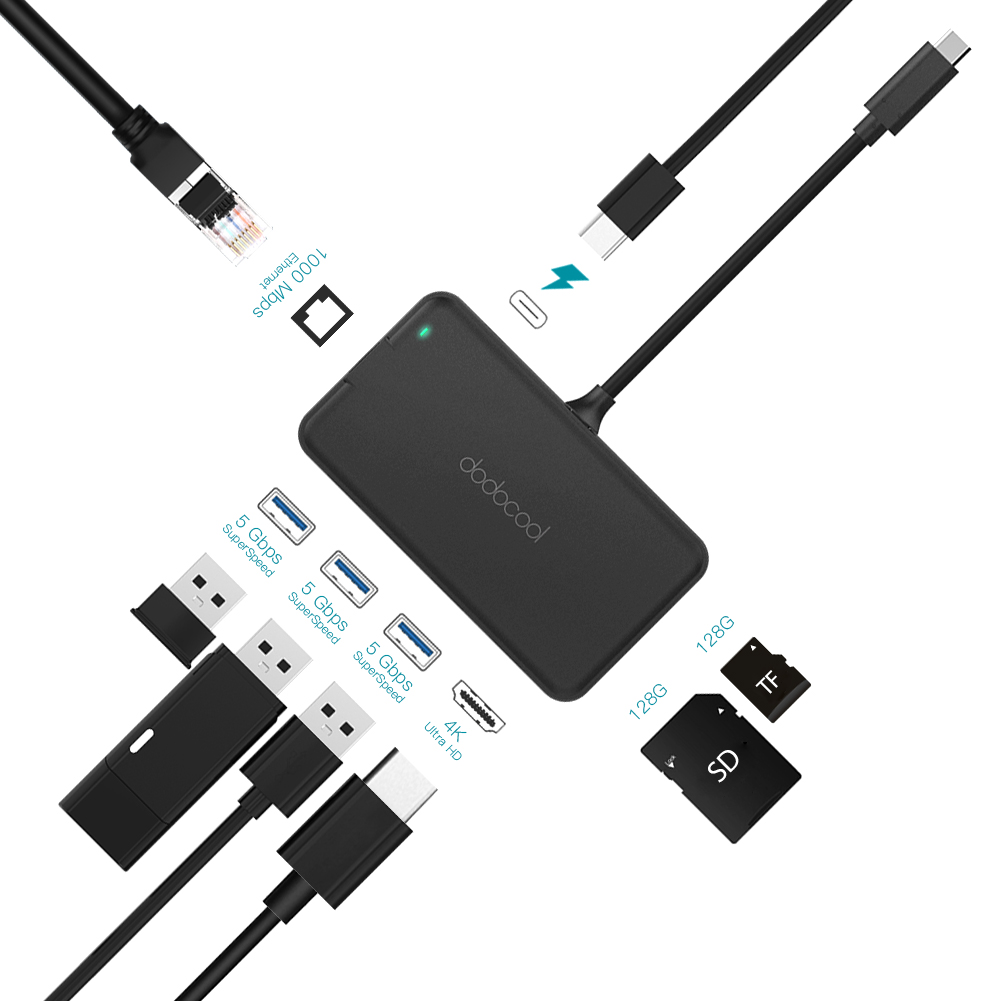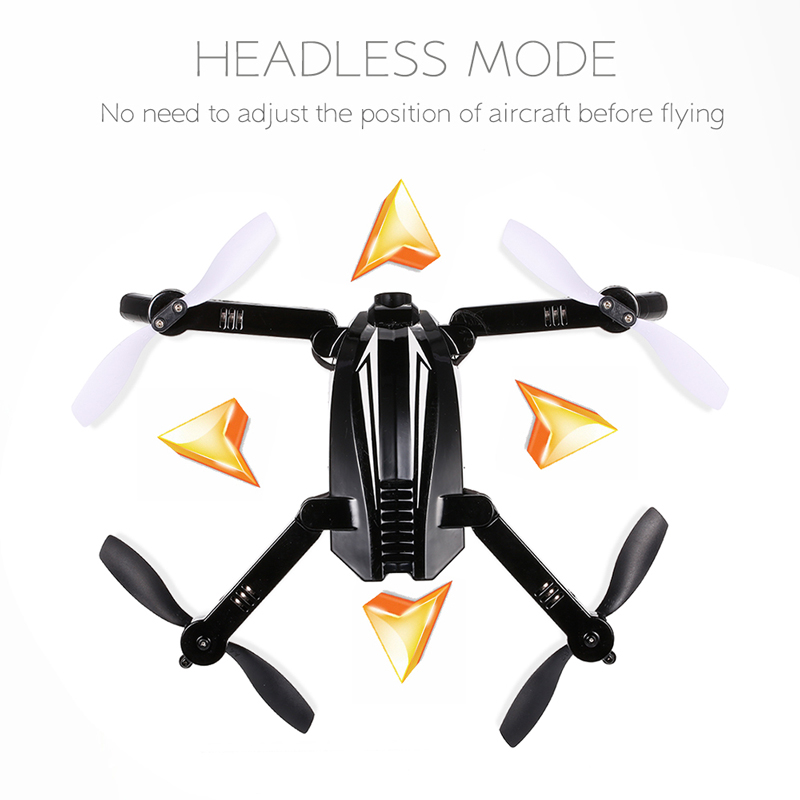 Overview
dodocool 8-in-1 Multifunction USB-C Hub with Power Delivery easily adds three USB-A ports, one HD output port, one SuperSpeed Gigabit Ethernet port, one TF card slot, one SD card slot and one USB-C PD (Power Delivery) port to USB Type-C enabled laptops. This stylish, compact device doesn't require an external power supply, so it fits neatly on office tables or in your bag on business trips.
Features:
8-in-1 USB-C Hub
Extend one USB Power Delivery Type-C charging port, one HD output port, three USB 3.0 Type-A ports, one SuperSpeed Gigabit Ethernet port, one SD memory card slot and one TF memory card slot from one USB-C port or Thunderbolt 3 (USB-C) port.
SuperSpeed USB 3.0 Ports
The SuperSpeed USB 3.0 ports allow you to transfer data at up to 5Gbp/s. Capable of connecting up to three USB-A peripherals (e.g. Keyboards, mice, speakers or thumb drivers) to a USB-C laptop simultaneously. Backwards compatible with USB 2.0 and USB 1.0 devices.
Power Delivery USB-C Port
Connect to a USB-C power adapter and charge the connected Power Delivery enabled USB-C laptop and the hub via its USB-C charging port while connecting multiple peripherals and transferring data.
4K Video HD Output Adapter
Mirror or extend the display of your laptop to your TV, monitor or projector in up to 4K UHD (3840 x 2160 @ 30Hz) resolution through the HD output port. Backward support 2K / 1080p / 720p / 480p / 360p resolutions.
RJ-45 Gigabit Ethernet Adapter
Enable you to enjoy the ultra-fast Gigabit Ethernet speeds and the reliability of wired connection directly. Support 10 / 100 / 1000 BEST-T networks.
SD / TF Card Reader
Enable you to easily access files from either an SD card or a TF card on your USB-C laptop.
Easy to Use
No driver required. Plug and play. Support hot swapping function.
Stylish and Portable
Thin, lightweight and compact design makes this hub a great travel companion. You can easily slide it into your pocket, bag or suitcase.
Note:
1. Make sure that the host USB-C port on your device complies with the USB 3.0 / USB 3.1 specification. Compatible with USB 2.0 Type-C device.
2. To use the HD output port, the host USB-C port from your device must support DisplayPort Alt Mode.
3. To use the Power Delivery function to power and charge a connected USB-C laptop, the host USB-C port from your device must support USB Power Delivery. The USB-C input charging port cannot be used for data transmission.
4. Please do not rely on the USB-A ports for charging your phones, tablets or other devices. The three USB 3.0 Type-C ports on the hub support a total output of up to 5V 900mA.
5. For a stable connection, do not use this hub with high-power devices. It supports one hard drive max.
6. Not support charging for HP laptops and tablets via the PD USB-C charging port.
7. Not compatible with Samsung tablets and Asus Zenbook UX330UA.
8. The SD card slot and the TF card slot can be used at the same time.
Tips:
Here are 4 ways to help reduce the USB 3.0 radio frequency interference to the wireless connection of some laptops:
Option 1: Connect the laptop to a 5GHz Wi-Fi network.
Option 2: Connect devices (e.g., mouse, keyboard and hard disk drive) to USB 2.0 ports on the laptop.
Option 3: Connect the USB 3.0 hub to the laptop with a high-quality 1-foot or longer USB 3.0 extension cable. Keep USB 3.0 devices away from the host computer.
Option 4: Use high-quality shielded USB 3.0 devices/cables/connectors.
Specifications:
Brand: dodocool
Material: ABS
Color: Black
Cable length: Approx. 5.70 in / 145 mm
Interface:
1 * USB Type-C female charging port
3 * USB 3.0 Type-A port
1 * HD output port
1 * SuperSpeed Gigabit Ethernet port
1 * SD card slot
1 * TF card slot
Video resolution (HD output port): Up to 4K UHD (3840x2160 @ 30Hz) or 2K / 1080p / 720p /480p / 360p
Data transfer rate: Up to 5Gbps
Power: USB bus-powered
Compatible USB-C devices (including but not limited to the following)
For MacBook (12-inch)
For MacBook Pro (13-inch & 15-inch)
For Google Chromebook Pixel (12.85-inch)
For Dell XPS 13 9350 (13-inch) / XPS 15 9550 (15-inch)
For Lenovo Yoga 900 (13.3-inch)
For Huawei MateBook (12-inch)
For Microsoft Lumia 950 (5.2-inch) / Lumia 950XL (5.7-inch)
System requirements: USB-C enabled devices with Windows 10 / 8 / 7, macOS or above operating systems
Compatible memory card types: Support SD cards and TF cards (memory cards are not included)
Certificate: CE, FCC, RoHS
Warranty: 12 months limited warranty
Item size: Approx. 4.22 * 0.70 * 2.34 in / 107.20 * 17.80 * 59.64 mm (L * W * H)
Item weight: Approx. 2.82 oz / 80 g
Package size: Approx. 5.21 * 3.64 * 0.92 in / 132.50 * 92.50 * 23.53 mm (L * W * H)
Package weight: 4.27 oz / 121 g
Package includes
1 * dodocool 8-in-1 Multifunction USB-C Hub with Power Delivery
1 * Instruction Manual (English, French, German, Spanish, Italian, Japanese, Chinese)