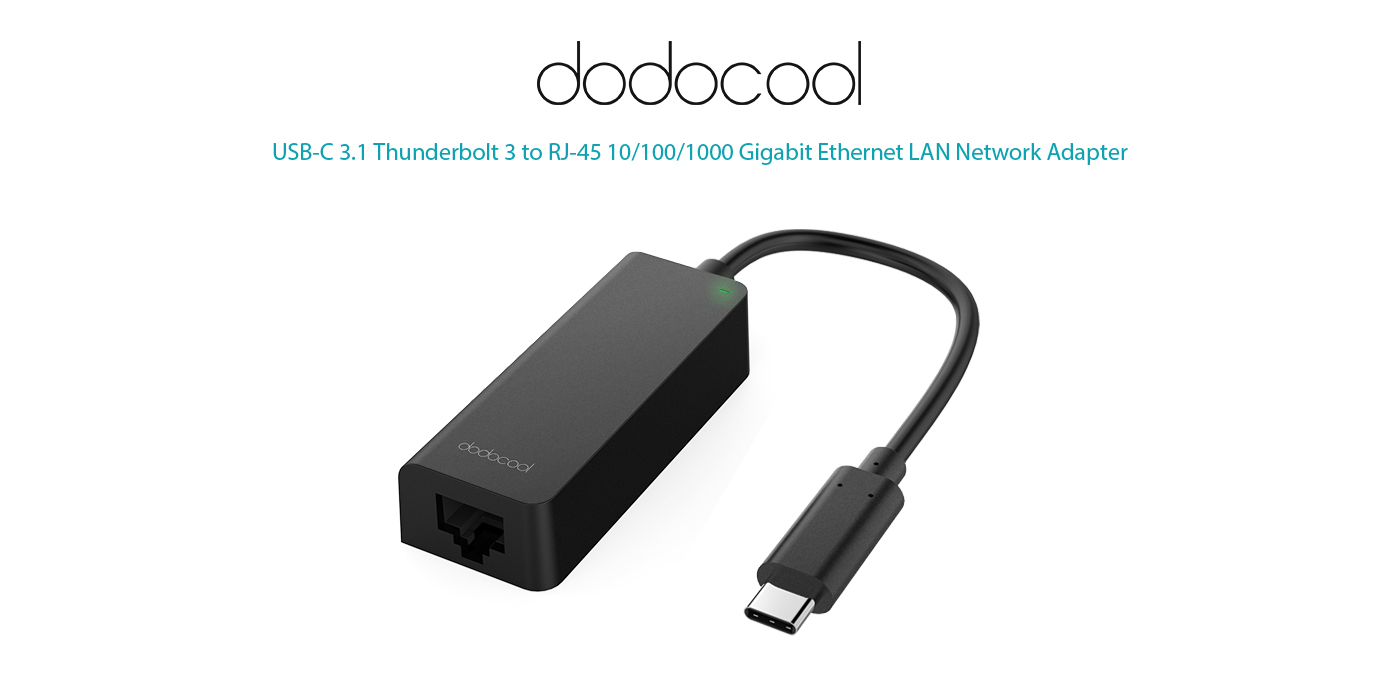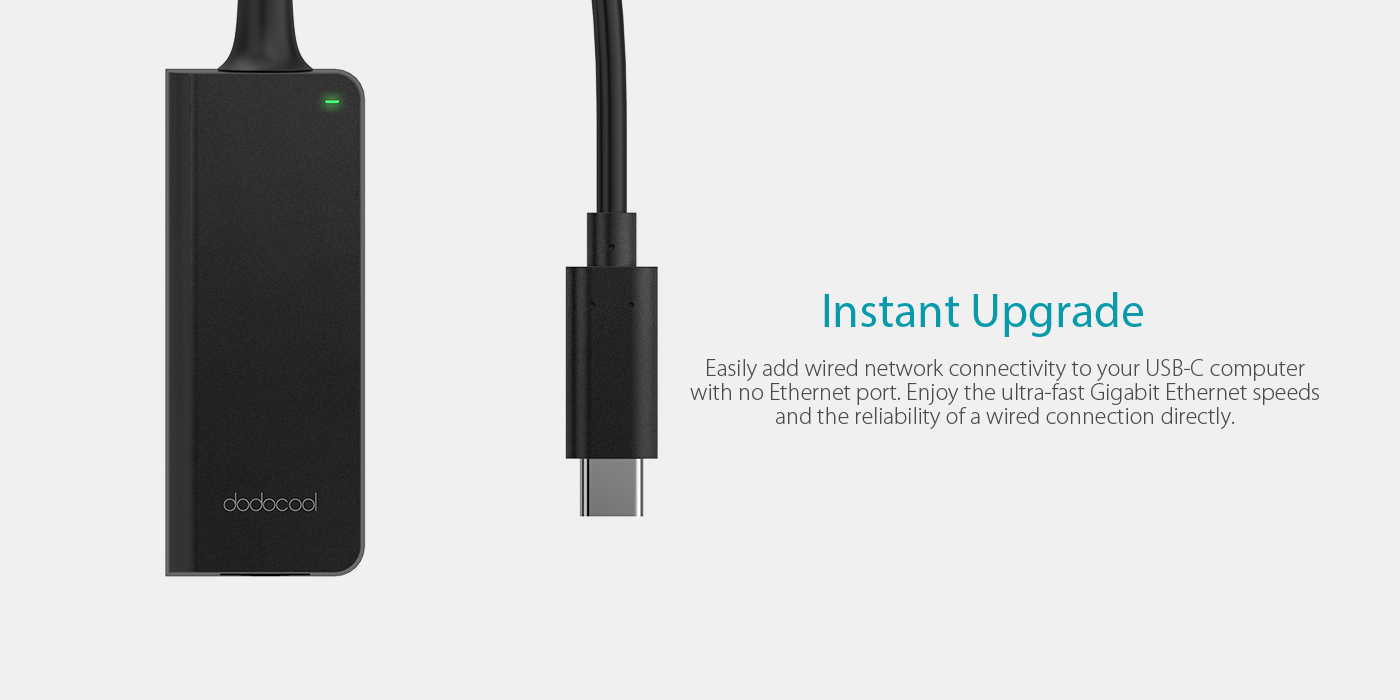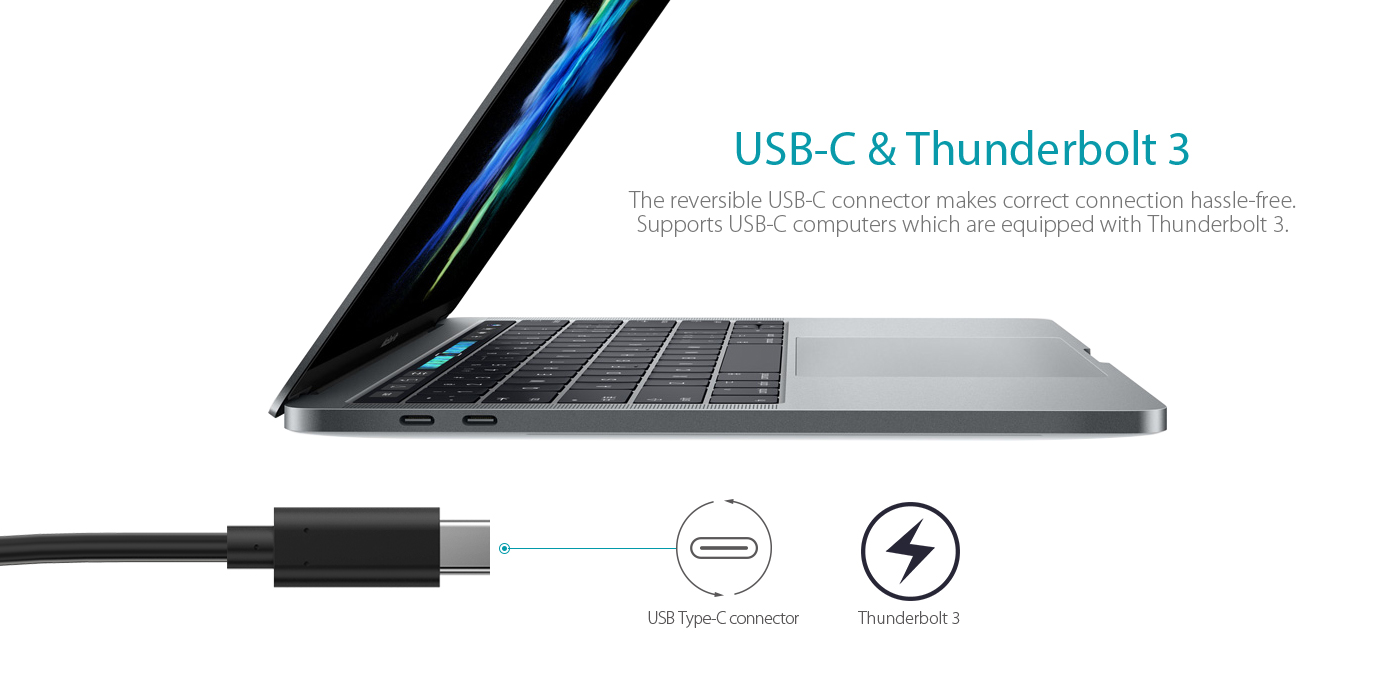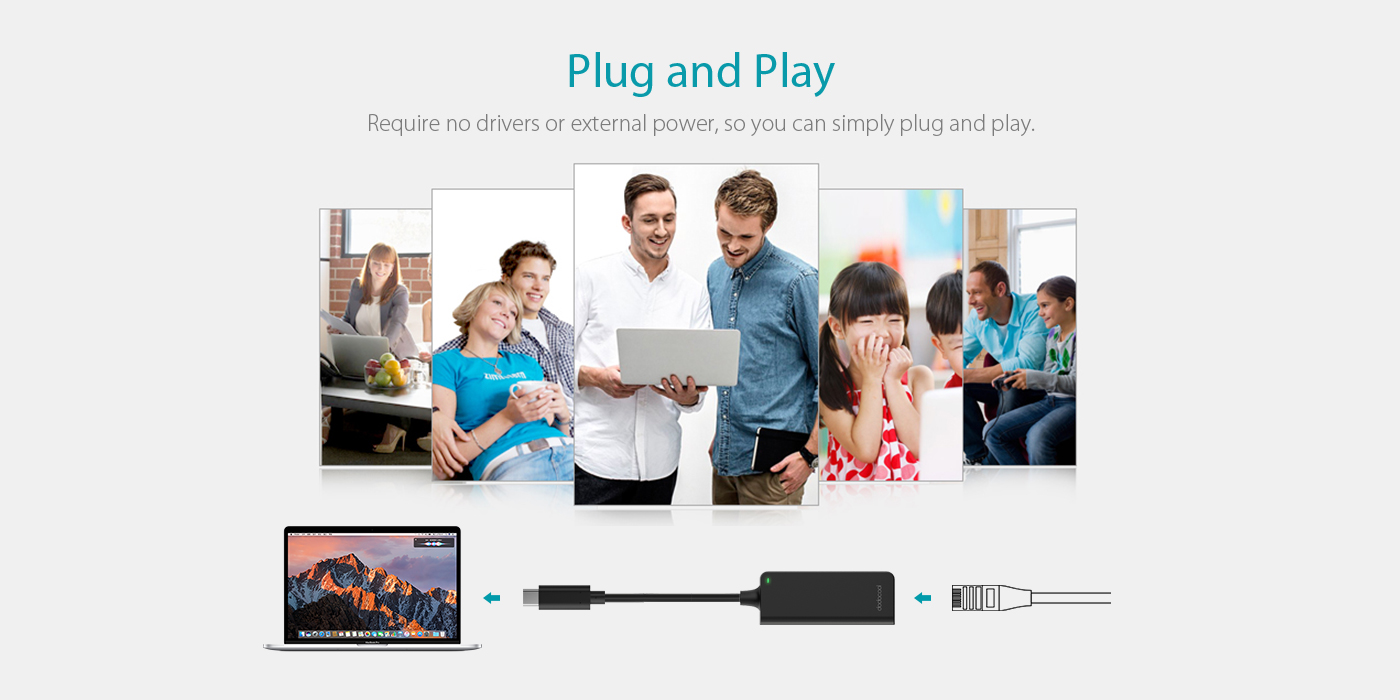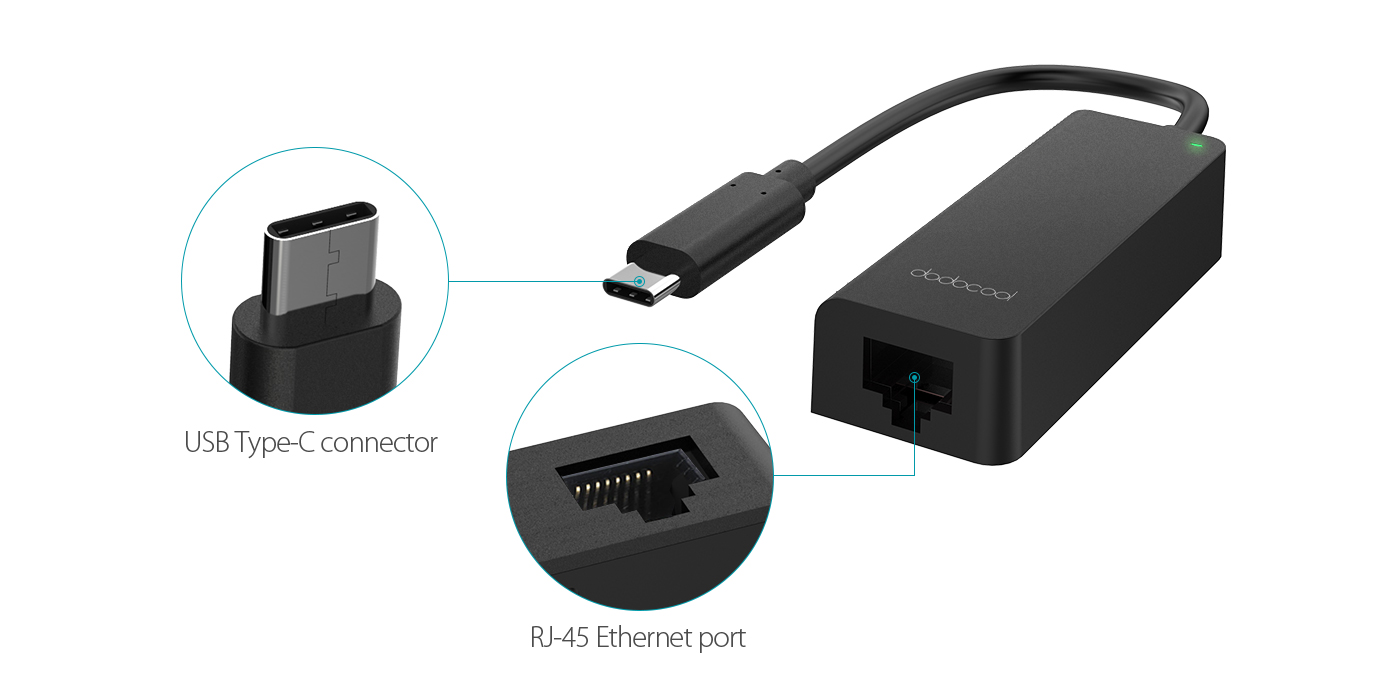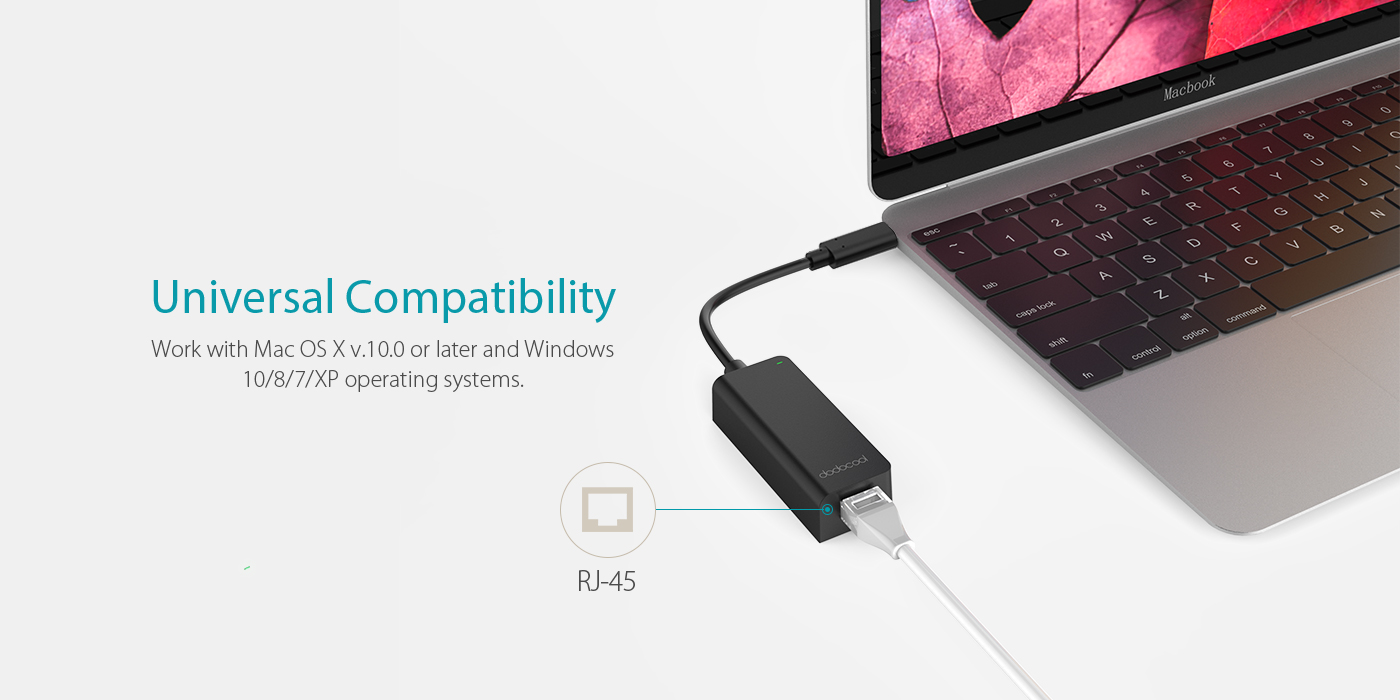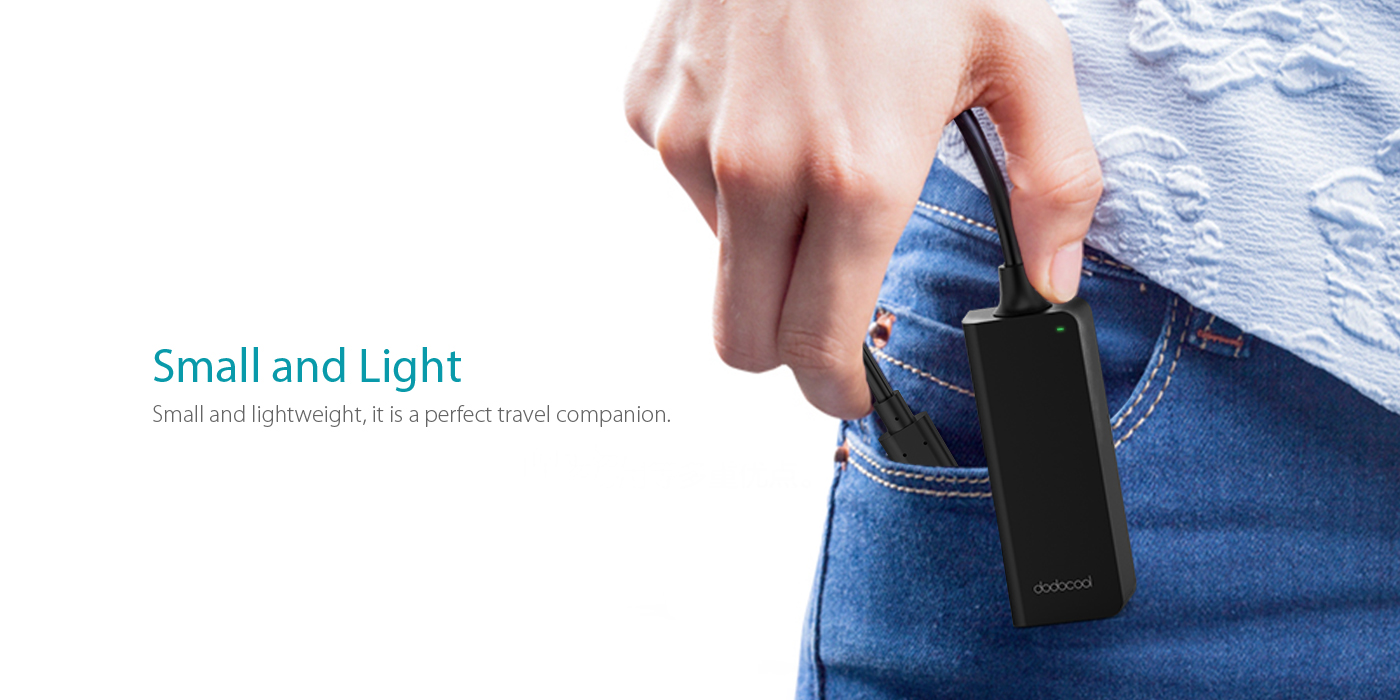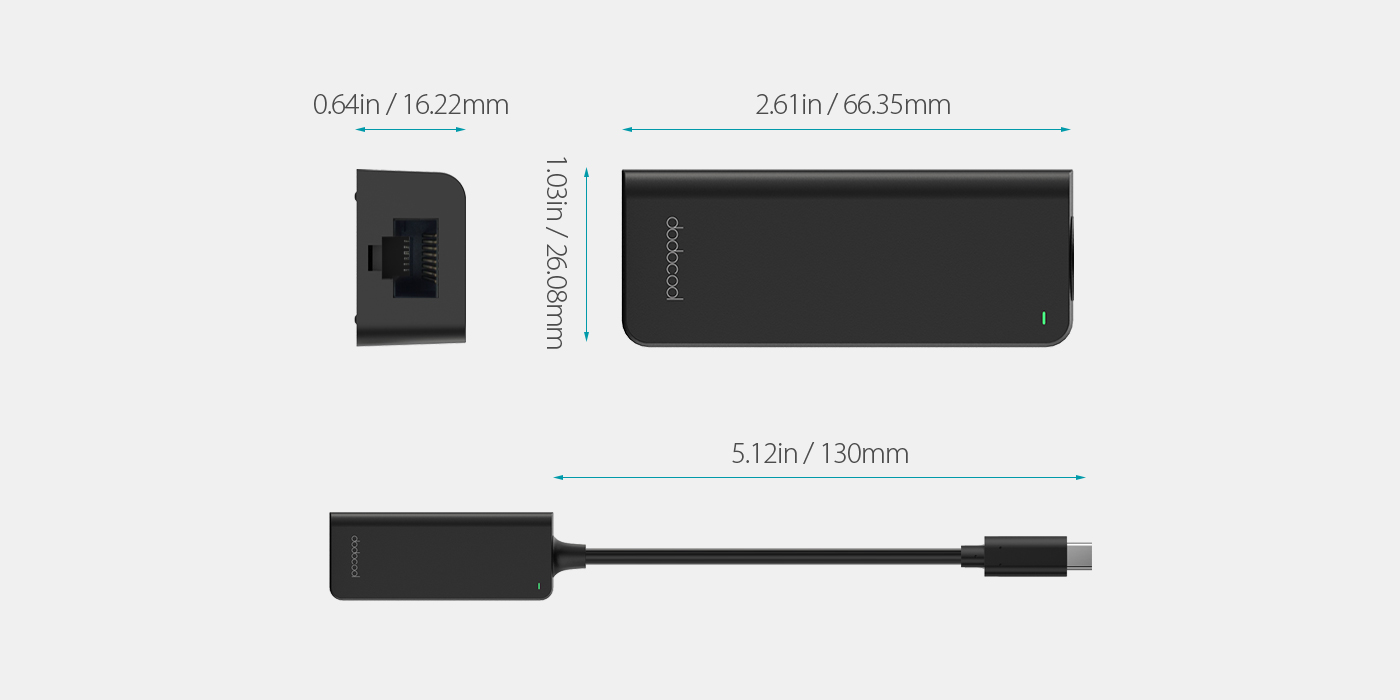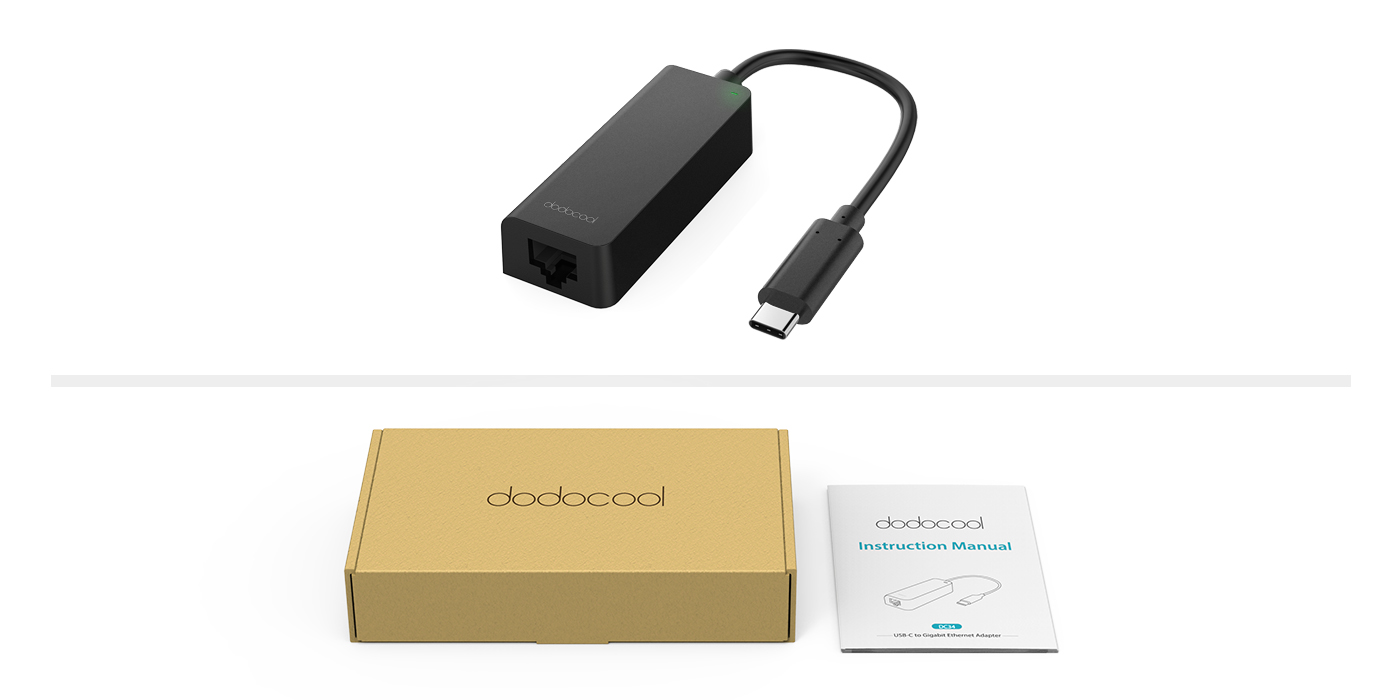 Overview
dodocool USB-C to Gigabit Ethernet Adapter allows your USB-C computer to connect seamlessly to the wired networks via the high-speed Gigabit Ethernet port when wireless connectivity is unreliable or inconsistent. Enjoy faster HD videos streaming, gaming, web browsing and network storage.
Features
Instant Upgrade
Easily add wired network connectivity to your USB-C computer with no Ethernet port. Enjoy the ultra-fast Gigabit Ethernet speeds and the reliability of a wired connection directly.
USB-C & Thunderbolt 3
The reversible USB-C connector features a symmetrical design and makes correct connection hassle-free. It also supports USB-C computers which are equipped with Thunderbolt 3 and provides an RJ-45 port that supports 10/100/1000BASE-T networks.
Plug and Play
Just connect an Ethernet cable to this adapter and plug the USB-C connector into the USB-C port of your computer, and you can enjoy the wired networks instantly. It requires no drivers or external power, so you can simply plug and play.
Superior Performance
Provide faster data transfer and better security than most wireless connections. It also features as a Thunderbolt adapter for USB-C computers which are equipped with Thunderbolt 3 and supports Wake-on-LAN (WoL), full-duplex (FDX) and half-duplex (HDX) mode, crossover detection, backpressure routing and Auto MDI-X.
Universal Compatibility
Support USB 3.1 data transfer rate of up to 5 Gbps for 1000 BASE-T networks and 10/100/1000 Mbps Ethernet networks. Backward compatible with USB 3.0 and USB 2.0 Type-C ports. Work with Mac OS X v.10.0 or later and Windows 10/8/7/XP operating systems.
Small and Light
Space-saving design fits easily in your laptop carrying bag. Small and lightweight, it is a perfect travel companion.
Specifications
Brand: dodocool
Color: Black
Material: ABS + PC
Interface: 1 * USB-C input connector
1 * Gigabit Ethernet port
Data transfer speed: Up to 5 Gbps
Ethernet transfer speed: Up to 1000 Mbps
Compatible operating systems: For Mac OS X 10.0 or later and Windows 10 / 8 / 7 / XP
USB-C compatible devices: For Apple New MacBook, Acer Switch Alpha 12 and ASUS U5000UX / ZenBook U306UA and more
Thunderbolt 3-equipped devices: For Apple MacBook Pro, Acer Aspire R 13 / TravelMate P6, ASUS ZenBook Pro UX501VW, Lenovo ThinkPad P50 and more
Certificate: CE, FCC, RoHS
Cable length: Approx. 5.12in / 130mm
Warranty: 12-months
Item size: Approx. 2.61 * 1.03 * 0.64 in / 66.35 * 26.08 * 16.22 mm (L * W * H)
Item weight: Approx. 0.77oz / 22g
Package size: Approx. 4.72 * 2.76 * 0.94 in / 120 * 70 * 24 mm (L * W * H)
Package weight: Approx. 1.62oz / 46g
Package includes
1 * dodocool USB-C to Gigabit Ethernet Adapter
1 * Instruction Manual (English, French, German, Spanish, Italian, Japanese)