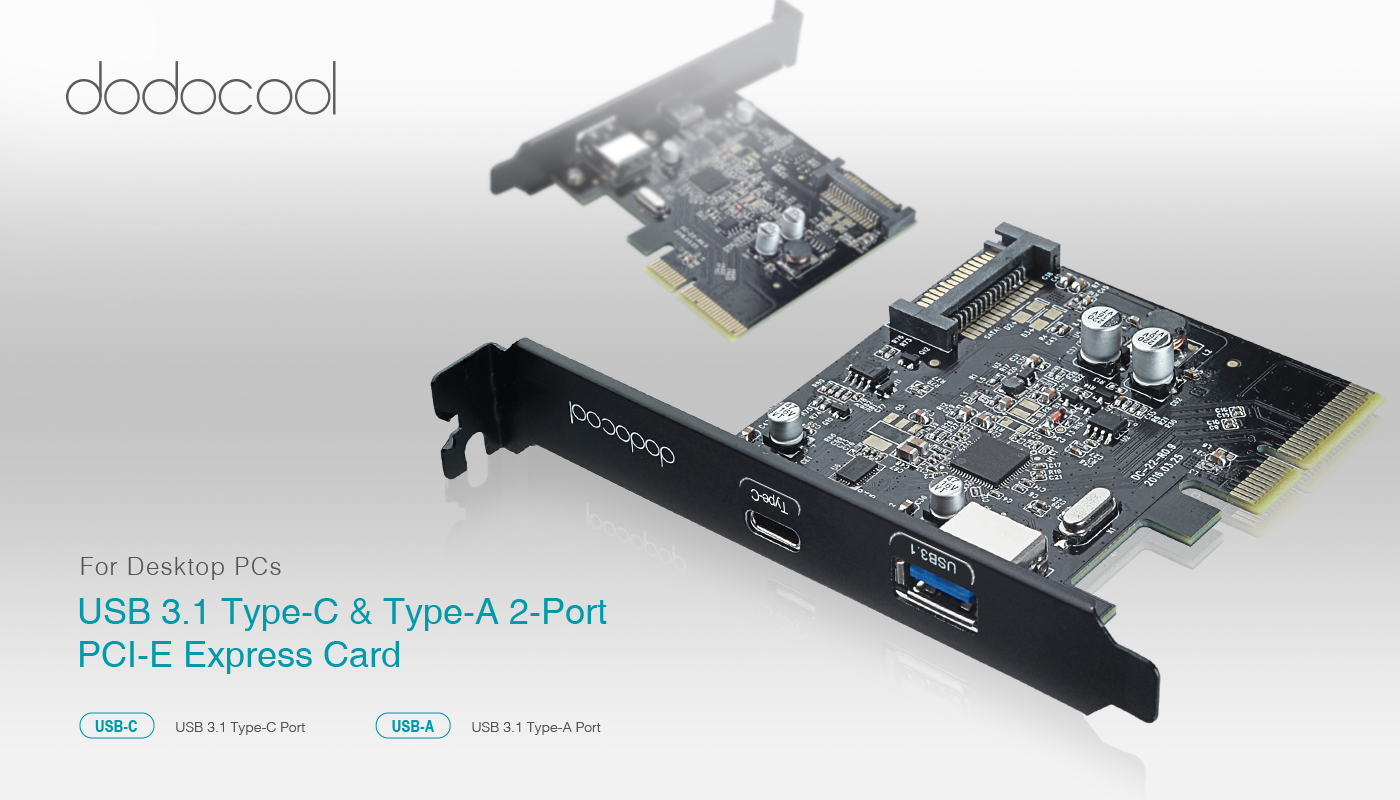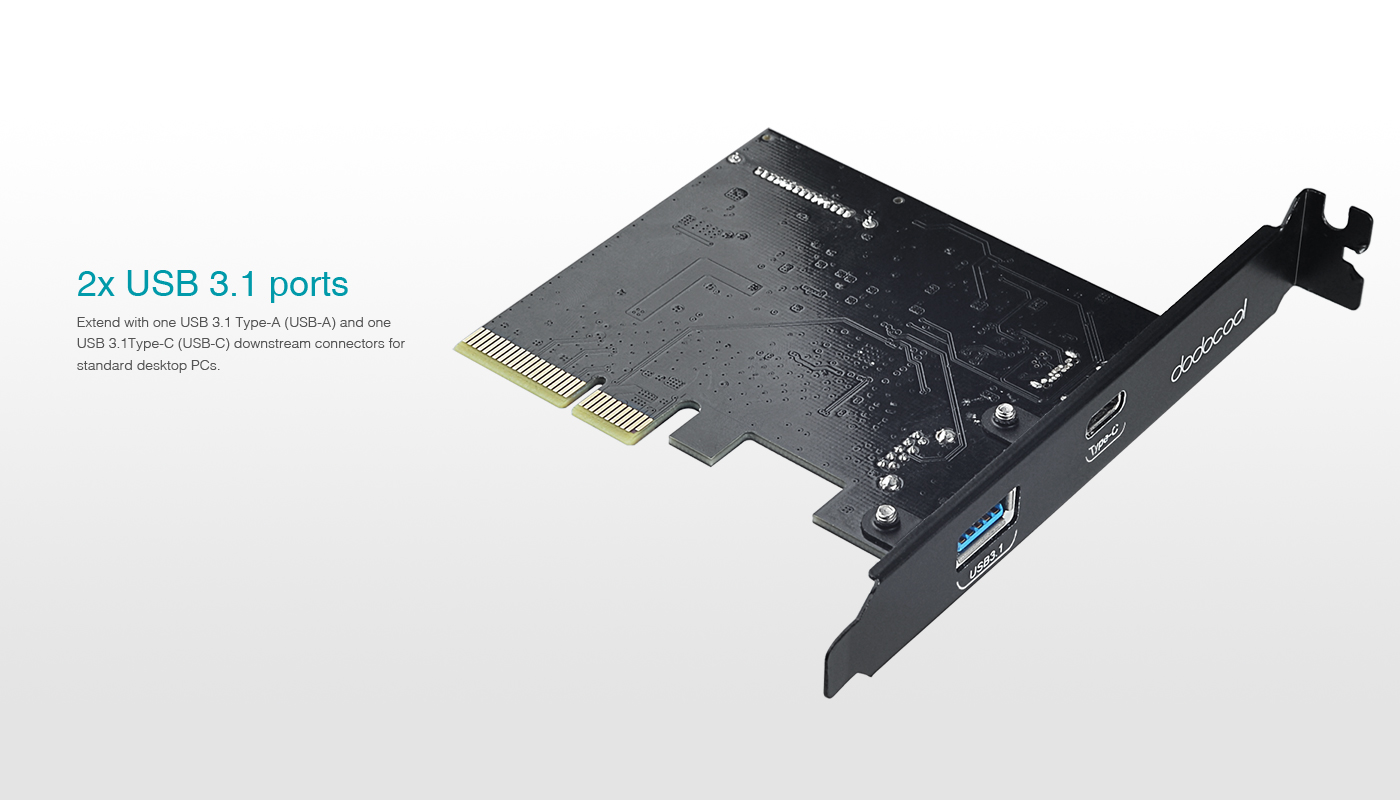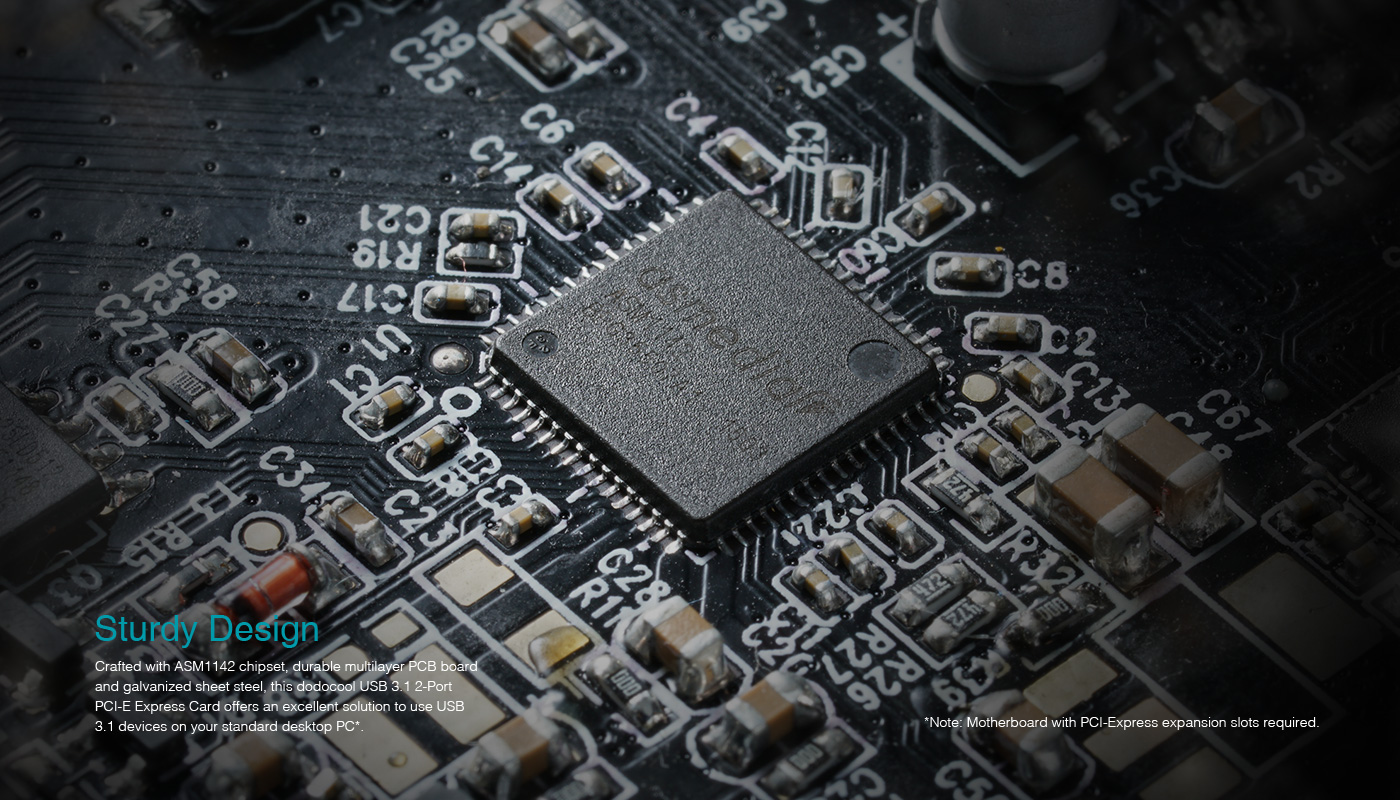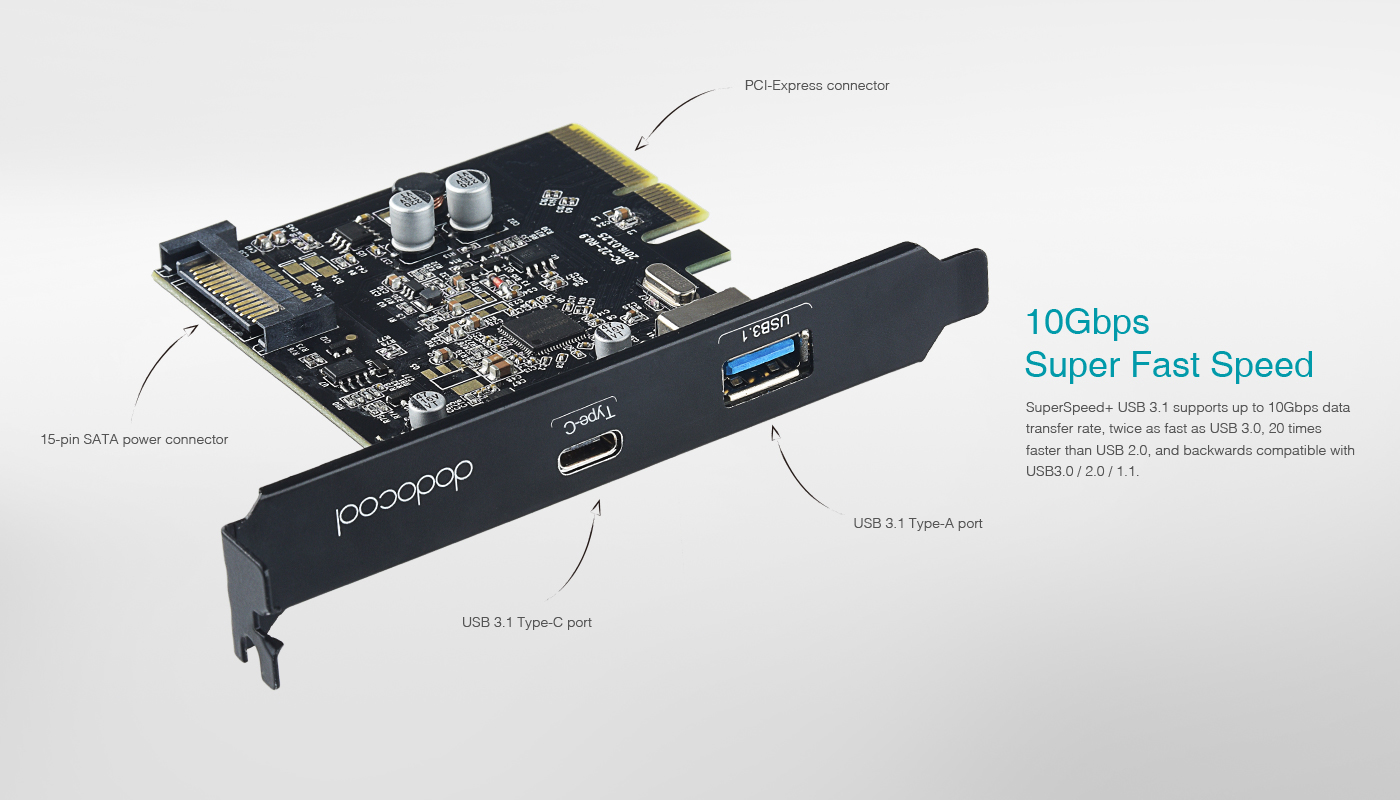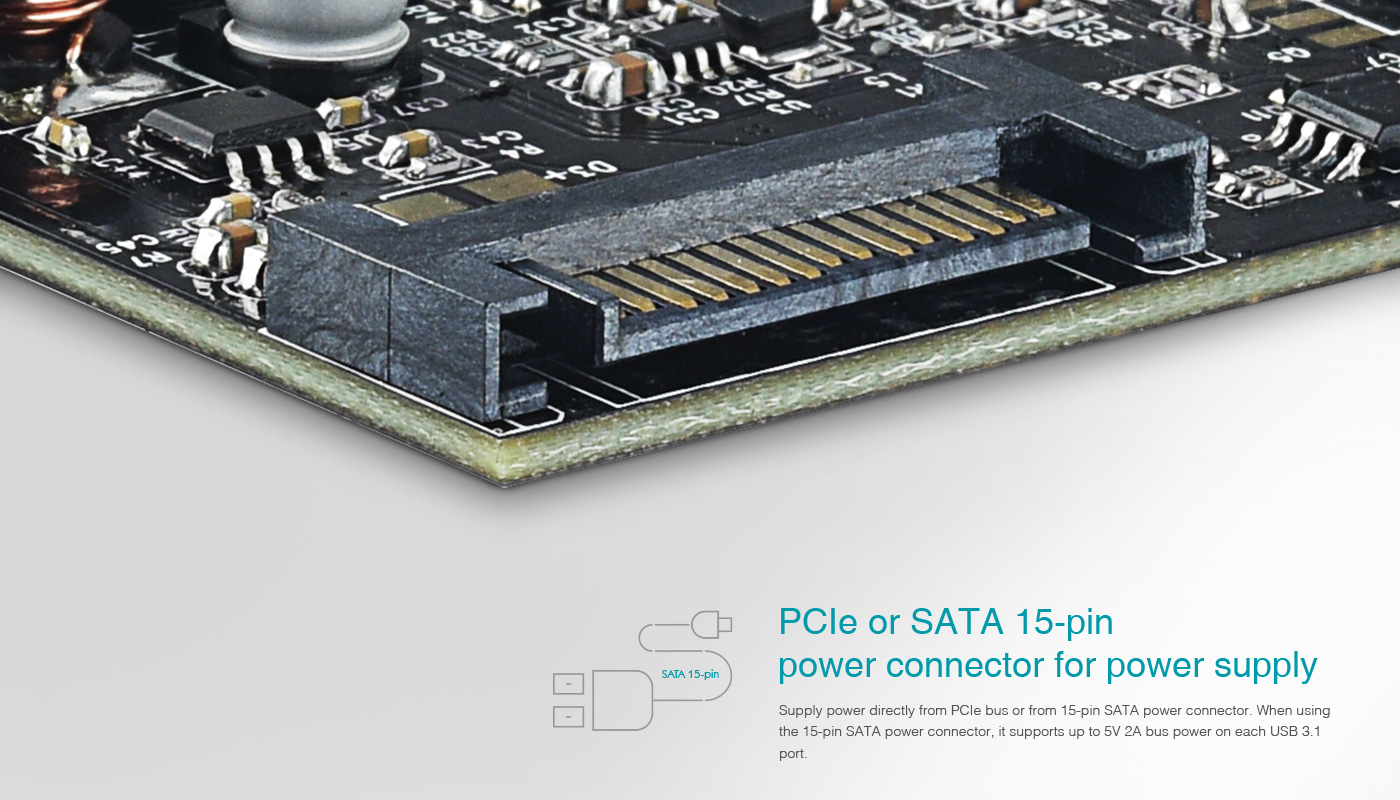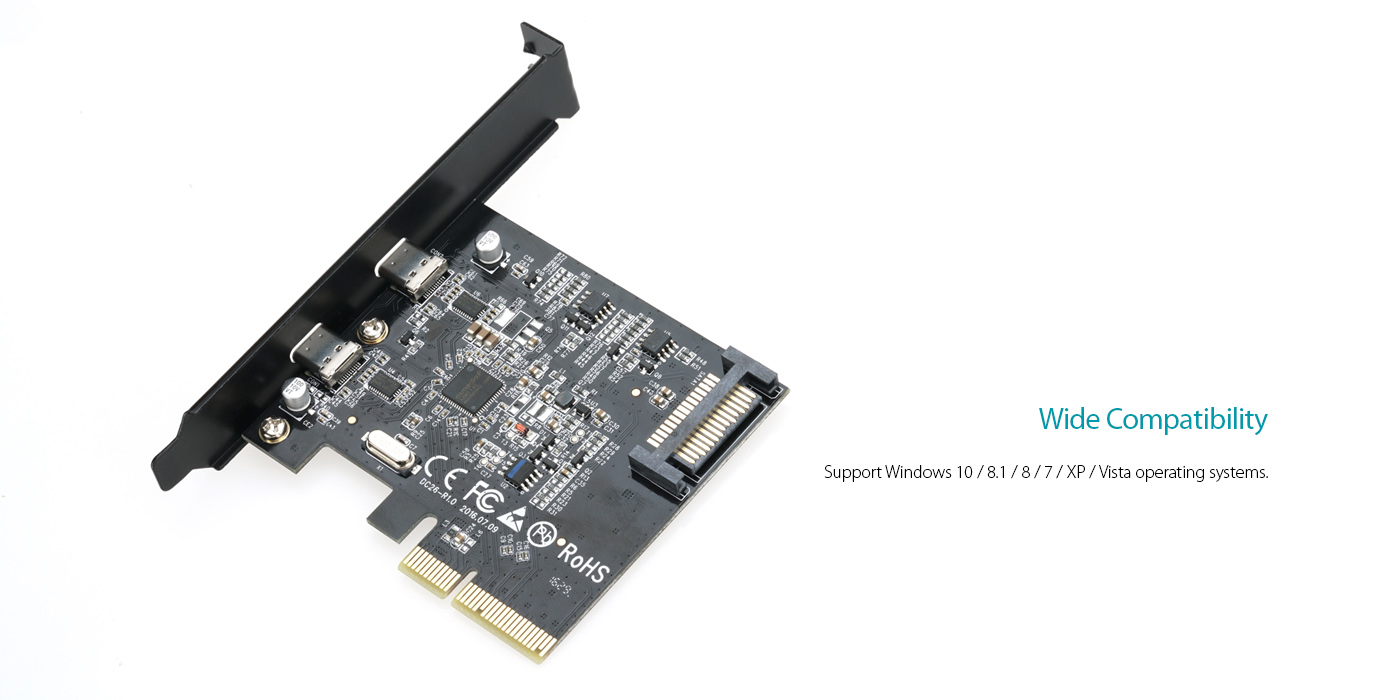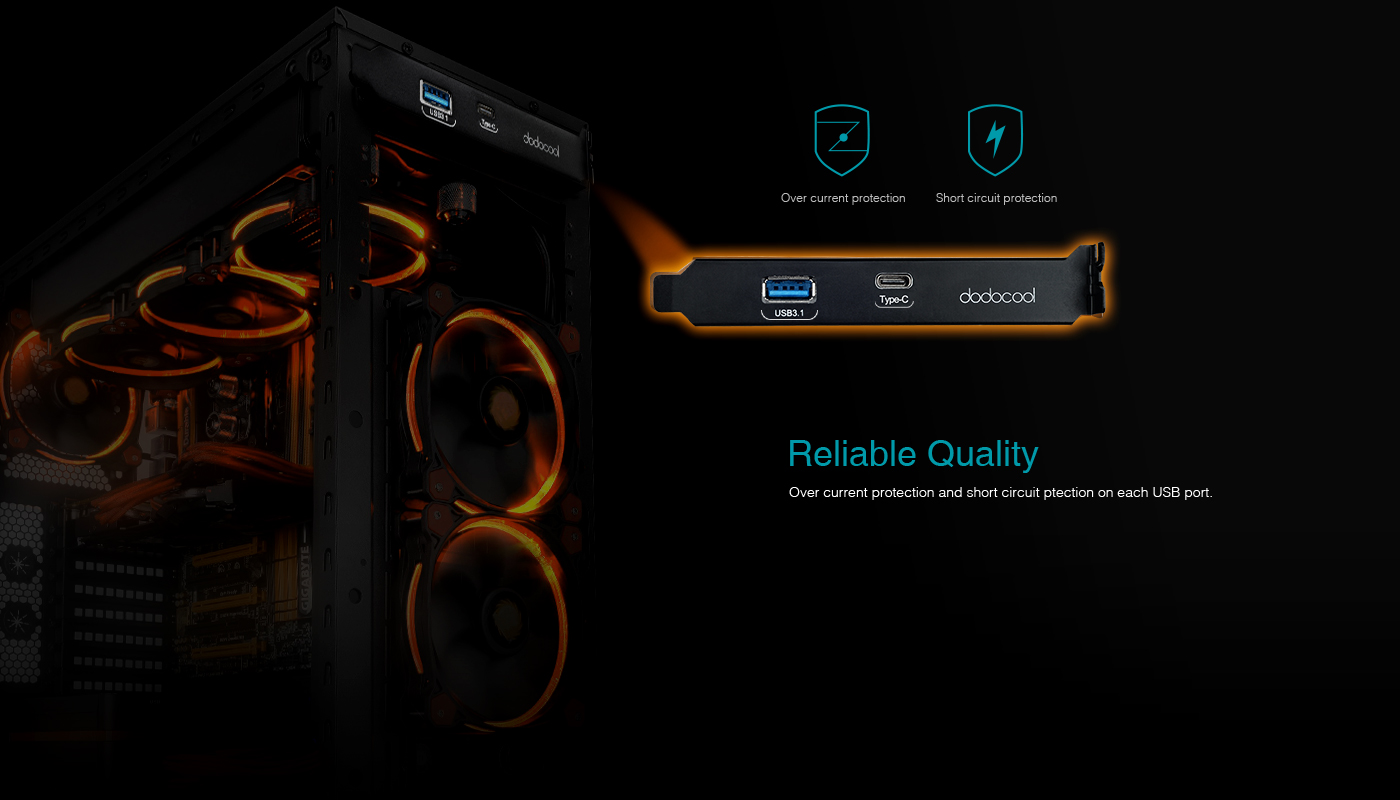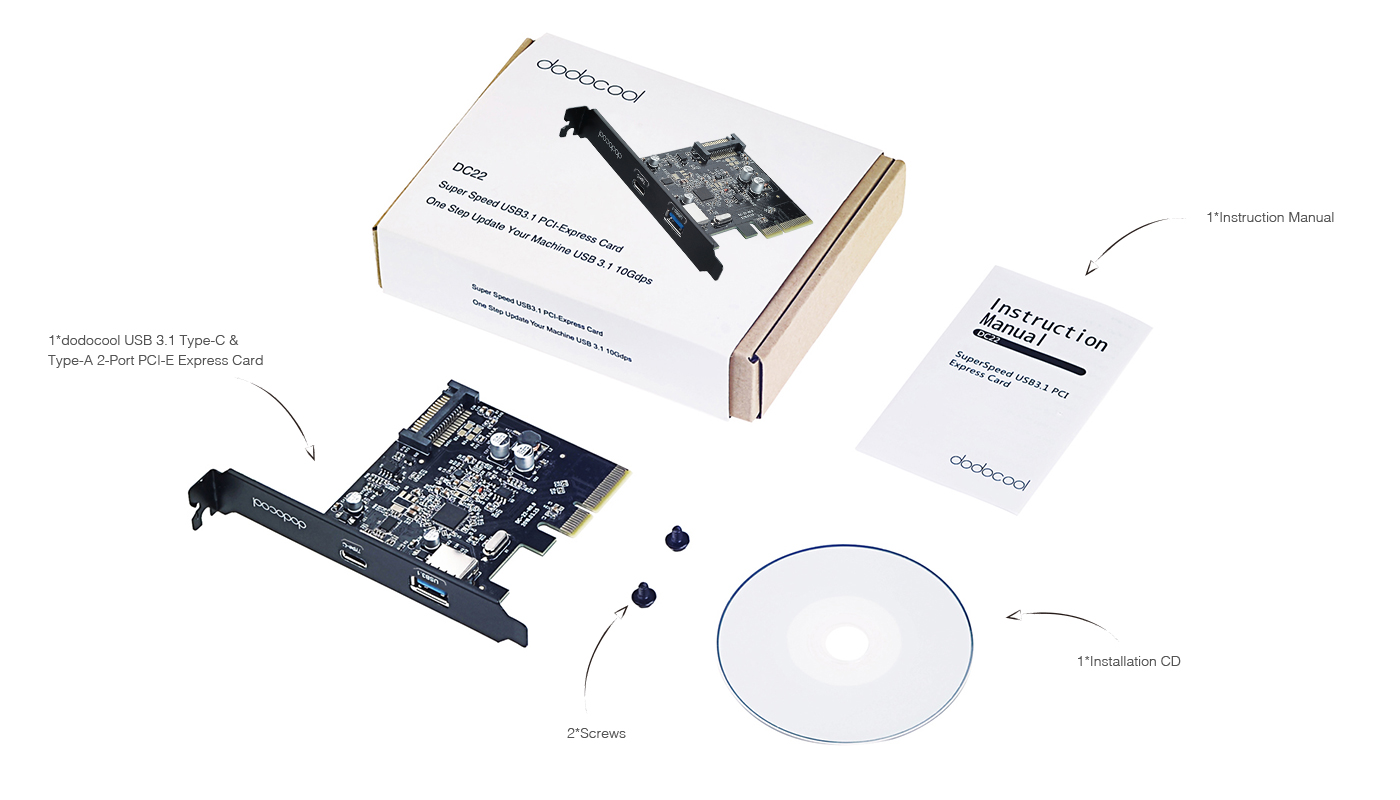 Overview
Providing both SuperSpeed+ USB 3.1 Type-C and Type-A ports, dodocool USB 3.1 2-Port PCIe Express Card is a simple and economical solution for adding the latest high speed 10 Gbps USB 3.1 ports to any desktop computers or servers. USB 3.1 enables you to transfer videos, music, photos, data files between USB devices and the computer at enhanced transfer speed of up to 10 Gbps.
Features:
Sturdy Design
Crafted with ASM1142 chipset, durable multilayer PCB board and galvanized sheet steel, this dodocool USB 3.1 2-Port PCI-E Express Card offers an excellent solution to use USB 3.1 devices on your standard desktop PC.
2x USB 3.1 ports
Extend with one USB 3.1 Type-A (USB-A) and one USB 3.1 Type-C (USB-C) downstream connectors for standard desktop PCs.
10Gbps Super Fast Speed
SuperSpeed+ USB 3.1 supports up to 10Gbps data transfer rate, twice as fast as USB 3.0, 20 times faster than USB 2.0, and backwards compatible with USB3.0 / USB2.0 / USB 1.1.
PCIe or SATA 15-pin Power Connector for Power Supply
Supply power directly from PCIe bus or from 15-pin SATA power connector. When using the 15-pin SATA power connector, it supports up to 5V 2A bus power on each USB 3.1 port.
Compatibility
The PCI-E port fits in any PCIe x4 or x8 or x16 slot. Compatible with Windows XP/7/8/8.1/10 or above and more. Drivers required are included on the provided CD.
Reliable Quality
Over-current protection and short circuit protection on each USB port. Free lifetime technical support and 18-month manufacturer's warranty.
Specifications:
Brand: dodocool
Material: PCB, galvanized sheet steel
Chipset: ASM1142
Color: Black
Interface: 1 * USB 3.1 Type-A port, 1 * USB 3.1 Type-C port
Motherboard with PCI-Express expansion slots required
Support any USB 3.1, USB 3.0, USB 2.0 and USB 1.1 devices
Support 5V Max 2A power output to each USB 3.1 device
Built-in over current protection and short circuit protection on each USB port
Support SuperSpeed+ (10 Gbps), SuperSpeed (5 Gbps), HighSpeed (480 Mbps), and FullSpeed (12 Mbps) transaction (Note: The actual transmission speed is limited by the setting of the device connected.)
Up to 10 Gbps for data transfer when connecting to USB 3.1 compliant peripherals
Support PCIe 1.0, PCIe 2.0, or PCIe 3.0 motherboard
Compliant with PCI Express Base 3.0 Specification
Compliant with Universal Serial Bus 3.1 Specification
Warranty: 18-month limited warranty
Certification: CE, FCC, and RoHS compliant
Item size: Approx. 4.76 * 3.23 * 0.75 in / 121 * 82 * 19 mm (L * W * H)
Item weight: Approx. 44g/1.55oz
Package size: Approx. 5.87 * 4.53 * 1.18 in / 149 * 115 * 30 mm (L * W * H)
Package weight: Approx. 96g/3.38oz
Package includes:
1 * dodocool USB 3.1 Type-C & Type-A 2-Port PCI Express (PCI-E) Card
2 * Screws
1 * Installation CD
1 * Instruction Manual (English)